New books added daily through mid-December, 2023. Click the covers to purchase.
Saturday, November 4, 2023
JUMP TO FICTION -|||-  JUMP TO BOOKS FOR YOUNG READERS
 -|||- JUMP TO HGG HOME PAGE  -|||-
Click the covers to purchase.
===========================
NONFICTION / TEXANA / FAMILY HISTORIES / NATURE
Adventures Down the Texas Rabbit Hole
By Alice Liles
Samba Jo Publishing
217 pages
Available in paperback and eBook
From this Texan's two blogs, the book is a collection of stories and photographs that celebrate Texas, life in small towns, animals with personalities, adventures, and stories that can touch a heart. Subjects covered in the stories include prairie dogs, horny toads, turkey vultures, agaves, cats and dogs, family histories, and Liles's trek up Mount Kilimanjaro. The author's photos as well as shared family photographs illustrate the stories. The book resides in the Texas Tech University Special Collections/Southwest Collections library and is a 2023 bronze Will Rogers Medallion winner in the Western Photographic Essay division. The stories are easy to read, informative, interesting, and entertaining.
===========================
NONFICTION / TRUE CRIME
Bound in Silence: An Unsolved Murder in a Small Texas Town
By Christena Stephens
Stoney Creek Publishing
290 pages
Available in paperback, eBook
On a nearly moonless night in October 1943, a prominent Texas doctor and his wife were found bound, shot, beaten, and murdered. The only witness: their five-year-old daughter, who was so traumatized by the crime and the events that followed that she refused to speak of it for 70 years. Eight decades later, the questions linger over the plains of the Texas Panhandle: who killed the Hunts and why? Author and historian Christena Stephens spent more than a decade researching the Hunt murders, re-examining every twist and turn in the legal process, uncovering new evidence, and drawing new conclusions about who might have been responsible. Bound in Silence is a true crime tour-de-force, a meticulously researched, impeccably told tale of unsolved murder on the High Plains.
===========================
NONFICTION / HISTORY / MEMOIR
By Suzanne Gene Courtney
Strategic Book Publishing and Rights Co.
104 pages
Available in hardcover, paperback, eBook
Child of Many merges the author's parental lineages through the founding of our country while weaving the intricacies of DNA-related traits, gifts, and characteristics inherited. History buffs will identify with some of the events and famous relatives mentioned. By researching the connections between these two families, the author demonstrates how connected we all are through time and space. Readers may be encouraged to trace their own heritage. Connections to Austin, Texas are mentioned.
===========================
NONFICTION / MEMOIR / RELIGIOUS / WOMEN'S BIOGRAPHIES
By Kay Whitaker
A Book's Mind
294 pages
Available in paperback and eBook
Flourish Because is the memoir of Kay Whitaker, a person whose name is not recognizable and who has no claim to fame. This is a story of dashed hopes, faith restored, dreams fulfilled, and ultimately a woman's quest for truth.
===========================
NONFICTION / COMEDY / ESSAYS
By Ginny Andrews
Ginny Andrews Comedy
189 pages
Available in paperback, eBook
Visit the Lone Star Lit Tour Page
Most people are awkward during the middle school years, grow out of it, and blossom into mature, well-functioning human beings…I'm still waiting for this to happen. Awkwardness is my hidden talent, although most who know me would tell you it isn't hidden—it's written on my forehead. My daily life is filled with epic failures. Sometimes I feel like I'm one big malfunction! As I have gotten older, I just try to embrace it. After you read this collection of essays, hopefully you will be able to accept your imperfections too! Nope, probably not because I'm still not there! However, maybe my comedy will stick with you like that hemorrhoid you can't seem to get rid of, like ever—Good Talk…Good Talk.
===========================
RELIGION / DEVOTIONALS / HUMOR / ARTIFICIAL INTELLIGENCE
By Preston Lewis and Harriet Kocher Lewis
Available in paperback, hardcover, eBook
Devotionals from a Soulless Machine: A Journey of Faith through Artificial Intelligence, October 8, 2023, 240 pages
Jokes from a Humorless Machine: A Comedic Romp through Artificial Intelligence, November 20, 2023, 232 pages
With the release of OpenAI making ChatGPT available to the public in 2022, the authors wondered how artificial intelligence would handle Christian devotionals and everyday humor with a series of provocative prompts and questions. The results were both surprising and alarming, revealing the subtle biases and the awkward sense of humor of the controlling algorithms. Devotionals from a Soulless Machine demonstrates a surprising sensitivity to religious issues and provides a sense of hope for believers. Though theologically sound, the devotionals lack the enlivening anecdotes of personal experience. Jokes from a Humorless Machine examines how AI handles traditional joke premises such as the chicken crossing the road and more provocative humor on political parties and positions. AI revealed its woke biases.
===========================
NONFICTION / POETRY / NATURE / GRIEF & LOSS
By Donald Mace Williams
Stoney Creek Publishing
August 2023
75 pages
Available in paperback, eBook
These sixty-one poems, only a few of which are longer than a page, have the clarity and terseness that newspaper reporters strive for. No wonder—Donald Mace Williams spent most of his long adulthood as a newspaper writer and editor. They are his observations, full of joy and sadness, about life, loss, and nature.

Williams spent more than seventy years as a devoted student and amateur singer of German Lieder by Schubert and other great composers. That concentration may account in part for the metrical flow, the frequent rhymes, and the beginning-middle-and end structure of most of his poems.

Williams, now in his nineties, has always been a traditionalist in his literary and musical tastes. Meter and rhyme may be unfashionable today, but to Williams they remain, like him, alive and well.
===========================
NONFICTION / BLACK & AFRICAN AMERICAN HISTORY / SPORTS HISTORY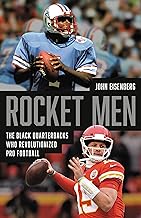 Rocket Men: The Black Quarterbacks Who Revolutionized Pro Football
By John Eisenberg
Basic Books
416 pages
Available in hardcover, eBook, and audiobook
In Rocket Men, John Eisenberg offers the definitive history of Black quarterbacks in the NFL—men who shaped not only the history of football but the cause of civil rights in America. From early pioneers like Fritz Pollard to groundbreaking modern standouts like Marlin Briscoe and James "Shack" Harris, Black quarterbacks had to be twice as good as their white counterparts to get playing time—and even then, many never got that chance. That didn't begin to change in earnest until the 1990s and the 2000s, when racist notions about what Black quarterbacks supposedly couldn't do began to fade, paving the way for today's stars like Patrick Mahomes and Lamar Jackson.  
Drawing on deep historical research and exclusive interviews with Black quarterbacks and players, coaches, and talent evaluators who have worked alongside them, Rocket Men is a celebration of the athletes and activists who transformed the game. 
===========================
NONFICTION / MEDICAL / HEALING / NEUROSCIENCE
Second Lives: The Journey of Brain-Injury Survivors and Their Healers
By Ralph B. Lilly, M.D. & Diane F. Kramer
Stoney Creek Publishing
February 2023
252 pages
Available in paperback, hardcover, audiobook, eBook
One man's journey from doctor to patient to healer. Second Lives is a first-hand account of neurologist Ralph Lilly's recovery from a traumatic brain injury and how the lessons of his recovery enabled him to help others with their own recoveries. This memoir weaves together Ralph Lilly's experience with a collage of stories about his patients and their healers. After his recovery, Lilly retrained in the emerging field of behavioral neurology, which focuses on behavior, memory, cognition, and emotion after brain injury. Ralph Lilly died in 2021, and Kramer completed the book with the assistance of his wife, Joyce Stamp Lilly.
===========================
NONFICTION / GRIEF & BEREAVEMENT / LOVE & LOSS / PARENTING & RELATIONSHIPS
By Dina Gachman
Union Square & CO.
April 2023
240 pages
Available in paperback and eBook
Visit the Lone Star Lit tour page
A heartfelt exploration about what it means to process grief, by a bestselling author and journalist whose experience with two devastating losses inspired her to bring comfort and understanding to others. Since losing her mother to cancer in 2018 and her sister to alcoholism less than three years later, Dina Gachman has dedicated herself to understanding what it means to grieve, heal after loss, and the ways we stay connected to those we miss. Through a mix of personal storytelling, reporting, expert insight and even moments of humor, Gachman gives readers Gachman has provided a compassionate and compelling resource for anyone looking for grief books. —whether the loss is a family member, beloved pet, or a romantic relationship.
===========================
NONFICTION / POETRY / TRAVEL / PHOTOGRAPHY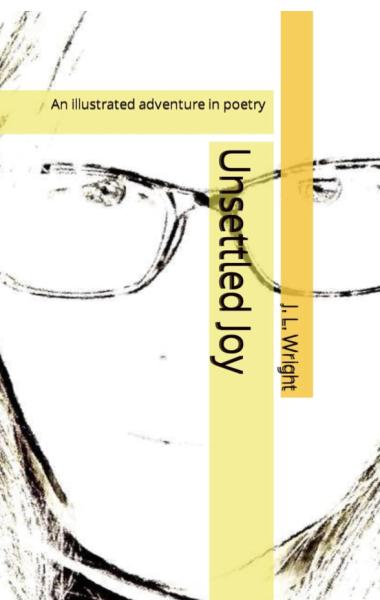 Unsettled Joy: An Illustrated Adventure in Poetry
By J. L. Wright
Writings
November 22, 2023
91 pages
Available in paperback
Traveling the United States and Canada is inspiration for the poems and photographs in this beautiful book of poetry and photographs written and taken by the author, J. L. Wright. Her friend and former writing accountability partner, Lula Flan, has provided her insights to some of the poems included, which helps the reader understand the journey.
===========================
NONFICTION / DEVOTIONAL
Water From God: For Those Thirsty for God's Word
By Vickie Phelps
Winged Publications
June 23, 2023
174 pages
Available in paperback, audiobook, eBook
The Bible is full of great stories of people God wanted to use, bless, or encourage in some way. Water played a part in all these stories. Divided into three sections: Water Stories, Water Psalms, and Living Water, this collection of forty-five devotions is meant to bless and encourage you in your daily walk.
===========================
NONFICTION / WOMEN / RELATIONSHIPS / FRIENDSHIPS
Where the Mean Girls Go: The Complicated and Hurtful Relationships Between Women
By Laura Downey Hill
BookBaby
October 1, 2023
160 pages
Available in paperback, eBook
Click for Lone Star Lit Review
Where the Mean Girls Go is about the complicated and hurtful relationships between women. Unfortunately, women's harshest critics are other women. Laura shares memorable stories and hard-earned lessons. Her book is full of honesty, humility, humor and self-reflection. We have all been left out, not chosen, and not invited. We have been the target of whispering and pointing. Mean girls relish causing discomfort and emotional anguish, and it is usually aimed at other women. They enjoy the power that comes from being cruel. Too often it is other women elbowing us, labeling us, and creating obstacles to our success. Boys ignore us, girls score us; it is the law of the playground. A must read for females of every age.
===========================
JUMP TO FICTION -|||-  JUMP TO BOOKS FOR YOUNG READERS
 -|||- JUMP TO HGG HOME PAGE  -|||-