Top Texas Bookish Destinations
What makes a place a
Top Texas Bookish Destination?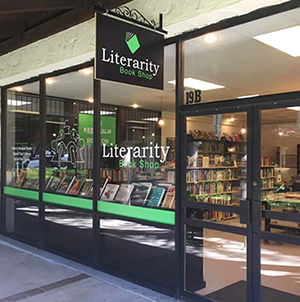 Most of the readers and writers we know, far from being the sort to only haunt the recesses of their town's library or curl up on the couch when the sun's shining, like to get out and visit the places they've read about. Or the places that inspire them. Or the places where other authors hail from, where books are made, where books can be bought.
We polled our staff—in a most informal but serious way—about the places in Texas that fueled their bookish imaginations. What literary  destinations called to them to get out the map, get in the car, and go? Was it a whim to attend a festival, a desire to follow in a favorite author's footsteps, an urge to browse the shelves of an unusual bookshop, a hunt for a novel's real-life inspiration?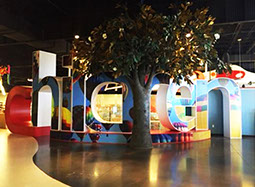 It didn't take long for our list to grow. In fact, things got a bit heated as we tried to decide which destinations ought to make the top ten — especially as we applied our own growing knowledge of attractions new and old to updating our 2017 list. You'll see a few new entries this year, as new events, updated libraries, and big new books play a huge part in our determinations. We visited alluring locales from the Brazos Valley to the prairies, in big cities and small, from the coast to the mountains. We ranked and researched and ranked some more.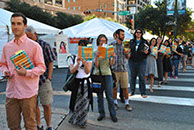 Our writeups and rankings are highly subjective, we admit. The book scene is ever-changing, and we have to own up to not always being able to mention every recent development, or to acknowledge every worthy author, publisher, or bookstore in our pages. Though we concentrate primarily on those aspects of literary life that make a place "visitable," we strive to capture the bookish flavor and fabric of each place that depend on the ongoing products of its writers behind closed doors, or the experiences shared by locals that visitors can only occasionally tap into.
All we can hope is that Lone Star Literary Life readers will find something here they didn't know before — and even if they have to just toss all ten names in a hat and take turns choosing the next goal for a road trip, they'll enjoy what they find when they get there.
Read on, share this issue with a friend, and send us your own thoughts when you're done: info@LoneStarLiterary.com.
​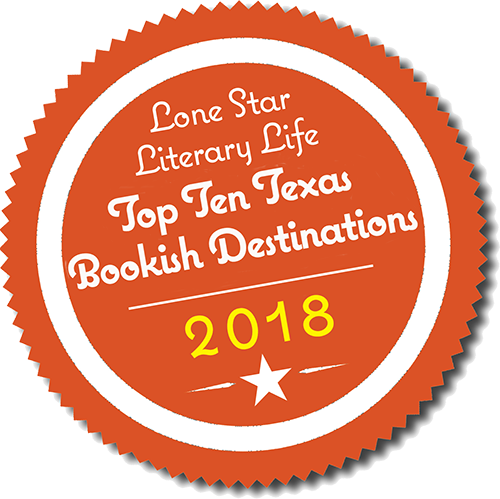 DESTINATION #1
San Antonio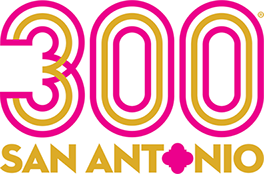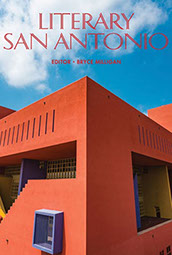 It's not often that a city gets to celebrate a 300th birthday. Even less often that it receives, as a gift, a landmark book to mark the occasion, or that it it hosts a single-day book festival featuring nearly 100 authors. And hey, they've invited everybody to the party.
For those reasons (and a few other important factors) we've named San Antonio our top recommendation for Texas bookish travel in 2018.

The first weekend in April this year will bring a perfect storm of literary and cultural events to the Alamo City: in addition to the sixth annual San Antonio Book Festival April 7, 2018, San Antonio will host the annual Texas Institute of Letters inductions, honoring a songwriter (who but Willie Nelson?) for the first time, in addition to eighteen other inductees; and to mark the 50th anniversary of the first international exposition, or World's Fair, to be held in the southwestern U.S., HemisFair Park and its iconic 1968 Tower of the Americas will open for a four-day ¡Viva HemisFair! extragavanza. Your Lone Star Literary Life team will be on hand to cover all the action.    >>READ MORE
​

DESTINATION #2
Austin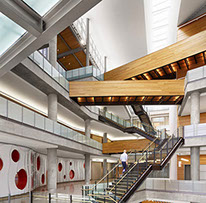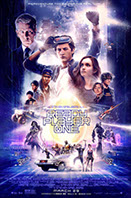 For some while now, travelers along Lady Bird Lake have watched an impressive, six-story, contemporary structure take shape. When the eagerly anticipated new Faulk Central Library opened in fall 2017, the media praised it as a downtown game-changer and a gathering place. The new Central Library, facing Lady Bird Lake, opened in 2017 as the first "library for the future" in the United States and only the second in the world.
That signal achievement — and the ever-expanding influence of the multimedia South by Southwest each March and the 50,000 attendees who come to the Texas Book Festival each fall, are noted in our annual coverage of Texas's capitol city this year.  >>READ MORE
​

DESTINATION #3
Houston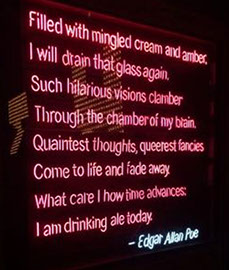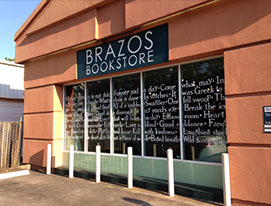 Houston is "on tap" to lead all of Texas's cities in one literary travel criteria—the place with the most bookish bars. These wordish watering holes may be inspired by a title, an author, or an inscription, and H-town has them all, including the Mexican-inspired hideaway Under the Volcano, 2349 Bissonet, named after the Malcolm Lowry novel and known for its frozen drinks.
But Houston is a serious culture city, and its world-class museums (with their excellent bookshops), its variety of independent bookstores, and its myriad book events and writing programs (including the University of Houston's distinguished MFA) place it high on our list every year. >>READ MORE
​

DESTINATION #4
Dallas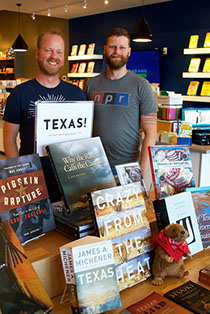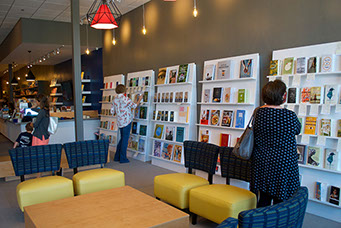 Without doubt, the most long-awaited wish-list event for Dallas bookfans during the past twelve months was the opening, in May 2017, of a full-fledged independent bookstore the city can call its own.

Interabang Books, a new full-service, independent bookstore opened in May 2017. The 5,000-square-foot store, located at the southeast corner of Preston Road and Royal Lane, carries more than 12,000 titles in a wide variety of categories with a special focus on fiction, children's books, and creative nonfiction. The store features a flexible event space with seating for up to 100 people for book signings and a children's stage for weekly story times and other programs. >>READ MORE
​

DESTINATION #5
Abilene

From storybooks to steampunk, Abilene's literary legacy is its diversity that includes some of Texas's strongest journalist-authors; a long-running regional book festival; a university press; and a vibrant historic downtown with museums, galleries, library, book and gift stores.
Following a propitious meeting, Abilene built a museum that was the first of its kind in the nation called the National Center for Children's Illustrated Literature (NCCIL). In March 1997 the "Nickel," as locals call it, opened its doors. Two years later, a statue depicting the children from Santa Calls, "Childhood's Great Adventure" by Rick Jackson, was erected downtown, and the following year the beautifully renovated circa-1920s Rhodes Building opened as a home for the center.
Last year the NCCIL celebrated its twentieth anniversary with a year chock-full of special activities. During the past two decades, the Nickel has featured the works of award-winning children's books illustrators and authors such as Dr. Seuss; Berenstain Bears authors Stan, Jan, and Michael Berenstain; and David Shannon. The center houses more than 150 pieces of original illustration. The museum collaborates with award-winning artists to produce exhibitions of their artwork that are distinctive and appealing to visitors of all ages. In addition to this unique artistic partnership, following its debut at the NCCIL gallery, each exhibition travels to museums, public libraries, and galleries nationwide.  >>READ MORE
​

DESTINATION #6
Fort Worth

The Fort Worth Star-Telegram came of age in the early twentieth century when larger than life men such as Amon G. Carter, William Randolph Hearst, and Joseph Pulitzer acquired newspapers and newspaper readers through aggressive beat reporting instead of hostile takeovers by shareholders agitating for better portfolio performance.
The Fort Worth journalism scene has proven fertile ground for authors such as Gary Cartwright, Dan Jenkins, Bud Shrake, Molly Ivins, Sandra Brown, Jeff Guinn, and Julia Heaberlin. These authors have generated best sellers on the national scene over recent decades. >>READ MORE
​

DESTINATION #7
Lower Rio Grande Valley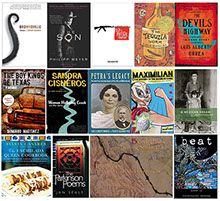 Every winter tens of thousands of snowbirds flock to the Rio Grande Valley, bringing with them an annual economic impact of $1 billion into the warm and palm-tree-lined streets from McAllen to Brownsville, including such cities as Harlingen, Mission, Weslaco, Donna, Edinburg, and Pharr.
The rich culture of the border provides a fertile soil for writers and artists, and for those who appreciate their works. Year-round, the RGV offers events and destinations for everyone. And from anywhere in the Lower Rio Grande Valley, it's is a quick jaunt to beautiful South Padre Island and the beaches of the Texas Gulf Coast—an inviting opportunity for literary travelers. >>READ MORE
​

DESTINATION #8
El Paso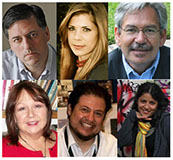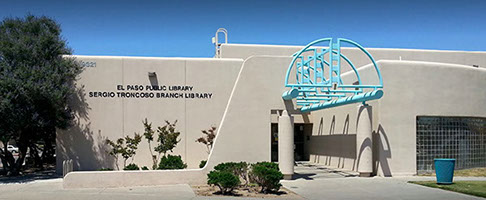 Perched on the spur of Texas's boot heel between the Rio Grande border with Mexico and the Franklin Mountains, through which the pass gave the city its Spanish name, El Paso is a cultural and literary melting pot of the highest order. Every flavor and genre of writing is richly intermingled here, predominantly, but not only, in English and Spanish. And no author better exemplifies the range of accomplishment here than Benjamín Alire Sáenz, the first Latino writer ever to win the PEN/Faulkner award.  >>READ MORE
​

DESTINATION #9
Bryan/College Station
With an MSA population of only 255,000, Bryan-College Station, also considered part of the Brazos Valley region, is one of the most literary regions in the state on a per capita basis.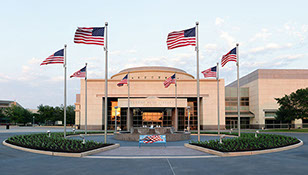 Leading off its visitable literary attractions is the George H.W. Bush Presidential Library, 1000 George Bush Dr. W, College Station. You can easily spend hours there learning about the 41st president — including his military service, Ivy League baseball career, time in office, and skydiving pursuits. >>READ MORE
Left: George H. W. Bush Presidential Library
Right: Authors with Bryan/College Station/Texas A&M connections
​

DESTINATION #10
Permian Basin (Midland/Odessa/Big Spring)
In significant ways Texas's Permian Basin stands at the crossroads of the state's literary culture in 2018. Visitors to the Ellen Noël Art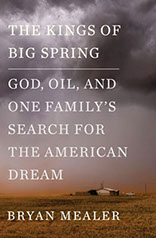 Museum in Odessa can view an impressive WPA-era mural by the late El Paso artist Tom Lea. But the Permian Basin is taking center stage in the Texas literary world this year with a native son's new memoir. Bryan Mealer's The Kings of Big Spring: God, Oil, and One Family's Search for the American Dream (Flatiron Books, 2018) paints a vivid picture of pumpjacks, Pentecostals, and the Permian Basin. The detailed multigenerational saga interweaves Mealer's family history with the notable people and places of Big Spring. >>READ MORE