Children's, Middle Grade, and Young Adult books added daily through mid-December, 2023. Click the covers to purchase.
Saturday, November 4, 2023
JUMP TO FICTION     -|||-     JUMP TO NONFICTION
 -|||- JUMP TO HGG HOME PAGE  -|||-
===========================
*CHILDREN'S* Click the covers to purchase.
===========================
CHILDREN'S FICTION / PICTURE BOOK / CHILDREN'S HEALTH / AGES 6-12
written and illustrated by Sharyn Diamond
Page Publishing, Inc. 
46 pages
Available in hardcover, paperback, and eBook
Amy's Amazing Hats was written to teach children the value of being kind and caring to a friend with cancer, bringing awareness to pediatric cancer, sharing the challenges young people have fighting this disease, and the wonderful work the Passing Hats organization does. On behalf of children fighting this disease the everywhere, please share this wonderful book with your family and friends and make the world a better place for all, one hat at a time!
===========================
CHILDREN'S FICTION / PICTURE BOOK / GREAT PLAINS
By Minda Parks, illustrated by Don L. Parks
Texas Tech University Press
32 pages
Available in hardcover
What does a boy do when he has to spend his summers on a dry, windy farm, living in a house with no water or electricity? No TV, no radio, no telephone, no bathroom, no refrigerator. This was ranch life long ago.
Don Parks grew up on a family ranch in the rural Great Plains. The sky was big and blue. Cattle roamed the fields. Cowboys came and went. Most important of all, the ranch's water was supplied by a faithful windmill. Every night it lulled the boy to sleep, and every day it worked alongside the family in the sun. 
Windmills still dot the landscape of the wide spaces of America's Great Plains. They serve as reminders of what it took homesteaders to settle this hardscrabble region and how they coaxed enough water from the earth to live by. 
When Don Parks grew up, he began painting the childhood he remembered. His paintings are set alongside a story by his wife, longtime educator Minda Parks. Together, the narrative and the paintings tell the history of windmills on the Great Plains.
===========================
CHILDREN'S FICTION / PICTURE BOOK / ANIMALS
By Diann Floyd Boehm; Illustrated by Judy Gaudet
Norns Triad Publication
Available in paperback, hardcover, eBook
What will Boomer find?

Boomer is a curious bunny who loves excitement. Staying home doesn't offer him the same fun it gives his brothers and sisters, so he hops off to see what he can see. When he does, what do you think awaits him?

Join this adorable furry rabbit as he heads off into the city where he meets a range of characters and goes on a variety of adventures. Will his discoveries be the joyful experiences he expects?
===========================
CHILDREN'S FICTION / PICTURE BOOK / ALPHABET BOOK
By April Nunn Coker
Amazon KDP
56 Pages
July 2023
Available in paperback, eBook
Ellie and her pet hedgehog Freddy spend a day at the zoo finding and describing a zoo animal for every letter of the alphabet.
===========================
CHILDREN'S FICTION / FOLK TALES / MYTHS / ANIMALS
By Kelly N. Baggett
FireflySkates
36 pages
Available in paperback and eBook
Fables for the Connected Age is a collection of short fables used for the digital education of children. The humorous fables feature relatable animal characters in a relationship of vice or virtue. The fables endeavor to teach children to communicate appropriately, respect others, report misbehavior, and to keep private information private. The lessons are thought-provoking and serve as a reminder to stay mindful of our actions in an increasingly technology-driven world.
===========================
CHILDREN'S / PICTURE BOOK
By Collin Hall; illustrated by Crystal Dawn Chaffee
Gloo Books
32 pages
September 15, 2023
Available in paperback, hardcover, eBook
This joyful and introspective picture book about navigating biracial identity follows a blue-green narrator on a journey of self-discovery. Written in playful rhyme, Mostly Me is an ode to readers of all ages that have felt out of place, questioning who they are. Navigating oft-asked questions like "Who am I? Do I belong?", readers discover the most empowering answer of all: "I'm mostly me." Written and illustrated by two biracial storytellers, this book creates a vibrant and uplifting message for anyone who feels like they're in-between.
===========================
CHILDREN'S / PICTURE BOOK / PET CARE
Porter and Midge: Paws for Safety 
By Jennie Chen and Giselle Nevada
Raise the Woof Press LLC
36 pages
October 24, 2023
Available in paperback, hardcover, eBook
Dive into the world of Porter, the affectionate Mastiff, Midge, the friendly Greater Swiss Mountain Dog, and their devoted owners CJ and Lora as they embark on an enlightening journey, learning all about canine safety.

Within these delightful pages, young readers will learn the art of approaching dogs with confidence and respect, while understanding the importance of seeking permission before petting. Through engaging rhymes and charming illustrations, children will discover the secrets to communicating with dogs in ways that make them feel secure and cherished.
===========================
CHILDREN'S / PICTURE BOOK / READING 
By Patricia Vermillion; illustrated by Lily Thompson
TCU Press
32 pages
October 16, 2023
Available in hardcover and library binding
Emerald loves to read. She lives in a library surrounded by books, yet she is lonely. Everyone wants a reading partner. Especially Emerald. Slither, Romeo, and Stinker will enchant readers with their rattling, alarming, and stinking ways. And every reader who has ever wanted a friend will know and understand Emerald's heart as they follow her journey to find her just-right reading partner This 32-page picture book celebrates the joy of reading with a friend.
===========================
*MIDDLE GRADE* Click the covers to purchase.
===========================
MIDDLE GRADE FICTION / SHORT STORIES / SUSPENSE / 6TH GRADE+
By Miracle Austin
Wings & Fangs Publishing
262 pages
Available in paperback and eBook
Find yourself a cozy spot, make sure all your doors are locked. Open FRIGHT BITES. Who or what will you encounter? Could it be Old Lady Canes, a shadow twister, or Cordelia? Be careful what lurks in the dark... you never know what's watching you and waiting. Immerse yourself in twenty-nine creeptastic tales from the author of the Doll Trilogy and Boundless.
===========================
*YOUNG ADULT* Click the covers to purchase.
===========================
===========================
YOUNG ADULT FICTION / CONTEMPORARY / SUICIDE & FAMILY ISSUES
The Coldest Winter I Ever Spent
By Ann Jacobus
Carolrhoda Lab
352 pages
Available in hardcover, eBook, and audiobook
Eighteen-year-old Del is in a healthier place than she was a year and a half ago: She's sober, getting treatment for her depression and anxiety, working in her Aunt Fran's San Francisco art gallery, and volunteering at a suicide-prevention hotline. Her own suicide attempt is in the past and living with her beloved aunt has helped her see a future for herself.
But when Aunt Fran is diagnosed with terminal cancer, Del's equilibrium is shattered. She struggles to help care for her aunt—while also dealing with a crush, her looming first semester at college, and her shifts at the crisis line. After Aunt Fran asks for her help with a mind-boggling final request, Del must confront her own demons and rethink everything she thought she knew about life and death.
===========================
YOUNG ADULT FICTION / FANTASY 
By Jennifer Silverwood
SilverWoodSketches
262 pages
Available in hardcover, paperback, eBook
Nineteen-year-old Vynasha's life is no fairy tale. The fire that killed her sisters was her fault, and the magick that saved her nephew cannot heal their scars. They shouldn't have survived, and the villagers either fear or loathe them. A mysterious stranger saves her, giving Vynasha the key to finding the only family they have left. With nothing to lose, Vynasha dares the journey into the forbidden Wylderland. Through dangers untold, she makes her way to the forgotten city, but more than ghosts linger in the castle. A wicked curse shadows the land. Shadows whisper that the one to break their curse has come, and a beastly prince makes a bargain Vynasha cannot refuse: Become the beast's bride or become a monster herself.
===========================
YOUNG ADULT FICTION / METAPHYSICAL FANTASY / COMING OF AGE
Einstein's Compass: A YA Time Traveler Adventure
By Grace Blair & Laren Bright
Modern Mystic Media
398 pages
Available in paperback and audiobook
Embark on a thrilling journey through time and imagination with "Einstein's Compass." This captivating historical fantasy science fiction novel weaves together the extraordinary life of Albert Einstein with fantastical elements and scientific concepts that will leave you spellbound.
Join Albert, accompanied by his loyal friend Johann, and the enigmatic classmate Werner Von Weisel, as they uncover the secrets of a jeweled compass bestowed upon Albert by his father. Little do they know this compass holds incredible magical powers, known only to Albert and Johann.
However, lurking in the shadows are Raka, Albert's jealous twin brother from millennia ago, and the cunning Countess Victoria von Baden.
===========================
YOUNG ADULT / FICTION / FANTASY
The Legends of Gryphendale Series
By Lara Lee
Available in paperback, eBook
Gryphendale, 393 pages
The Shadow of the Gryphon, 352 pages
The Gryphon's Handmaiden, 434 pages
The Gryphon of Stone, 469 pages
The Secret of Cinnamon Cinderguard, 420 pages
In a disc-shaped world in the center of our planet earth floats the land of the faeries, the kingdom of Gryphendale. The nine races have been given power over nature by the great Blue Gryphon, but evil is never far away. For fans of C.S. Lewis's Chronicles of Narnia and of Lloyd Alexander's Chronicles of Prydain, The Legends of Gryphendale holds a new set of adventures you are sure to love! Follow heroes of all races and different times as they seek to do what is right no matter the costs. Each book contains its own tale, but follow many of your favorite heroes as they engage in new challenges with new friends.
===========================
YOUNG ADULT FICTION / NOVELLA / METAPHYSICAL SCI-FI / MYTHOLOGY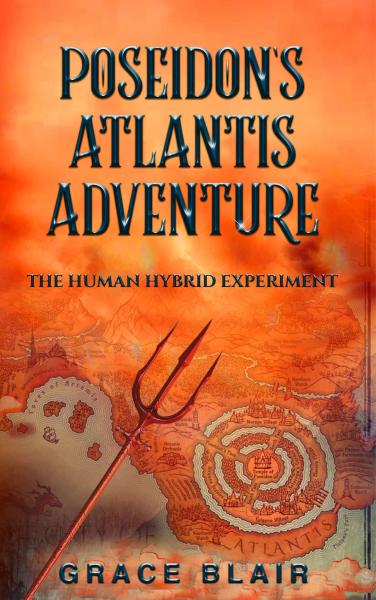 Poseidon's Atlantis Adventure - The Human Hybrid Experiment
By Grace Blair
Modern Mystic Media
156 pages
Available in eBook
Dive into the captivating world of Poseidon's Atlantis Adventure: The Human Hybrid Experience. In the aftermath of a cataclysmic clash between Titans and Olympians, Poseidon, overshadowed by his brother Zeus, embarks on a celestial quest riding a majestic Hippocampus.
As he travels through time, Poseidon encounters Cleito, a young woman with a deep connection to his ancestry. Together, they uncover the secrets of her parents, Euenor and Leucippus, and their utopian paradise.
In this new world, Poseidon faces ethical dilemmas and technological wonders. With the guidance of Kyrie, a celestial envoy from the Pleiades, he explores genetic engineering and human hybrids, igniting moral introspection.
===========================
YOUNG ADULT / HISTORICAL FICTION / WESTERN / ADVENTURE
By Chris Mullen
Available in hardcover, paperback, and eBook
Rowdy: Wild and Mean, Sharp and Keen, February 24, 2022, 290 pages. Visit the Lone Star Lit Tour Page.
Rowdy: Redemption, March 31, 2022, 257 pages. 
Rowdy: Dead or Alive, April 21, 2022, 282 pages. 
Rowdy: Rescue, March 14, 2023, 270 pages. 
Rowdy: To Catch a Killer, April 18, 2023, 298 pages. 
Rowdy: Return, May 23, 2023, 256 pages. 
"A man acts like one because he has to. A boy acts like one when he wants to. What are YOU?" For Rowdy, this question from his dead father constantly challenges him to do what is right…Life for Rowdy is a daily adventure, and while he must navigate the dangers on his own, he has found the loyalty of friends and words from his past give him the strength and knowledge needed to survive in an unforgiving time. Fighting for what is right is his code. Living life for others becomes his way. Staring danger in the face is what he must do if he is to fully grow into the man his father would have wanted him to become. So, when the going gets tough, the tough get ROWDY.
==========================
YOUNG ADULT / HISTORICAL FICTION
The Ruby Series
By Diann Floyd Boehm
Available in paperback
Rise! A Girl's Struggle for More, OC Publishing, 406 pages
Ruby Takes Chicago, OC Publishing, 256 pages
The main character, Ruby Pearl, is mature beyond her years, born at least a decade too soon. Growing up in a family of nine children in Oilton, Oklahoma, with her nose constantly in a book, she's the girl who would rather read than can tomatoes.

Ruby's story unfolds amidst the backdrop of a horse and buggy town welcoming its first motor cars. She becomes a pioneer for girls her age, following the inspiration of the suffrage movement, breaking all norms, defying tradition-and her parents-to become a truly independent woman.
===========================
===========================
Click the covers to purchase.
===========================
JUMP TO FICTION     -|||-     JUMP TO NONFICTION
 -|||- JUMP TO HGG HOME PAGE  -|||-