New books added daily through July 28, 2023. Click the covers to purchase.
JUMP TO CHILDREN'S    -|||-    JUMP TO YOUNG ADULT 
*MIDDLE GRADE*
Click the covers to purchase.
New books added daily through July 28, 2023
===========================
MIDDLE GRADE / HISTORICAL FICTION / SCI-FI / MYSTERY
By Anne Bustard
Simon & Schuster Books for Young Readers
224 pages; hardcover, audiobook
FAR OUT! is a MG mystery with humor, hijinks, and heart in equal measure. Eleven-year-old Magnolia Jean Crook and other residents of Totter, Texas, are over the moon about space. The upcoming First Annual Come On Down Day, where any and all extraterrestrials are welcome to visit, is only a week away. Before the kick-off party, a meteorite is stolen and threatens to eclipse the festivities. When the sheriff arrests Magnolia Jean's grandmother, MJ and her best friend Nick Lawless take the case.
===========================
MIDDLE GRADE / FICTION / HUMOR / OUTDOORS
By Murray Richter
Lucky Reader Books
149 pages; paperback, audiobook, eBook
Kevin's awesome life consisted of three things: fantastic fishing, hanging out with his ever-pranking friends, and having fun with the coolest mentor ever. But when the scariest piece of his past resurfaces, his world changes. Will Kevin be able to find his voice and the courage to overcome things too evil to speak of, or will he lose his friends, his family, and everything else important to him?
===========================
MIDDLE GRADE / CONTEMPORARY REALISTIC FICTION / Ages 10-14
By Sydney Dunlap
Jolly Fish Press

IT HAPPENED ON SATURDAY is a heartfelt, hopeful debut novel that is already on the School Library Journal Mock Newbery list. 

It's the timely story of a girl who narrowly escapes becoming a victim of human trafficking and must find her way to hope and healing after this traumatic event. It explores social media safety in an accesssible, kid-friendly way and also includes themes of friendship, family, and doing what you know is right, even if it's hard. It is featured in Kirkus Reviews as a book that promotes positive mental health in kids.

Due to its age-appropriate message about staying safe online, National Book Award-winning author Kathryn Erskine has offered the endorsement, "This book could, literally, save your life."
===========================
MIDDLE GRADE / PICTURE BOOK / EARTH SCIENCES / UNICORNS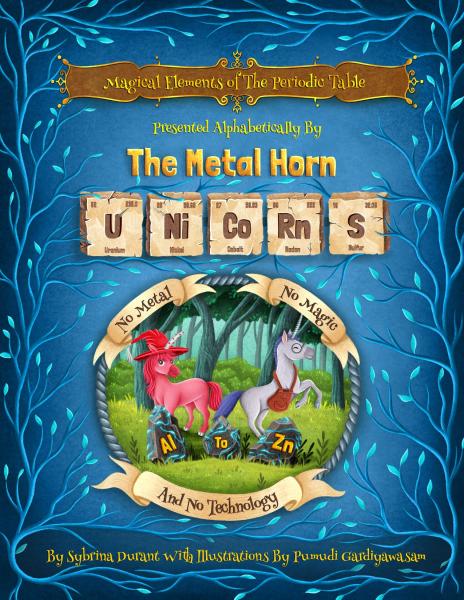 Magical Elements of the Periodic Table, Presented by the Metal Horn Unicorns
By Sybrina Durant; Illustrated by Pumudi Gardiyawasam
Sybrina Publishing
42 pages; hardcover, paperback, eBook
Metals and all the other elements from the periodic table make everything seem magical. You can see it everywhere...in buildings, transportation, communications, medicines, and even in the food you eat! All technology and everything that makes life modern come from the magical elements in the earth, water and the air. Think of it like this, "No Metal – No Magic…and No Tech-no-lo-gy." You can learn about all that stuff in this middle grade book called The Magical Elements of the Periodic Table Presented Alphabetically by the Metal Horn Unicorns. 26 techno-magical elements are graphically presented from A to Z by the magical metal horn unicorn tribe from Unimaise. Yeah! Unicorns and Science are sure to delight your child.
===========================
MIDDLE GRADE / CONTEMPORARY FICTION / Ages 8-12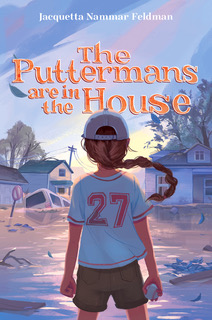 The Puttermans Are in the House
By Jacquetta Nammar Feldman
Harper Collins Children's
Seventh grader Sammy Putterman is a star first baseman. She loves baseball. Matty is her twin brother and he used to be a star pitcher on her team, but he's not anymore. He says he hates baseball now, but he won't say why. Becky is their first cousin. She kind of hates baseball, but what she really hates is the special twin telepathy connection Sammy and Matty share that always makes her feel left out. When Sammy and Matty's home floods during Hurricane Harvey, their family moves in with Becky's. The Putterman kids need each other now more than ever, but as their grief, anger, and uncertainty grow, can they find a way to cheer for their team at home?
===========================
MIDDLE GRADE / FICTION / ADVENTURE / MYTHOLOGY
The Skyriders Series
By Polly Holyoke
Skyriders, 304 pages
The Sky King, 320 pages, available May, 2024, preorder
Viking Children's Books
audiobook, hardcover, paperback, eBook
Wings of Fire meets Skandar and the Unicorn Thief in this epic fantasy adventure.

Thirteen-year-old Kiesandra's best friend isn't human, but that doesn't stop her from sharing jokes and secrets with her winged horse, N'Rah. She loves her job as a sky courier, yet when monsters from long ago reemerge to ravage the Empire, her uncle makes Kie promise to bring his ancient manual on skyfighting tactics to the capital. But how can a shy girl from the fringes of the Empire convince people in power to listen to her, before it's too late?

Bursting with action and heart, this first book in the Skyriders series shows that even shy kids can achieve the impossible—especially with flying horses on their side.
 
===========================
MIDDLE GRADE / FICTION / CONTEMPORARY FANTASY / LGBTQIA / AGES 8-12
By Stephanie Willing; jacket art © 2023 by Dion MBD
Viking Children's at Penguin Random House
352 pages; audiobook, hardcover, eBook
When her mom disappears from their small Texas town, paleontology-loving Haven is determined to find her. But as she uncovers truths about her mom's identity, Haven also uncovers a monstrous family secret. Her mom can take the shape of a human and, in the right environment, also turn into an amphibious creature known as a kitskara. And now Haven is discovering she has this ability, too. This newfound identity is her only clue to help her track her mother and bring her home.
She, her older sister Margie, and her new friend Rye set off on a road trip across Texas's Gulf Coast to her late grandparents' abandoned home, where they're sure her mom has disappeared to…along with plenty of family secrets.
===========================
MIDDLE GRADE / NONFICTION / MEMOIR / AUTOBIOGRAPHY / GRADE 5+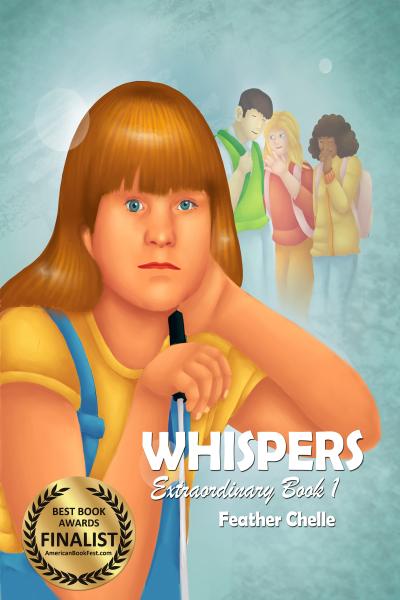 Whispers: Extraordinary Book 1
By Feather Chelle; cover design by Pandu Permana
DLD Books
112 pages; hardcover, paperback, eBook
Have you ever overheard whispers about yourself? Imagine if you had learned to depend on your ears and could hear even better than the average person. To begin her series about extraordinary preteens overcoming a variety of challenges, the author shares what it was like coming of age as a totally blind student in West Texas.
===========================
MIDDLE GRADE / CONTEMPORARY FICTION / Ages 8-12
By Jacquetta Nammar Feldman
Harper Collins Children's
When twelve-year-old Yasmeen Khoury moves with her family to San Antonio, all she wants to do is fit in. But her new classmates in Texas are nothing like her old friends from her Arab neighborhood in Detroit. Yasmeen feels like the odd girl out until she meets Ayelet Cohen, a first-generation Israeli American who also understands what it feels like when your parents' idea of home is half a world away. But when Yasmeen's grandmother moves in after her home in Jerusalem is destroyed, the two girls must grapple with how much closer the events of the Israeli-Palestinian conflict are than they'd realized. Can Yasmeen and Ayelet learn there's more that brings them together than might tear them apart…and that peace begins with them?
===========================
===========================
New books added daily through July 28, 2023!
Want your book included? Click here for details and pay-what-you-can pricing.
JUMP TO CHILDREN'S    -|||-    JUMP TO YOUNG ADULT