New books added daily through July 28, 2023. Click the covers to purchase.
JUMP TO MIDDLE GRADE    -|||-    JUMP TO YOUNG ADULT 
*CHILDREN'S*
Click the covers to purchase.
New books added daily through July 28, 2023!
===========================
NONFICTION / CHILDREN'S PICTURE BOOK / MEMOIR / EMPOWERMENT / AGES 6-12
By Abigail Maines; Illustrated by Jenifer Novak
Fully Inspired Publishing
Inspiring memoir meets colorful children's book, the incredible story of Abigail's Dad provides empowerment for girls and parents! Through examples of family support, finding mentors, and discovering powerful role models, Abigail learns how to believe in herself every step of the way. This book is a roadmap for all of us who value supporting young girls to live their dreams in a world where they are needed, respected and honored. Abigail's Amazing Dad is such an inspiring example of being present and offering unconditional love and support as a parent.
===========================
FICTION / CHILDREN'S PICTURE BOOK / AGES 3-8
Abuela's Fideo: A Story of a Grandma's Love
written and illustrated by Gabriela Tijerina
Del Alma Publications, LLC
Dulce Ramos loves a good mouthwatering bowl of homemade fideo or noodle soup. She, most especially, likes the kind her beloved Abuela used to make. Dulce misses her Abuela terribly and wishes she had paid more attention and learned how to make her delicious fideo. Notwithstanding, Dulce embarks on a fideo cooking adventure that she is sure will taste just like Abuela's. In this touching story of family love and loss, Dulce discovers how cooking has the power to nourish the body as well as the soul.
===========================
FICTION / CHILDREN'S PICTURE BOOK / CHILDREN'S HEALTH / AGES 6-12
written and illustrated by Sharyn Diamond
Page Publishing, Inc. 
Amy's Amazing Hats was written to teach children the value of being kind and caring to a friend with cancer, bringing awareness to pediatric cancer, sharing the challenges young people have fighting this disease, and the wonderful work the Passing Hats organization does. On behalf of children fighting this disease the everywhere, please share this wonderful book with your family and friends and make the world a better place for all, one hat at a time!
===========================
FICTION / CHILDREN'S PICTURE BOOK / AGES 2-8
The Baby with Three Families, Two Countries, and One Promise
by Julie Gianelloni Connor; illustrated by Saman Chinthaka Weerasinghe
Bayou City Press
36 pages; paperback & hardcover
Called by reviewers as "essential," "unique," and "charming," The Baby with Three Families, Two Countries, and One Promise is a children's book designed to be read by parents to a child adopted from a foreign country. The story recounts the separate emotional journeys taken by prospective adoptive parents and a biological mother in order to arrive at an adoption. The complex adoption process is "stripped down to its simplest form, for a concise and sincere look at the topic." In the final pages of the book, the adoptive parents tuck their baby in at night, telling him his story: he has three families, two countries, and a promise to visit the country of his birth in the future.
===========================
FICTION / CHILDREN'S PICTURE BOOK / ANIMALS / AGES 3-9
by Diann Floyd Boehm; illustrated by Judy Gaudet
Norns Triad Publications
52 pages; eBook (Preorder)
What will Boomer find?
Boomer is a curious bunny who loves excitement. Staying home doesn't offer him the same fun it gives his brothers and sisters, so he hops off to see what he can see. When he does, what do you think awaits him?
Join this adorable furry rabbit as he heads off into the city where he meets a range of characters and goes on a variety of adventures. Will his discoveries be the joyful experiences he expects?
===========================
FICTION / CHILDREN'S PICTURE BOOK / AGES 5-12
by Courtney Kelly, illustrated by Erin Nielson
Courtney Kelly Books
available in English, French, German, & Spanish!
Celeste Saves the City pulls readers into the life of a young girl forced to leave her beloved home as Hurricane Katrina threatens to flood New Orleans. Determined to make a difference in the future, she sets her sights on becoming a civil engineer and Celeste figures out how to protect the wetlands that slow down flood waters during bad storms and hurricanes. Introducing readers to civil engineering while paying homage to the "Big Easy", this semi-autobiographical tale encourages children from diverse backgrounds to pursue careers in STEM and elevates the need for continued efforts to protect coastal cities from the impact of catastrophic weather events.
===========================
FICTION / CHILDREN'S PICTURE BOOK / COMMUNITY / AGES 4-8
by Shachi Kaushik, illustrated by Aishwarya Tandon
Beaming Books
Priya loves being with family and friends to watch fireworks and celebrate Diwali. But this year Priya and her parents are living in the United States, and no one seems to know about the holiday. Priya misses the traditions in India. But as she strings lights outside and creates rangoli art, Priya introduces the festival of lights to her neighbors. And even though the celebration is different this year, it's still Diwali. A heartwarming story of celebrating in a new place and sharing the Hindu festival of lights with those unfamiliar with the holiday.
===========================
NONFICTION / CHILDREN'S PICTURE BOOK / SCIENCE / AGES 5-9
Glitter Everywhere: Where it Came From, Where It's Found & Where It's Going
by Chris Barton, illustrated by Chaaya Prabhat
Charlesbridge Publishing
If you love glitter, this book is for you. If you hate glitter, this book is also for you. Everyone seems to have an opinion about glitter. But how much do you know about the tiny, shiny confetti? What makes glitter glitter? Why does it stick to everything? Who invented it? How is it made? Is glitter bad for the environment? Chris Barton's informative wit and Chaaya Prabhat's vibrant art make Glitter Everywhere sparkle as it covers the good, the bad, and shiny of all things glitter.
===========================
FICTION / CHILDREN'S PICTURE BOOK / PROBLEM-SOLVING / EDUCATIONAL
The Hamilton Troll Adventures Series
by Kathleen J. Shields
Erin Go Bragh Publishing
audiobook, hardcover, paperback, eBook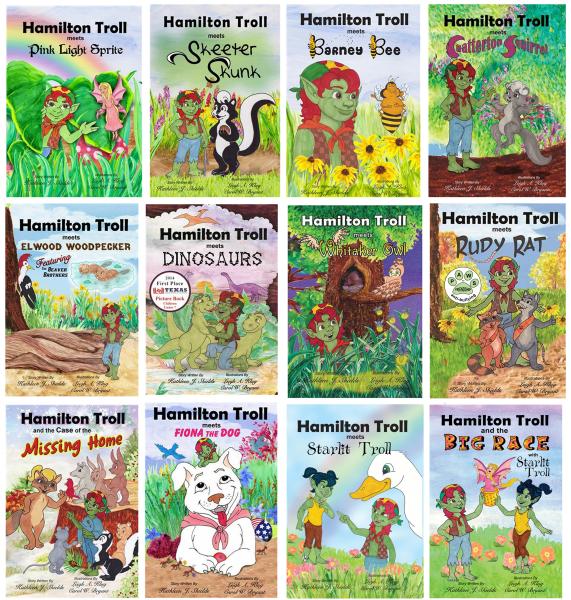 Hamilton Troll meets Pink Light Sprite, 44 pages
Hamilton Troll meets Skeeter Skunk, 52 pages
Hamilton Troll meets Barney Bee, 46 pages
Hamilton Troll meets Chatterton Squirrel, 42 pages
Hamilton Troll meets Elwood Woodpecker, 36 pages
Hamilton Troll meets Dinosaurs, 36 pages
Hamilton Troll meets Rudy Rat, 38 pages
Hamilton Troll meets Whitaker Owl, 40 pages
Hamilton Troll and the Case of the Missing Home, 40 pages
Hamilton Troll meets Fiona Dog, 38 pages
Hamilton Troll meets Starlit Troll, 40 pages
Hamilton Troll and the Big Race, 50 pages
Hamilton Troll loves to learn new things, meet new friends and help solve problems in this fun, rhyming story series. Children will learn social skills: how to make friends, practice makes perfect and how to face your fears. They will learn animal characteristics, like young skunks not being able to control their scent gland. And they will learn science, like how petrified wood is made, described in rhyme with a definition of sedimentary layers. There are words and definitions throughout the stories to help increase vocabulary and even games. This is an award-winning educational series.
===========================
NONFICTION / CHILDREN'S PICTURE BOOK / SPORTS / HISTORY
by Kelly Bennett, illustrated by Susanna Covelli
Familius
The House That Ruth Built celebrates the April 18, 1923 Opening Day at the original Yankee Stadium and Babe Ruth's first home run in the legendary ballpark. Artist Susanna Covelli's vibrant, historically accurate Rockwellesque illustrations of the stadium and events, coupled with vintage photographs of players, baseball, the stadium, that historic game…and sidebars packed with baseball history, trivia…and an end note with the rest of the story, will makes this a must-read for baseball fans of all ages!
===========================
FICTION / CHILDREN'S PICTURE BOOK / BILINGUAL / MEXICAN-AMERICAN
by Mary Sue Galindo, illustrated by Pauline Rodriguez Howard
Piñata Books
When three generations of family gather to visit and eat watermelon, the grandparents reminisce about how the sweet fruit brought them together.
===========================
FICTION / CHILDREN'S PICTURE BOOK / CONTEMPORARY / ANIMALS
The Naomi Nash Series
by Jessica Lee Anderson
Capstone / Picture Window Books
paperback
Saving Snakes, 112 pages
The Mystery of the Ball Python, 112 pages
The Drama Noodle, 112 pages
Problems at the Pond , 112 pages

No one seems to love snakes quite as much as Naomi Nash. And thanks to her mom's job as an exotic animal veterinarian, Naomi has plenty of snake-filled encounters. Along with her best friend, Emma, and older brother, Nolan, Naomi is on a mission to help these misunderstood, feared creatures—especially when they get caught in tricky situations in her Texas neighborhood.
===========================
FICTION / CHILDREN'S PICTURE BOOK / HUMOROUS / ANIMALS
by Feather Chelle, illustrated by Pandu Permana
Heather Toney
Take a journey to spy upon the peculiarities of the world of people through the eyes of animals. With a fresh perspective on human behavior, as seen by a deer family and their raccoon guide, this book will get you thinking like an animal scientist and have you laughing as well. Not only are these musings fun, but they just might bring us closer to the natural world and deepen our respect for it, making us better stewards of our environment in the future.
===========================
NONFICTION / CHILDREN'S PICTURE BOOK / PETS
The Puppy Adventures of Porter and Midge: Out and About
by Jennie Chen and Giselle Nevada, illustrated by Ann Kelble
Raise the Woof Press, LLC
Introducing The Puppy Adventures of Porter and Midge: Out and About – a quick introduction to early socialization and training for puppies that will make them outstanding canine citizens and wonderful family pets. Kids will love following along with the two puppies' story set in Austin, Texas, as they learn about how to take care of their own puppy. This is the first book in a series of story books, journals, and activity books.
===========================
NONFICTION / CHILDREN'S PICTURE BOOK / HISTORY / CATTLE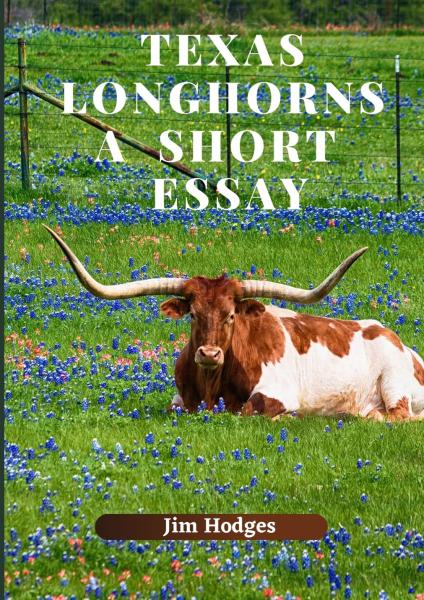 Texas Longhorns, A Short Essay
by Jim Hodges
A beautiful coffee table conversation piece! In this short essay, the author entertains and informs offering stories, art, and references to tell the complete story of the venerable Texas Longhorn. He proposes a thesis that the Texas Longhorn cattle are both spirit walkers and mystic storytellers and includes ancient historical references as well as modern science to justify the point. If you want a quality short read to become better informed about the Texas Longhorn and witness some beautiful art and photographs as well, then this essay is a great interlude.
===========================
===========================
New books added daily through July 28, 2023!
Want your book included? Click here for details and pay-what-you-can pricing.
===========================
JUMP TO MIDDLE GRADE    -|||-    JUMP TO YOUNG ADULT