New books added daily through July 4, 2020. Click the covers to purchase.
JUMP TO CHILDREN'S    -|||-    JUMP TO YOUNG ADULT 
JUMP TO BOOKS BY AUTHORS OF COLOR
*MIDDLE GRADE*
Click the covers to purchase.
New books added daily through July 4th, 2020!
===========================
HISTORICAL FICTION
By Anne Bustard
Simon & Schuster Books for Young Readers
Hardcover ISBN: 9781534446069; 224 pages; $17.99; also available in eBook
Visit the Lone Star Lit Tour Page
Ten-year old Glory Bea Bennett believes in miracles. After all, her grandmother—the best matchmaker in the whole county—is responsible for thirty-nine of them so far.
Now, Glory Bea wants a miracle of her own—her daddy's return.
WWII is over, but Glory Bea's father never returned from the front in France. Deep in her heart, she believes Daddy is still out there.
When reports that the Texas boxcar from the Merci Train, a train filled with gifts of gratitude from the people of France—will be stopping in Gladiola, Glory Bea just knows daddy will be its surprise cargo.
But miracles, like people, are always changing, until at last they find their way home.
===========================
ACTION / ADVENTURE / BOYS' FICTION
Edison Jones and the Anti-Grav Elevator
By Michael Scott Clifton
Book Liftoff
Paperback ISBN-13: 978-1947946521; 282 pages; $12.99; also available in eBook
Visit the Lone Star Lit Tour Page.
Genius, Inventor…and Lonely Twelve-Year Old Boy
Edison Jones is a prodigy with a passion for technology. Although a car accident at age five left him orphaned and paralyzed from the waist down, Edison hasn't let his disability slow him down. In his underground lab, he happily busies himself with his latest inventions. Then one day his world changes overnight. His grandfather, a billionaire tech company owner, fears Edison's isolation from kids his own age is dangerous and unhealthy. Instead of private tutors, he decides to enroll Edison in a public school.
Thrust into the chaotic world of seventh-grade boys and girls, Edison struggles to adjust. Algorithms, quantum physics, and digital engineering are easy, but despite his genius, what Edison really wants is to fit in and find his place…and be just like everyone else.
===========================
NONFICTION / AFRICA / DISABILITY
Her Own Two Feet: A Rwandan Girl's Brave Fight to Walk
By Meredith Davis and Rebeka Uwitonze
Scholastic Focus
Hardcover ISBN: 9781338356373; 199 pages; $17.99; also available in pre-recorded audio player
Rebeka Uwitonze was born in Rwanda with curled and twisted feet which meant she had to crawl or be carried to get around. At nine years old, she gets an offer that could change her life. A doctor in the US might be able to turn her feet. But it means leaving her family and going to America on her own.
 
Her Own Two Feet tells Rebeka's inspiring story. In the face of dozens of hospital visits and painful surgeries, Rebeka's incredible bravery and joyful spirit carry her to the opportunity of a lifetime. This book celebrates hope, perseverance, and what becomes possible when you take a risk.
===========================
MIDDLE GRADE MYSTERY / FANTASY
The Lost Property Office (Section 13, Book 1)
By James R. Hannibal
Simon & Schuster Books for Young Readers 
Paperback ISBN-13: 978-1481467100; 416 pages; $7.99; also available in eBook, audio book, and hardcover 
When Jack Buckles comes to London searching for his missing father, a man—or perhaps a ghost—fitting his father's description draws him to the Lost Property Office on Baker Street. There, aided by Gwen Kincaid, Jack learns his family belongs to a secret society of detectives called the Ministry of Trackers.
Jack is the thirteenth in the Buckles line—a Section 13, banned under ministry regulations. To find his father, he'll run afoul of the Trackers and the other three secret ministries—the Ministries of Secrets, Guilds, and Dragons. The search takes him deep into their mysterious world, filled with anachronistic technology, and pits him against the Clockmaker, a madman who is using Jack's father to recreate the Great Fire of London.
The Fourth Ruby (Section 13, Book 2)
By James R. Hannibal
Simon & Schuster Books for Young Readers 
Paperback ISBN: 978-1481467131; 432 pages; $8.17; also available in eBook, audio book, and hardcover 
It's been a year since Jack Buckles discovered the Keep beneath Baker Street, the underground, upside-down tower of the Ministry of Trackers; a year since his dad fell into a coma. Nothing has been the same since. Jack's tracker abilities are on the fritz and his partner Gwen Kincaid is not speaking to him.
When Jack convinces Gwen to go on an outing with him, the two are framed for the theft of the Crown Jewels. The true thief was after only one large ruby and the power it brings. Now, they must stop the thief from stealing its sister jewels across the globe and unleashing a reign of terror unlike nothing seen since the days of Genghis Kahn.
The Clockwork Dragon (Section 13, Book 3)
By James R. Hannibal
Simon & Schuster Books for Young Readers 
Paperback ISBN: 978-1481467162; 432 pages; $8.48; also available in hardcover and eBook
Jack Buckles is on trial for his life.
The Ministries of Secrets and Guilds conspire to put the Trackers down for good—starting by ending Jack's very existence. His only hope is to prove their leader Ignatius Gall is the real danger, not him. A deep dive into Gall's conspiracy leads Jack and Gwen through the Austrian Alps to the great reaches of central China.
Joined by their new friend Liu Fai, Jack and Gwen set out to stop Gall before he can uncover artifacts from the First Emperor, said to grant immortality and mind control. But a clockwork monster threatens them at every turn. The creature's ticking gears only serve as a reminder that Jack's judgment day is fast approaching.
===========================
NONFICTION / INVENTORS / FOOD, HISTORY, & LATINO/HISPANIC/MEXICAN INTEREST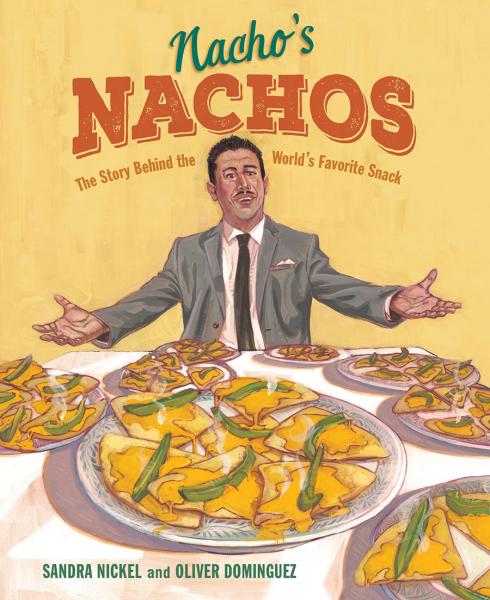 Nacho's Nachos: The Story Behind the World's Favorite Snack
By Sandra Nickel and Oliver Dominguez
Lee & Low Books
Hardcover ISBN: 978-1620143698; 32 pages; $18.95; available for pre-order
NACHO'S NACHOS is the deliciously true story about how nachos were invented—about what happened when a regular customer asked Ignacio "Nacho" Anaya for something new, and there were no chefs in the kitchen. 2020 is the 80th Anniversary of the invention, and Oliver Dominguez's illustrations transport us back to the border of the Rio Grande in 1940, when Nacho's quick thinking resulted in a snack now eaten everywhere from Texas to Paris to Hong Kong! The book includes a recipe of the original nachos for children and adults to enjoy together.
===========================
HISTORICAL FICTION / JEWIS FICTION / AMERICAN HISTORY / JEWISH AMERICAN HISTORY
By Daniela Weil
Pelican Publishing (an imprint of Arcadia Publishing)
Hardcover ISBN: 978-1455625215; 128 pages; $10.95
Coming to Lone Star Book Blog Tours September, 2020
For twenty-four years the Dutch colony of Recife in northeastern Brazil was a safe haven for Jews who had escaped the Inquisition in Europe. It was known as "Colonial Jerusalem," and it was from this religiously tolerant town that Asser Levy starts his story. When the Portuguese recaptured the territory in 1654, they brought the Inquisition and its torments with them, forcing Asser and his family and friends to flee to Holland. About fifteen ships arrive safely in Holland; Asser's ship does not.
Through imagined diary entries based on real events, Asser tells the harrowing story of the first group of Jewish refugees who arrived on the island of Manhattan and of some of the first court battles fought to allow religious freedom in America.
===========================
New books added daily through July 4, 2020!
Want your book included? Click here for details and pay-what-you-can pricing.
JUMP TO CHILDREN'S    -|||-    JUMP TO YOUNG ADULT