Women write tales as diverse as Texas
Sunday, February 14, 2021
"Texas also has so much history for authors to draw on, and the state also offers a wide variety of climates—and weather disasters such as tornadoes, hurricanes, and heat, always the heat—that can complicate mystery plots."
A recent poll of mystery readers indicated that for 72 percent, the cozy was the preferred subgenre. Perhaps that's why Murder By the Book, that wonderful Houston bookstore, put together a panel of cozy-mystery authors with ties to Texas. On the panel were Amber Royer, author of Grand Openings Can Be Murder, about a chocolatier in Galveston; Rebecca Adler, author of the Taste of Texas Mystery series, including Here Today, Gone Tamale; The Good, the Bad and the Guacamole; and Cinco De Murder; Wendy Lyn Watson, who writes mysteries of all types: contemporary, historical, and cozy, but is probably best known for an ice-cream-shop series; Melissa Bourbon, national bestselling author of nineteen mystery books, including the brand-new, collaborative Book Magic mysteries, the Lola Cruz Mysteries, A Magical Dressmaking Mystery series, and the Bread Shop Mysteries, written as Winnie Archer; Diane Kelly, a former state assistant attorney general and tax advisor who spent much of her career fighting, or inadvertently working for, white-collar criminals, writes about those crimes along with a K-9 cop series, Paw Enforcement, which reflects her love of animals.
Texas landscape was among the subjects the authors discussed, pointing out that non-Texas readers often expect West Texas landscapes and Mexican food, but are surprised by mysteries set in Galveston, North Central Texas (Watson), and the DFW Metroplex (Kelly)—five authors and five totally different settings. Texas also has so much history for authors to draw on, and the state also offers a wide variety of climates—and weather disasters such as tornadoes, hurricanes, and heat, always the heat—that can complicate mystery plots.  
Murder By the Book has a full calendar of programs that can be accessed either on their Facebook page or their YouTube channel. Upcoming this month, among others, are Walter Mosley, Charlaine Harris, and a Sisters in Crime chapter meeting.
* * * *
With the first title in her Fireside Series, When We Last Spoke, Texas author Marci Henna achieved something most authors dream of—a film showing for her work. And she did it mostly by being bold herself.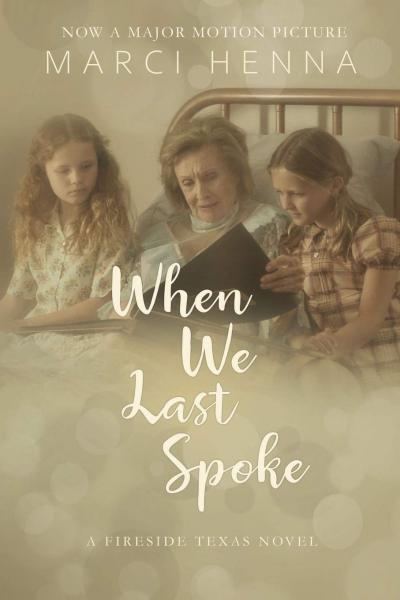 The novel is about family and love, estrangement and forgiveness. Orphans Juliet Cranbourne, local radio personality and owner of a whimsical kitchen-gadget store, and her sister, Evangeline, a fruit-tree geneticist who works for Oregon State University, have long been estranged when Juliet convinces Evangeline to come home to Fireside, Texas, for Christmas and choose headstones to honor their grandparents. As they cruise through Fireside in Ruby's Thunderbird, Juliet hopes that healing memories will somehow smooth rough roads ahead.
As she wrote, Henna recalls, she saw the story visually, as if a movie were actually unfolding as she typed. Then she happened on a book trailer on Facebook and knew what she had to do with her manuscript. Here's the bold part: she hired a film crew and filmed the story within a month. Then she floated the trailer on Facebook, where it caught the attention of a producer.
As Marci describes it, a couple of years of hard work passed before the film was released. When We Last Spoke is currently appearing on Amazon and Christian Cinema. It had a theatrical release this past fall and won the Audience Favorite Award at the Austin Film Festival. It will be available elsewhere later in 2021.
As for Fireside Books, there's a second title, What Lies Ahead, and a third title coming soon, All We Ever Needed. Marci Henna proves there is a spot for love and family and old-fashioned values in today's Texas literature—and what one author with a bit of gumption can accomplish.
Marci is fresh off the Pulpwood Queens Weekend experience, which she describes as amazing. "Kathy Murphy did an extraordinary job of planning this year's convention. What a challenge to create such a successful Zoomathon in the midst of a pandemic!"
Christie
Craig is an Alabama native who now hangs her hat in Texas. Noted for suspense novels chock full of romance, humor, and a bit of sex, Craig takes a more realistic approach to murder in Don't Look Back (Texas Justice Book #3). FBI agent Bree Ryan poses as a waitress at the Black Diamond strip club, the same club where her estranged half-sister worked until she turned up dead. When Bree's undercover assignment is compromised, she turns to the only man she knows who can help her: Connor Pierce, a rule-breaking cop with a knack for solving cold cases.
When someone breaks into Bree's apartment, Connor's detective skills aren't the only things that kick into overdrive. Although his job demands he remain detached, he finds himself tempted by Bree's intelligence and bravery. As the investigation—and their attraction—grows more intense, lives are in jeopardy, and Connor finds the most important rule he must break is his own.
Other books in the Texas Justice Series are Don't Breathe a Word and Don't Close Your Eyes. Craig, also known for the Divorced and Desperate and the Tall, Hot, and Texan Series, also writes young-adult and fantasy novels under the pseudonym of C. C. Hunter.
Judy Alter, former director of TCU Press, is the prolific author of books, both historical and mysterious, mostly about Texas women. Her most recent book, Saving Irene, was published in September. Follow Judy at http://www.judyalter.com.