Lone Star Lit was out and about in Las Colinas
(Shown above, L to R, and clockwise, starting top left: NTTBF co-founder Dr. Rose Brock; Sam Houston State University professor Dr. Karin Perry with authors Hafsah Faizal, Anna-Marie McLemore, Alex London, and Ransom Riggs; author Neal Shusterman; Lone Star Lit contributor and blogger Margie Longoria and Kristine Hall; author Traci Chee; Texas author Aminah Mae Safi; author Ruta Sepetys; Texas author Karen Blumenthal. ) 
On Friday, March 6, 2020, Sam Houston State University professors, Dr. Rose Brock, Dr. Karin Perry, and Dr. Teri Lesesne, hosted the fifth annual Educators Day at the North Texas Teen Book Festival.  In addition to hundreds of educators who traveled from around the state to attend, the hosts welcomed special guests Pam Muñoz Ryan, Neal Shusterman, Ally Carter, Angie Thomas, Ruta Sepetys, Libba Bray, Julie Murphy, Maureen Johnson, and over two dozen more MG and YA authors to North Texas. Themed "Books, Books, Books: A Symposium for Educators," the event focused on sharing the best new books for readers and sharing practical and exciting ways for educators to engage young readers from upper elementary through high school. Lone Star Literary Life's owner and publisher Kristine Hall, a Texas certified librarian and former student of both Dr. Perry and Dr. Lesesne, attended to get continuing education hours and fangirl over the incredible author line-up.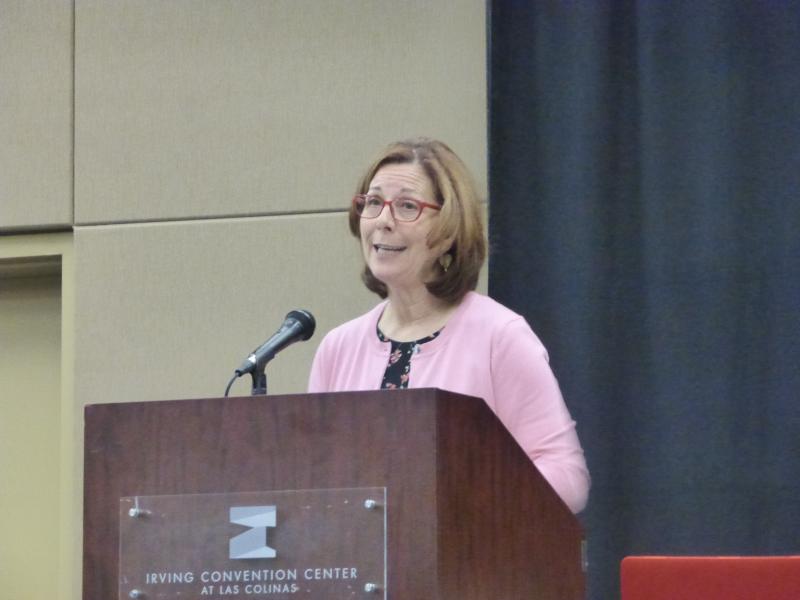 The opening keynote speaker was author Pam Muñoz Ryan, twice the recipient of the Pura Belpré Medal, a Willa Cather Award winner, and a Newbery Honoree, who has written over forty books for young people. In her inspirational speech, Ryan talked about how her book, Esperanza Rising, was banned in a North Carolina school district in 2015. One parent complained that their impressionable fourth graders shouldn't be exposed to "ethnic class struggles." Ryan said that while it was discouraging, it only motivated her more to tell those stories.  She ended by sharing that her books are always about hope, which not coincidentally is the name of her grandmother, mother, and daughter. 
Representatives from publishers HarperCollins, MacMillan, Penguin, Random House, PRH Audio, and Scholastic each book talked in the "Publisher Book Buzz," and the publishers (plus book box favorite OwlCrate and the wonderful First Book) all had tables where they were giving away books and swag to attendees. Of interest to Lone Star Lit was Random House Children's Books celebration of "Books about Texas, books by Texans, and books for Texans."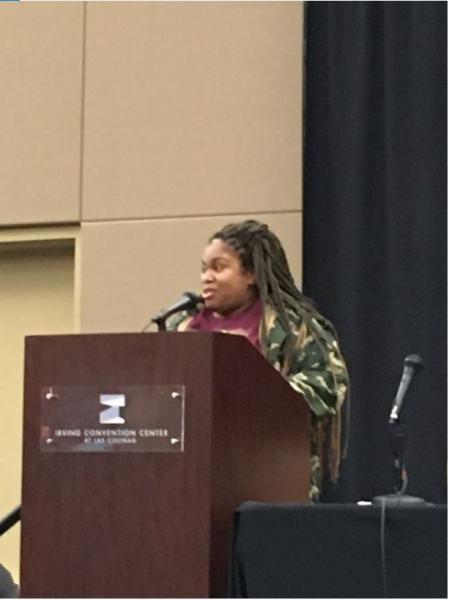 The second keynote speaker was Angie Thomas, author of The Hate U Give and On the Come Up, who spoke primarily about her new release, Find Your Voice: A Guided Journal for Writing Your Truth, and how educators can use it in the classroom to get students writing. She advised the audience to tell students, "Practice does not make perfect; practice makes greatness."
Educator panel sessions ran throughout the day, where generally, attendees could choose between sessions geared towards educators of middle graders or young adults. A highlight was "Past Lives," a panel moderated by SHSU's Dr. Teri Lesesne, and featuring Texas author Karen Blumenthal (Jane Against the World was featured in our February Texas Books Preview) and authors Sharon Cameron, Traci Chee, Monica Hesse, and Ruta Sepetys talking about writing historical fiction and how the stories are personal. Traci Chee, for example, mentioned that she wrote her upcoming release, We Are Not Free, to honor her own family's experiences in incarceration camps.  All of the panelists agreed that it is hard to embrace that the 1970s and 1980s are now historical periods and that the stories from those decades need to be told to younger generations in ways they can understand and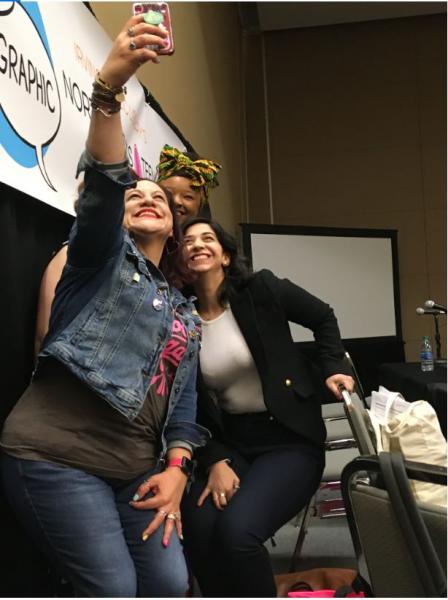 remember.  Another panel highlight was "Swoony Reads," moderated by Lone Star Lit's contributor and blogger team member, Margie Longoria (who is also a high school librarian). The panelists were not only hilarious, but it was a delightful surprise to learn that author Aminah Mae Safi (This is All Your Fault, June 2020), is a Texan. 
Neal Shusterman was the closing keynote speaker, and he shared many personal stories and photos -- from the amusing to the heartbreaking -- and underscored how if he hadn't gone through all the tough times, then he wouldn't have become the writer he is today. He summed up the sentiment by saying writers and readers have a choice: "We can dwell in the dark, or we can shine light out there." Shusterman's sentiments had been echoed throughout the day by many of the authors who have been through challenging and trying times and have come out on the other side stronger and with perspectives they feel compelled to share with young adults, who might travel the same rough paths. 
No book festival would be complete without author signings, so at the conclusion of Ed Day, attendees were able to meet the authors and get their books signed before the blessed chaos of the next day with students.  The Irving Public Library and Kristin Treviño, founder of the North Texas Teen Book Festival, along with Dr. Rose Brock, co-founder of TTBF and founder of Ed Day, are to be commended for their organization and programming of this fine event that keeps getting better. It's almost enough to make one librarian, who is using her library science degree in a non-traditional way, want to go back to working in a school library. Ask her about it after the Texas Library Association Conference later this month.