New books added daily through July 29, 2022. Click the covers to purchase.
JUMP TO MIDDLE GRADE    -|||-    JUMP TO YOUNG ADULT 
*CHILDREN'S*
Click the covers to purchase.
New books added daily through July 29th, 2022!
===========================
CHILDREN'S PICTURE BOOK / HISTORY / MULTICULTURAL BIOGRAPHIES / AGES 2-6
By Little Coleman; Illustrated by Lindsay Scott
La Reunion Publishing
ABC That Could Be Me is an alphabet picture book written and illustrated to empower Black children across the world. This book champions Black excellence by showing kids they can be doctors, lawyers, the president, and so much more! Read about people like Paul R. William, the first Black architect, Marie Maynard Daly, the first Black chemist, and more who paved the way for the next generation to do great things in this world. This vibrant picture book will give children the confidence to dream big dreams, knowing that there's a whole alphabet who came before them!
===========================
CHILDREN'S PICTURE BOOK / REALISTIC FICTION / AGES 6-10
By Ellen Leventhal; Illustrated by Blythe Russell
WorthyKids / Hachette Book Group
When the flood waters force Charlotte and her family to go to a shelter, waves of anger and sadness fill her. But when her community comes together to care for one another, Charlotte finds an unexpected source of comfort and hope-- receiving and passing on kindness.
===========================
CHILDREN'S PICTURE BOOK / FICTION / AGES 5+
By Diann Floyd Boehm; Illustrated by Judy Gaudet Pub
Texas Sisters Press
40 pages; hardback, paperback, and eBook
This story is about a little boy who wishes for worldwide peace. Tommy leaps off the merry go round and starts singing, "Peace" over and over. Soon others around the world join the chorus.
When you learn why he sings, you will too!
===========================
CHILDREN'S PICTURE BOOK / FICTION / CHRISTMAS / ALL AGES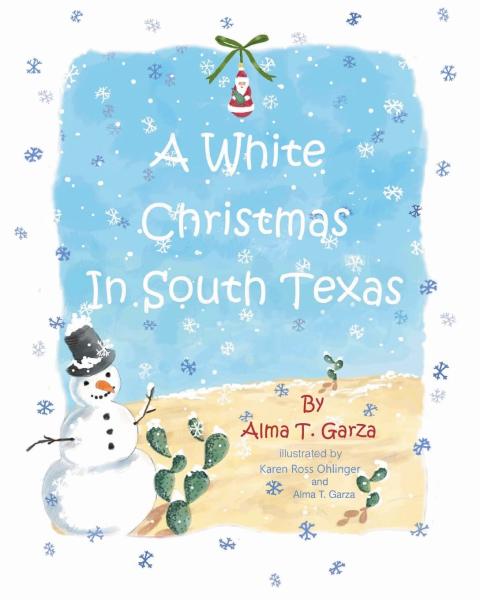 A White Christmas in South Texas
By Alma T. Garza; illustrated by Alma T. Garza & Karen Ross Ohlinger
Christian Faith Publishing, Inc. 
24 pages; hardback, paperback, and audio book
A children's story about Santa's disappearance from the North Pole
Santa's reindeer search for him around the world and find him in Texas where he was fishing on Falcon Lake on the Rio Grande River, enjoying the hot weather. The reindeer are faced with a dilemma and must get the elves to help them. In an unexpected turn of events, Santa comes through in time for Christmas and the people of South Texas get a big wintery surprise.
===========================
CHILDREN'S PICTURE BOOK / TRAVEL / ADVENTURE / AGES 6-8
The Adventures of Chief and Sarge Series
By C.J. Peterson,
Texas Sisters Press
A Day at the Races: A Lesson in Friendship, 52 pages, illustrated by Davy Jones
Cruising, 42 pages, illustrated by Waleed Ahmad
hardcover, paperback, and eBook
Chief and Sarge are two adorable little guys who love adventure! They were adopted by Cassie & Trevor of Serenity Acres. They share their adventure in their books, along with some fun facts and lessons learned along the way. 
===========================
CHILDREN'S PICTURE BOOK / HEALTH / FRIENDSHIP / KINDNESS / AGES 6-10
Amy's Amazing Hats: A Book About Friendship, Caring and Kindness
By Sharyn Diamond
Page Publishing
46 pages; hardcover, paperback, and eBook
Amy's Amazing Hats is an inspirational and uplifting story with colorful illustrations showing children how to connect and help their friends who are coping with the challenges of cancer.
My purpose in writing Amy's Amazing Hats was to increase awareness of pediatric cancer, the Passing Hats non-profit organization, as well as bringing kindness to our world, one "amazing hat" at a time! The theme throughout the story encourages friendship, kindness and caring while also learning worthwhile values.
On behalf of children fighting cancer everywhere, Amy's Amazing Hats is a great book to read and share with family, friends and classmates for children ages six through ten. Read it, enjoy it, share it!
===========================
CHILDREN'S PICTURE BOOK / INTERNATIONAL ADOPTION / BLENDED FAMILIES / AGES 3-7
The Baby with Three Families, Two Countries, and One Promise: An International Adoption Story
By Julie Gianelloni Connor; Illustrated by Saman Chinthaka Weerasinghe
Bayou City Press
42 pages; hardcover, paperback, and eBook
Called by reviewers "essential," "unique," "charming," The Baby with Three Families, Two Countries, and One Promise is a children's book designed to be read by parents to a child adopted from a foreign country. The story recounts the separate emotional journeys taken by prospective adoptive parents and a biological mother in order to arrive at an adoption. The complex adoption process is "stripped down to its simplest form for a concise and sincere look at the topic." In the final pages of the book, the adoptive parents tuck their baby in at night, telling him his story--that he has three families, two countries, and a promise for the future to return to the country of his birth.
Visit the Lone Star Lit Book Blog Tour Page
===========================
PICTURE BOOK / ANIMALS / BEES & ENVIRONMENT
By Lavelle Carlson; Illustrated by John D. Moulton
SLP Storyteller
Spring is in the air! Carrots are growing. Are they Yucky or Yummy Carrots? Is it just a dream? Baby Bunny hates carrots then she loves them. What makes Baby Bunny change her mind when she hates carrots? How can the bees help to convince Leni ?
As Honey Bunny goes into dreamland to discover how to like carrots she and Leni both learn about the bees, how they make honey, and the beautiful flowers.
This delightfully illustrated book will keep children enthralled as they dream along with Leni about the bunnies and the bees to see how Baby Bunny changes her mind about carrots. Will this also help Baby Leni love carrots as she dreams about Baby Bunny and the carrots and bees? Winner of the prestigious Mom's Choice Award
===========================
PICTURE BOOK / AMERICAN WEST / AGES 4-8
Illustrated by Don. L. Parks, Text by Minda Parks
Texas Tech University Press
What does a boy do when he has to spend his summers on a dry, windy farm, living in a house with no water or electricity? No TV, no radio, no telephone, no bathroom, no refrigerator. This was ranch life long ago. Don Parks grew up on a family ranch in the rural Great Plains. The sky was big and blue. Cattle roamed the fields. Cowboys came and went. Most important of all, the ranch's water was supplied by a faithful windmill. Every night it lulled the boy to sleep, and every day it worked alongside the family in the sun.
When Don Parks grew up, he began painting the childhood he remembered. His paintings are set alongside a story by his wife, longtime educator Minda Parks. Together, the narrative and the paintings tell the history of windmills on the Great Plains.
===========================
CHILDREN'S PICTURE BOOK / RHYMING / COUNTING / HUMOR / AGES 3-9
The Boy Who Could Only Count to Nine
By Kelley Berberich; Illustrated by Debi Pickler
Ceili Futuri Publishing
32 pages; paperback, hardcover, library binding, eBook
The Boy Who Could Only Count to Nine is a fun book written in rhyme about a boy who can only count to nine because one finger is in his nose all the time. Nigel's itchy, twitchy nose is especially bothersome when he is nervous. His finger often creeps up to his nose hole in the worst of times! Who will teach him the lessons that give him all his fingers to count to ten? You'll see as you giggle your way through this funny book.
===========================
NONFICTION / CHAPTER BOOK / SELF-HELP / WELLNESS / AGES 8-12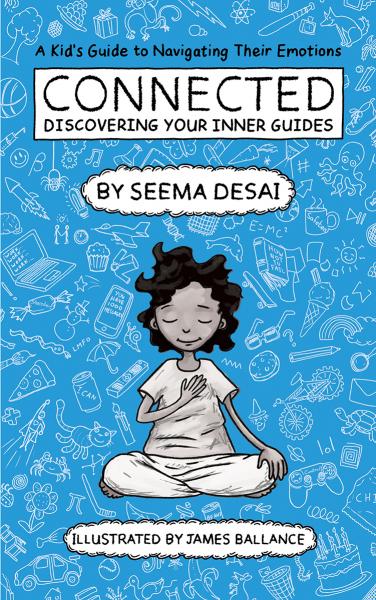 Connected: Discovering Your Inner Guides
By Seema Desai; Illustrated by James Ballance
The Jai Jais Ltd.
Connected is all about teaching kids and their families how to navigate their emotions. It is a practical guide to understanding powerful concepts that alleviate the stress and challenge in tough situations.
The book also includes tools and tips to help children become advocates for their mental and emotional well-being in productive ways, as well as thought-provoking questions to encourage young readers to think about how these tools would be uniquely relatable to them.
Written to inspire children to become empathetic leaders and creative solution-seekers, Connected is a book that helps them not only understand themselves better, but also those around them.
===========================
NONFICTION / CHAPTER BOOK / ADVENTURE / TRUE STORIES
Four Legged Heroes: The Mama Magina Stories
By Mary Virginia McCormick Pittman; Illustrated by Carol A. Howell
Xlibris (hardcover), Book Trails Agency (paperback)
42 pages; hardcover, paperback, eBook
Is it animal magic? Or the unique DNA of the wolf?
This book presents three incredible true stories that will transport you into a world of canine courage, endurance, bravery, and fortitude, which can be called nothing less than miraculous. Animal lovers will be brought to tears, and new fans of the husky will be created for life.
===========================
CHILDREN'S PICTURE BOOK / FICTION / DESERT / ANIMALS / AGES K-3
By Diann Floyd Boehm; Illustrated by Yoshita Ahmed
OC Publishing
40 pages; hardcover, paperback, eBook
HARRY THE CAMEL will surely pull on the heart strings of readers as he pines for a life he can never have. Harry lives in the sand dunes of Dubai, and he often watches from a distance as the beautifully sleek race horses at the track run their laps. He laments that his back isn't as smooth as theirs and wonders how much faster he could run without his bulky old hump. As he dreams of the possibilities, Dover the bird swoops in and teases him about his hump, making him feel even worse about how he looks. As he makes his way sadly home he happens upon a little boy named Omar. Harry learns that Omar is lost. Who better than a camel to lead a lost boy out of the desert? In the end, Harry discovers there is nothing better than being yourself and, for the first time, Harry is proud to be a camel.
===========================
CHILDREN'S PICTURE BOOK / FICTION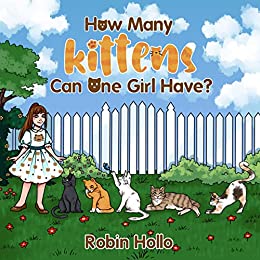 How Many Kittens Can One Girl Have?
By Robin Hollo
Amazon Publishing
How Many Kittens Can One Girl Have? is best described as a children's book with a huge heart. Pearl and her small black cat, Nugget, live in a little cottage. They're the best of friends and do everything together until one day, a cry from the other side of their white picket fence brings an unexpected surprise in the form of a tiny, orange-colored kitten who needs a home. Pearl and Nugget take in the stray, and the all get along famously – until more strays show up in quick succession. Soon, Pearl's tiny cottage is bursting at the seams, and chaos reigns! Pearl realizes that things will have to change quickly… find out what happens as Pearl decides just how many kittens she should have.
===========================
CHILDREN'S PICTURE BOOK / ANIMAL FICTION / DOGS
Happy Tails Camper Stories: Lucy Learns to Share
By Sharlene Novak; Illustrated by Sarah Gledhill
Atmosphere Press
Lucy is a little dog with a big problem.
On her first day at Happy Tails Dog Camp, Lucy meets other dogs and sees lots of toys to play with. But another dog grabbed the toy she wanted and ran off with it! Lucy has a plan to get that toy for herself, but when she does, her plan doesn't work the way she had hoped.
In Happy Tails Camper Stories: Lucy Learns to Share by Sharlene Novak, we experience Lucy's disappointment when another dog takes the toy she wants and when her plan to get that toy has an unexpected result. But her friend Bingo saves the day with the perfect solution!
===========================
CHILDREN'S PICTURE BOOK / SOCIAL EMOTIONAL LEARNING
The Life and Canine Times of Pee Wee and Buddy Series
By Todd and Casey Gent, Illustrator
Page Publishing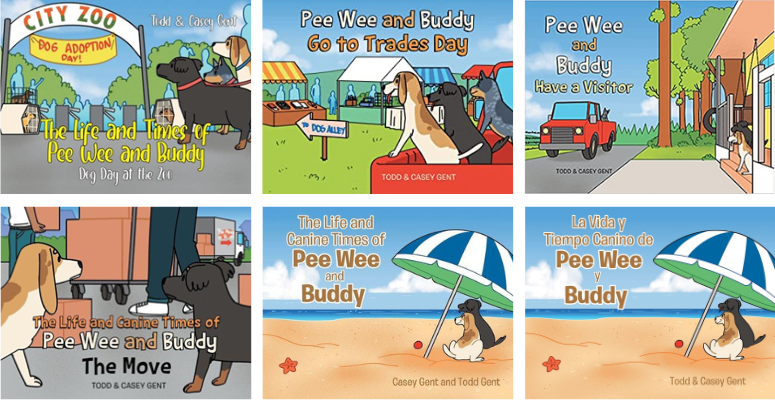 The Life and Times of Pee Wee and Buddy: Dog Day at the Zoo, 22 pages, paperback
Pee Wee and Buddy Go to Trades Day, 22 pages, paperback
Pee Wee and Buddy Have a Visitor, 16 pages, paperback
The Life and Canine Times of Pee Wee and Buddy: The Move, 22 pages, paperback
The Life and Canine Times of Pee Wee and Buddy, 24 pages, paperback
La Vida y Tiempo Canino de Pee Wee y Buddy, 23 pages, paperback
The Life and Canine Times of Pee Wee and Buddy series is about two rescue dogs and their adventures.  Pee Wee, a dachshund/corgi mix, and Buddy, a three-legged beagle/basset hound, teach acceptance and living life to the fullest by showing kindness and unconditional love.  Going through a move, loss, being bullied, and other issues, Pee Wee and Buddy teach that one can respond to negative circumstances with a positive attitude. The senior rescue dogs meet many friends and stick together as they go through daily living.  
===========================
CHILDREN'S PICTURE BOOK / FANTASY / AGES 4-8
By Sandi Johnson and Sybrina Durant; Illustrated by Enrique Vignolo
Sybrina Publishing
This book is about the Lil' Metal Horn Unicorn Babies And Metals! As you read the story, look for the big, shiny gold stars. The Gold Stars indicate the metal of each unicorn's horn plus an every day object made from that metal. The different metals are tin, copper, silver, gold, brass, nickel, aluminum, iron, steel, zinc and lead.
Wow!
That's A Lot Of Metal!

This story is also about one more little unicorn who is very different from the others. His name is Blue. He may not be like the rest of his tribe but he will not let that affect who he is now or who he will grow up to be.
Read the book to learn more about the blue unicorn and his magical Metal Horn Unicorn Tribe.
===========================
CHILDREN'S CHAPTER BOOKS / FANTASY / SERIES
The Mischief Series
By Amanda M. Thrasher 
Progressive Rising Phoenix Press
Paperback, library binding, eBook
Mischief in the Mushroom Patch,  146 Pages
A Fairy Match in the Mushroom Patch, 162 pages
Spider Web Scramble, 170 pages
Stranger in the Mushroom Patch, 212 pages
A delightful adventure series filled with fun and exciting quests. Whimsical characters Lilly, Boris, and Jack lead by example to demonstrate the importance of friendship, loyalty, and kindness to the people they meet. From discovering where fairy dust comes from to leaf surfing, web scrambling, and interacting with an actual human, the fun and gentle life lessons never end. Elders guide the young ones, balancing their protective nature with the knowledge they must equip the young to look after themselves, an elegant metaphor for the trust that develops in the parent and child relationship. May be read in sequence or as a stand-alone book(s). Independent reading second to fourth grade or enjoy reading aloud chapter by chapter each evening. Fun for the entire family!
Follow the Lone Star Lit Book Blog Tour starting 6/21/2022.
===========================
CHILDREN'S NONFICTION PICTURE BOOK / NATURE STORIES / STEM / PRE-K TO GRADE 5
By Jayshree L. Patel; Illustrated by Alexandra McLellan
Ripple Press LLC.
32 pages; hardback, paperback, and eBook
An award-winning picture book by Jayshree L Patel, inspiring inquiry and wonder about nature and the environment we are all a part of. Beautifully illustrated by Texas artist, Alexandra McLellan.
A poetic story inspired by the melting ice that followed the Texas snowstorm in February 2021. Told through the voice of water, One Drop journeys to the Pacific Ocean and the shores of New Zealand, where the author grew up.
Follow a tiny droplet's journey through beautifully illustrated skies, landscapes, rivers and ocean. Explore and discover how water transforms itself and its environment on its magnificent journey. Discover new things to explore and learn about nature in every scene. Enjoy the joyful and playful language of this poetic, read aloud story.
===========================
CHILDREN'S PICTURE BOOK / STEM / SCIENCE / AGES 4-8
Science Makes It Work Series
By Catherine Stier; Illlustrated by Floss Pottage
Albert Whitman & Co.
32 pages; hardback, eBook
Secrets of the Snow Globe: A curious kid discovers how magnification and density make her favorite collectible possible.
The Wonder of Color: A painting contest inspires one artist to learn about light waves, prisms, and the color wheel.
Visit the Lone Star Lit Book Blog Tour Page
===========================
CHILDREN'S PICTURE BOOK / FOLKLORE / ADAPTATIONS / AGES 5-10
Wenonah's Blanket: The Story of the Blanket Flower
By Peggy Browning
8th Street Press
Long ago, a mother wove a blanket for First Daughter Wenonah. Wenonah was warm and safe from the cold prairie winds with her blanket. When her father left for war, she gave him her blanket for protection. The war party returned without her father and Wenonah slipped away to find him. She searched for miles in the cold dark night, until she could walk no more and lay down to sleep under a tree fearing she would never see her father again. Flowers grew in the night and covered her like her beloved blanket, keeping her safe and warm. When she woke, her father was beside her still wearing her blanket. Now every springtime, the blanket flowers bloom again to remind us of brave Wenonah.
===========================
New books added daily through July 29, 2022!
Want your book included? Click here for details and pay-what-you-can pricing.
JUMP TO MIDDLE GRADE    -|||-    JUMP TO YOUNG ADULT