New books added daily through mid-December, 2020. Click the covers to purchase.
JUMP TO FICTION -|||-  JUMP TO BOOKS FOR YOUNG READERS
Click the covers to purchase.
NONFICTION / HISTORY / TEXANA / TRAVEL
6 Feet Under Texas: Unique, Famous, & Historic Graves in the Lone Star State
By Tui Snider
Castle Azle Press
August 7, 2020
260 pages
Available in paperback and eBook
Cemeteries become open-air museums when Tui Snider takes you on a playful-but-informative tour of historic Texas burial grounds. Along the way you will learn about forgotten history, (including gold buried under a cemetery tree), meet unusual characters (such as the oilman with a telephone in his mausoleum), ponder unsolved mysteries (including a space alien's grave), and admire uniquely Texan monuments (such as the Jesus in cowboy boots), and much more! Although this book is perfect for armchair travel, photos accompany each of the 50 chapters, and addresses are included for readers who wish to plan road trips.
===========================
NONFICTION / FOLKLORE
A Biscuit for Your Shoe: A Memoir of County Line, a Texas Freedom Colony
By Beatrice Upshaw; introduction and photographs by Richard Orton
Texas Folklore Society Extra Book
University of North Texas Press
November, 2020
288 pages; 40 b&w illustrations, index.
Available in hardcover
The book captures the lore of a community which began as a freedom colony west of Nacogdoches through the eyes of Beatrice Upshaw who lives in the community and serves as one of the County Line Baptist Church musicians. The memoir shares beliefs, home remedies, folk games, and customs, as well as the importance of religion and education to this community. The narrative is a rich source of colloquial language and proverbial sayings that help define a group of people. Photographer Richard Orton was first introduced to County Line by F. E. "Ab" Abernethy, the Secretary-Editor of the Texas Folklore society for nearly four decades.
===========================
NONFICTION / INSPIRATION / GIFT BOOK / SELF HELP
A Delightful Little Book On Aging
By Stephanie Raffelock
She Writes Press
April 28, 2021
118 pages
Available in hardcover, audio book, and eBook
"I did more than a few things right and more than a few things wrong," Raffelock writes in her slim nonfiction debut. "Now I get to stand in the light of my truth and share my lessons with the world around me." This well-designed book presents these lessons as a series of thoughts and vignettes from the author's life. . ." ~Kirkus Reviews

Grace and compassion wrapped up in a bow, A Delightful Little Book On Aging, is the perfect Christmas gift for a loved one. 
===========================
NONFICTION / SOCIAL MEDIA / HOW-TO / SELF-HELP
A Social Media Survival Guide: How to Use the Most Popular Platforms and Protect Your Privacy
By Melody Karle
Rowman & Littlefield Publishers
(30% discount using code RLFANDF30 on publisher's website)
February 2020
184 pages
Available in hardcover and eBook
Are you trying to figure out how to safely use social media but finding yourself struggling? Here's a book specifically designed to help regular people figure out social media. Chapter one covers the basics: how they work, why people use them, and general safety tips. Then each major network has its own chapter: Facebook, Snapchat, Pinterest, LinkedIn, Instagram, YouTube, Twitter, Reddit & Tumblr.
Each chapter gives a summary of the platform and tells the reader why people use it. Each also has a glossary of terms to explain language and slang like subreddits, retweets, and more. If readers decide to use the platform (or already use it and want to learn more), each chapter guides users through how to start. 30% discount if you use code RLFANDF30 and buy directly from the publisher!
===========================
NONFICTION / SELF-HELP / PERSONAL TRANSFORMATION / PERSONAL FINANCE
At Close Range: A Memoir of Tragedy and Ad
vocacy
By Leesa Ross
Texas Tech University Press
April 15, 2020
192 pages
Available in hardcover and eBook
Leesa Ross did not expect to write a book. Neither did she expect the tragedy that her family endured, a horrific and sudden death that led her to write At Close Range.
Her debut memoir is the story of what happened after her son Jon died in a freak gun accident at a party. Ross unsparingly shares the complexities of grief as it ripples through the generations of her family, then chronicles how the loss of Jon has sparked a new life for her as a prominent advocate for gun safety. Before the accident, Ross never had a motivation to consider the role that guns played in her life. Now, she revisits ways in which guns became a part of everyday life for her three sons and their friends. Ross's attitude towards guns is thorny. She has collectors and hunters in her family. To balance her advocacy, she joined both Moms Demand Action and the NRA. Through At Close Range, the national conversation about gun control plays out in one family's catalyzing moment and its aftermath. However, At Close Range ultimately shows one mother's effort to create meaning from tragedy and find a universally reasonable position and focal point: gun safety and responsible ownership.
===========================
Click the covers to purchase.
===========================
NONFICTION / SELF-HELP / PERSONAL TRANSFORMATION / PERSONAL FINANCE
Be the Hero and Rescue Yourself: Creating the Inner Courage to Wear Your Own Cape
By Kelly Fuhlman
Clovercroft Publishing
August 4, 2020
128 pages
Available in paperback and eBook
Have you ever wished a superhero would come down and rescue you in those chaotic life moments of life? The easiest thing to do is wait for someone more qualified to come along and fix what has been broken for so long. What if I told you that hero was you?
From dyslexia, drug addiction, and trauma, there were many times when author, Kelly Fuhlman didn't think she would make it. Even in times of great success, she still felt lost. The truth is the only person who can save each of us is ourselves. 
Through her journey, Kelly shares how to seize back your life from waiting for the hero to becoming your own. No matter what the condition of your life, or your heart, we will journey together to see proof that no matter how far you fall, you can get back up. You can be courageous and Be the Hero and Rescue Yourself! It's time to dust off your cape, and step into your purpose and healing as your own hero.
 
===========================
NONFICTION / SPORTS & ADVENTURE / TRAVEL & LEISURE / MILITARY
Ely Air Lines: Select Stories from 10 Years of a Weekly Column, Volumes 1 & 2
By Mike Ely and Linda Street-Ely
Paper Airplane Publishing
Volume 1 published January 29, 2020; 350 pages.
Volume 2 published January 29, 2020, 330 pages. 
Available in paperback and eBook
The Ely Air Lines series is a two-volume collection of 100 short, aviation-themed stories culled from the first ten years of a weekly newspaper column by the same name. An easy read that will relax the mind and leave the reader wishing for their own blue-sky adventures. Now you can step aboard to enjoy outstanding storytelling that explores the vast realm of the flyer's world with captivating stories that inspire and educate.
Written by pilots Mike Ely and Linda Street-Ely. Buckle up and fly with Mike and Linda to discover amazing people, interesting places, and the conquest of flight.
===========================
NONFICTION / INTERIOR DESIGN / HOME DESIGN / GUIDE
Expressive Interiors: Designing an Inviting Home
By Sarah Eilers and Sandra Lucas
Rizzoli
September 15, 2020
239 pages
Available in hardcover
From the Third Coast, comes an inspirational book by award-winning interior designers, Sandra Lucas and Sarah Eilers, who reveal the magic behind inviting homes that are stylish and versatile for modern living. Native Houstonians, Lucas and Eilers' aesthetic marries the entrepreneurial spirit of the West with Southern grace.
The duo shares their insight on topics like scale and proportion, color and light, and pattern and texture, as they explore their approach to creating expressive living spaces in projects from coast to coast. They then tour you through several homes, including a family ski compound in Utah, a Houston shot-gun home rich with patina, and a Gulf Coast beach house. The rooms they create are timeless and an inspired study for anyone passionate about interior design.
===========================
NONFICTION / SELF-HELP / DATING / RELATIONSHIPS
The Friendship Diet: Clean Out Your Fridge, Get Real With Yourself, and Fill Your Life With Meaningful Relationships That Last
By Sheri Jacobs
Archangel Ink
June 1, 2020
134 pages
Available in paperback and eBook
Is your relationship lackluster? What can you do about relationships that are simply unfulfilling? For starters, look at your intimate relationships as a diet. What kind of a meal plan are you on? If it's mostly junk and empty calories, then you can be sure there is an emotional void.
Fortunately, you can achieve proper care and feeding of your intimate relationships through deep introspection. If you know yourself and are well acquainted with your own soul first, then this becomes second nature. Sheri Jacobs will help you learn how to love and take care of yourself with witty analogies, never-ending encouragement, and practical advice. Your most important relationship is the one you have with yourself, and you'll never starve on The Friendship Diet!
===========================
NONFICTION / HUMOR / CHRISTIAN / MEMOIR
Gulag P-Pa Diaries, The: A Bittersweet Memoir of Grand-Parenting
By Preston Lewis
CKN Christian Publishing
April 2020
268 pages
Available in paperback and eBook
As new empty-nesters Harriet and Preston next looked forward to becoming grandparents. Their journey to assuming the names of Mema and P-Pa, however, took a tragic and unexpected turn. 

The Gulag P-Pa Diaries tells a bittersweet story of anticipation, loss and sorrow counterbalanced with hope, faith and a butterfly on the path to grandparenthood. Told with poignancy and humor, the narrative triumphs over tragedy by chronicling The Grands' misadventures each summer at Camp Mema/Gulag P-Pa. 

The Gulag P-Pa Diaries will touch your heart and tickle your funny bone.
===========================
Click the covers to purchase.
===========================
NONFICTION / AUTOBIOGRAPHY / LOVES AND TRIAL / FINANCE
Men, Money and Gypsy Blood
By Sharron Ann Sibley
May 14, 2020
424 pages
Available in hardcover, paperback, audio book, and eBook
Men, Money and Gypsy Blood is a coming-of-age story expressed as only a West Texan girl can tell it. This is a true story of what determination and gypsy blood can do!
===========================
NONFICTION / HOLIDAY MEMOIR / HUMOR / NOSTALGIA
By Leon Hale
Winedale Publishing
2015
64 pages
Available in paperback
Leon Hale's well-known gift for touching the humanity in all of us finds the ideal subject in this personal recollection of the holidays he has known. This new edition (2015), with added material, highlights the warmth and humor for which this legendary writer is so beloved. Whether Hale is scrambling to put together a new toy for his children, racing around to buy last minute, often misguided, gifts, or reliving his family's fraught holiday on a hardscrabble sheep farm during the Great Depression, the unique sensibility that has endeared him to generations of readers shines through every word.
The Copper Shade Tree, found at cstshoponline.com, will allow books to be personalized as gifts.
===========================
NONFICTION / PERSONAL MEMOIRS / TEXAS HISTORY / TEXAS TRAVEL
Out There: Essays from the Lower Big Bend
By Ben English
Creative Texts Publishers
October 28, 2020
480 pages
Available in hardcover, paperback, and eBook
When one opens these pages they step into another world and place, and on occasions, another time. No matter what you may know about the lower Big Bend or think you know, here are thoughts, maps and photographs forming a memorable mosaic of this rugged, lonesome land.
Whether you are a first-time visitor or have made many a journey into its more remote environs, there is so much here to see as well as savor. This is a book meant not for sitting on a shelf and gathering dust, but to be read and re-read time and again.
If home is where the heart is, even the first few paragraphs leave no doubt as to where the author's resides.
And that is only the beginning…
===========================
NONFICTION / POETRY / LATINX POETRY / TEXAS POETRY
Pandemia and Other Poems
By Edward Vidaurre
Aztlan Libre Press
August 1, 2020
82 pages
Available in paperback
Pandemia & Other Poems is a new scripture for the plague years. Unabashedly bi-lingual and pan-cultural, a creation myth in the face of destruction, a seed of renacimiento in our charred garden.
===========================
NONFICTION / BIOGRAPHY / HISTORY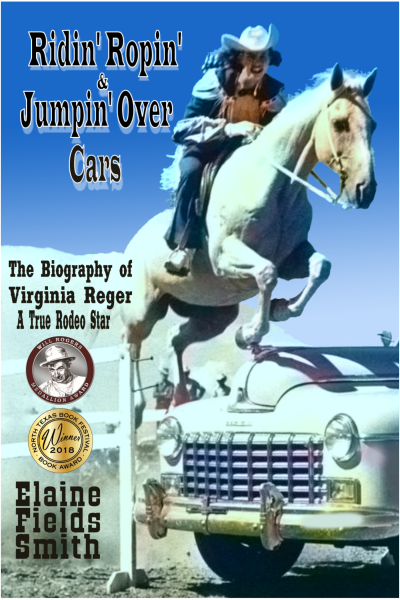 Ridin' Ropin' & Jumpin' Over Cars: The Biography of Virginia Reger - A True Rodeo Star
By Elaine Fields Smith
Blazing Star Books
May 22, 2017
183 pages
Available in paperback
This pictorial and narrative biography traces the amazing life of Virginia Reger, who grew up in a rodeo family and became a top trick rider and roper in the 1950s. She demonstrates how drive and determination can make dreams come true. Virginia was ahead of her time with an independence and self-confidence rarely seen in women before the 1970s. A scrap booker before scrapbooking was cool, she collected news clippings, rodeo programs, publicity photographs, and much more dating from the 1930s and will continue to do so into 2017 and beyond. This treasured memorabilia should not be lost, therefore it is presented here and tells her story in Ridin' Ropin' and Jumpin' Over Cars.
===========================
NONFICTION / TEXANA / TRUE CRIME / HISTORY
Santa Claus Bank Robbery: A True Crime Saga in Texas
By Tui Snider
Castle Azle Press
November 15, 2019
152 pages
Available in paperback and eBook
Marshall Ratliff thought robbing a bank dressed like Santa at Christmastime would be easy. He didn't expect the citizens of Cisco to come at him with guns blazing! But in 1927, a $5000 bounty was offered to any citizen who killed a bandit while the crime was in progress. Tui Snider's book follows the true-crime action from this wild shootout with vigilantes to its tragic conclusion.
Read Santa Claus Bank Robbery by Tui Snider to learn the true tale behind the infamous West Texas bank robbery that led to the biggest manhunt the Lone Star State had ever seen. Only then can you decide whether or not a mysterious blonde was involved - and if so, did she get away with murder?
===========================
NONFICTION / TRAVEL / MEMOIR / HIKING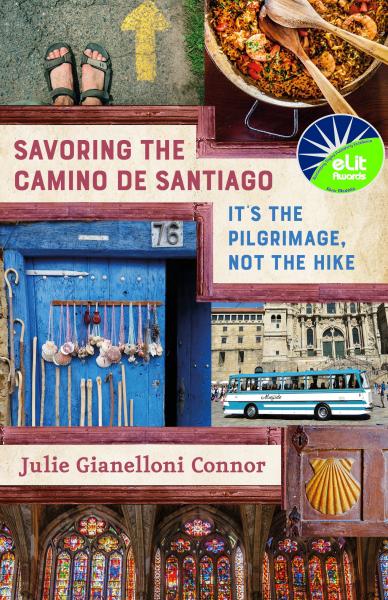 Savoring the Camino de Santiago: It's the Pilgrimage, Not the Hike
By Julie Gianelloni Connor, Author; Mary Connor, Illustrator
Bayou City Press
2019, 2020
276 pages
Available in hardcover, paperback, audio book, and eBook
An award-winning memoir and guidebook about the Camino de Santiago, with tales of kings, saints, sinners, and the author herself—all walking a fabled pilgrimage path, the Camino de Santiago in Spain.
Savoring the Camino de Santiago: It's the Pilgrimage, Not the Hike recounts the pilgrimage the author made in 2016 via the French route from Saint-Jean-Pied-de-Port in France to Santiago de Compostela in Spain, a journey of some 500 miles. Her book incorporates a blog and travel journal she kept during that pilgrimage. The book is also a memoir, with Ms. Connor explaining how and why she decided to make the pilgrimage. After completing the pilgrimage, the author journeyed on to Madrid and Toledo, and there are chapters in the book covering those visits.
===========================
NONFICTION / HISTORY
The Second Battle of the Alamo: How Tw
o Women Saved Texas's Most Famous Landmark
By Judy Alter
TwoDot Books
March 12, 2020
184 pages
Available in hardcover and eBook
By 1900, the tale of the 300 Texians who died in the 1836 battle of the Alamo had already become legend. But to corporate interests in the growing City of San Antonio, the land where that blood was shed was merely a desirable plot of land across the street from new restaurants and hotels, with only a few remaining crumbling buildings to tell the tale. When two women, Adina Emilia De Zavala, the granddaughter of the first vice-president of the Texas Republic, and Clara Driscoll, the daughter of one of Texas's most prominent ranch families and first bankers, learned of the plans, they hatched a plan to preserve the site—and in doing so, they reinvigorated both the legend and lore of the Alamo and cemented the site's status as hallowed ground. These two strong-willed, pioneering women were very different, but the story of how they banded together and how the Alamo became what it is today despite those differences, is compelling reading for those interested in Texas history and Texas's larger-than-life personality.
===========================
NONFICTION / COOKING / CHOCOLATE / HERBS
There Are Herbs In My Chocolate
By Amber and Jacob Royer
Golden Tip Press
April 11, 2019
158 pages
Available in paperback
Explore the global kitchen with over 60 delectable herb-infused recipes that feature chocolate – including unexpected savory chocolate appetizers and entrees, decadent chocolate beverages and desserts, and fun chocolaty breads, all paired with a wide variety of culinary herbs. Chocolate Gingerbread. Chicken Satay with White Chocolate Peanut Sauce. Dark Chocolate Mushroom Arancini. Maybe you didn't realize these things were missing from your life, but try them, and you may find yourself with some new go-to recipes to impress at dinner parties, or treat yourself or your family at home. Most importantly, you will learn how to choose herbs to pair with different types of chocolate to create balanced flavor profiles.
===========================
NONFICTION / HISTORY / GENEALOGY
Understanding Cemetery Symbols: A Field Guide for Historic Graveyards
By Tui Snider
Castle Azle Press
August 19, 2017
232 pages
Available in paperback and eBook
Understanding Cemetery Symbols by Tui Snider is a reference book for genealogists, history buffs, ghost hunters and others seeking to learn the forgotten meanings of cemetery symbols in historic graveyards. In this book you will find out why garden cemeteries were America's first public parks and why symbols matter. You will also learn about the different types of American cemeteries, the history of grave-robbing, the meaning of common tombstone symbols, as well as how to identify saints, angels, secret society symbols, and the symbolic meanings of plants, flowers, and trees.
===========================
NONFICTION / MEMOIR / CELEBRITY AUTOBIOGRAPHY / HUMOR
What? And Give Up Show Business?
By James Hampton
Texas Christian University Press
December 17, 2020
150 pages
Available in hardcover
What? And Give Up Show Business? is the hilarious autobiography of James Hampton, who for over fifty years has been one of the most familiar faces in television and film. A wonderful slice of life in Hollywood told through the personal stories of one of its most prolific actors, this book will appeal to nostalgia buffs, classic film and television aficionados, fans of celebrity autobiographies and biographies, and people who just enjoy a good laugh and great storytelling.
This enchanting memoir also includes some of the author's favorite recipes, which are woven into stories about such show business icons as Doris Day, Clint Eastwood, and Michael J. Fox. Never-before-seen photographs of Hampton and his friends, who happen to be some of the world's favorite entertainers, pepper this jewel of a tale chronicling life in La-La Land. Everyone who loves classic television and films will enjoy What? And Give Up Show Business?
===========================
NONFICTION / MEDICAL PROFESSIONAL BIOGRAPHY / PATIENT CARE / MEDICAL EDUCATION
When to Act and When to Refrain: A Lifetime of Learning the Science and Art of Medicine
By Marvin J. Stone, MD, MACP, FRCP
Revised and Updated Edition
October 9, 2020
284 pages
Available in hardcover and paperback
"No profession is like medicine. Looking back over my career, I've had the wonderful opportunity to teach, do research, and care for patients while continuing to learn the science and art of medicine"
Dr. Marvin Stone describes his fascinating journey through the last half-century in medicine: becoming a physician, acquiring intense training in patient care and research, and teaching at all levels. Along the way, he introduces us to some of exceptional leaders in the field through noteworthy first-hand accounts. This medical memoir focuses on how clinical perspective and judgment develop as one travels through an exciting career. It will be of interest to students, young doctors, experienced physicians, and lay persons with interest in medical science and health care. 
The future of medicine is exciting. Advances in medicine are moving at dizzying speed. What will not be altered is the need for physicians to adhere to the Core Values: to cure sometimes, to relieve often, and to comfort always.
===========================
NONFICTION / SPORTS / GIRLS' BASKETBALL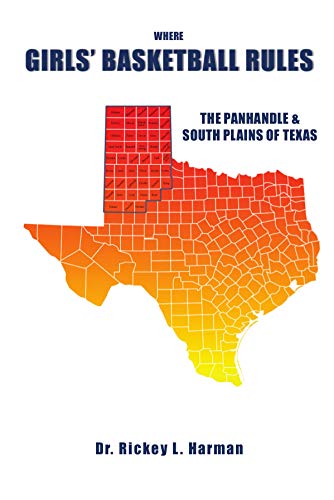 Where Girls' Basketball Rules: The Panhandle and South Plains
By Dr. Rickey L. Harman
HISPublishing Group
November, 2020
212 pages
Available in hardcover, paperback, and eBook
For nearly a century the Panhandle & South Plains of Texas has ruled girls' basketball in the state of Texas. This part of the state with nine percent of the high schools has won forty percent of the UIL state championships and played in the state finals nearly sixty percent of the time. The four universities (Lubbock Christian, Texas Tech, Wayland Baptist, & West Texas A&M) have been just as dominating. These four universities have won ten AAU national championships and nine national runners-up, one NCAA DI national championship, two NCAA DII national championships and two NCAA DII national runners-up, and three NAIA DI national runners-up. The book spotlights the great coaches, players, and teams that achieved all of these championships.
===========================
Click the covers to purchase.
===========================