New books added daily through mid-December, 2020. Click the covers to purchase.
 JUMP TO NONFICTION -|||-  JUMP TO BOOKS FOR YOUNG READERS  
Click the covers to purchase.
FICTION / HISTORICAL / INSPIRATIONAL / WOMEN
A Christmas Tale for Little Women 
By Linda Brooks Davis
September 29, 2020
130 pages
Available in paperback and eBook
Broadview is attired for Christmas. Garland encircles the front pillars, and wreaths grace the doors. Candles glow in the windows, and bangles sparkle on the tree. 
Rather than perform in a European opera or entertain dignitaries in her ballroom, Adelaide Fitzgerald is hosting two young girls at Broadview, her estate on the banks of Rock Creek. These little women declined a Colorado Christmas to spend the holiday with their Auntie Addie. She must present them a Christmas like no other. Has she thought of everything?
What would top off this Christmas in an extraordinary way? Adelaide's answer lies just the other side of Rock Creek. But what will it take to recognize it as the Christmas topper she seeks?
It's Christmas 1912, and Addie's about to discover the Yuletide topper of a lifetime.
===========================
FICTION / GENERAL / ROMANCE
By Myra Hargrave McIlvain
White Bird Publications, LLC
February 2020
229 pages
Available in paperback and eBook
After crippling her husband in an auto crash, Meredith Haggerty endures years of his abusive while harboring a plan to escape when she can make it look as if she died. She grasps her chance at freedom on 9/11 when she survives the fall of the North Tower. 

As she heads to a new life in Mexico, her seatmate on the bus is Father Jacque Richelieu who convinces her to teach English at his community center on the Texas Rio Grande. She finds a home, but she and the priest discover that they have not found themselves.
===========================
FICTION / THRILLER / SUSPENSE / CRIME
By Anita Dickason
Mystic Circle Books
May 5, 2018
321 pages
Available in hardcover, paperback, and eBook
What links Texas A&M University and the University of Texas to the disappearance of Laredo ATF agent, Stuart Dyson and a massive theft of explosives?
When the local investigation fails to locate the missing agent, FBI Tracker Adrian Dillard is sent to Texas. His uncanny intuition kicks in when every lead dead ends—literally. Who knows more than they are telling? Is Dyson a victim or deadly mastermind? Dyson's fiancée, Laredo Police Detective Tracy Harlowe's secrets could get her killed. Dillard's chilling discovery puts Homeland Security on high alert. The President demands answers. When Tracy and a truckload of explosives disappear, there's only one question left. Who dies next?
 
===========================
FICTION / ROMANTIC SUSPENSE / CHRISTIAN / CLEAN ROMANCE
By DiAnn Mills
Tyndale House Publishers
September 8, 2020
384 pages
Available in hardcover, paperback, audio book, and eBook
Who unleashed a deadly virus?
Airborne follows the story of Houston FBI agent Heather Lawrence as she works under quarantine to find the person responsible for deliberately unleashing a deadly virus on a plane full of people. The prime suspect? Dr. Chad Lawrence, an expert in his field . . . and Heather's estranged husband. As more victims fall prey days after the initial outbreak, time's running out to track down the killer, one who may be closer to the victims than anyone ever expected.
===========================
FICTION / CHRISTIAN / WOMEN'S FICTION / FRIENDSHIP
By L.K. Simonds
Morgan James Fiction
August 27, 2019
282 pages
Available in paperback, library binding, audio book, and eBook
Twenty-nine-year-old novelist and blackjack dealer Cami Taylor seems to have it all—but just underneath her confident exterior and newfound celebrity is a young woman in trouble. Cami's boyfriend, Joel, wants to get married, buy a house on Long Island, and raise a family—a life that's a million miles from Cami's idea of happiness. Her therapist suggests compromise and trust, but Cami would rather bolt like a deer.
Breaking things off with Joel, Cami launches herself on a new quest for happiness. But her pursuit of pleasure only takes her further from herself—and toward a harrowing new reality unlike anything she's faced before. What follows for Cami is a fight to the death that can only be waged with God's love.
===========================
Click the covers to purchase.
===========================
FICTION / HORROR / THRILLER
By Van Allen
December 1, 2020
305 pages
Available in paperback, audio book, and eBook
In this thrilling novel by Van Allen, a young couple hopes to rekindle their flailing relationship in a remote mountain cabin. Their Christmas get-away from the city quickly turns into a desperate fight for survival when they run into a relentless and vicious killing machine, a super-natural predator.
===========================
FICTION / CONTEMPORARY / MULTICULTURAL
By Suman Mallick
Atmosphere Press
October 16, 2020
166 pages
Available in paperback and eBook
The Black-Marketer's Daughter was a finalist for the Disquiet Open Borders Book Prize and praised by the jury as a complicated and compelling story of our times. Inspired by the real-life events surrounding Malala Yousafzai, the novel is about a nondescript Pakistani woman who arrives in Texas by marriage and ends up as the central figure in a scandal that catapults her into the public eye and plays out in equal measures in the local news and in backroom deliberations. Two key cornerstones of the novel are the unsympathetic voice with which Mallick, almost objectively, relays catastrophic and deeply emotional events and the unsparing eye with which he illuminates the different angles and conflicting interests at work in a complex situation.
===========================
FICTION / COZY MYSTERY
Candy Coated Mysteries Series
By Nancy Coco
Kensington Books
Have Yourself A Fudgy Little Christmas, 2020, 300 pages. Allie McMurphy owns the Historic McMurphy Hotel and Fudge Shop on Mackinac Island Michigan. She and her pet dog, Mal, and kitty, Mella, sleuth out killers while learning to fit in. These USA Today bestselling series books are filled with delightful characters and yummy recipes.
Also in the series:
All Fudged Up, 2013, 353 pages
To Fudge or Not to Fudge, 2014, 352 pages
Oh Say Can You Fudge, 2015, 235 pages
All You Need is Fudge, 2016, 356 pages
Oh Fudge, 2017, 352 pages
Forever Fudge, 2018, 352 pages
Fudge Bites, 2019, 256 pages

E-novellas:
All I Want for Christmas is Fudge, 100 pages
Deck The Halls With Fudge, 95 pages
 
===========================
FICTION / CONTEMPORARY / ROMANCE / MULTICULTURAL
By Maida Malby
Available in paperback and eBook
Boracay Vows, November 21, 2017, 240 pages
New York Engagement, May 21, 2018, 120 pages
Singapore Fling, October 21, 2019, 267 pages
Carpe Diem Chronicles is a series of contemporary romance stories involving multicultural couples set in exotic locations all over the world. The books revolve around a trio of Filipina friends – Krista Lopez, Maddie Duvall, and Angela Lim who fall in love with the Irish-American Ryan brothers – Blake, Aidan, and Craig. 

In each location—Boracay, Philippines; Singapore; and Koh Samui, Thailand—the local culture, especially the food, is observed and celebrated by the characters. The books are written in English with multiple languages—Filipino, French, Malay, Mandarin, and Thai—featured and translated.

The central theme of all the books is Carpe Diem, the Latin aphorism that means "seize the day." All of the couples are motivated by the idea of living life to the fullest and in the present, not only because tomorrow is uncertain, but also because today is the best opportunity they have to make the future better. 
===========================
FICTION / CONTEMPORARY / SECOND-CHANCE ROMANCE
By Kimberly Fish
Fish Tales Publishing
October 7, 2020
385 pages
Available in paperback and eBook
From the award-winning author of Comfort Plans and Comfort Songs comes a story of two rising stars blitzed by social media. Lacy Cavanaugh and single-dad Rudy Delgardo live a hundred miles apart but meet in the worst possible way. Working at a weekly paper and creating social media for area businesses helps Lacy connect with locals who open her mind to a perspective beyond Instagram. In launching a food-and-wine festival to support Comfort's new event center, she discovers surprising skills bubbling over, much like the food she's attempting to cook. 
Rudy, on the brink of his restaurant's takeover, struggles to improve time management so he can create a better relationship with his daughter. Distracted by Lacy and her invitation to the festival, he's tempted by her beauty, wit, and courage, but as a chef, he rarely gets to enjoy life outside the kitchen. Enemies, illness, and exes add unwelcome spice to the dish they're concocting—one that will teeter with misunderstanding until the very end.
Will Lacy and Rudy embrace their second chances and discover the perfect seasonings of family, resilience, and grace to create a handwritten recipe of love that will stand the test of time? 
===========================
FICTION / CONTEMPORARY / SECOND-CHANCE ROMANCE
By Kimberly Fish
Fish Tales Publishing
May 23, 2017
320 pages
Available in paperback and eBook
Colette Sheridan is being remodeled. 

As a San Antonio architect, she'd have vowed her career was to investigate the history and create new functions for the structures everyone else saw as eyesores. The old German farmhouse in Comfort, Texas, might be the screeching end of that dream job. The assignment seemed so ideal at the start; generous clients, a stunning location, and a pocketful of letters that were surely meant to explain the ranch's story. All that goodness crashed louder than a pile of two-by-fours when her grandfather announced he'd lured Colette's ex-husband back to San Antonio to take over the family architecture firm. Now, not only does Colette have to endure the challenges posed by Beau Jefferson, the client's handpicked contractor, a house that resists efforts to be modernized, and letters that may hold the secret to buried treasure, but she also has to decide if she has the courage to fight for her future.
Set against the backdrop of the Texas Hill Country, Colette and Beau have to rely on plans neither of them constructed in order to navigate the changes of a house with a story to tell, and a future they couldn't even imagine. 
 
===========================
FICTION / CONTEMPORARY / SECOND-CHANCE ROMANCE
By Kimberly Fish
Fish Tales Publishing
September 19, 2019
348 pages
Available in paperback and eBook
From the award-winning author of Comfort Plans, Kimberly Fish delivers a novel about family, forgiveness, and the seeds of second chances.

Eight years ago, Autumn Joy Worthington, still reeling from the bitter divorce of her Grammy-Award-winning parents, endured the betrayal of a man who'd promised her a wedding. Running from pain seemed the logical response. Reinventing herself in Comfort, Texas, as a lavender grower, she creates a wildly successful gardening haven that draws in tourists and establishes an identity far removed from her parents' fame. Her mother's retirement from stardom inspires AJ to offer her refuge and nurse the dream that they could move past old hurts and the tarnish of the music industry … to find friendship. 
A grandmother in the early stages of dementia, and the return of AJ's father complicate the recovery, but nothing sets the fragile reality spinning like the arrival of Nashville music executive, Luke English. As Alzheimer's slowly knocks away the filters of their family, AJ comes to appreciate the true meanings of love and forgiveness, and that the power of redemption can generate from the most unlikely sources. When AJ uncovers the grit to make hard choices, she also discovers that the flowers that bloom the brightest can have the most tangled roots.
===========================
Click the covers to purchase.
===========================
FICTION / MYSTERY / HUMOR
The Covey Jencks Mysteries Series
By Shelton Williams
KDP
Available in paperback, audio book, and eBook
Covey Jencks (Covey Jencks Mysteries, Book 1), August 28, 2019, 195 pages. Covey Jencks is an amateur detective novel set in West Texas and featuring an interracial couple, Covey Jencks and JayJay Qualls.
Covey and JayJay Get Educated (Covey Jencks Mysteries, Book 2) September 2019, 209 pages, Covey and JayJay investigate a triple murder and stumble into a political conspiracy.
The Chinese Murder of Edward Watts (Covey Jencks Mysteries, Book 3), December 8, 2020, 233 pages. Covey and JayJay must navigate through a political uproar while investigating a possible spy ring, suspected Chinese gangsters, and an active ghost. 
===========================
FICTION / HISTORICAL / TRADITIONAL / MYSTERY
Death in the Time of Pancho Villa
By Sandra Marshall
Level Best Books, an imprint of Historia
August 25, 2020
204 pages
Available in paperback and eBook
Death in the Time of Pancho Villa is a historical novel blending fact and fiction in depicting the Mexican Revolution in the borderland. Rose Westmoreland, a young woman from Ohio arrives in 1911 El Paso searching for her missing husband. A talented amateur photographer, she is recruited to photograph Pancho Villa and other leaders of the revolt. When the only person with any real information about her husband is killed, Rose finds herself tangled in the intrigue of the Revolution, the deadly competition between international oil companies, and her own ambiguous feelings.
===========================
FICTION / HISTORICAL / TRADITIONAL / MYSTERY
By Leila Meacham
Grand Central Publishing
July 7, 2019
576 pages
available in hardcover, paperback, audio book, and eBook 
At the height of World War II, a handful of idealistic young Americans receive a mysterious letter from the government, asking them if they are willing to fight for their country. The men and women from very different backgrounds-a Texan athlete with German roots, an upper-crust son of a French mother and a wealthy businessman, a dirt-poor Midwestern fly fisherman, an orphaned fashion designer, and a ravishingly beautiful female fencer-all answer the call of duty, but each for a secret reason of her or his own. They bond immediately, in a group code-named Dragonfly.
Thus begins a dramatic cat-and-mouse game, as the group seeks to stay under the radar until a fatal misstep leads to the capture and the firing-squad execution of one of their team. But...is everything as it seems, or is this one more elaborate act of spycraft?
===========================
FICTION / SOUTHERN NOIR / CRIME FICTION / MYSTERY
By Rod Davis
NewSouth Books
September, 2020
275 pages
available in paperback and eBook 
Ex-Dallas TV anchor Jack Prine (back from "South, America") leaves his self-imposed New Orleans exile to search for the missing teenage daughter of his Atlanta friend, heiress Elle Meridian, only to embark on a journey of relentless violence and betrayal across the South. Jack finds himself at odds with neo-Nazis, drug cartels, serial killers, racist cults, and the Dixie Mafia. And secrets from his own past. Before his quest is over, he faces a brutal question: Even if he can save a young girl's life, does it justify the blood on his hands and the darkening of his soul?
===========================
FICTION / HISTORICAL / CATHOLIC / ACTIVIST
By Dorothy Day (New Edition Introduced by Sage Webb)
Stoneman House Press, LLC
August 27, 2020
182 pages
Available in paperback
Originally published in 1924, The Eleventh Virgin was Dorothy Day's debut novel and follows the existential and romantic seekings of June, an idealist looking for a mission, community, and meaning in 1920s New York City. As the suffragette movement surges, June hits the streets of Washington, D.C., protesting—and lands in jail. As a nurse during the influenza epidemic, she finds herself growing close to women struggling to survive. And when Dick, a dashing cameraman, sailor, and newspaperman, comes into her life, she finds herself in love . . . and in crisis. This Jazz Age novel still has much to say one hundred years after its original publication. Pope Francis has compared Day to Abraham Lincoln and Martin Luther King, Jr.
===========================
FICTION / MYSTERY / POLITICAL / WOMEN'S FICTION
By Kathleen Rodgers
Wyatt-MacKenzie
June 2, 2020
296 pages
Available in paperback
Pitched as a serving of Fried Green Tomatoes for the #MeToo #ShePersist generation. An inspiring novel of female solidarity set against the backdrop of current events.
===========================
FICTION / WOMEN DETECTIVES / HISTORICAL / MYSTERY
By Becki Willis
Clear Creek Publishers  (Audio: Tantor Media)
December 13, 2015
225 pages (6 hours, 59 minutes)
Available in paperback, audio book, eBook
Named sole heir to her aunt's estate, Charity Gannon arrives in the Northeast Kingdom of Vermont, hoping to find a link to her past. Instead, she finds four forgotten boxes, a thirty-something-year-old mystery, and questions with no answers. 

These aren't just any boxes. These are unopened, undelivered boxes, left behind by the now-defunct Kingdom Parcel. All four boxes are marked March 14, 1984... the very day her uncle, president and driver for the delivery service, was said to have committed suicide. 

The undelivered boxes haunt Charity, tugging on her conscience, and she sets out to deliver the packages to their rightful owners. 

The story behind one box is delightful. Another is heartbreaking. And one might very well be the death of her.
===========================
FICTION / HISTORICAL / SOFT-BOILED MYSTERY / FEMALE SLEUTH
Galveston Jazz Age Mystery Series
By Ellen Mansoor Collier
Deco Dame Press
Available in paperback and eBook
Flappers, Flasks, and Foul Play, 2012, 287 pages
Bathing Beauties, Booze, and Bullets, 2013, 255 pages
Gold Diggers, Gamblers, and Guns, 2014, 254 pages
Vamps, Villains, and Vaudeville, 2015, 212 pages
Deco Dames, Demon Rum, and Death, 2019, 250 pages
Before Las Vegas, Galveston, Texas was called the "Sin City of the Southwest." Real-life rival gangs fight over booze, broads and bars during Prohibition in this soft-boiled Jazz Age mystery series, inspired by actual events. Jasmine ("Jazz") Cross, a young, ambitious society reporter, feels caught between two clashing cultures: her brother Sammy's seedy speakeasy underworld and the snooty social circles she covers in the Galveston Gazette. Jazz longs to cover hard news, but her gossipy editor only assigns her fluffy puff pieces, so she must seek out exciting crime stories---and murders to solve---on her own. As turf wars rage on between the Beach and Downtown gangs, Jazz risks her life and career to expose the dark side of Galveston's glittering society.
===========================
FICTION / FANTASY ROMANCE
By Jan Sikes
Wild Rose Press
December 14, 2020
303 pages
Available in paperback and eBook
Jag Peters has one goal in his quiet comfortable life—to keep his karma slate wiped clean. A near-miss crash with a candy apple red Harley threatens to upend his safe world. He tracks down the rider to apologize properly. But the rider isn't a "he." Rena Jett is a troubled soul, who lives in a rough world. She wants no part of Jag's apology, yet she is attracted to him. When he claims to see a ghost—her brother—can she trust him? And could her brother's final gift, a magical rune stone with the symbol for "happily ever after" have the power to heal her wounds and bring lasting love?
===========================
FICTION / COZY MYSTERY
By Tricia L. Sanders
Murder is a Dirty Business, Soulmate Publishing, November 15, 2017, 253 pages
Death, Diamonds, and Freezer Burn, Soulmate Publishing, October 24, 2018, 223 pages
Pensions, Tensions, and Homicide, February 4, 2020, 250 pages
Mimosas, Magnolias, and Murder, October 1, 2020, 273 pages
Available in paperback and eBook
Between hot flashes and divorce papers, a middle-aged woman reconsiders her outlook on life when she butts heads with a hot detective.
===========================
FICTION / TECHNOTHRILLER / SCIENCE FICTION
By Richard Cox
Night Shade
July 27, 2020
408 pages
Available in paperback and eBook
Both a frightening apocalyptic story set in the southern United States and a character-focused, deeply moving literary thriller.  What would happen if technology all over the world suddenly stopped working? 
"Riveting . . . paints a striking, plausible picture of America's collapse. Readers will be enthralled."—Publishers Weekly
===========================
Click the covers to purchase.
===========================
FICTION / LITERARY / REGIONAL TEXAS
By Jeannette Brown
Texas Review Press
May 1, 2020
225 pages
Available in paperback and eBook
Jamie Wright hates her West Texas hometown of Silver Falls, but with her father, Big Jim, on his deathbed, she returns to plan his funeral. With the help of old friends, the community, and the pull of the land where she was raised, Jamie comes to terms with grudges, guilt, and secrets long past what should have been the expiration date.
===========================
FICTION / MULTIRACIAL ROMANCE
In The Weeds: A Substitute's Story
By Ruthie Robinson
ARTwo Publishers
June 6, 2019
370 pages
Available in eBook
Caleb Jones knows who he wants to be with–beautiful, fierce, independent Nakia Noble. He knows if she gives him one chance, he can prove how incredible they are together.

Nakia Noble can't deny her attraction to Caleb, but she also can't deny that he's never not known privilege–he's never understood what it's like to be her, the challenges of being a minority in America, and that's a deal breaker.
All of that changes when they wake up in another life.
The world Nakia and Caleb find themselves in is just like ours, but ravaged by a natural disaster that changed civilization forever, and the Caleb and Nakia of this world find themselves on different sides of a fight. Nakia on the side of the oppressors, and Caleb the leader of the resistance. Amidst hatred and fear, Nakia and Caleb must survive and find their way home…and learn how to build a love that knows no boundaries.
===========================
FICTION / WOMEN'S / OLD WEST / SHORT STORIES
Stories of the Old West
By d.j. Rangel
February 2020
158 pages.
Available in paperback and eBook
Short stories of the Old West where women carry the tales. No gun fights at high noon in these stories. The white hats are bonnets and the enemies are loneliness, fear, gender prejudice, and isolation, all set in the beautiful but treacherous American west as a young nation follows the sun. Often, the women who left home behind and accompanied their men in this grand adventure found they had to handle their new life on their own. And lest we forget, it was the women who went west who were the great civilizers, who insisted on parks and beauty, the building of churches, the education of children. These stories celebrate them.
===========================
FICTION / LITERARY / FAMILY SAGA / SMALL TOWN / RURAL 
Jackson's Pond, Texas--The Series
By Teddy Jones
MidTown Publishing
Jackson's Pond, Texas, (#1), October, 2013, 252 pages, available in paperback, and eBook 
Slanted Light, (#2), August, 2020, 263 pages, available in hardcover, paperback, and eBook
Making it Home, Coming 2021
Jackson's Pond, Texas-The Series, includes two stand-alone novels, Jackson's Pond, Texas (2013) followed in 2020 by Slanted Light. Coming in 2021 is the third, Making it Home. 

In Jackson's Pond, Texas, seventy-four-year-old Willa Jackson sets out to maintain her independence and fully realize her artistic talent. Her daughter attempts to take charge of Willa, although her hands are full of her own problems. Willa's past in Jackson's Pond, the town named for the pond on their ranch, provides a backdrop for her determination to secure her future and her family's as she follows her creative heart.

In Slanted Light, Claire Havlicek, Willa's granddaughter, collapses under the weight of threats to her thirteen-year marriage, her children, her two primary care clinics, and the family ranch. When Claire admits her limits, her family helps her learn that being human, weaknesses and all, can be the source of strength and joy.
===========================
FICTION / COZY MYSTERY / WOMEN'S FRIENDSHIP
By Jo Cassie McCrae
August 2020
323 pages
Available in paperback and eBook
Kate Atherton's retirement in the Texas Hill Country is going well…if you don't count the two murders, the mysterious drone, and her photographer friend who manages to poke a hornet's nest of criminal activity, that is.

Wheaton Creek seemed to Kate Atherton an idyllic place for her and her former-military husband to retire from the world. And, at first, it was all Kate had hoped it would be. Then murder came to Wheaton Creek—a crime that a corrupt county sheriff seems determined to pin on Kate's photographer friend, Lucy Celek. Murder is just the beginning, though, as Kate's amateur sleuthing begins to reveal a tangled web of crimes that go beyond anything she could have imagined.
 
===========================
Click the covers to purchase.
===========================
FICTION / LITERARY / CONTEMPORARY / SHORT STORIES
Love and Other Misunderstandings
By Sage Webb
Stoneman House Press, LLC
August 27, 2020
184 pages
Available in paperback
An itinerant freegan, a burned-out criminal-defense attorney, and a fruitcake-turned-firecracker are just some of the characters and surprises Sage Webb offers in this collection of stories, musings, and "flash fiction."
Whether skimming across Galveston Bay by boat, rolling through Chicago by bus and rideshare, or twirling across the salsa dance floor through the will of the saints, these pieces speak of love, hope, and the faith that spins the world. Red City Review has called Webb's writing "captivating" and "extremely skillful."
Stories in this collection include a number of award nominees and winners, such as "Francis Roy Winters, Esq., Dives Off a Dock" (short listed for the 2018 Chester B. Himes Memorial Short Fiction Prize) and "Queen" (second place in the 2017 Hackney Literary Awards).
===========================
FICTION / LITERARY / ROMANCE / TEXAS
By Dana Glossbrenner
July 18, 2020
465 pages
Available in paperback and eBook
A human skeleton is unearthed on Wayne Cheadham's ranch. The grisly discovery stops the digging and points a bony finger at Wayne's long-gone first wife. Fast-paced and laced with humor, the three loves of Wayne's life tell their own stories. These strong-willed women present unique challenges to test Wayne's mettle and refine his spirit.
 

Wayne draws together an unlikely blend of friends and family. Characters are coffee buddies, burger joint employees, drug traffickers, members of law enforcement, ranchers, church members, a country-western band, and the occasional newcomer to town.
===========================
FICTION / HISTORICAL / WESTERN / HUMOR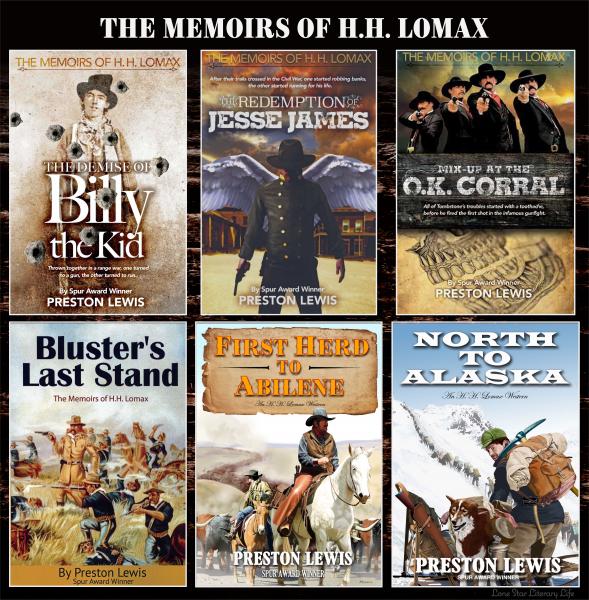 The Memoirs of H.H. Lomax
By Preston Lewis
Wolfpack Publishing
Available in paperback and eBook; Omnibus edition also available 
North to Alaska (2020, 403 pages)
First Herd to Abilene (2020, 449 pages)
Bluster's Last Stand (2017, 327 pages)
Mix-Up at the O.K. Corral (2017, 314 pages)
The Redemption of Jesse James (2015, 268 pages)
The Demise of Billy the Kid (2015, 282 pages).
With a knack for showing up at the right place at the wrong time, H.H. Lomax cuts a humorous swath through the Old West in in his memoirs of fateful and sometimes fatal encounters with a bevy of frontier legends. Though often outmatched and outgunned, he is never out-witted as he faces the likes of Billy the Kid, Jesse James, Doc Holliday, George Armstrong Custer, Wild Bill Hickok and Soapy Smith.
Through it all, Lomax manages to survive, even when his adversaries don't. Whether you believe him or not, Lomax spins a fascinating tale that'll keep you turning pages to see how he survives each predicament and became a legend in his own mind. Historical and hysterical fiction at its best.
===========================
FICTION / MYSTERY / THRILLER / PROCEDURAL
Messing with Texas: Three Full Novels
By Jim Sanderson
Brash Books
November 22, 2020
543 pages
Available in eBook
This e-book contains three novels in Jim Sanderson's Jerri Johnson/Dolph Martinez mystery/thriller series in chronological order: SAFE DELIVERY, EL CAMINO DEL RIO, and LA MORDIDA. The next in the series, DOLPH'S TEAM is sold alone as an ebook and paperback.
===========================
FICTION / ROMANTIC SUSPENSE / CRIME THRILLER / WOMEN'S FICTION
Mirrors Don't Lie Mystery Series
By Becki Willis
Clear Creek Publishing
Available in paperback and eBook

The Girl from Her Mirror, Book 1, 2014, 278 pages
Mirror, Mirror on Her Wall, Book 2, 2014, 333 pages
Light from Her Mirror, Book 3, 2014, 306 pages
A gripping tale of best friends with a dangerous and surprising past. Tangled in a political conspiracy set in motion long ago, their lives depend on unraveling old secrets, freeing themselves from the past, and entrusting their future to the right people. With just the right mix of mystery, romantic intrigue, heartache, and joy, this reader favorite trilogy will keep you on the edge of your seat while you alternately laugh and cry.

From an Amazon Vine Voice Review: 
"This romantic suspense boxed set is like a bag of chips. You are not going to be able to read just one. Yes, they are that good! Do yourself a favor and get the boxed set. You will be glad you did."
===========================
FICTION / POLITICAL THRILLER / SUSPENSE / CRIME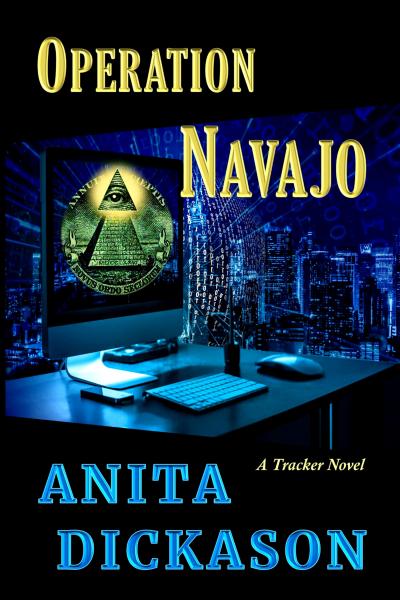 Operation Navajo: A Tracker Novel
By Anita Dickason
Mystic Circle Books
August 31, 2020
319 pages
Available in hardcover, paperback, and eBook
"Whoever controls the flow of the money supply, irrespective of whether it's fiat or gold currency is the one to fear." 
The imminent launch of the Feds gold-backed currency triggers more than fierce protests when a note is dropped into Federal Reserve Chairman Frank Littleton's coat pocket. The cryptic message is a warning someone plans to assassinate him.
A new Tracker agent and financial crimes expert joins forces with an undercover Interpol agent to infiltrate the inner sanctum of the Federal Reserve. The case turns deadly when the agents become the target for an assassin's bullet.
Stalked by a killer, can they survive to stop the assassination and prevent a global financial cataclysm?
===========================
Click the covers to purchase.
===========================
FICTION / POLITICAL SATIRE / HUMOR
By Jeffrey Kerr
April 2020
227 pages
Available in paperback and eBook
A demagogic politician running for Texas governor triggers a series of events that result in him becoming president of a modern Republic of Texas.
===========================
FICTION / MYSTERY / THRILLER / PROCEDURAL
By Jim Sanderson
Brash Books
October 12, 2020
245 pages
Available in paperbook and audio book
Jerri Johnson is a P.I. in San Antonio Texas, tracking down bail jumpers and serving subpoenas, when her old lover Vincent Fuentes is released from prison and tries to draft her into a plot to smuggle guns over the border. Her friend Joe Parr, an aging Texas Ranger haunted by the ghost of his dead wife, tries his best to keep Jerri out of trouble, but he knows it's a losing proposition...and that this time, it might be a lot more than her heart that gets broken.
===========================
FICTION / COZY MYSTERY
By Judy Alter
Alter Ego Press
September 16, 2020
265 pages
Available in paperback and eBook
Irene Foxglove wishes she were a French chef. Henrietta (Henny) James, her assistant, knows she is nothing more than a small-time TV chef on a local Chicago channel. And yet when Irene is threatened, Henny tries desperately to save her, wishing always that "Madame" would tell her the truth--about her marriage, her spoiled daughter, her days in France, the man who threatens her. Henny's best friend, the gay guy who lives next door, teases her, encourages her, and shares meals with her, even as she wishes for more. Murder, kidnapping, and some French gossip complicate this mystery, set in Chicago and redolent with the aroma of fine food. Recipes included.
===========================
FICTION / THRILLER / SUSPENSE
By Patricia Hunt Holmes
Greenleaf Book Group / Rivergrove Books
April 10, 2018
320 pages
Available in paperback and eBook
Pilar, an innocent young wife and mother, is abducted during a fake job interview in Mexico City and forced into sex slavery in Houston. Can she survive the horrors long enough for her brother, Diego, a professional soccer player, to find her. Diego's guilt transforms him from a rudderless tough into a man of purpose and courage. While he searches, Pilar finds a strength that could save herself and a young girl who needs her. The themes of family, love, faith and the law intertwine in this action packed tale of the Bayou City.
===========================
FICTION / POLICE PROCEDURAL / MYSTERY
By Maryann Miller
MCM Enterprises
Available in paperback, audio book, and eBook
Open Season, November 19, 2014, 246 pages 
Stalking Season, February 20, 2014, 280 pages
Desperate Season, October 2, 2020, 210 pages
In the vein of the 87th Precinct Series by Ed McBain, comes two women homicide detectives who lead the Seasons Series, fighting crime on the streets while struggling with making their partnership work. Some readers have called it Lethal Weapon with female leads set in Dallas. For autographed copies for gift-giving, or yourself, see details on Maryann's Website
===========================
FICTION / FAIRY TALES / MAGICAL REALISM / FANTASY ROMANCE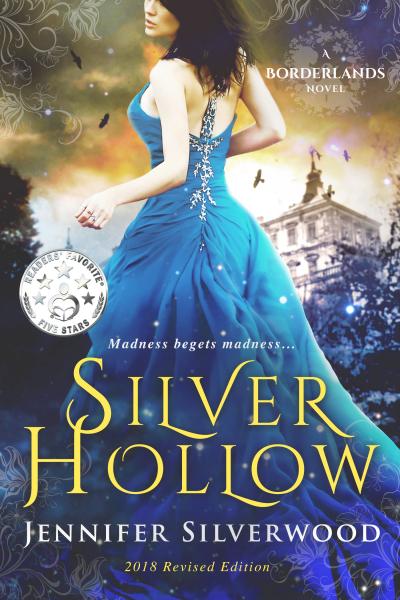 Silver Hollow (Borderlands Saga #1)
By Jennifer Silverwood
SilverWoodSketches/3rd Edition
May 31, 2018
436 pages
Available in hardcover, paperback, and eBook
Amie Wentworth lives in a fantasy world. It's far better to face the monsters in the books she writes than deal with being twenty-seven, single, and scared of relationships. Not even a mysterious invitation from along-lost uncle tempts her to step outside her sheltered life.
But when she's stabbed in an alley and brought back to life by a handsome stranger, Amie is suddenly dragged into the very sort of tale she's used to telling. She tries to pretend none of it is real, which is hard to do when the man who saved her keeps turning up. To make matters worse, people won't stop trying to murder her. With no choice but to cross the Atlantic to the safety of her uncle's estate, Amie discovers a world beyond imagining.
Silver Hollow is a place of ancient traditions and supernatural dangers, where the truth is stranger than fiction. Uncle Henry wants her to take over the family business, her grandfather might be the real King Arthur, and her savior is strangely familiar. As her enemies close in, Amie will confront a deadly family legacy while remembering a life she wishes to forget.
===========================
FICTION / SATIRE / ABSURDIST FICTION
By Rob Witherspoon
September 26, 2018
181 pages
Available in  paperback and eBook
QED Morningwood is a liar, braggart and teller of tale tales. When he shows up at the domino parlor with a mysterious Russian crate in the back of his pick-up truck, he confides to the players he is a 'Shadow' member of the NRA, not on their official membership roll, and has a load of rocket propelled grenades – all lies. The news spreads to the real Shadow NRA, the FBI and Homeland Security. Meanwhile, the Russian Ministry of Cultural Preservation sends an agent to retrieve the crate, the actual contents known only to the Russians.The Russian agent, an FBI team, a DHS undercover agent and a Shadow NRA hit team arrive in Heelstring, Texas looking for QED and his crate. Their convergence is followed by interrogations, seduction, lies, arrests, jailbreak, kidnapping and rescue – along with car chases and explosions. If not for Cotton Widdershins, an ancient black man with secrets of his own, who acts as QED's mentor and savior, the Morningwood line would be doomed to end, or at best spend life in a federal penitentiary.
===========================
FICTION / HISTORICAL / SOUTHERN
By L.K. Simonds
Amazon KDP
November 30, 2020
359 pages
Available in paperback and eBook
From the novel: "Everything has to be reconciled eventually."
Caddo Parish, 1913. On an October morning, a Klansman confronts seventeen-year-old David Walker at a hidden oxbow lake where he has gone to hunt. David accidentally kills the man and hides the crime. His determination to protect his family from reprisal drives him far from home and into manhood.
Shreveport, 1927. Cargie (rhymes with Margie) Barre and Mae Compton are two vastly different young women, but both are defying convention to reach for their dreams. The men in Cargie's and Mae's lives help and hinder them in more ways than one. After years in hiding, David Walker finally resurfaces, and we discover the past is never as far from the present as it seems.
===========================
FICTION / SUSPENSE / THRILLER / MYSTERY
Strong from the Heart  (A Caitlin Strong Novel, Book 11)
By John Land
Forge Books
July 28, 2020
368 pages
Available in hardcover and eBook
The drug crisis hits home for fifth generation Texas Ranger Caitlin Strong when the son of her outlaw lover Cort Wesley Masters nearly dies from an opioid overdose. On top of that, she's dealing with the inexplicable tragedy of a small Texas town where all the residents died in a single night. When Caitlin realizes that these two pursuits are intrinsically connected, she finds herself following a trail that will take her to the truth behind the crisis that claimed 75,000 lives last year. Just in time, since the same force that has taken over the opiate trade has even more deadly intentions in mind, specifically the murder of tens of millions in pursuit of their even more nefarious goals.
 

The power base she's up against—comprised of politicians and Big Pharma, along with corrupt doctors and drug distributors—has successfully beaten back all threats in the past. But they've never had to deal with the likes of Caitlin Strong before and have no idea what's in store when the guns of Texas come calling.
 

At the root of the conspiracy lies a cabal nestled within the highest corridors of power that's determined to destroy all threats posed to them. Caitlin and Cort Wesley may have finally met their match, finding themselves isolated and ostracized with nowhere to turn, even as they strive to remain strong from the heart.
===========================
FICTION / HISTORICAL / WESTERN / ROMANCE
The Texicans Series
By Parris Afton Bonds
Lagon Press
Available in hardcover, paperback, and eBook
The Brigands (11/5/2019), 71,000 words
The Barons (07/14/2020), 71,000 words
The Bravados (11/17/2020), 76,000 words
The Betrayers (5/05/2021), 78,000 words
The Banshees (11/05/2021), 85,000 words.
From 1835 and Sam Houston and the bloody fields of San Jacinto to 1963 and Lyndon B. Johnson and Kennedy's assassination, the Paladins' lives and loves in The Texican series, their hopes and allegiances, will be tested in ways none of them could ever imagine. Fast-paced and tightly-plotted, The Texicans series is a triumph of historical romantic fiction that will leave you breathless.
===========================
FICTION / CRIME THRILLER / MYSTERY / POLITICAL THRILLER
To Save the Golden-Cheeked Warbler: Austin, Texas Crime Thriller
By Philip Beck
October 29, 2020
246 pages
Available in paperback and eBook
After barely avoiding becoming a casualty of his boss's financial fraud at National Airlines and the break-up of his second marriage, Lonny Jones passes on a promotion to Vice President and relocates to Austin, where he'd attended college twenty years ago, to recharge and figure out his future. By chance, he rents a house owned by a politically active couple and is unwittingly drawn into a down-and-dirty mayoral primary election campaign where the powerful, charming and corrupt mayor uses his office to dispense favors to developers. The challenger is an upstart political novice with an eye for his sharp-elbowed, married campaign chairwoman whose cuckold husband is oblivious to their affair.
When a mysterious international conglomerate seeks the mayor's assistance to grease the skids with the city environmental and zoning committees to ensure the approval of a controversial new facility in an environmentally fragile location and a nesting area of the endangered Golden-cheeked Warbler, the mayoral race tightens and the environmental protests mount. Surprisingly, an FBI investigation into the international conglomerate and proposed development is already underway. Suspense builds as the election nears and the conglomerate exerts more pressure to obtain development approvals leading towards an explosive conclusion.
===========================
FICTION / LEGAL THRILLER / ADVENTURE / ROMANTIC SUSPENSE
By Sage Webb
Stoneman House Press, LLC
November 15, 2020
335 pages
Available in paperback and eBook
After suffering a professional breakdown, Devlin Winters slinks out of Chicago to hide on a decrepit wooden trawler off Galveston Bay. But when an old flame appears on the boardwalk with a mysterious little boy in tow and a fraud indictment on his heels, Devlin must face down her demons and square off against an obsessed prosecutor with secrets of his own. From a stormy sailing passage to St. Kitts in search of evidence, to a return to federal courtrooms, Devlin finds herself thrown into a maelstrom of past heartbreak and present threats. Midwest Book Review calls this one "unexpected right up to the end," and "a highly recommended pick for legal thriller, romance, and women's fiction readers alike."
===========================
FICTION / HOLIDAY / FAMILY / ANTHOLOGY
When the Light Returned to Main Street
By Jeff Hampton
Jeff Hampton, Writer/JL Books and Creations
2019, 2nd Ed.
125 pages
Available in paperback and eBook
From the traditional settings of "Just What They Wanted" and "Crossing Christmas," and the wonder of "The Helpers" and "The Christmas Angel," to the folktale imaginings conjured by "When the Light Returned to Main Street," these stories will challenge you to consider what Christmas means to you, and to answer the question, "From where comes the true light of the season?"
===========================
Click the covers to purchase.
===========================