Each week Lone Star Literary profiles a newsmaker in Texas books and letters, including authors, booksellers, publishers.

Kay Ellington has worked in management for a variety of media companies, including Gannett, Cox Communications, Knight-Ridder, and the New York Times Regional Group, from Texas to New York to California to the Southeast and back again to Texas. She is the coauthor, with Barbara Brannon, of the Texas novels The Paragraph RanchA Wedding at the Paragraph Ranch.
When Texas No Longer Fits in the Glove Box
karla k. morton
Used by permission of the author
Once you unfold a road map of Texas, your world is changed.
Towns like Falfurrias, Carthage, and Maypearl suddenly become
part of your life...and, once you see them, you can't go back to
not knowing them. You have to go there — even if it's just
with your eyes — or your finger — tracing those
crow's-feet county roads into unexplored territory.
That's how knowledge works. That's how knowing works.
Life is expanded; there's no going back.
There's no refolding the map.
It's like meeting an alarmingly charming man ...
discovering his dangerous detours and thrilling new paths —
finding unforeseen forks and magnificent natural beauty.
You'll look up at him and know that the crinkly arch between his eyes
goes from Childress up to Amarillo, then back down to Muleshoe;
that the whites of his nails reach from Huntsville to Jasper;
that his green eyes encompass the Metroplex —
from Fort Worth to Denton to Dallas.
And you can't help but imagine that the crooked hairline
beneath his navel would run all the way down Highway 281,
and across the border, into dark, exotic Mexico;
or that his lips could take you on incredible road trips —
stretching clear across the state — from El Paso to Nacogdoches
with just a smile;
Or that the best kiss of your life
would whisk you through the wild-flowered Hill Country,
and leave you weak-kneed and breathless
along the Riverwalk in old San Antone ....
* * * * *
4.9.2017  karla k. morton's passion for poetry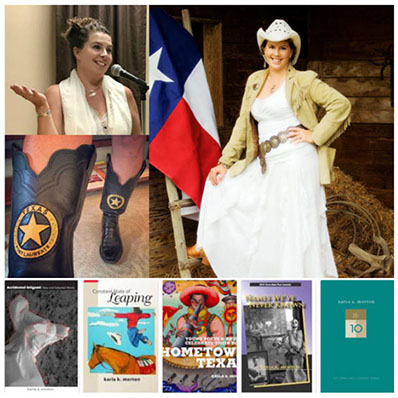 This interview will not do full justice to karla k. morton, 2010 Texas Poet Laureate — although Lone Star Lit will try. To get the true sense of her verve, her passion, and her evangelism for poetry and words, you owe it to yourself to go to YouTube.com and see one of her readings or interviews. The Fort Worth poet spent years submitting poems to journals; overcame cancer; and was selected the first female Texas poet laureate in seventeen years. Via email from El Paso—where there was a huge literary gathering held ths week in conjunction with the Texas Institute of Letters induction—Morton was interviewed about her life, path to poetry, and, yes, her middle initial.

LONE STAR LITERARY LIFE: Karla, you were born in Fort Worth, but spent many of your formative years in Rendon, Texas. Tell us about your Rendon raising. What was it like?

KARLA K. MORTON: Rendon is the perfect Texas town! It is small enough to know and love your neighbors, yet you can access a larger city like Fort Worth in twenty minutes.

My neighbors who owned the empty lot next door had horses, and encouraged me to love on them as often as possible — which I did! My grandparents lived just down the road in Alvarado. They had twenty acres and raised catfish. My grandpa would give us guns to keep the water moccasins away — and let me tell you, twenty free-to-roam acres and real guns made for a wonderful childhood!

When were you first attracted to poetry?

Honestly, I can't ever remember not having pen and paper in hand.

Dr. Seuss was my hero.

In fifth grade, my teacher gave us an assignment — to write a poem about our favorite color. Mine was white (it still is!). I turned it in, and she said "Wow!" It was then I realized how words could pull out emotions. I was hooked. I wanted to do that again and again and again.

You attended Texas A&M University. What made you decide to be an Aggie?

It was love at first visit! That campus was bigger than my hometown. It felt good to be there. It felt like I belonged there, plus, they had a journalism department, and that's what I was in search of. It was a perfect fit.

You earned your degree in journalism, got married, and then made a series of moves tied to your husband's career. But by the early 1990s you were pretty much focused on breaking into a writing career — specifically, poetry. But it took a while. Can you describe your first professional break as a poet?

Great question! I began to realize that poetry, as in everything else we do on this earth, has a lot to do with contacts, so I began to go out and meet fellow writers at conferences. One of the most wonderful conferences I know of, and attend each year, is the Langdon Review of the Arts in Granbury, Texas.

It was there I finally met "my people" — likeminded writers who have the fire; who spend their days and nights cultivating their craft, who know we write because we HAVE to write.

I learned the best way to get published was by submitting to individual journals, and when I began getting published with these individual journals, I began gaining credibility as a poet.

It all builds. It never stops building.

Between 2005 and 2008 a number of leading journals started publishing your work, and then you were diagnosed with cancer. You defied the disease and wrote about it in what seemed like a very challenging — yet creative — time. Can you tell us about that? (We hope you are fully recovered, by the way.)

It was challenging — both physically and mentally. I believe that a huge part of healing lies in attitude and mental ferocity.  I wrote simply as a way to get myself through the battle, and actually Dos Gatos Press came to me saying, "We know you are writing about this journey, would you share it?'

I did. Redefining Beauty is in its third printing. I actually had to go through the battle a second time in 2014 for colon cancer. This time, I kicked its hairy butt!  It's such a blessing to be done with it!

Then in 2010, you were named the Texas Poet Laureate, the first female to hold the position in seventeen years. What was that like?

It was incredible. It was a dream come true! But I wasn't going to have just a title, I was determined to make this mean something.

In Texas, even though they name a Poet Laureate each year, we have the title for life.  I intend to be an ambassador for poetry and the written word for all the days to come!

You were tireless as Texas Poet Laureate and made sure to take poetry to every small town in Texas that you could. How did you do that?

Time and perseverance. I was a kid in school when I became bitten by the poetry bug, so I wanted to go back to the schools and pass that beautifully infectious bug forward!

I still go to schools and colleges and universities, and libraries and coffee shops, and speak at corporate conferences, and go any and every where I can to let poetry touch the hearts of all those around us.

Now, you have a National Parks Tour that celebrates NPS's centennial with poetry. Can you tell us about that?

Absolutely! Not since the time of Muir and Thoreau have there been writers dedicating their words to culturally preserving our National Parks.

It was long overdue, and I invited fellow Texas Poet Laureate Alan Birkelbach to join me.

We are visiting at least fifty of the fifty-nine national parks, writing a poetry and photo book, then dedicating a percentage of the forthcoming book sales back to the National Parks Service It's our Little Drummer Boy gift.

We are both inspired by natural beauty and sense of place. What better places to go and visit than our National Parks? We began in June 2016 at Yellowstone, and as of this writing, we have been to seven parks. We are on our way this very moment to the Guadalupe Mountains National Park in Texas!

How have publishing — and poetry — changed since you started?

The digital age is in full swing now. This not only changes the publishing industry, but it allows for more online poets and poetry. While digital venues have their place, I worry for the book, and encourage the next several generations to remember that the book itself is an art form, and we should do what we can to make sure it holds its place in the literary world.

Also, we should support those presses who publish poetry in as many ways as we can!

They don't make much money to fund their work, and yet what they do is so very important to the culture of the entire planet. Buy books! Give books! They have the power to change every life.

Which Texas poets do you most enjoy reading, yourself?

There are so many! I had the great honor to edit a book of selected works of Walt McDonald for TCU Press. He is one of my heroes!

I also love Mary Oliver, Edward Hirsch, Kay Ryan, Sharon Olds, Sappho, Keats, Pablo Neruda, Billy Collins . . . the list is so long, I could go on and on!

And, a bonus question, one K to another. What's that middle initial stand for?

My mother's full name is Wanda Mae Moseley Mann Martin; mine is Karla Kay Mann Martin Morton!

* * * * *