Each week Lone Star Literary profiles a newsmaker in Texas books and letters, including authors, booksellers, publishers.

Kay Ellington has worked in management for a variety of media companies, including Gannett, Cox Communications, Knight-Ridder, and the New York Times Regional Group, from Texas to New York to California to the Southeast and back again to Texas. She is the coauthor, with Barbara Brannon, of the Texas novels The Paragraph RanchA Wedding at the Paragraph Ranch.
Raised in a Southern California mountain town so small it didn't even have a stoplight, Ryann Ford had the freedom to explore and observe from a young age. At age twelve, she took her first photo using her father's old Pentax Spotmatic from Vietnam; at eighteen she enrolled in the renowned Brooks Institute of Photography in Santa Barbara, where she earned her BA degree in Photography. In Los Angeles, Ryann's creative work began to focus toward two subjects: artifacts of the abandoned American desert, and the fading landscape of California's Salton Sea
 In 2007, she packed up her things and made the move to Austin, Texas, taking Route 66 to get there. Along the way, she discovered her next photography subject—the rest stop—a project that culminated in The Last Stop series. Ryann is currently a commercial photographer who shoots regularly for such clients as Better Homes and Gardens, the New York Times, and Texas Monthly.
3.12.2017  Roadside reading: Austin photojournalist Ryann Ford on capturing America's vanishing rest-stop icons
This week, we hope lots of Lone Star Lit's readershave the chance to hit the road and travel to some of Texas's top bookish destinations. The state's many classic rest areas and roadside parks enrich any journey by car—and Austin-based photographer Ryann Ford has just the book to help you appreciate them.
LONE STAR LITERARY LIFE: Ryann, you were born and raised in California, yet relocated to Austin. What brought you to the Lone Star State?
RYANN FORD: After I graduated from Brooks Institute of Photography in Santa Barbara, California, a couple of friends from photography school moved to Austin and were always telling me what a fun city it was and encouraged me to make the move. Being new to the industry and trying to compete with so many other professional photographers in Los Angeles was really challenging, so moving to a new, very affordable town (back then!) with not much competition sounded like a fun adventure. It was a great move, indeed, I love it here.
I think anyone who travels a lot or who has grown up in Texas has zipped past what we used to call "roadside parks"—now, they call them "rest areas"—and had them capture our imagination. Many travelers we'd like to stop have a picnic at the more scenic or offbeat ones, but rarely do we take the time. The beauty of your book is that you did. What was your inspiration for the series of photos?
Not long after I got to Texas in 2007, I started to accept photography assignments, some of which took me all over Texas. On the way to a shoot I usually would be in a hurry and took the interstates, but on the way home, after the stress retreated, I drove the back roads and lesser-traveled highways for a change of scenery. It was sometime in my first two years in Texas that I started noticing rest stops. I glimpsed one and thought, "That would be a great photo." I was drawn to the minimalist scene—a modest little structure set out on a beautiful landscape—and the mid-century architecture.
I remember getting home from an assignment one day, sitting down at my computer to start retouching, and being distracted by the thought of photographing the vintage rest stops I had just seen. Procrastinating on my retouching work, I Googled to see if anyone already had photographed rest stops and also to see what other stops out there looked like.
Instead, I was met with news article after news article detailing the demise of rest stops all over the country. That was during the worst of the recession, and states were cutting expenses wherever they could. Highway rest stops were the first to go. Some were just closed temporarily, but others were demolished.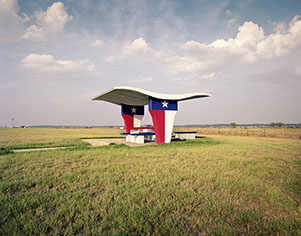 I scrolled to an article about Texas, clicked the link, and saw a photo of a rest stop whose roofline took the shape of longhorns. A huge Texas flag was painted down the walls of the structure. It was an amazing example of Americana. To my horror, the article detailed how the rest stop was "a breeding ground for crime" and was slated for demolition. I was in disbelief. That next weekend I jumped in the car and made the four-hour drive to Flower Mound, near Fort Worth. The rest stop was even more kitschy in person. I got a great shot and headed home. A few weeks later I was back in the area on assignment, and sure enough, it was gone. A big orange barricade blocked the entrance ramp, the concrete structures had been knocked down and hauled away, and the ground where they stood for decades was smoothed over as if they had never existed. I immediately felt an urgency to shoot as many rest stops as I could before they all were gone forever.

What was your process for finding the locations?

When I first started out, and had a free Saturday or something, I would just grab a map and head out to search for them. The map had an icon where the rest areas and picnic areas were supposedly located, but I found, even after buying a brand new map, that the maps were inaccurate; I would arrive at the destination and half the time the rest area was gone. After shooting most all of the ones near Austin, I decided it was time to hit the road for a real road trip.

Since discovering that most of the maps are inaccurate, I started using Google images, Flickr, etc., to find various people's snapshots of rest areas all over the country. When I would find one that looked really unique or fun, I did a little research and then set out to find it. I would usually plot a week-long trip around a few great ones that I found online, and then end up finding lots more along the way. Since almost no two are the same, the anticipation of what the next one down the road would look like was really fun.

Did you have a travel companion for the photo shoots? What were some of the challenges in staging the photos?

When I first started the project, my mom worried about me visiting all of these lonely stops alone, so we agreed to go together. I would drive up to Colorado to pick her up, and then usually spend a week on the road shooting as many stops as we could. We would pick a different region each trip.  It was blast, and some of the best memories that I have of my mom. About three years into the project, she moved to Wisconsin, and I met my now fiancé, and he took my mom's place.

One of the challenges of shooting them was that you're driving hundreds of miles a day, and you may come upon one at noon, and the lighting is terrible. If that were the case, and it was one really worth shooting, sometimes we'd wait for better light, sometimes we'd move on. We tried to spend the night near the one we really wanted to shoot, so that it could be shot at sunset or sunrise. When shooting in the east, it was more challenging to make a great composition, since I'm such a minimalist. I'm really drawn to the scenes of the Southwest, so it was sometimes tricky to work around the trees and brush and get a great, clear shot of the tables. Lastly, since so many of the stops were closed down, we often had to hike in and were always checking over our shoulder, not knowing if we'd run into someone, or have a cop stop us. Those were my favorite to shoot, but also a bit stressful!

How many rest areas in total did you photograph?

Close to 400!

You raised $35,000+ on Kickstarter, exceeding your goal of $25,000 to print the book. What was the key to that success?

Running the Kickstarter for 28 days was one of the hardest things I've ever done. It took a lot of hard work, persistence, and determination. I worked on the campaign close to eighteen hours a day. You had to constantly be contacting press outlets, making social media posts, answering interview questions and rallying to get everyone you know to help support the project. I even threw a big fundraising party. It was hard, but was also one of the most incredible months of my life seeing everyone come together to support my crazy dream. It was quite humbling, and I am so grateful for the experience.

The project has been featured in the Wall Street Journal, The Atlantic, Fast Company, Condé Nast Traveler, the New York Times Magazine, and O Magazine, to name a few outlets. What's been your process for publicity and marketing?

I was very fortunate to be able to work with a publicist once the book was released, but before that, I was on my own. I had good luck sending personal emails to the press letting them know about the project and the book; social media was big (Facebook, Instagram, and Twitter), and building an e-commerce site for the book, etc. I think it is subject matter that a lot of people can relate to; a lot of baby boomers remember stopping at these places, and the younger folks are drawn to the wanderlust aspect and the mid-century modern aesthetic.

Which of the photos were your favorites, and why?

White Sands National Monument, New Mexico—this is by far my favorite location. The picnic tables there are iconic, straight out of the '60s, and the landscape is like no place else on earth. It was a hot summer day at sunset when we were shooting, and a thunderstorm had just rolled through, so hardly anyone was around. You couldn't take a bad picture in this place.

Thackerville, Oklahoma, I-35: This stop was closed and fenced off, but we found a farm road just past the rest area that took us around back. It looked like it had been closed for years; some of the giant oaks had fallen on a few of the teepees, and it was winter, so the trees were bare. My favorite stops to shoot were the abandoned ones.

How long did it take to actually produce the book, once all of the photos were shot?

The actual production (design, proofing, and printing) took about a year.

What's next for you?

Not sure! I will probably ride this wave for a while longer since it was about seven or eight years in the making, and hopefully sometime soon I'll be struck with another fun idea to work on!

As a side note . . . the book's close to being sold out on Amazon, but people can also order signed copies from me at www.thelaststopbook.com.

* * * * *

Praise for Ryann Ford's work

"In Ford's distinctly American photographs, these strange little shelters resemble hallucinated oases against endless empty landscapes, visual metaphors for refuge and rejuvenation on a long open road."

—Hyperallergic

"They're the last vestiges of a bygone era, rendered obsolete by the ever-increasing affordability of air travel. There's a tragically eerie beauty of these roadside relics – abandoned by history and a world that has passed them by, kind of like the drivers that they were created to serve."

—Highsnobiety

"Most travelers think of rest areas as places to pee and grab some greasy food. Ryann Ford sees them as art. OK, we're not talking about your typical modern-day rest area...The old mid-century architecture and quirky themes (she once saw a rest-area in the form of a teepee) won her heart."  —Paste Magazine

"Her new book, The Last Stop: Vanishing Rest Stops of the American Roadside, includes many of the 400 rest stops she's photographed across 19 states. It's a loving tribute to these modest monuments to travel. Her images show picnic tables, toilets and shelters — clearly built to last — dwarfed by the majestic panoramas of the American landscapes they've served for decades."  —CNN

"Crisscrossing the country, she documented the rest stops' eye-catching design and re-awoke a moment in American history when the journey was as important as the destination itself – and when you could stop to take in your surroundings without being sold anything." —

"Truck stops aren't renowned for their glamour — since most people probably care more about finally finding a Starbucks than about appreciating the scenery. But photographer Ryann Ford has found moments of unexpected beauty along America's highways." —The Cut

"The rest stop is a man-made oasis. Some are fancier—WiFi is now offered at many, along with various fast food and gas options—but the primitive set-up of a bench and shade (and sometimes a random barbecue pit) can bring tears to the eyes after a hundred-mile stretch on the interstate. It's the latter that caught the attention of Austin-based photographer Ryann Ford—beginning with an unusual red, white and blue rest area she spotted in Flower Mound, Texas, off the I-35. It was demolished only a few weeks after she took the photo."
—Cool Hunting

"Through her photographs of modest roadside rest stops, Ryann Ford captures an optimistic moment in American history when highways began to span the country."
 —ABC News

"Her photographs are intriguing not just for what they show – the form, function and occasional kitsch of rest stops as well as the often elemental beauty of the vast landscapes around them – but also for what they don't: cars and people."

—The Guardian

"From musician Joe Ely's poetic foreword through the ironic final images, this is a moving ode to a vanishing American relic: the open-highway rest stop. We're not talking about mini-strip-malls with fast food chains or knick-knack stores; these are lonely picnic tables and remote outposts, often graced with fanciful mid-century designs and grandiose views. The map pinpoints indicate that most locations run from the midwest to the Pacific ocean, reflecting Ford's cross-country sojourn in that part of the U.S. What a long, strange trip it must have been."

—American Photo