For the past thirty-plus years, for five days in March, Austin transforms into the epicenter of cutting-edge technology, music, film, journalism, and storytelling. The South by Southwest conference launched in 1987 and since then has grown to celebrate annually the newest, sweetest, coolest, or hottest new thing in technology in all of its forms.
Attendees at SXSW '18 will get the chance to step into the futuristic world of movie mogul Steven Spielberg's forthcoming action adventure flick ahead of the film's March 29 release. But the work it's based on has a truly Texas claim to fame: drawn from the book by Austin novelist and poet Ernest Cline, Ready Player One, set in a dystopian 2044, follows protagonist Wade Watts on his search for an Easter egg in a virtual reality game, the discovery of which will lead him to inherit a fortune in a world wrecked by an energy crisis.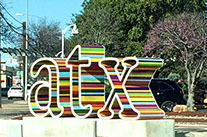 This year's SXSW promises to be a quest to understand the impact of foreign influence via social media, hacking, and bots on American democracy. Bernie Sanders and Arnold Schwarzenegger will be on hand to talk about technology's influence on society, and Senator Mark Warner of Virginia will be speaking about the new world of virtual warfare.
Digital surveillance is also a theme. With a nod to the Precrime division featured in Philip K. Dick's book The Minority Report, science futurist and bestselling author David Brin will discuss how "predictive policing" is already here.



Politics and puns
Those for whom large gatherings focusing on puns instead of politics are preferred: Austin is still your destination.
An iconic wordplay event occurs each spring in the state's capital. Participants in Austin's O. Henry Pun-off World Championships have been creating clever wordplays for more than four decades —the event, held at Brush Square Park behind the O. Henry House, celebrated its 40th anniversary last spring and comes back around on May 12, 2018.
Back in the 1880s, when North Carolina native William Sidney Porter worked as a draftsman for Texas's General Land Office and lived with his new wife in a modest rented house in downtown Austin, Brush Square was a much different environment than today, when the relocated house is surrounded by high-rises and hotels. Gaining infamy in Austin as an embezzler and acclaim in Houston, San Antonio, and elsewhere under the famous pseudonym O. Henry, Porter set forty-two of his stories in Texas.
Today, you can visit O. Henry's relocated Victorian-style house at 409 East 5th Street. The City of Austin maintains the house as a museum dedicated to the author's life and career during his Austin years; it also manages the Susanna Dickinson Museum next door. Admission to both is free.



Austin destinations for literary pilgrims
Another iconic city-owned destination for book lovers is situated on the other side of Lady Bird Lake from downtown, in Austin's 350-acre Zilker Park. At the entrance to the historic spring-fed Barton Springs Pool, three giants of Texas letters are frozen mid-debate in a Glenna Goodacre sculpture titled "Philosophers' Rock." Since 1994 the bronze likenesses of authors J. Frank Dobie, Roy Bedichek, and Walter Prescott Webb have occupied this prominence near the trio's long-ago poolside gathering spot for what might be considered "Austin's first literary salon." Visitors to the pool's three acres (yes, you read that right) of clear, cold, open-year-round water will benefit from ongoing improvements to habitat, landscaping, and other functions in the historic park.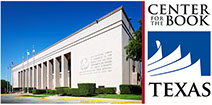 In 2015 the Texas Center for the Book moved to Austin from Dallas, where the Dallas Public Library had hosted the organization since its inception in 1987. The Texas Center for the Book (TCB), now located at the Lorenzo de Zavala State Archives and Library Building adjacent to the capitol, was established to stimulate public interest in books, reading, and libraries and encourages the study of the written word to the more than 28 million residents in the State of Texas.
One of fifty state centers affiliated with the Center for the Book in the Library of Congress, the TCB is a nonprofit organization under the direction of the Texas State Library and Archives Commission and is guided by library professionals, educators, authors, publishers and booksellers who provide support to their shared mission of promoting a love of literature throughout the Lone Star State. The TCB sponsors special exhibits, literary programs, creative writing contests, lectures and symposia, and publications. It promotes the educational and cultural role of the book; the history of books and printing; authorship and writing; libraries; publishing and preservations of books; reading and literacy.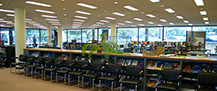 The TCB and the Texas State Archives and Library are among the many government and university sites in the state's capitol that welcome visitors regularly. Bookish travelers to Austin will find literary wonders in store at the LBJ Presidential Library, the LLILAS (Lozano Long Institute of Latin American Studies) Benson Collection, and the Dolph Briscoe Center for American History, and UT's Perry-Castañeda Library, all on the UT campus, as well as the Austin History Center, a unit of the public library.
Above: On the UT campus near the LBJ Library, the LLILAS-Benson Collection offers a spacious reading room for followers of Latin American letters.
——— A D V E R T I S E M E N T ——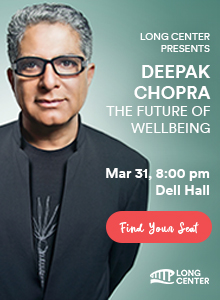 The Long Center for the Performing Arts (also affiliated with the University of Texas), with its inspiring views of Lady Bird Lake, and the restored Paramount Theatre also host literary events throughout the year, bringing in some of the nation's top talent.
Austin Public Library's many locales and programs
For some while now, travelers along Lady Bird Lake have watched an impressive, six-story, contemporary structure take shape. When the eagerly anticipated new Faulk Central Library opened in fall 2017, the media praised it as a downtown game-changer and a gathering place.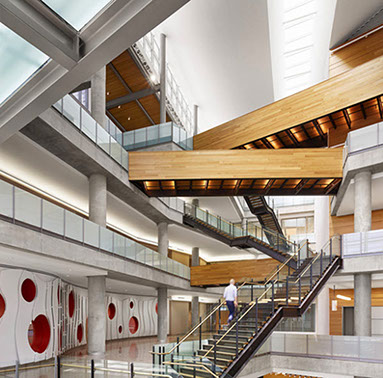 The new Central Library, facing Lady Bird Lake, opened in 2017 as the first "library for the future" in the United States and only the second in the world. When the new central library opened in October, Austin American-Statesman architectural writer Michael Barnes called it "a place of consequence." As Barnes noted in the Statesman,

"The floor surfaces in the 198,000-square-foot, multi-angled structure are made of cut mesquite blocks, so hard a material that it once was used to pave streets in San Antonio. The vast windows and interior surfaces transmit huge volumes of natural light, while perforated metal sunscreens, sometimes rendered as screen porches, sometimes as literary quotations punched through the metal, protect the airy six floors of the library from heat and glare.

This spring the Cookbook Cafe will launch inside the brand-new, state-of-the-art Austin Central Library. The counter-service eatery and bar will feature cookbook-inspired food and drink, as well as special events with touring culinary authors. A spacious, airy and adjacent area will be used for cooking demonstrations.

The new library was a $125 million project, $90 million of which came from public bonds. The library foundation helped raise the rest."

The new Austin library outranks the once-largest McAllen Public Library in a refurbished and renovated former Walmart as one of the largest libraries in Texas. McAllen's Library boasts 123,000 square feet; Austin's new Central Library is 198,000 square feet.

The Austin Public Library System also includes twenty public library branches that host everything from genealogy classes to the Austin Poetry Society's monthly gatherings to the Recycled Reads secondhand bookstore. The former Faulk Central Library at 800 Guadalupe Street is under renovation as an extension of the Austin History Center.
Words on wheels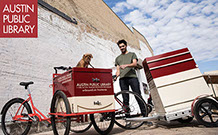 In Austin, one of the high-tech libraries might even come to you. In 2017 the Austin Public Library debuted its first human-powered mobile library, unbound: sin fronteras, which shares books, information and online resources with the community at non-traditional venues. The unbound: sin fronteras trike and trailer pops up around Austin at community events, washaterias, or even city parks. Funded by the Austin Public Library and the Austin Transportation Department's Active Transportation Program (formerly the City of Austin Bicycle Program), the unbound: sin fronteras fleet is made up of a cargo trike from Haley Trikes in Philadelphia and a custom-built trailer by local builder Saila Bicycles. Both are hand-painted by Red Rider Studios, which recently relocated to Taylor, Texas. The trike and trailer were assembled in Austin at East Side Pedal Pushers.
Want pedals of your own? Austin's a very bike-friendly city, with inviting paths and lanes, and numerous bicycle rental options — including the bike sharing service B-cycle, which offers some 50 kiosks around town. Pedicabs and 14-seater pedal-pusher "party on wheels" vehicles are other people-powered ways to see Austin's bookish sites.
For guided group tours, there's Segway, with multiple operators and packages. Nation Tours's nightly Haunted Ghost and Bat Segway Tour is a great way to view Austin's historic moonlight towers, which figure in the 19th-century true-crime story depicted in Skip Hollandworth's 2017 The Midnight Assassin: The Hunt for America's First Serial Killer.
 If you're inclined to visit the Texas State Cemetery, where many of Austin's literary figures are buried, drive or bike to the cemetery's visitor center at 909 Navasota Street. Guided group tours for 10 or more may be scheduled in advance.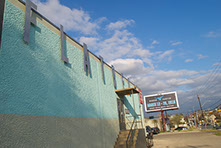 Just our type
The Austin Book Arts Center, housed in the im-press-ive Flatbed building at 2832 E. Martin Luther King, opened at its new location in fall 2015 with a mission to engage people of all ages in creative, interpretive, and educational experiences related to the arts of the book. Drawing on the expertise of longtime book-arts specialists in the area as well as Austin émigré from Houston's Printing Museum Amanda Stevenson, ABAC offers workshops in letterpress printing, bookbinding, papermaking, typography, book history and design, and various arts of the book. In addition, ABAC provides access to equipment for qualified users during regularly scheduled Open Studios. Through its activities, ABAC seeks to advance the book as a vital contemporary art form, preserve the traditional and robust crafts related to making books, promote the contemporary arts of making books, inspire diverse artists and learners, and engage the community in creative, interpretive, and educational experiences, including the improvement of literacy for people of all ages.
The Austin Book Arts Center (right) teaches all of the crafts related to traditional bookbuilding. Since 2015 it has been housed in the headquarters of the Flatbed Press, which celebrated 25 years of printmaking in 2016.
And if you're a fan of vintage letter craft—or a poet—check out the Typewriter Rodeo, a hardy group of writers-for-hire who create ad hoc compositions on old Royals and Underwoods.
Texas Book Festival
One Austin tradition that has bridged old and new is the Texas Book Festival, now in its third decade (the exact weekend is always coordinated with the away football schedule for the UT Longhorns; 2018 dates are Oct. 27-–28). A free annual book fair held on the grounds and premises of the State Capitol and other nearby venues, the festival was established in 1995 by Laura Bush, then the first lady of Texas, and Mary Margaret Farabee, wife of former state senator Ray Farabee. Featuring hundreds of authors, performers, and publishers each year, the festival benefits the state's public library system, promotes the joy of reading, and honors Texas authors. Approximately 50,000 book lovers of all ages attended last year. With the assistance of honorary chairman and librarian Mrs. Bush, and a dedicated task force, the festival has grown to be one of the largest in the nation; it's hosted more than 3,000 authors since its . Since its founding, according to the festival's website, the TBF has donated nearly $3 million to Texas public libraries and donated more than 81,000 books to students in Title I schools through its Reading Rock Stars program.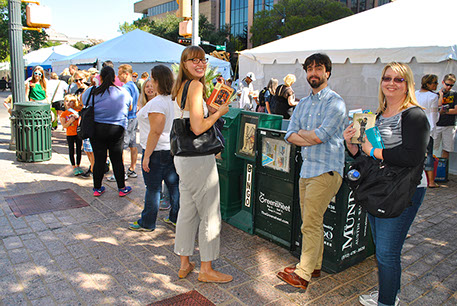 The Texas Book Festival also sponsors a LitCrawl on the Friday evening preceding the festival proper, and it now hosts other events throughout the year, such as the Texas Teen Book Festival.

The Austin area is home to many other book fairs and festivals as well. Check out the Jewish Book Fair, the New Fiction Confab, the African American Book Festival, the Austin International Poetry Festival, Poetry at Round Top, the LesFic Book Festival, the Humanities Texas Book Fair, the Pflugerville Book Festival, and the Austin Book & Paper Show, to name a few of the biggies. The best way to keep up with recurring events in Austin (and elsewhere) is on Lone Star Literary Life's Go page, which posts current dates as soon as they're announced.
Indie bookstores, chain bookstores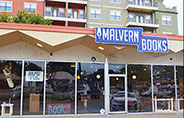 Greater Austin is blessed with a bounty of  bookstores, including indies BookPeople, BookWoman, Malvern Books, Resistencia Bookstore, South Congress Books, Austin Books & Comics, MonkeyWrench Books, and Brave New Books (Read more in-depth descriptions of these bastions of books at the Texas Book Festival website) and five Barnes & Nobles, six Half Price Books stores, and a Mardel Christian Bookstore. Comics fans can also shop at Dragon's Lair Comics & Fantasy, Tribe Comics & Games, and Hops and Heroes. All feature regularly events for the literary enthusiast.
Above: Malvern Books offers an elegant space for readings and events, and a selection of world literature and poetry second to none.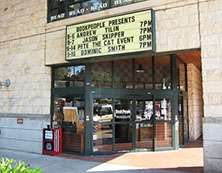 BookPeople alone hosts more than 300 (yes, three hundred) events annually, with authors far and near. For popular touring authors—such as recent readers Bruce Springsteen and former presidential candidate Hillary Clinton—space may be limited, and the store issues advance free tickets for these. But even if you can't make it in person to a signing, BookPeople provides an online pre-ordering service for signed copies.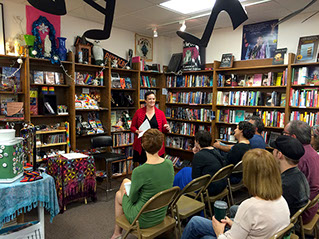 BookWoman, on North Lamar, recently celebrated forty years in business—making it one of only a handful of feminist bookstores still thriving in North America. Owner Susan Post was named Austin's "Best Feminist Flamekeeper" by the Austin Chronicle in 2014; the store has made the Chronicle's "best" lists in numerous categories over the years.

In the spoken-word realm, there's a lot to hear in Austin, including the Neo-Soul Poetry Slam (every Thursday at Mr. Catfish & More), the Austin Poetry Slam (Tuesdays at the Spider House Café and Ballroom), and the Spoken and Heard (Open Mic poetry) series (Kick Butt Coffee, Sunday nights).

Left: BookWoman has hosted writers from Austin and around the globe for more than four decades, including local poet Jenna Martin Opperman in February 2016.




Left: Interior of the first Amazon Books store in Texas, which opened in Austin on March 6, 2018 in Domain Northside. (Amazon/Courtesy photo)

Austin also has a wealth of places to shop for books including museum stores and destinations with gift stores such as the Bob Bullock Museum Store; the Capitol Gift Shop; the Austin History Center; the UT Coop campus bookstore; the Lady Bird Wildflower Center; and the LBJ Library. For used, rare, and collectible volumes, turn to South Congress Books, 12th Street Books, and the newcomer in 2017, Balcones Books. And you never know what will turn up at Recycled Reads, open regular hours in the public library branch at 5335 Burnet Rd.

The LBJ Library plans a robust year of fiftieth anniversary events in 2018, the anniversary of President Lyndon B. Johnson's last full year in office and a time of great social change. The museum will host events throughout the year to showcase key turning points.

From political discourse to the spoken-word realm, there's a lot to hear in Austin, including the Neo-Soul Poetry Slam (every Thursday at Apanas at The Domain), the Austin Poetry Slam, which celebrated 20 years in 2015 (Tuesdays at the Spider House Café and Ballroom), and the Spoken and Heard (Open Mic poetry) series (Kick Butt Coffee, Sunday nights).
Literary visitors and Austin's university campuses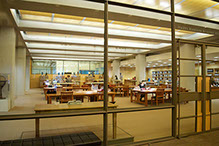 Austin's a world-class university city, of course, and that means frequent opportunities to catch a reading by visiting writers at UT-Austin, St. Edward's University, Austin Community College, and other institutions. UT's Harry Ransom Center for the Humanities (right), which recently added to its lengthy roster of literary archives the papers of the late Nobel Prize winning author Gabriel García Márquez , maintains a renowned collection of rare books (including a Gutenberg Bible and three Shakespeare First Folios) and holds more than 42 million manuscripts. The Center mounts public exhibitions year-round from its collections. While the HRC is primarily a research institution and use of its collections must be arranged in advance, public tours are offered at regular times, several days a week; no reservation is required.
The Michener Center for Writers, a top-ranked MFA program, accepts fellows to study and write with dozens of resident and visiting faculty in fiction, poetry, playwriting or screenwriting. In 2017, author Bret Anthony Johnston of Corpus Christi returned to his native state to take the helm of the program.
Also associated with the University of Texas is the Dobie Paisano Fellowship Program for Texas-related authors. The twice-yearly residencies, among the nation's most coveted fellowships, are sited at the 250-acre ranch of Texas literary legend J. Frank Dobie, about 20 miles west of Austin.
Austin's authors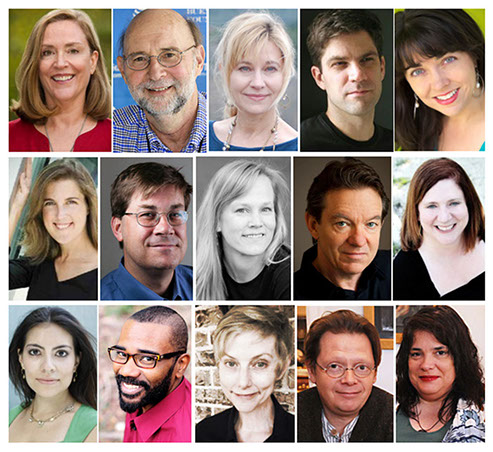 Well-known living authors from Austin or with Austin connections—and this is only a brief sampling of local talent indeed—include Jeff Abbott, Sarah Bird, Gary Cartwright, Oscar Casares, Elizabeth Crook, Kinky Friedman, Stephen Harrigan, Bethany Hegedus, David Heymann, Rolando Hinojosa-Smith, Skip Hollandsworth, Cynthia Leitech Smith, Nikki Loftin, James Magnuson (director of the Michener Center), Jan Reid, Mary Helen Specht, John Spong, Liz Garon Scanlon, Kip Stratton, Jesse Sublett, Andres Tijerina, Toni Tipton-Martin, and Lawrence Wright.

Austin's authors  Authors associated with Austin include, from top left: Sarah Bird, Stephen Harrigan, Elizabeth Crook, Jeff Abbott, Nikki Loftin, Amanda Eyre Ward, Skip Hollandsworth, Mary Helen Specht, Lawrence Wright, Bethany Hegedus, Natalia Sylvester, Don Tate, Katherine Catmull, Edward Carey, Elizabeth McCracken.

The Austin Public Library maintains  a useful, more comprehensive list:

http://www.austinlinks.com/austin_media/austin_writers.html

Past literary lights of Austin include western writer J. Frank Dobie  and the newsman-storyteller O. Henry, the onetime Austin resident William Sidney Porter, who crowned the state capital "City of the Violet Crown."



The Writers' League of Texas and other writers' resources
For learning experiences accessible to the wider writing public, join the Writers' League of Texas and sign up for their workshops, newsletters, conference, and contests. Founded in 1981 as the Austin Writers' League, the organization expanded its scope in 2000 to serve a statewide population of writers and authors.
In recent years Austin has played home to a burgeoning enclave of young adult, middle grade, and children's authors. Four local chapters of the Society of Children's Book Writers and Illustrators (SCBWI) are known for fostering a close-knit community of children's book creators. It meets monthly and holds workshops and critique and networking opportunities throughout the year. The organization also runs an annual conference for all levels of creators.
Austin's also home to the Texas Institute of Letters; three chapters of the Romance Writers of America, two chapters of Sisters in Crime, a chapter of Mystery Writers of America, and more than a dozen critique groups in the region that are open to newcomers. (Check them out on our Write page.)
If you like to learn about the writing craft when you travel, you'll want to check out the Writing Barn. Situated on seven and a half wooded acres in south Austin, this rural-chic facility under the oaks provides a peaceful retreat for writers without ever leaving Austin and hosts a slate of workshops, talks, seminars, and meetings.
And when you're ready to plug into the publishing scene, you'll find myriad opportunities in Austin. From the University of Texas Press, which publishes regional trade books and art books in addition to its core of scholarly titles, to a flourishing trend of independent and small presses and journals, there's plenty to learn and enjoy.
Hop on
After experiencing all that Austin offers, literary travelers (especially those coming to SXSW) are sure to work up a thirst. Hops & Heroes Comics, 1118 E. Cesar Chavez St., is currently in the process of applying for a beer and wine sales permit from the Texas Alcoholic Beverage Commission. In the meantime, they are offering free local beer for patrons and guests of legal age. This 501(c (3) nonprofit provides educational scholarships to financially disadvantaged students attending a two- or four-year college or university. In-store purchases and donations from customers, guests, and individuals help fund the program.
They're also the first Austin comics book store to deliver.
Plan your visit
In addition to the statewide coverage of book events and authors news in Lone Star Literary Life each week, and the reviews in the Sunday Austin American-Statesman, when you're traveling to Austin be sure to check out the American-Statesman's Austin 360, CultureMap, and the Austin Chronicle to plan your bookish itinerary.
* * * * *