Each week Lone Star Literary profiles a newsmaker in Texas books and letters, including authors, booksellers, publishers.

Kay Ellington has worked in management for a variety of media companies, including Gannett, Cox Communications, Knight-Ridder, and the New York Times Regional Group, from Texas to New York to California to the Southeast and back again to Texas. She is the coauthor, with Barbara Brannon, of the Texas novels The Paragraph RanchA Wedding at the Paragraph Ranch.
Mac Engel is a columnist for the Fort Worth Star-Telegram. Since 1998, he has covered the Texas Rangers, the Dallas Stars, and the Dallas Cowboys as well as colleges, high schools, and the Olympics. His Big Mac Blog was named the best blog in Texas by the Associated Press in 2012.
Ron Jenkins specializes in sports, covering the Dallas Cowboys, the Texas Rangers, and the Dallas Mavericks as well as NCAA, high school, and everything in between. His photos have been published all over the world, including in French sports magazine L'Equipe, the premier German magazine Stern, and the USA's Sports Illustrated.
10.2.2016  Mac Engel and Ron Jenkins team up to make a football book like no other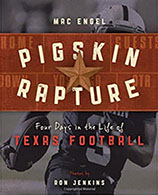 Pigskin Rapture: Four Days in the Life of Texas Football, written by Mac Engel (above, center) with photos by Ron Jenkins (above, right), documents the ultimate Texas football fan's trip that Engel and Jenkins took last year. The excursion included a Texans game in Houston; a Permian High School homecoming game in Odessa; a Texas vs. Oklahoma game in Dallas; and then a Dallas Cowboys home game. The two took time out last week to describe their grand adventure and new book via email.
LONE STAR LITERARY LIFE: What inspired you guys to create Pigskin Rapture?
RON JENKINS: Credit for the concept goes directly to publisher Rick Rinehart. Rick waited years — I believe he told me ten years — for the stars to align and the right kind of Texas football games to line up in a such a fashion that this could work.
MAC ENGEL: I'd love to take the credit, but it was Rick Rinehart one hundred percent. He had wanted to do it for a while, and he asked a friend in Denver if he knew a writer in Texas, which was me. And that was about it. Last spring, he found a stretch of four games and that was it. The rest he pretty much gave us carte blanche.
RON: Brilliant idea, Rick!
I understand that the concept is four days of four games, but these are not just random four days of games. Each of these games is a spectacle. From Mojo on a Friday night to Texas-OU weekend to Cowboys vs. New England and Texans vs. Indy games. And you guys went even further and took photos to capture the cultural phenomenon that is Texas football. What sort of events did the photos capture?
MAC: Ron Jenkins did the legwork. I had a loose idea of what I wanted to do, and he was great in that everywhere I said I thought we should go, he did it. He did just such a good job of clicking everything we saw. That's not an easy thing to do. He caught the moment better than I ever could have imagined.
RON: The idea was to show the culture of Texas football, not only the action but to dig deeper and bring forth the spirit, which included everything from cooking burgers in the parking lots to the Dallas Cowboys Cheerleaders performing at the ultimate football venue, the Cowboys' home, AT&T Stadium.
This is your fourth book, Mac. What can you tell us about your other three?
MAC: The first one was a rather fast turnaround about Tony Romo, done in 2007. The second was the history of Texas Stadium, which came out in ... 2008. I think. And the third was a bio with the long time former strength/conditioning coach of the Dallas Cowboys, Dr. Bob Ward.
Ron, you have traveled the world as a freelance photographer. What was the creative process like in pulling the images together for Pigskin Rapture?
RON: From the beginning, this project was going to be photographed in "a day in the life of" style. This means, for the most part, running and gunning across the great state of Texas, shooting documentary style. My goal was to do justice for the state and its deep love for football with my images, to capture the mood and spirit in a way that was beautiful and also truthful.
Mac, LSLL showcases Texas books and authors, and we have found that Fort Worth seems to be an incubator for authors — like Jeff Guinn, Julia Heaberlin, Sandra Brown, Gary Cartwright, Dan Jenkins, Bud Shrake, Larry L. King, and we could go on and on. As someone who has spent the greater quarter of a century in and around Fort Worth--and the Fort Worth publishing scene, what do think it is that makes the city such fertile ground for writers?
MAC:  I think it's ambition combined with access to a lot of activity, and a lot of good people. Bud, Dan, and Sandra — all of the people you mentioned — are special people who are talented and were found. It should be noted that I don't belong in any sentence with those people other than [that] I speak English and live in Fort Worth.
How has publishing changed since you both started in the business? What role does social media now play for you as authors and journalists?
MAC: Oh, God — this could be a thesis. Night and day. It's made it quick, fast, rapid, and just reduced our attention spans. We have the time, but when there are eighteen million other things readily available and coming at you, to grab your attention for an extended period is just not easy.
RON: The world has changed so very much from I began shooting sports for the University Daily, the student newspaper at Texas Tech in the '80s. The ability to promote a project like this on social media is pretty wild. The response has been overwhelming and the reviews have been
really flattering.
Another question for you, Mac. Why do you think football dominates Texas culture?
MAC: History and tradition, and I don't think you can dismiss success, either. Back when football was beginning — go to the '30s — the college teams were nationally renowned names. Texas, A&M, TCU, SMU, Rice, etc. Then the Cowboys were invented and as TV was formed and games were televised, the Cowboys were good. It just bred more and more recognition, interest and youth involvement. Then it became an identity for the state, and the players.
So, for readers whose appetites you've whetted, how would you describe Pigskin Rapture in your own words?
MAC: For me, it succeeds in encapsulating the cultural importance of the game to Texans. Often we are flooded with hype and hyperbole about something and it seldom meets the verbiage, but you really can't over state the importance of football to Texans and its place in the subconscious of Texans.
RON: Pigskin Rapture: The ultimate Texas football long weekend road trip. With glorious words and dynamic images that fans of Texas football really should not miss.  It's a one-of-a-kind look at the Lone Star state, its people and its favorite sport, football.
Mac and Ron: What's next for you?
RON: Up next for me will be covering the MLB post-season, including hopefully the Texas Rangers in the World Series along with more football, including college and the NFL. I'll be shooting primarily for Getty Images and the Associated Press.
MAC: Sleep, I hope. I wrote two books last year and that's a lot. I am sure I will try another one soon, but not writing a book right now is welcome.
* * * * *
Praise for Engel and Jenkins's Pigskin Rapture
"This book captures what's great about Texas Football. . . Ron Jenkins has taken some absolutely stunning photos. . . . This book covers big high school games, popular drinking establishments and lifelong employees in some cases. The stories are fantastic and the pictures create a rich tapestry of a cool moment in time in Texas." —Sportsology
"Football fans will enjoy this book on the culture of the sport in Texas, covering the game, the people, the towns and the food. One does not have to live in the state or be a fan of a Texas team to appreciate what the game means to residents of the state after reading this book. A very enjoyable and entertaining read."  —Sportsbookguy
"It's a must read." —GetMoreSports.com