Weina Dai Randel is the author of The Moon in the Palace and The Empress of Bright Moon, the historical novel series of Empress Wu, the first and only female ruler in China.
Randel was born and raised in China. She received an M.A. in English from Texas Woman's University in Denton, Texas, where she was inspired to write about Empress Wu of China when she took a class in Asian American literature. She is a member of the Historical Novel Society and the Writer's Garret in Dallas. She lives in Flower Mound with her husband and two children.
8.7.2016  Weina Dai Randel: On China, Texas, and characters that are "like needy mistresses"
Weina Dai Randel was born and raised in China; English is her second language. But after coming to the U.S. at the age of twenty-four, she began to speak, write and dream in English. She has worked as a journalist, a magazine editor, and an adjunct professor and proudly claims the title "Texas author."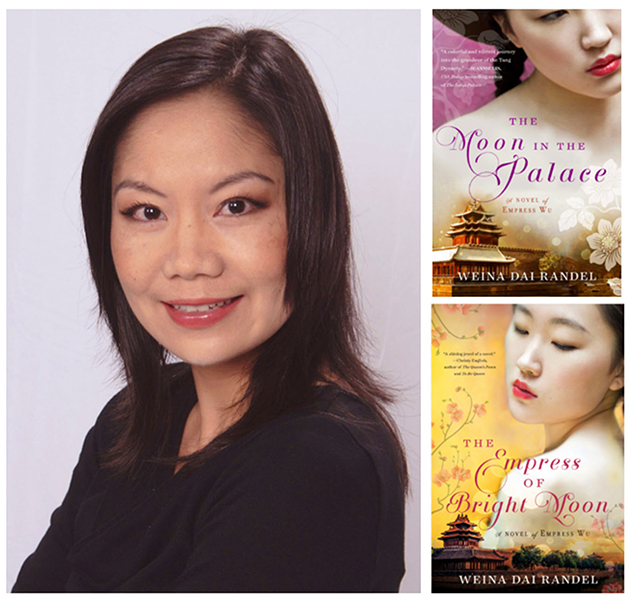 LONE STAR LITERARY LIFE: What brought you to the U.S.—and specifically to Texas?
WEINA DAI RANDEL: I fell in love with a wonderful American man so I decided to move here to spend the rest of my life with him. Since then, I never moved away from Dallas, and I'm still living here with the same wonderful man, besides two kids.
Was Texas what you expected?
Oh no. Texas was not what I expected at all. I remember how shocked I was when I stepped out of the DFW airport. It was in December, so it was not cold, and everything was so vast and flat, with an unobstructed view to the edge of the sky. I never imagined something like that. And people here were so friendly, polite. I loved it when people would talk to me in a grocery store and tell me to have a great day.
I love how you say that you even dream in English now. How long did it take begin dreaming in English instead of Chinese?
I would say I began to dream in English when I got into graduate school. That's about living here for a year.
Tell us about your life in China before you moved to the U.S.
I worked as an editor for an international online magazine in Shanghai. I interviewed the expats from Europe and America who lived in Shanghai and also wrote features about local authors, fashion, and food. Yes, in Chinese, not in English. Prior to that, I worked for a local newspaper and had some stints in television stations as I studied journalism in undergraduate.
When did you first know that you wanted to be writer?
I wanted to be a writer since I was in elementary school. I actually attempted to write a novel when I was in third grade. I only finished one page. It's funny to think of that now. Then I published my first short story a year later, made 6RMB, which is about $1. It was the first money I ever made, very thrilling. I was greatly encouraged and wrote a novel when I was twenty. But the novel was rejected.
I read that you spent ten years and received eighty-two rejection letters before your novel was accepted for publication? What kept you going?
Yes! Ten years and eighty-two rejection letters! When I started to write the novel The Moon in the Palace, I didn't have kids, and now my older daughter is nine.
What kept me going was the plain sense of vanity, I think, or some may say, the dream. I have always wanted to be an author with published novels. I liked the idea of being a writer, a lot, even though I didn't know what it entailed. I always loved words, poetry, and adventure stories. I've always been very stubborn, so that helped too. And honestly, I didn't know what else I could do if I stopped writing.
What was it like when you finally got your novel accepted for publication?
Very very happy. My family went to a Japanese restaurant and celebrated. I ate way too much cake!
Tell us about your books.
The Moon in the Palace and The Empress of Bright Moon are historical novels about Empress Wu, the first and only female ruler in China. She was a controversial historical figure who fascinated many people even after fourteen hundred years of her death. She was a capable ruler — China thrived during her reign and ascended to a golden age. She was also the first feminist in China, who promoted equal education for women and employed women scholars — one of her prime ministers was a woman. I felt compelled to tell her story because despite her achievement, she was vilified by traditional Confucian historians, who accused her of being a murderer and a harlot.
The Moon in the Palace and The Empress of Bright Moon describe the tortuous, bitter and sweet, and sometimes violent, journey of Empress Wu. Daughter of a governor, Mei was thirteen-year-old when she was summoned to serve an aging emperor in the palace, where she was forced to compete against a thousand women in order to win the affection of the old man. Resourceful and loyal, Mei survives court intrigue, rebellion, and devastating tragedies, rises to control her own destiny and eventually becomes the ruler of the kingdom.
What authors do you enjoy reading?
I love Arthur Golden, Geraldine Brooks, Anita Diamant, Ken Follett, George R. R. Martin, Amy Tan, Nuala O'Connor, and Elsa Hart. But I don't always limit to the authors or the topics of the books. Usually, I read the opening chapter; if I love it, I'll read the entire book.
What advice do you have for aspiring authors?
It is easy to fall into the valley of loneliness and depression when you write, especially when you receive one rejection after another. But don't give up. Carve out a slice of time and write. Every day. Just write. Set your mind free and don't be bothered by the noises of the outside world. And read the books by the authors you like, and read to understand what works and why it works. Continue to write, because your characters, your stories, are like needy mistresses and they need your attention. If you don't pay them attention, if you forget about them, a distance will grow, and it'll be difficult to connect with them.
* * * * *
Praise for Weina Dai Randel's EMPRESS WU series
"The author's talent for dramatic, well-timed dialogue, and portrayal of women's friendships and emotions-especially dislikes, jealousy, and fear — intensifies the reader's understanding of palace intrigue.… A full immersion, compulsively readable tale that rivals both Anchee Min's Empress Orchid (2004), about the Dowager Empress Cixi, and the multilayered biographical novel Empress (2006), by Sa Shan, which also features Empress Wu." —Booklist, starred review
"A must-read for fans of historical fiction set in ancient China, this novel offers a compelling look at a woman's unprecedented rise to power." —Library Journal, starred review
"Randel . . . offers a rich conclusion to her historical fiction duology about the woman who would become China's only ruling empress, in this work filled with sorrow and pain... Randel has done much to breathe life into the life of Empress Wu." —Publishers Weekly
"Once again, Randel's gift for evoking the atmosphere of the palace shines. Readers are immersed in a world where vengeance is a way of life. Though accurate, the reality and brutality of some incidents may disturb gentle readers. Truly a fascinating read!"
—RT Book Reviews, 4 stars
"A fascinating vision of ancient China concludes far too soon in this suspenseful, romantic finale."
—Shelf Awareness
"Along with its predecessor, The Empress of Bright Moon is one of the most beautifully written, impeccably researched and well-constructed historical fiction novels released this year."
—BookReporter
"As in her first novel, Randel is tremendously successfully at portraying the world of 7th-century China while developing a forward-moving and engrossing drama."
—Historical Novels Review, editor's choice
"Historical fiction fans will appreciate this book. Well researched and smoothly crafted, and with a sincere and winning style, it seamlessly transports the reader into the 7th-century Tang Dynasty to experience, firsthand, a woman's grueling and sometimes humiliating path to power."
—Washington Independent Review of Books