2016 Texas Readers' Favorite Bookstores
Texas readers have spoken. More than 1,000 of Lone Star Literary Life's readers have cast ballots in our statewide contest to recognize Texas's favorite bookstores. Their selections are as diverse as the state itself, and honorees include big indies, small indies, chain stores, used bookstores, and new bookstores in every far-flung corner of the state.
From the shadows of Houston's skyscrapers to the winds whistling down the plains, from the Piney Woods of East Texas to the beachside burbs on the coast, Texas bookshops are connecting with their communities, and we are thrilled to have the opportunity to showcase Texas's Top Ten Favorite Bookstores.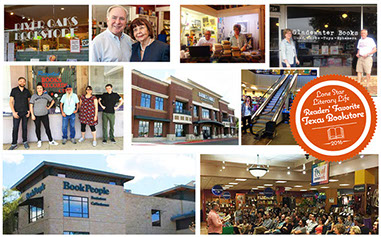 #1 40 Acre Wood, Lexington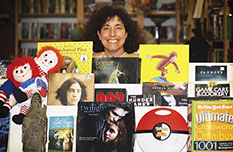 521 3rd Street/ Lexington, Texas 78947 (I like to think that we're next door to Winnie-the-Pooh)
Owner: Heidi Frazier
Opened 2010
Every day that the store is open is an event! 40 Acre Wood always has hot coffee and sweets available in addition to conversation, a game of chess or two, and free advice. We're great at matching customers with books, especially remembering what a customer is looking for and subsequently finding books of interest and holding them for the customer until he can return, sometimes years later.
Photos: Heidi Frazier, store owner, and some of her enthusiastic customers
Recurring events at store include a Summer Reading Club – a program held every summer encouraging children to read by offering prizes, a party at summer's end, and of course, free books. We also have Halloween Trick-or-Treating – joining other merchants in downtown Lexington on the town's square giving out candy, and of course, free books. Holds a Harry Potter trivia contest every other Halloween.
"Pass the Book" : 40 Acre Wood receives donations of books. Those who give books are asked to name a non-profit or charity that they would like to benefit. Then a small percentage of the sales of those items that sell is donated to the named charity.
Story Time:  Held every week to encourage each child to acquire a love of reading, a curious mind, and a personal library.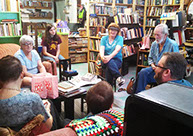 Every child receives a free book just for walking through the door (every time.)
Anyone in our community who would like a book but cannot afford a book, shall receive a book. A small book club meets sporadically to read and discuss books of self-published authors of Lexington and the surrounding communities. And I listen to my customers; they make the recommendations – usually to each other.
40 Acre Wood, a small, bookstore open 3 days per week, in a town of about 1,200 people, is home to hundreds of eclectic titles on a smattering of all subjects. It's not the books, however, that make 40 Acre Wood a great store. It's her customers, and especially the regulars.




#2 Barnes & Noble at Stonebriar Centre, Frisco
2601 Preston Rd., Suite 1204, Frisco, TX 75034
Store Manager: Jamie Lockhart
Community Business Development Manager: Nicole Caliro
Opened August 2000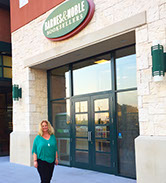 We have a group of diverse booksellers working in our store who are passionate about connecting readers with new books and new authors they will adore. If you ask each of our booksellers their favorite book, no one book will be alike (though we pretty much all love Harry Potter).
Literary and community outreach efforts in store: In addition to hosting over 100 in-store events in 2015, BN Stonebriar serves Frisco, Prosper, Little Elm, and Celina ISDs, as well as several private schools and non-profits.  We work hard to make sure we are always at the disposal of our local school districts and that all educators have a place to come and feel the love during our seasonal Educator Appreciation Events.  In the 2015-2016 school year alone, Barnes & Noble Frisco has provided over 40 free author visits to local schools at several districts' elementary and middle schools.
Above left: Store manager Jamie Lockhart in front of store; above right: group shot of Nicole Caliro, Deborah Harkness and several BN employees from 2015.
Local Weekly Storytimes are held Thursdays at 11am; National Storytimes are held Saturdays at 11am.
We have a daily bookseller recommend on Facebook, as well as instagram guessing games exploring the hypothetical reading lists of famous literary characters and pop culture icons. We are proud to serve one of the fastest-growing communities in the country.  It is a privilege to share our love of reading with customers of all ages and bring storytimes, national events, and quality authors to the community.  As booksellers, our greatest joy is putting the right book in the hands of the right reader, whether it be school reading, a gift for a loved one, or a newly discovered gem recommended by one of our booksellers- the art of bookselling and passion for reading is alive and well in this North Texas hamlet.




#3 Paragraphs on Padre Boulevard, South Padre Island
5505 Padre Boulevard, South Padre Island, TX (3 miles north of the Queen Isabella Causeway)
Owners: Joni Montover and Griff Mangan
Opened February 9, 2009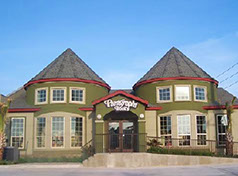 As avid readers and members of the American Booksellers Assn. we are fairly familiar with most genres of books but most of all we love to talk about books and welcome our customer's suggestions and recommendations. We also pride ourselves on being active in the community and able to make recommendations for places to go, things to do and see, or where to eat and drink – we believe part of our role is to make sure visitors to South Padre Island have a wonderful and memorable vacation experience and so we welcome questions about the area – including the approximate time table for the free island shuttle.
We host numerous books signings and are happy to allow many self-published authors the opportunity to interact with potential readers in person. Based on participation and interest we have a Children's Storytime, monthly book club, writer's group, play reading group, and have hosted a variety of craft classes and art demonstrations. We are also a venue for the Valley International Poetry Festival every April.
We welcome groups to use our store for small gatherings or as a place to meet and discuss issues important to the community. We support many of the area's non-profit organizations with our membership and sponsorships of their fund-raising events including the El Paseo Arts Foundation, Sea Turtle Inc., Surfrider's Foundation, and the South Padre Island Birding and Nature Center. For several years we have sponsored a visiting author program with our local university. We continue to reach out and are anxious to find ways to work more efficiently with our local school districts. We donate books to the Boys and Girls Club.
Above: Griff Mangan and Joni Montover, owners (along with resident Shih Tzus)
Does staff assist in recommendations either in-store, on website, or social media? That is what we do best – recommend books. Since we like to read almost anything, including the back of cereal boxes – we will discover your interests and then help select the perfect book for your next beach read or for that special gift. We also are willing and patient enough to try to find something even the most reluctant reader will enjoy. We have an active presence on Facebook. We provide information to several local papers and currently do a book review/recommendation column for the Coastal Current.
As longtime visitors to South Padre Island we finally made a decision to move here and fulfill a lifetime dream of Joni's to open a bookshop. With our home located across the courtyard from the store we honestly feel like every time a customer walks into the store we are welcoming them into our home. So if you plan to come south for your beach vacation don't weigh yourself down carrying books. If you have a particular title you would like to read, give us a call and we will make sure it is here waiting for you upon your arrival. Or please, just stop in and say hello.

#4 Texas Star Trading Company, Abilene
174 Cypress St., downtown Abilene, TX

Owners: Carol and Glenn Dromgoole

Opened July 22, 2004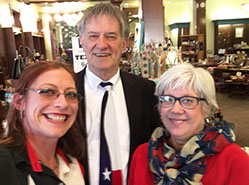 Our store focuses on Texas books and authors, as well as Texas gifts and gourmet. We also feature autographed books and offer a good selection of Texas bargain books. Glenn Dromgoole writes a weekly newspaper and online column on Texas books and is co-founder and chairman of the West Texas Book Festival and the Texas Author Series.
Left: Jamie Salazar, store manager, Glenn and Carol Dromgoole, owners. Right: Penny Klostermann, children's author of Abilene, with story time in the store
Literary and community outreach efforts include gift certificates to members of Friends of the Library; Military discounts. We are one of the sponsors of the Children's Art and Literacy Festival, and promote the West Texas Book Festival and Texas Author Series. Financial support for more than 30 community organizations.
The store hosts periodic book signings, especially featuring local authors, and participates in Independent Bookstore Day and Big Day Downtown, both in April.
Staff assist customers in recommendations either in-store, on website, or social media. We produce e-mail newsletters and Facebook postings promoting and recommending Texas books, and we answer questions and offer recommendations in-store. We also have a mMnthly appearance on local television promoting Texas books and authors, as well as the weekly newspaper column.
With 11 Texas flags flying outside, Texas Star Trading Company promotes itself as "The National Store of Texas," featuring Texas books, gifts, gourmet, T-shirts, and souvenirs.

#5 Barnes & Noble Dallas: Lincoln Park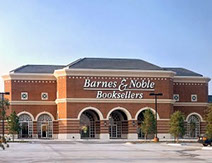 7700 West Northwest Highway, Dallas, TX 75225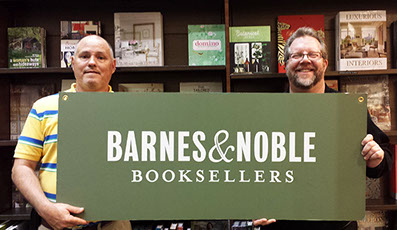 Manager: Craig Schlabs
Community relations manager: Cody McMahan
Opened September 1998
Our management team has 152 years of bookselling experience, and all of us together have a combined total of 283 years of bookselling experience!
Storytimes are held Tuesday @ 11AM and Saturday @ 11AM. Other community events include Annual Holiday Book Drive benefiting the Reading Is Fundamental; Bookfair fundraisers benefiting schools, libraries, and arts organizations; Barnes & Noble Summer Reading Triathlon – rewarding kids for reading over the summer with free books!
Craig Schlabs (Store Manager) and Cody McMahan (Community Relations Manager).
We are available for recommendations in-store by phone or by facebook message. Come join us to be a part of the best of book culture:  deep levels of book and music expertise, excellence customer service and fantastic events from storytimes to author events with note worthies from the literary, political and celebrity worlds. We combine the best of your store around the corner and all the advantages of being a part of Barnes & Noble!

#6  BookPeople, Austin
603 N.Lamar Blvd., Austin
Owned locally by BookPeople, Inc.; Steven Bercu is president of company and operates the store
Marketing director: Abby Feenewald
Opened in November, 1970
BookPeople is a general bookstore carrying a large variety of subjects, including a comprehensive kids' department, a mystery store within the store, a floor of non-fiction and another of fiction. BookPeople hosts over 500 events a year, with authors signing almost every day; story times every Tuesday, Wednesday, and Saturday. BookPeople also hosts many events offsite every month.

BookPeople is involved intensely in the community. We provide dozens of school book fairs each year and work with the regional school districts on curriculum development and author school visits. BookPeople provides the literary input for the Texas Conference for Women, the Texas Teen Book Festival, the Austin Food & Wine Festival among many others. Our literary book camps every summer attract over 1000 children from around the world. Staff recommendations are displayed all throughout the store and on our website. Staff participate in our three blogs too.

BookPeople has an two adult-book buyers, a kids'-book buyer, a remainder buyer, and a gift buyer.

BookPeople would like Lone Star Literary Life readers to know that there is no bookstore in Texas that offers an experience comparable to that they will enjoy at BookPeople. Whatever their taste, they will find an employee to talk to about that interest and be able to get recommendations about books of interest to them. It is an experience that can only be had at an independent bookstore.

#7  Recycled Books, Records, CDs, Denton
200 N. Locust, Denton, Texas
Owner: Don Foster
Community relations managers: Lacey Richins and Miles Foster
Date store opened: 1983
Recurring events at store: Kids Summer Reading Program, Customer Appreciation Sales, 10% off purchase if customer is sporting our merchandise while shopping (shirts, tote bags, hat, etc).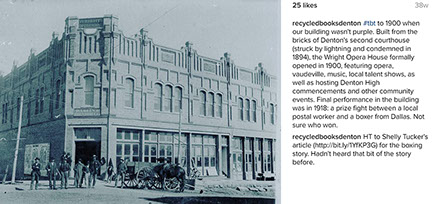 Unique expertise in store: Each member of our staff has multiple areas of expertise – each of us run specific sections in the store, as well as our personal interests bleed over into helping our customers. We have staff that know all kinds of genres – books, music, and movies! We have staff that have worked here since the beginning and are able to educate on rare/collectible books. We also have an online store for the really rare/special – things on Discogs, Ebay, and Amazon. As a whole, we are a very quirky and educated bunch, and we encourage our customers to strike up conversations about books/music/movies or ask questions.

Literary and community outreach efforts in store: We continue to work with local elementary schools and supply their "Book Mobile" with children's books during the summers (they provide books to children that cannot afford to buy them). We work with the local film and music festivals, as well as the town's holiday wassail fest. We sell locally roasted coffee in our store year round, have a local area – which has both local music and local authors, do a kids summer reading program every year (in which they earn store credit to spend on more books just for reading!), and a few years ago we had a "Recycledpalooza" in which we had a benefit concert (featuring bands that the employees were a part of) to raise money for the Apple Tree Project, which provided backpacks, school supplies, clothing and shoes to children of low income families in the area.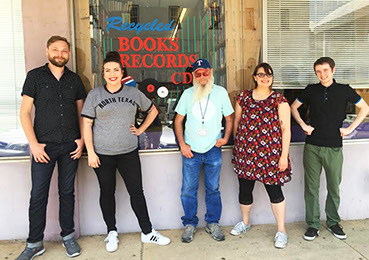 Does staff assist in recommendations either in-store, on website, or social media? All of the above! Our staff is very diverse in their tastes, so we feel like we're able to help any customer that comes through the door. We are quick to reply to any comments/mail we receive online – we are on Facebook, Twitter, and Instagram – and we love interacting with our customers on there!

Does store have TV/radio appearance presence: We have had radio advertising in the past, and occur in a handful of TV commercials – mostly "what makes Denton, Denton"/"what makes Denton so great" representations that companies/the city puts together.

Located in an impossible-to-miss purple Opera House on Denton's burgeoning square, Recycled Books has been a fixture of the city for over 30 years. Today the store fills every corner of the space with thousands of carefully curated books, records, CDs, movies, and collectibles. With over 500,000 books, 20,000 LPs, and 30,000 CDs and DVDs it would be difficult not to find a gift for a loved one - or a treat for yourself. It continues to attract book and music lovers to Denton—from students and locals just discovering it for the first time, to former Dentonites who adjust their nearby trips just to pass back through and visit, to dedicated collectors from all over the world who know the store always has something rare and surprising waiting for them. Come visit us on The Square, and see why Denton was voted America's best small town!

Above: Recycled Book staffers in front of their Denton store: L to R: Cole Dalton, Lacey Richins (manager), Willie Dees, Elizabeth Hassett, and Miles Foster (manager).

#8  River Oaks Bookstore, Houston
3270 Westheimer Rd., Houston TX
Owners: Michael and Josie Jones; Michael's mother Jeanne Jard
Community relations manager: Whitney Corson
Date store opened- 1976
Recurring events at store: We have book signings and book clubs on a regular basis
Unique expertise in store- Jeanne is known for giving great recommendations, she has been running the bookstore for nearly 50 years – people come to chat with her, buy her recommendations, etc. She is the heart of river Oaks Bookstore!
Literary and community outreach efforts in store- yes! We do lots of in store and out of store events in the community, and offer a large selection of T
The staff is happy to recommend books, each staff member can recommend different genres of books. We also post a list of Jeanne's recommendations on the store website. The bookstore also posts news of events and happenings on Twitter and Facebook, and we email our monthly newsletter (for in store signings) to our contacts each month.
River Oaks is an independent, family owned, old fashioned bookstore. We have well-stocked shelves and well-read staff. Our store is a nice place to visit — the cookies and coffee are always here for the taking!

River Oaks Bookstore owner Michael Jones, with the heart of the bookstore (his mother), Jeanne Jard.

#9  Gladewater Books, Gladewater
109 E. Pacific, Gladewater TX 75647
Owners: Peter Adams and Elizabeth DeRieux
Date store opened: March 2007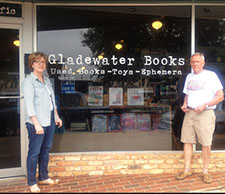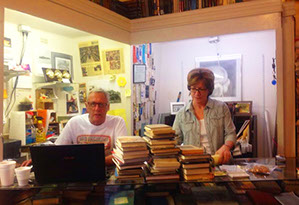 Owners are longtime residents of Gladewater and active in the community, including in the local library, museum, and chamber of commerce. Staff assist in recommendations either in-store, on website, or social media.

We sell used books both in the store and on-line through Alibris. We have over 100,000 volumes in the store spanning a wide variety of genres, interests and price ranges. We are located in a 100+ year old building in the downtown Antique District in Gladewater. We love books and book people. The best way to reach us is to come in and see us during store hours, Tuesday – Saturday, 10:00 - 5:30. For more information people can email (ederieux@gladewaterbooks.com); call or message us on Facebook (Gladewater Books).




#10  Barnes & Noble Booksellers, Lubbock
South Plains Mall, 6002 Slide Road Lubbock, TX 79414 – 806-793-1061
Wade Whatley, Manager
Community relations manager: Terry Handley
Date store opened: Nov. 4, 2009
Recurring events at store: Storytime (Wednesday & Saturday at 11:00 am), Mini Maker Faire (first weekend in November), Get Pop Culture (Month of July) , Dr. Seuss event (last Saturday in February), Polar Express (The first Friday evening in December)
Unique expertise in store: Education material including toys and games, digital support for our NOOK readers, literary and community outreach efforts; school bookfairs showcasing student performances and art work, collaboration with Region 17 Education Service Center, collaboration with Literacy Lubbock and other non-profit organizations. Café serving Starbucks drinks and Cheesecake Factory cheesecake and other assorted goodies.
Does staff assist in recommendations either in-store, on website, or social media – yes in store - the current recommendation by Tyler Caughron is "The Wheel of Time Series" by Robert Jordan and on social media - Facebook, Twitter, and Instagram – BNLubbock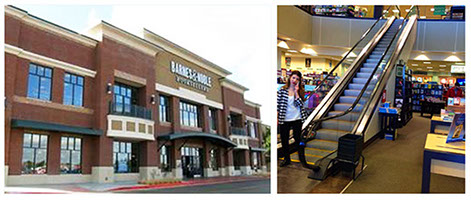 Terry Handley appears once a month on KLBK and discusses the events in the store, also appears on 'Trends and Friends' when large events are going on and some radio.

Barnes & Noble is the endless bookshelf. Whether you are a customer looking for a single book or a school looking for classroom sets, we have the ability to meet your needs. We provide a space for book lovers to come together to find new authors, to introduce children and teens to the joy of reading, and to reunite readers with their favorite stories and authors.

* * * * *