Nathan Hale has written and illustrated several books, including The Devil You Know, Yellowbelly, and Plum Go to School, and The Twelve Bots of Christmas.
He is the illustrator of Shannon and Dean Hale's Rapunzel's Revenge and Calamity Jack graphic novels. (He is not related to them.) Other books he has illustrated include Animal House, Balloon on the Moon, The Dinosaurs' Night Before Christmas, and Frankenstein.
His graphic novel series Nathan Hale's Hazardous Tales has appeared on the New York Times best-seller list. Titles in the series include Treaties, Trenches, Mud, and Blood; Donner Dinner Party; One Dead Spy; Big Bad Ironclad; and Alamo All-Stars.
Hale's work has been recognized with the CYBIL Award, YALSA Great Graphic Novel for Teens, Texas Library Association Bluebonnet Award, and Al Roker's Book Club Pick.
6.12.2016  Nathan Hale, Bookish All-Star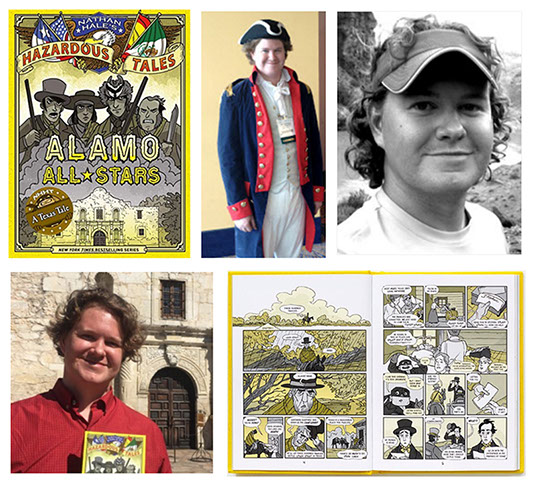 The multitalented Nathan Hale divides his time among picture books, natural history and educational illustration, and graphic novels — and his Texas tale Alamo All-Stars appeared last week on Lone Star Lit's Kids' Summer Reading list. He's not a Texan, but we like his stuff so much we'd be happy to make him an honorary one.
LONE STAR LITERARY LIFE: How did you get into graphic novels, Nathan? Did you do cartooning when you were growing up?
NATHAN HALE: I started drawing simple comics in high school. But nothing longer than a page. I was always drawing--just not always comics. As a kid I was more of an illustrator than a cartoonist. I didn't get serious about graphic novels until I signed on to draw Rapunzel's Revenge with Shannon and Dean Hale (no relation.)
I see that you live in Provo, Utah. Did you grow up in that area? Did you read a lot of comic books when you were growing up?
I did grow up in Utah. It's a great place for cartooning because there are so few distractions. Seriously, there's nothing to do here. Sure you can ski and hike in the great National Parks--but that's it. If I'm indoors, I'm drawing. Zero distractions.
I didn't read comic books as a kid. I was a newspaper comics reader. Super heroes didn't interest me. Funny joke panels did.
You studied illustration at Cornish College of the Arts in Seattle, Washington, have a background in scientific and natural history illustration, and you worked painting scientific murals for museums around the U.S., how do you make the move to creating graphic novels.
I had a standing policy growing up that I would say YES to every art job. Local theater needs flats painted, yes. Sweet old lady wants a cottage painted on the side of her flower shed, yes. Heavy metal kids want a band logo, yes. I painted a lot of murals in high school and college. I eventually landed a gig painting a dinosaur museum. While working there, I met with a company that creates natural history displays for museums all over the world. They liked my work, asked me if I wanted to join the company, I said yes. I've got murals in science museums around the world. Japan, Germany, and lots here in the States. In Texas, we did some displays at the Big Bend National Park Visitors Center.
Graphic novels are a lot like scientific illustration, the point of both is relaying information in a visual way.
How would you describe the turning point in your career? What was your big break?
Still waiting for it. I've never had any jobs but art jobs. I've been in deadline crunches since I was a teenager. My checks get a little bigger each year, a few of my books pop up on awards lists. But I still have to scramble to stay ahead of bills and deadlines. I'm not sure people who do history comics get big breaks. Fingers crossed, though.
You are a Texas Bluebonnet Master List award winner from the Texas Library Association, and your Alamo All-Stars retells a story that every Texan holds near and dear. It seems like you have a spent a lot of time in the state. What are some of your impressions of the state?
Texas is the greatest! The Bluebonnet list really put ONE DEAD SPY and the Hazardous Tales series on the map! I grew up reading Larry McMurtry's Texas novels and absolutely loving them. I have to admit, I was sad to see fewer cowboys than I expected when I first started visiting Texas. Granted, I was in Houston.
Texas is my #1 school visit state. For the past few years I've visited Texas at least once a month. Texas schools are fantastic! They are so big! So diverse! And they always, always have an excellent school librarian (a lot of other states I visit don't have school librarians, if you can believe it.)
I've tried to convince my wife to move to Texas. She doesn't want to leave her library (she's a public librarian here in Utah.)
What attracted you to the story of the Alamo?
Great characters. You can't beat David Crockett, Jim Bowie, William Travis, Juan Seguin, Sam Houston, Stephen Austin, Ben Milam--the list goes on and on. Great characters make for great stories. Even if it was those guys just running errands around town, I'm sure it would turn into a great story.
What's your creative process like? How long does it take you from concept to final draft in creating a book?
The research and writing phase takes about five to six months, then another five to six months for the drawing. Before I start the drawing, my manuscript goes out to Abram's fact checking department and a few experts on the topic. They make their corrections, then I jump in.
The fastest drawn was Donner Dinner Party, which I drew in under three months. What a miserable three months.
Which graphic novelists do you enjoy reading? Are there any Texas graphic novelists that we should be aware of?
It's a great time for graphic novels--particularly for young readers. Everything from First: Second and Scholastic's Graphix is wonderful! Kids have never had it so good. The topics are more varied than ever (not just superheroes!)
What advice would you have for aspiring graphic novelists?
Draw draw draw. Comics creation is an endurance sport. It's a marathon, not a sprint. It's actually one of those super-marathons--like a 100-miler. So start logging those drawing hours. Write stories and finish them. Don't worry about having top of the line digital gear. You don't need Photoshop, you don't need a Wacom tablet. All you need is paper, pencils, ink, and time!
What's next for you?
I'm scrambling to finish a big, crazy, science fiction graphic novel for Abrams. It's called ONE TRICK PONY. It's a little break from research and history. It's got robots, aliens, bug biomechanics structures--it's weird. But that will be out next spring!
* * * * *