Texas is fortunate to lay claim to a bounty of top-quality outlets for creative writing, including many notable publications devoted exclusively to poetry. Among them, in the 1990s, two Texas magazines, one paper and the other digital, were launched to showcase poetry. Illya's Honey (the paper publication), was founded by Stephen Brodiein 1995, and came under management of the Dallas Poets Community in 1998. The magazine went digital in 2013. Red River Review, an "experiment" in digital publishing, went online in 1999 through the efforts of Bob McCranie, who holds a Master of Fine Arts from Vermont College, where he studied under Mark Doty.
Today, both magazines enjoy an expanding readership and an increasing diversity of contributors, some from as far away as Nigeria. Both magazines are under the editorships of women poets. Ann Howells,co-editor of Illya's Honey (along with Melanie Pruitt), and Michelle HartmanRed River Review, agreed to be talk with Lone Star Literary Life in celebration of National Poetry Month, and to offer their editorial insights.
Ann Howells (left) began writing poetry as a coping strategy when her daughter had cancer. After her daughter's recovery (and on her urging), Ann attended poetry workshops, honed her craft, and became editor of Illya's Honey in 1999, when the journal was four years old. Her chapbook Black Crow in Flight was published by Main Street Rag in 2007. She is widely published in anthologies and magazines, and has multiple Pushcart nominations. She has been interviewed on Writers Around Annapolis television, and has read on NPR (Peach State Public Radio). Her new book, Under a Lone Star, a series of short poems about Texas, each accompanied with a drawing by Dallas artist, J. Darrell Kirkley, will soon be released by Village Books Press of Cheyenne, Oklahoma. Howells hopes to bring new readers to the enjoyment of contemporary poetry: straightforward, unrhymed, and understandable.
LONE STAR LITERARY LIFE: Illya's Honey has long been a fixture on the Texas literary scene, but how has the magazine evolved over the years?
ANN HOWELLS: We went from saddle-stitch to perfect bound and from quarterly to biannual in fall of 2006. Then in fall of 2013, we went digital. The recession had diminished our subscription list, plus we were receiving more foreign submissions. By going digital, we could accept more foreign contributors without the burden of overseas mailing costs (which rose precipitously after 9/11).
What are your preferences, as an editor, in regards to publishing free or formal verse? What are your major sticking points in structure or language?
Illya's Honey publishes all forms of poetry from haiku to rant, from sonnet to slam. We publish what we like, what we appreciate. We look for originality and craft, try to avoid the didactic, the overly sentimental, pointedly religious, and pornographic work. We avoid rhyme, unless it is very well done. We enjoy the unusual and the experimental when it works. That said, the majority of what we publish is free verse, simply because that is what we most often receive. We do truly enjoy the occasional lovely villanelle or sonnet.
Tell our readers something about the Dallas Poets Community: how often does the group hold readings? What other services does the group provide for Texas poets?
In addition to publishing Illya's Honey, Dallas Poets Community holds open workshops on the second and third Wednesdays of each month. A reading consisting of a featured poet followed by an open mic takes place first Friday of each month. Occasionally we do group readings, and we go into the schools, elementary through university, to conduct workshops. Our current project is an anthology of poets from the Metroplex, which I am editing. We hope to release it with summer readings in both cities.
What are your views about the vibrancy of Texas poetry? Both San Antonio and Houston now appoint poets laureate; is there a chance that Dallas/Fort Worth may appoint a poet to that esteemed position?
One of the reasons our poets community is creating a Dallas/Fort Worth anthology (and that is greater D/FW, covering a seven-county region) is that this area seems less aggressive in pressing awareness of its poets than San Antonio, Austin, and Houston. We want to showcase the diversity of talent here. I would like to see a Dallas, Fort Worth, or even Metroplex poet laureate named in the future, though I know of no plans for that to occur. In 2001, the city honored a group of twenty poets as "Distinguished Poets of Dallas," definitely a step in the right direction. I understand that Lewisville recently named J. Paul Holcomb as its poet laureate. Another step. It would be great if other suburbs followed suit.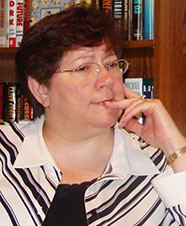 Michelle Hartman (left) is author of Disenchanted and Disgruntled (2013) and Irony and Irreverence (2015), both from Lamar University Press. Her poetry is political and social satire using fairy tales as vehicles. She has published in many journals and anthologies, including Crannóg (a premiere Irish magazine), Poetry Quarterly, The Pedestal Magazine, San Pedro River Review, Pacific Review, Concho River Review, RiverSedge, and Illya's Honey. Her work is featured overseas in Germany, Australia, Canada, and Nepal. She is a multiple Pushcart nominee. Her new book The Lost Journal of my Second Trip to Purgatory (Lamar University Press, March 2016) is a departure in subject matter, dealing with child abuse and its effects on adult life. Whenever she reads at literary festivals, she also listens for poetry to publish: "Not every editor gets to hear the poet read a piece before accepting it."
LONE STAR LITERARY LIFE: Red River Review, founded in 1999, was originally an "experiment in publishing" by Bob McCranie, who served both as editor and as webmaster. What sort of success did the magazine enjoy in those early years of web publishing?
MICHELLE HARTMAN: As far as I know we were one of the earliest juried journals on the Internet. There was no submission software in the early days, so Bob McCranie set up the magazine with Lotus Notes spreadsheet software. In April 2000, Red River Review was awarded the DominoPower magazine "Site of the Month" for its unique presentation and subject matter. We had great success which, was apparent when we had our anniversary issue for previously published poets only. I received many submissions from well known poets who said we were the first/one of the first, to publish their work. Since I've been editing we've had poems picked for Best Australian Poetry and other recognitions.
Red River Review initally closed in 2007, but a few years later, you convinced Bob to revive it. As the new editor, what was your vision for the magazine?
Bob had tried to get me to take over as editor in 2007, and I did do a guest edit on one issue. So it was not a big surprise when I asked him to start up the magazine again. Certain cities in Texas (San Antonio, Austin) promote writing activities, but Texas overall does not support its writers. I felt that Red River Review was needed more than ever to showcase Texas writers along with and against the writers of the world. My vision was to make it as respected as Rattle or Poetry but accessible to students and teachers as well as to new writers.
Do you and Bob keep statistics on how often your pages are visited? What can you tell us about your readership numbers? What number of Texas poets do you now regularly publish, in comparison to national and international artists?
Bob and I use Google Graphics, which gives us a look at what part of the world/country is visiting our site the most. It also gives us information on length of stay and pages read. I pulled the latest data, and we have had: 1643 viewing sessions with 1264 users at 4292 page views, this month. By country it breaks down to U.S., 1120; India, 149; United Kingdom, 115; Australia, 58 — all the way down to Nigeria, with 6 visitors (we recently published a Nigerian poet); 70.2% percent of viewers are returning users. About 50% of our poets come from the five-state region. If you would like your work to be read internationally as well as across America, Red River Review is a good place to be published.
* * * * *