As 2015 slips to a close the editors of Lone Star Literary Life would like to say thank you to all of the authors who have written books about our state or set in our state, but we'd like pay special recognition to our Favorite Texas Fiction of 2015.
We winnowed down an internal list and placed a couple of versions of it out on our social media as a survey. To our pleasure, the lists reached almost 2,000 people and hundreds weighed in.
The selections reflect the diversity and range of the state, with settings from the Panhandle to the Mexican border. The ten authors include (by happenstance) five men and five women, and they range in ages from thirty-five-year old Keija Parssinen to seventy-one-year old Carlos Nicholás Flores.
Here's our list, in no particular order.
PATRICK DEAREN
The Big Drift: A Novel
TCU Press, trade paper, 978-0-87565-570-3; 192 pp., $22.95 (also available in e-book and audio book).
The Big Drift begins in the Middle Concho of West Texas during a blizzard in December 1884. Zeke Boles, a black cowhand and former slave, is running from a hangman's noose when he he stumbles across Will Brite, a white cowhand pinned under his horse and caught up in the barbed white of a drift line. This unlikely pair, brought together by chance, learns that they have more in common than that which separates them and they must depend upon each other for their very lives as each seeks redemption for his part in the memories they are each trying to outrun. Author Patrick Dearen is interviewed here.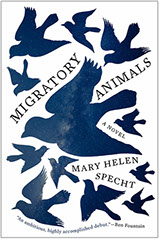 MARY HELEN SPECHT
Migratory Animals: A Novel
Harper Perennial, Paperback/Deckle Edge, 978-0062346032, 320 pp., $14.99 (also available in e-book)
Mary Helen Specht's debut novel unflinchingly tackles the hard stuff. Specht employs five points of view to tell the story of a group of best friends from college who have each come to a crossroads. Flannery, prodigal daughter, sister, friend, and flame, is "on the lam" in Nigeria from a difficult childhood and needy family. She has been there for five years and has built a career and fallen in love with a local. When Flannery returns to Austin to complete research that will allow her to secure funding so she can implement that research in Nigeria, she finally has to choose between her two lives. Specht is interviewed in our December 6, 2015, issue.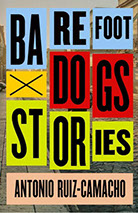 ANTONIO RUIZ-CAMACHO
New York: Scribner, Hardcover, 978-147684960, $23.00 (also available as ebook)
Antonio Ruiz-Camacho tells the stories of the wealthy, privileged, cultured, and ambitious Arteaga family of Mexico City. He has an uncanny ear for the prattle of pampered children trying adulthood on for size and for conveying their sheltered lives. It turns out to also be the year of kidnappings when the patriarch fails to come home from the office one day – the year the blinders come off. This collection of linked short fiction follows the diminished fortunes of the children and grandchildren who are forced to flee the country for their own safety. Author Antonio Ruiz-Camacho is interviewed here.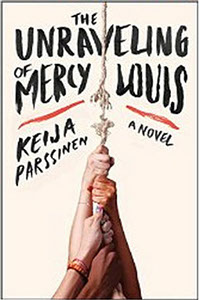 Keija Parssinen
The Unraveling of Mercy Louis
New York: Harper
Hardcover, 978-0-06-231909-8; also available in ebook
320 pages, $25.99
Port Sabine is a small derelict refinery town on the Gulf Coast of East Texas, economically depressed and environmentally despoiled, beset by class divisions, small minds, and smaller hearts. Port Sabine's claims to fame are a refinery explosion and the lone bright spot—the girls' high-school basketball team and its star, Mercy Louis. Mercy lives on the bayou's edge with her grandmother, Evelia, a harsh, unforgiving woman, a member of a "Holy Roller" church who has visions and spouts prophecy of the imminent Rapture The last day of school brings a disturbing discovery, and as summer unfolds and the police investigate, every girl becomes a suspect. When Mercy collapses on the opening night of the season, Evelia prophesies that she is only the first to fall, and soon, other girls are afflicted by the mysterious condition, sending the town into a tailspin. Keija Parssinen has conjured a smartly plotted, fast-paced Gothic brew of superstition, fear, jealousy, conspiracy, politics, money, sex, love, and misogyny. Author Keija Parssinen is interviewed here.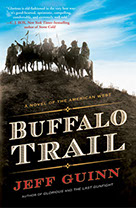 Jeff Guinn
Buffalo Trail: A Novel of the American West
G.P. Putnam's Sons
Hardcover, 978-0-399-16542-9 (also available as ebook and audiobook), 432 pgs., $27.00 (also available as ebook and audiobook),
The follow-up to Glorious, a New York Times best-seller, Buffalo Trail is author and investigative journalist Jeff Guinn'ssecond volume in his American West trilogy. Cash McClendon has departed Arizona Territory in a hurry and washed up in Dodge City, keeping company with Bat Masterson and Billy Dixon, learning the trade of the "hidemen" who follow the great buffalo herds, trying to earn enough money to get back to Gabrielle, his lady-love, whom we've met in Glorious. The buffalo have been hunted out of existence in Kansas, so Dixon is putting together a large hunting party to follow the herds into Indian Territory. Simultaneously, Quanah Parker of the Comanche is attempting to put together a massive war party, including the Cheyenne and Kiowa, to convince the white men to stay on their side of the line. When these two groups collide in the Texas panhandle, it will be known historically as the Second Battle of Adobe Walls. Author Jeff Guinn is interviewed here.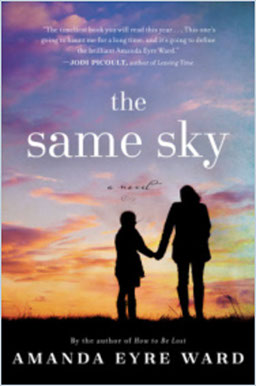 AMANDA EYRE WARD   The Same Sky
Ballantine, Hardcover, January 20, 2015, 978-0-553-39050-6, 288 pp., $25.00 (also available in e-book and audiobook versions)
In The Same Sky, Amanda Eyre Ward tells the stories of Alice and Carla, each striving for their personal version  of the much-vaunted American dream. The author deftly conveys the unique voices of these two very different characters, moving smoothly back and forth between the privileged forty-one-year-old Alice and the desperately poor Carla. The author spent a year researching and visiting children in immigration centers in California and Texas, listening to their stories.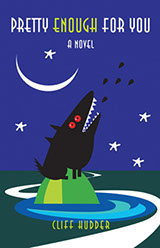 Cliff Hudder
Pretty Enough for You: A Novel
Texas Review Press, 978-1-68003-038-9, 344 pgs., $22.95 (also available in e-book edition)
Pretty Enough for You is Cliff Hudder's rollicking carnival of a debut novel. Harrison Bent is a self-absorbed, adolescent middle-aged ne'er-do-well immigration attorney in love with a twentysomething paralegal, married to a Filipino au pair who needed citizenship, with a girlfriend-stalker, whose philosophy is go-along-to-get-along. Playing hooky from responsibility, marinating in rum-Vicodin-Xanax cocktails and lying to his therapist, Bent is assigned a new case, and then the shenanigans begin. Author Cliff Hudder will be interviewed in Lone Star Lit's December 27 issue.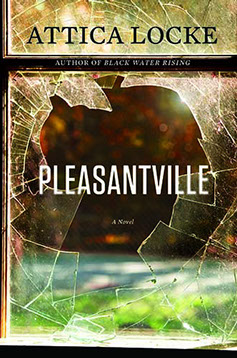 Attica Locke
New York: Harper
Hardcover, 978-0-06-225940-0
432 pages, $26.99
Pleasantville takes place in Houston's historical planned community for African-Americans of means and is Attica Locke's (writer and producer of the Fox series Empire) sequel to the many-award-nominated Black Water Rising -- with environmental plaintiff's attorney Jay Porter, this time dealing with the death of his wife, single fatherhood, inertia, and a break-in at his law office that occurs the same night as an election, the same night the girl goes missing. Author Attica Locke is interviewed here.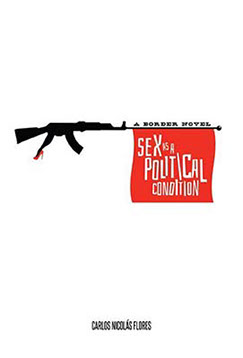 Flores, Carlos Nicolás
Sex As a Political Condition: A Border Novel
Texas Tech University Press
9780896729308, paperback, 406 pgs., $34.95
Sex As A Political Condition is the newest smartly designed title in Texas Tech University Press's Americas series, and is professor and activist Carlos Nicolás Flores's latest novel. Sex As a Political Condition is about history, family, politics, economics, friendship, and religion. Honoré del Castillo runs the family curio shop in the backwater border town of Escandón, Texas, and fears dying in front of his TV like some six-pack José in his barrio. Encouraged by his friend Trotsky, he becomes politically active—smuggling refugees, airlifting guns to Mexican revolutionaries, negotiating with radical Chicana lesbians—but the naked truths he faces are more often naked than true and constantly threaten to unman him. When a convoy loaded with humanitarian aid bound for Nicaragua pulls into Escandón, his journey to becoming a true revolutionary hero begins, first on Escandón's international bridge and then on the highways of Mexico. But not until both the convoy and Honoré's mortality and manhood are threatened in Guatemala does he finally confront the complications of his love for his wife and daughter, his political principles, the stench of human fear, and ultimately what it means to be a principled man in a screwed-up world. Author Carlos Nicolás Flores is interviewed here.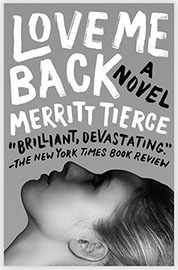 Love Me Back: A Novel
New York: Doubleday
Hardcover, 978-0-385538077
224 pages, $23.95
September 16, 2014
New York: Anchor Paperback 978-0-345807137
224 pages, $15.95
Love Me Back is "5 Under 35" honoree and Rona Jaffe award winner Merritt Tierce's debut novel. Marie is a young twentysomething woman who lands a coveted waitressing job at an upscale Uptown Dallas restaurant. Serving herself up night after night, Marie is mired in a miasma of hedonistic nihilism, the drugs and alcohol and musical beds her clawing for oblivion.  Containing no such thing as plot or pacing, the narrative jumping back and forth through time, Love Me Back reads more like a series of linked short stories. Her language in Marie's first-person account is stark, potent, sparing nothing, with intermittent injections of sardonic humor. Author Merritt Tierce is interviewed here.
* * * * *