Michelle Newby is contributing editor at Lone Star Literary Life, reviewer for Foreword Reviews, freelance writer, member of the National Book Critics Circle, and blogger at www.TexasBookLover.com. Her reviews appear or are forthcoming in Pleiades Magazine, Rain Taxi, World Literature Today, South85 Journal, The Review Review, Concho River Review, Monkeybicycle, Mosaic Literary Magazine, Atticus Review, and The Collagist.
Lone Star Book Reviews
of Texas books appear weekly
at LoneStarLiterary.com
As a practicing criminal lawyer, Bill Neal spent more than four decades frequenting county courthouses in West Texas and hearing tales of sensational crimes and celebrated trials of bygone years. Shortly before his retirement from active law practice, Neal decided to resurrect these old tales of frontier justice—and injustice—through research in the basements and backshops of courthouses and country weeklies, family histories, and interviews with old-timers. His multiple award-winning books are the results of his efforts. He lives in Abilene, Texas, with his wife, Gayla.
TEXAS HISTORY
Bill Neal, with foreword by Gordon Morris Bakken
Skullduggery, Secrets, and Murders: The 1894 Wells Fargo Scam That Backfired
Texas Tech University Press
Hardcover, 978-0-89672-917-9 (also available as an ebook), 256 pgs., $34.95
April 1, 2015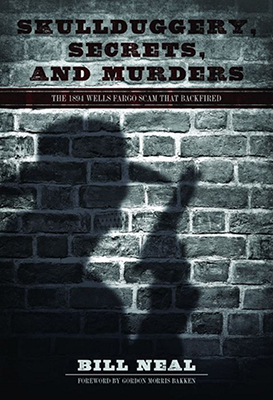 Bill Neal, writer, historian, and retired criminal attorney, gave a book talk in Canadian, Texas, a few years ago where a woman took him aside to quietly warn him not to "get into that Isaacs mess." Naturally, as any proper writer, historian, and lawyerly type would be, Neal became curious. The result is Skullduggery, Secrets, and Murders: The 1894 Wells Fargo Scam that Backfired, the latest volume in Texas Tech University Press's American Liberty and Justice Series, which is sort of ironic, because while there's quite a lot of liberty, there's precious little justice in this tale.
In November of 1894, George Isaacs and a motley collection of outlaws and wannabes attempted to swindle $25,000 out of Wells Fargo. They planned to hold up the train between Kansas City and Canadian, Texas, but something went awry and before they could rob the Wells Fargo agent at the depot in Canadian, the sheriff was shot dead and the outlaws were on the run. Neal wanted to answer three questions:
• Who were the outlaws responsible for the Wells Fargo scam?
• Who pulled the trigger and killed the sheriff, as well as at least one additional murder?
• Who was the mastermind behind the scene?
Neal writes engagingly with a sardonic wit that holds your attention. Occasionally he strays into melodrama, but it seems to work for the material. "Then the man suddenly turned back and faced the sheriff, each man sizing the other up," Neal writes. "Time stood still — that frozen moment in time — and for each the moment of decision teetered precariously on the precipice of destiny. And doom."
Neal has done a prodigious amount of digging around in courthouse basements around the state, researching, gathering evidence, and making connections that were previously unknown. The history of Texas and Oklahoma outlaws and their associates is interesting and entertaining; the history of Anglo settlement and ranching in the region is a happy by-product. Illustrations, maps, and photographs, including actual evidence from the trials, are well-chosen additions to the text.
The details of the multiple trials of many suspects alternate between melodrama and comedic ineptness that I've termed "Keystone Kriminals." There is even a cameo by criminal defense attorney Temple Houston, son of Sam (the governor, not the serial killer). As Harry Koch, editor of the Quanah Tribune-Chief, observed,  "There was a great deal of perjury among the witnesses of the defense, which caused Prosecuting Attorney Jim Cowan to exclaim in his argument that for rottenness and general viciousness, these witnesses were the vilest scum he had ever met, which was received with snickers by the men thus alluded to."
Skullduggery, Secrets, and Murders is brimful with lawmen, outlaws, lawmen moonlighting as outlaws, outlaws moonlighting as lawmen, fugitives, consorts, cattle rustling, land swindling, forgeries, grifters, crooked politicians, and novel legal theories. The title of chapter three sums it up well: "An Unlikely Aggregation of Heroes, Villains, and Spectators."
Tales like this are how the "Wild, Wild West" earned its name.
* * * * *