Texas Reads
Glenn Dromgoole
Photographs relate history of Texas politics
Chuck Bailey offers an informative and easy-to-read pictorial history of Texas politics in his new coffee-table book, Picturing Texas Politics: A Photographic History from Sam Houston to Rick Perry (University of Texas Press, $45 hardcover).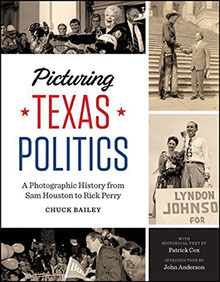 The book, which includes 268 black-and-white photos, is divided into four sections. Chapter 1 covers the Republic of Texas through the Civil War and Reconstruction. Chapter 2 deals with the late nineteenth and early twentieth centuries. Chapter 3 pictures Texas political leaders from the Depression through World War II. Chapter 4, the largest of the four sections, covers from after WWII to former governor Rick Perry.
Each photograph is accompanied by a paragraph or two of text summarizing the political figure's career. Most politicians get one page, with a handful receiving two-page treatments and former president Lyndon Johnson four pages.
At the beginning of each chapter, historian Patrick Cox provides a three- to nine-page essay summarizing the political developments and personalities of that era.
Chuck Bailey is the coauthor of another pictorial portrait of Texas politics, Texas Political Memorabilia: Buttons, Bumper Stickers, and Broadsides, published by UT Press in 2007.
Small-town stories: Two Texas authors, Montie Guthrie and Terry Keeling, have sent me books they've recently published full of stories about life in two small Texas towns.
In Tales Tall and Short: Santa Anna, Texas (H.V. Chapman & Sons, $15), Guthrie writes about businesses, theaters, churches, personalities, and other historical matters of interest in Santa Anna, which is twenty miles west of Brownwood.
One story deals with "jackrabbit drives" held in the Depression era to reduce the jackrabbit population, which was a threat to farmers' crops. Another piece tells about the one-room city jail, no longer used but still standing. His book is available in Santa Anna at Santa Anna Crafts and Gifts and the Texas Ranger Motel.
Keeling, in his Bits and Pieces: Life in Small Town Texas (Lone Star Productions, $16.95), admits that his collection of stories "is probably not going to be of much interest to anyone under fifty," adding, "but that's okay. What do they know, anyway?"
His focus primarily is on relatives and people he knew while growing up in Leon County, northeast of Bryan. A story about "Animals and Pets I Have Known" includes a picture and tale about the author's first pet, a goat. Keeling's Uncle Runt claimed to be the best left-handed baseball pitcher in the state in his heyday.
Keeling also wrote Johnnie Loves Fannie: Letters from Long Ago (Lone Star Productions, $10.95), based on love letters from his grandfather to his grandmother in 1903. Keeling can be reached at (903) 536-7708.
* * * * *
Glenn Dromgoole, is co-author, with Carlton Stowers, of 101 Essential Texas Books Contact him at g.dromgoole@suddenlink.net.
5th annual Dobie Dichos slated for Nov. 6 in Oakville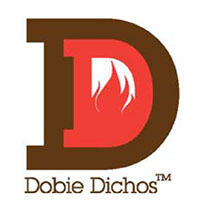 On Friday, Nov. 6, 2015, the 5th annual Dobie Dichos storytelling event will take place at the Historic Oakville Jailhouse Lodge in Oakville, Texas, from 6:00 to 9:30 p.m. The cost of meal and performance is $15; admission for the performance only is $10.  Tickets go on sale in September
Presented by George West Storyfest Association, Inc., this event honors Live Oak County's most famous son, J. Frank Dobie, to celebrate Dobie's works and contributions to literature, folklore, and storytelling. >>READ MORE

Texas turns out for Novel Writing Month
National Novel Writing Month starts Nov. 1, ends Nov. 30
National Novel Writing Month (NaNoWriMo) is a fun, seat-of-your-pants approach to creative writing.
On November 1, participants begin working towards the goal of writing a 50,000-word novel by 11:59 PM on November 30. Valuing enthusiasm, determination, and a deadline, NaNoWriMo is for anyone who has ever thought about writing a novel.
More than 20 Texas groups, and tens of thousands of Texas participants, have registered on the organization's website for 2015.  >>READ MORE
Sachse Public Library jumpstarts NaNoWriMo with appearances by Taylor Stevens; sessions with local authors
National Novel Writing Month starts Nov. 1, ends Nov. 30
That recurring dream of walking across the stage and accepting the National Book Award for the novel you wrote in just one month could actually happen, says Sachse Library manger Mignon Morse. "It's possible," she said. "There just may be that exceptional writer out there."
The Sachse Public Library is participating in the National Novel Writing Month campaign, providing support, guidance, inspiration, and motivation to local writers and non-writers who participate in the unique program. The month-long campaign, known as NaNoWriMo, encourages would-be novelists to start writing their novel on Nov. 1 and complete their 50,000 words manuscript by midnight, Nov. 30. >>READ MORE
Dahlstrom's TEXAS GRIT among Texas titles winning big in 2015 Will Rogers awards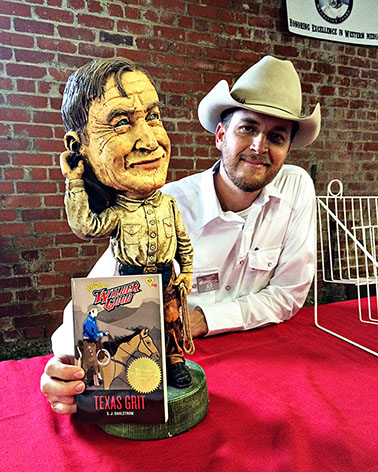 In a ceremony held Oct. 25 in Fort Worth, coinciding with the Red Steagall Cowboy Symposium, Texas Grit (Paul Dry Books, 2014), book #2 in the Wilder Good series by S.J. Dahlstrom, has won the Will Rogers Gold Medallion for Young Reader fiction. The awards are meant to "recognize excellence in Western literature."
Other Texas titles, authors, and publishers taking home honors in the 2015 awards include:
Inspirational Fiction
Girls and Gunsmoke by Mikki Daniel (MD Productions)
Western Fiction - Younger Readers
Journey to Galveston by Melodie A. Cuate (Texas Tech University Press)
Texas: Cowboys and Campfires by Nancy Sifford Alana
Western Nonfiction
Kit Carson and the First Battle of Adobe Walls by Alvin R. Lynn (Texas Tech University Press)
Death of a Texas Ranger by Cynthia Leal Massey (Globe Pequot Press)
Old 300: Gone To Texas by Paul N. Spellman
Photographic Essays
Unbranded by Ben Masters (Texas A&M Press)
Biographies & Memoirs
Western Women Who Dared To Be Different by Gail Woerner (Wild Horse Media Group)
Western Fiction
The Big Drift by Patrick Dearen (TCU Press)

Christian romance novelist

Becky Wade on her approach to fiction
Becky Wade, Dallas-based inspirational novelist with Bethany House, discusses her path to publishing—and advice to writers. Wade is the Carol Award, INSPY Award, and Inspirational Reader's Choice Award winning author of contemporary Christian romances My Stubborn Heart, Undeniably Yours, Meant to Be Mine, and A Love Like Ours as well as Love Is in the Details and The Proposal, out fall 2015.  >> LISTEN NOW (mp3)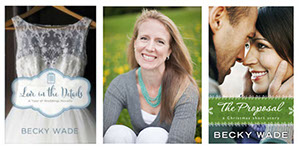 WHERE IN TEXAS?
Don't miss a reading or a good read! Sign up for our FREE weekly
e-newsletter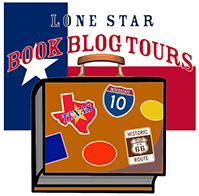 NOW ON TOUR: FICTION
A Cold Creek Christmas
by RaeAnne Thayne
VISIT WITH RAEANNE NOV. 2–23
Nov. 2    My Book Fix promo
Nov. 4 The Crazy Booksellers promo
Nov. 6 The Page Unbound promo
Nov. 9 Bookishjessp review
Nov. 11 Missus Gonzo review
Nov. 13 Book Crazy Gals promo
Nov. 16 Texas Book-aholic review
Nov. 18 Because This is My Life, Y'all review
Nov. 20 Novel Reality author interview
Nov. 23 Blogging for the Love of Authors and Their Books review
NOW ON TOUR: FICTION
Hard Falls: A Deputy Ricos Tale
by Elizabeth A. Garcia
VISIT WITH ELIZABETH OCT. 26—NOV. 5
Oct. 26  Missus Gonzo Promo
Oct. 27  Because It's My Life Y'all promo
Oct. 28  Hall Ways promo
Oct. 29  My Book Fix promo
Oct. 30 Books and Broomsticks Author Q&A
Oct. 31  Texas Book Lover  promo
Nov. 1  Blogging for the Love of Authors and Their Books review
Nov. 2  Bookishjessp promo
Nov. 3 Texas Book-aholic author Q&A
Nov. 4  Book Crazy Gals review
NOW ON TOUR: FICTION
North Beach by Miles Arceneaux
VISIT WITH MILES OCT. 26—NOV. 9
Oct. 26  Because It's My Life Y'all promo
Oct. 27  Book Crazy Gals review
Oct. 28  Texas Book-aholic review
Oct. 29  All For the Love of the Word promo
Oct. 30  MissusGonzo review
Oct. 31  The Crazy Booksellers promo
Nov. 1 The Page Unbound promo
Nov. 2  Hall Ways review
Nov. 3  Texas Book Lover promo
Nov. 4  Bookishjessp  promo
Nov. 5  All For the Love of the Word Author Q&A
Nov. 6 Blogging for the Love of Authors and Their Books promo
Nov. 7  Books and Broomsticks  promo
Nov. 8  My Book Fix Author Q&A
Nov. 9  Secret Asian Girl review
RECENTLY ON TOUR:
WESTERN HISTORY
Finding the Great Western Trail
by Sylvia Gann Mahoney
RECENTLY ON TOUR:
TEXAS COOKING
Texas Is Chili Country by Judy Alter
RECENTLY ON TOUR: FICTION
Deadlock by DiAnn Mills
RECENTLY ON TOUR: FICTION
Sex As a Political Condition: A Border Novel
by Carlos Nicolás Flores

Lone Star Literary Life Facts and FAQs
• Event and resource list policies
Lone Star Literary Archives
• Lone Star Listens Interviews

COMING SOON: Bookish Texas Classifieds
Looking for a job, a designer, an editor, a publisher?
Starting in fall 2015, we'll help you find them in our online classifieds section. If you're interested in advertising for pennies a day, contact ads@LoneStarLiterary.com to run your listing here.


Lone Star Reviews
Michelle Newby, NBCC,
Contributing Editor
LONE STAR LISTENS
interviews  
>> archive
Kay Ellington, Editor and Publisher
Reavis Z. Wortham on Texas in the 1960s — and why writers must always back up their computer files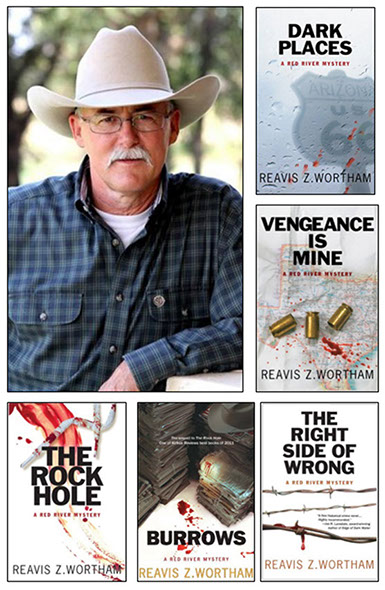 Reavis (pronounce it Revv-iss) Z. Wortham's Red River Mysteries examine the turbulent sixties through the eyes of a small town in Texas. Wortham grew up in Dallas, but he says, "Every Friday evening my parents put us in the car and made the 120-mile drive to Chicota, where we truly lived at my grandparents' farm until Sunday evening, when we came back to the city." His affection and ear for the cadence of a small Texas town of his youth comes through loud and clear in his novels.
LONE STAR LITERARY LIFE: You began your career as an author in 2011 after thirty-five years in education, communications, and journalism. Your first book, The Rock Hole, was lauded by Kirkus Reviews as one of the twelve best mystery novels of 2011. That's a great way to start. But I understand that the book's manuscript had to be rewritten from memory. Would you describe for our readers how that happened?
REAVIS Z. WORTHAM: The answer is one of the great horror stories that many writers will understand. I wrote the first draft of The Rock Hole on an old 286 computer. I had no training on computers, and didn't understand the hazards of technology. The initial manuscript was approximately 130,000 words, with thousands of rewrites and corrections. The name of the dinosaur writing program has been mercifully deleted from my memory, but it wasn't designed as a primary writing tool. The day I finished the project and clicked Save one last time, the screen went blank.
After getting my heart restarted, I called a tech I knew and explained the problem. He was quiet for a long minute. "Did you save it on the hard drive, or on a floppy?"
"What's a hard drive?" >>READ MORE
Bookish Texas
event highlights  11.1.2015

>>
GO this week  
Michelle Newby, Contributing Editor