Pulitzer winner Geraldine Brooks featured at Friends of the Dallas Public Library gala Oct. 13; organization to honor Bob Mong
Geraldine Brooks, the journalist and author whose 2006 book March won the Pulitzer Prize for fiction, will be the featured speaker at the Friends of the Dallas Public Library annual gala on October 13. Her appearance coincides with the release of The Secret Chord, a novel about the life of King David.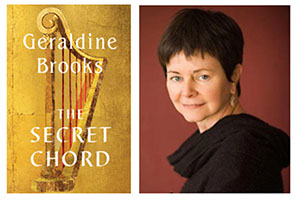 Brooks, a native Australian and a former foreign correspondent for The Wall Street Journal, is the author of five novels and three nonfiction books with total sales of over 2 million. Her newest book is being praised by Booklist as a "gorgeously written novel of ambition, courage, retribution, and triumph" that "feels simultaneously ancient, accessible, and timeless."

The annual banquet benefits Friends of the Dallas Public Library (FODPL), a nonprofit, nonpartisan organization that advocates for and enhances the programs of the city's 29 libraries. It will be held Tues., Oct. 13, at 6:30 p.m. at The Room on Main, a beautifully restored historic ballroom in downtown Dallas. Tickets are $175.

At the gala, FODPL will honor former Dallas Morning News editor Bob Mong for his outstanding contributions to the Dallas Public Library. Mong, now president of the University of North Texas at Dallas, will receive the inaugural May Dickson Exall Award, named for the longtime civic leader who spearheaded the campaign to open Dallas's first public library in 1899.

Keith Einstein, chairman of the gala, said Mong has been a crucial ally in promoting the Dallas Public Library and rallying public support to maintain its programs and budget.

"With all the challenges in the newspaper industry, Bob always found time for the library," Einstein said.  "The Dallas Morning News is a great force for literacy and for libraries in our city, and his leadership set the tone for that for many, many years."

For more information, visit www.fodpl.org or call 214-670-1458.

(Compiled from the organization's press release)

Highland Park presents Sinatra biographer Kaplan in Authors LIVE! Oct. 29
The Friends of the Highland Park Library, the Highland Park United Methodist Church, and the Friends of the SMU Libraries will host James Kaplan in an Authors LIVE! program 7 p.m. Thursday, Oct. 29 at Wesley Hall at Dallas's HPUMC.
Kaplan's new biography, Sinatra:  The Chairman, will be signed and available for purchase before and after the program. The 7 p.m. program is free and open to the public.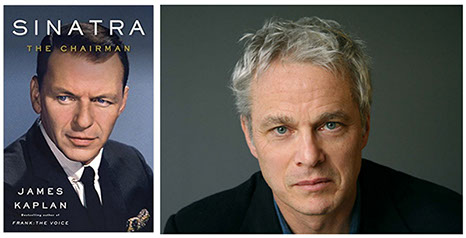 The 6 p.m. private reception with the author is $30 by reservation only and includes a signed copy of the book.
James Kaplan has been writing about people and ideas in business and popular culture, as well as notable fiction (Best American Short Stories), for over three decades. His essays and reviews, as well as more than a hundred major profiles of figures, have appeared in many magazines including The New Yorker, The New York Times Magazine, Vanity Fair, Esquire, and New York. His novels include Pearl's Progress and Two Guys From Verona, a New York Times Notable Book for 1998. His nonfiction works include The Airport, You Cannot Be Serious (co-authored with John McEnroe), Dean and Me: A Love Story (with Jerry Lewis), and the first volume of his definitive biography of Frank Sinatra, Frank: The Voice. He lives in Westchester, New York, with his wife and three sons.
For reservations please call 214-523-2240. This is the fifth year for the Authors LIVE! programs, featuring authors who are on tour promoting their new books.  Authors who have spoken in the first four seasons have included authors from Texas and beyond, including Pulitzer Prize and National Book Award, and National Book Critics Award winners and finalists.
(Information from organization's press release)

Mockingbird Chapter of the Poetry Society of Texas presents "Rhythms of Pen and Brush," featuring inaugural poet Richard Blanco, Oct. 15 in McKinney
The Mockingbird Chapter of the Poetry Society of Texas, in partnership with McKinney Performing Arts Center (MPAC) and the Arts and Music Guild, is thrilled to announce "Rhythms of Pen and Brush," a celebration of art, music, and spoken word, on Thurs., Oct. 15, featuring nationally acclaimed poet Richard Blanco.
"Rhythms of Pen and Brush" was established to help foster collaboration between art forms and artists and provide an opportunity to share their work with audiences. The evening will also feature work by visual artists, jazz musicians from the University of North Texas, poets, and actors.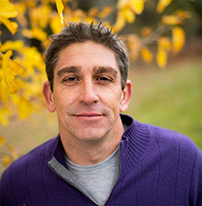 Mr. Blanco (left) is the fifth poet ever to present at a president's inauguration.  As a historic inaugural poet, public speaker, teacher, and memoirist, he continues to travel the world, inviting audiences to reconnect to the heart of the human experience and all of its beautiful diversity. Through the power of his words and presence, Blanco taps into our unspoken dreams, hopes, and frustrations. He captures the human spirit, in all of its complexities, opening up our minds and encouraging us to see beyond our differences to share in the universal experience of humanity.
Tickets for the event will be $17.00 (seniors and students $12.00). Mr. Blanco will also lead a workshop. Students are welcome. Details and ticket information can be found on the MPAC website, www.mckinneytexas.org
(From organization's website)

5th annual Dobie Dichos: Campfires, Chili con Carne, and the Words of J. Frank Dobie slated for Nov. 6 in Oakville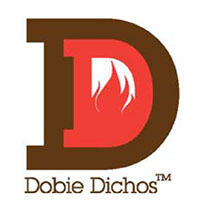 On Friday, Nov. 6, 2015, the 5th annual Dobie Dichos storytelling event will take place at the Historic Oakville Jailhouse Lodge in Oakville, Texas, from 6:00 to 9:30 p.m. The cost of meal and performance is $15; admission for the performance only is $10.  Tickets go on sale in September
Presented by George West Storyfest Association, Inc., this event honors Live Oak County's most famous son, J. Frank Dobie, to celebrate Dobie's works and contributions to literature, folklore, and storytelling.
Texas writers/authors and storytellers read from or tell stories from the works of J. Frank Dobie under the stars on the grounds of the Historic Oakville Jail, located on IH37 in Live Oak County.
The meal consists of a bowl of chili, pan de campo, a bottle of water, and dessert. Beer is available for purchase. Bring your own lawn chair.
Participants in the 2015 event include Andres Tijerina, Mary Locke Crofts, Carmen Tafolla, Bruce Shackelford, Mike Cox, Jerry Young, and Lanny Joe Burnett.
Co-program director William Jack (Bill) Sibley will serve as emcee, and musical entertainment will be provided by the Lonestar Bluegrass Band. Proceeds from the event benefit the Dobie/West Performing Arts Theatre, George West, Texas.
For more information visit www.georgeweststoryfest.org.
(Information from organization's press release.)

David Sedaris coming to Odessa Fri., Nov. 6

Odessa College  and the Odessa Council for Arts & Humanities are partnering to bring David Sedaris to Deaderick Auditorium on Friday, Nov. 6, at 7 p.m. The show is free to the public. Tickets will be available in August.
(Information from Odessa Council for Arts & Humanities)
IT'S TEXAS BOOK FESTIVAL WEEK!
20th ANNIVERSARY TEXAS BOOK FESTIVAL, 2015

300 authors coming to Texas Book Festival Oct. 17-18
20th anniversary lineup to feature Margaret Atwood, Taye Diggs, Nick Flynn, Linda Gray, Daniel Handler, Gary Hart, Chuck Palahniuk, and more
AUSTIN—A record 300 authors are coming to the 2015 Texas Book Festival, Oct. 17 and 18, the largest number in the Festival's twenty-year history. Nationally renowned authors include Margaret Atwood, Taye Diggs, Nick Flynn, Linda Gray, Daniel Handler (Lemony Snicket), Gary Hart, Luis Alberto Urerra, Margo Jefferson, Attica Locke, Marie Lu, Chuck Palahniuk, Tavi Gevinson, and Adrian Tomine.
Other headlining authors include Sandra Cisneros (the only 2015 author who was part of the first Festival in 1995), Steve Inskeep, Azar Nafisi, Leonard Pitts, Jr., Mary Helen Specht, Jonathan Lethem, Lauren Groff, John Sununu, Scott Simon, and Robert Christgau. The full list of authors and their featured books is available online at www.texasbookfestival.org.
More than 40,000 people are expected to attend the 20th Anniversary Texas Book Festival. The weekend kicks off with the First Edition Literary Gala, featuring Festival authors Margaret Atwood, Taye Diggs, and Scott Simon.
The 2015 Texas Book Festival is co-presented by AT&T and H-E-B. Other major sponsors include Brigid Cockrum and family, Kirkus Reviews, the Texas College Savings Plan, Texas Monthly, the Tocker Foundation, C-SPAN2 Book TV, St. David's HealthCare, Buena Vista Foundation, Pentagram, Central Market, and the Austin American-Statesman.
Lit Crawl at the Texas Book Festival, Oct. 17
Bat Scavenger Hunt, Nerd Jeopardy, Literary Death Match, Lit Crawl Against Humanity, LGBT storytelling, and more
AUSTIN— Lit Crawl Austin returns to the Texas Book Festival on Saturday night, October 17, 2015. The annual literary pub crawl, a co-production of the Texas Book Festival and Litquake Foundation, features some of America's most groundbreaking writers onstage at various East Austin venues in a series of offbeat readings, literary games, and performances.
Inspired by San Francisco's long-running Lit Crawl and produced with their participation, the 2015 Lit Crawl Austin will include Balderdash; the always-popular YA ghost stories in the Texas State Cemetery; tales about personal fiascos; Nerd Jeopardy; a LGBT storytelling showcase, Literary Death Match; Whose Line Is It Anyway; Lit Crawl Against Humanity (a literary version of the popular game Cards Against Humanity); a coloring contest (with cocktails) for adults; and more.
This year's Lit Crawl program will be designed by Festival author Zachary Thomas Dodson (Bats of the Republic) and will include a Bat Scavenger Hunt as a part of the design. The Bat Scavenger Hunt will be ongoing throughout the evening, and literary director Steph Opitz says the intricately designed program will be a collector's item.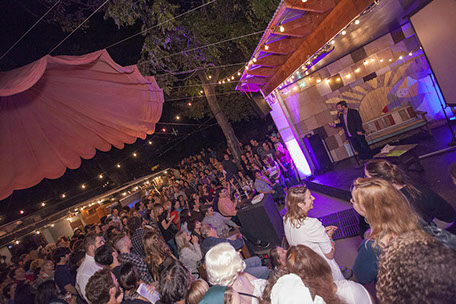 Co-organizers Jill Meyers and Steph Opitz weigh in. Meyers says, "Lit Crawl this year is going to be insane (in a good way), in celebration of our fifth year in Austin. From spooky ghost stories for all ages in the Texas State Cemetery to R-rated Lit Crawl Against Humanity games—and everything in between—we've got it." Opitz adds, "By day Texas Book Fest authors will talk thoughtfully about their latest books, by night they'll hit up the east side for literary-ish shenanigans."
Lit Crawl Austin 2015 schedule
Various Venues
**Ongoing  Bat Scavenger Hunt and Lit Crawl map designed this year by

Zachary Thomas Dodson

(

Bats of the Republic

).
The North Door, 502 Brushy St.
7:00-8:00   Literary Death Match


Four authors. Three judges. Two finalists. One really epic finale. Judges:

Chuck Palahniuk

(intangibles),

Linda Gray

(performance), and

Attica Locke

(literary merit). Contestants:

David Crabb, Helen Philipps, Gwendolyn Zepeda,

and

Kirk Lynn.

8:30-9:30   Nerd Jeopardy: Booze and Book-Related Trivia


Taking a cue from a certain game show, this event will pit your favorite writers against one another in a test of literary knowledge and general chutzpah. Hosted by

Ryan Chapman,

author of

Conversation Sparks: Trivia Worth Talking About.

With authors

Sloane Crosley, Austin Grossman,

and

Viet Thanh Nguyen.

10:30pm    AFTER-PARTY, free and open to the public
Gelateria Gemelli, 1009 E 6th St.
**Ongoing  Lit Crawl Special: Gelato and Amaro for $10
7:30-8:15   Balderdash by fields + Deep Vellum
Join authors Antonio Ruiz-Camacho, Andrew Ervin, Mary Helen Specht, Téa Obreht, Mia Alvar, and Dan Sheehan for a rousing game of Balderdash, where they'll attempt to trick you into thinking they know what they're talking about when it comes to this whole words thing.
Practice Yoga, 1103 E 6th St.
7:30-8:15  ABC/Story Department—Fiasco!


Authors

Brin-Jonathan Butler, Heidi Julavits, Rebecca Makkai,

and

Manuel Martinez

bare all with true-to-life tales about a personal fiasco. Want to hear your favorite writer in his most fumbling moment, in the midst of some accidental shenanigans? Now's your chance.

8:30-9:15   You Should Know These Poets


You've been missing something in your life. You tried to fill the hole with a truck, a sweetheart, a breakfast taco. You know all the bands and all the clubs. Why aren't you whole yet? Because you've never heard these poets. Come fix that. Sponsored by

Sasha West

and

Sorin Oak Review.

With authors

Ariana Brown, Tomás Morín, Paul Otremba,

and more.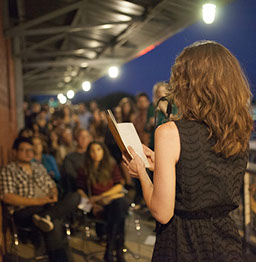 Wonderland, 1104 E 6th St.
7:30-8:15  Five Things: The Wild, Wild West!


This Austin-based reading series features five writers reading on a theme for five minutes apiece. For Lit Crawl, we look westward—to desert and myth, West Texas and Las Vegas, lawlessness, city slickers, hipsters who surf, Will Smith at his '90s steampunk prime. With authors

Carmiel Banasky, Matt Diffee, Amelia Gray,

and

Kristin Valdez Quade.

8:30-9:15  American Short Fiction presents Whose Line Is It, Anyway?


Award-winning literary magazine American Short Fiction hosts this game in which writers try to ID hilarious, lovely, shocking, or moving lines from each other's recent books, and totally fail to recognize their own words. Winner receives a Texas-themed prize. With authors

Lauren Groff, Skip Horack, Alexandra Kleeman, Benjamin Markovits,

and

Elizabeth McCracken.

9:30-10:15 Slice Literary's Exquisite Corpse


Slice Literary presents a short story stitched together by writers

Marisa Marchetto, Sarah McCoy, Keija Parssinen, Neal Pollack,

and

Sung J. Woo.

How the exquisite corpse game works: One person writes the first few paragraphs. We send the final line of those paragraphs to the next writer, who continues the story. Then the writers come together to read their collective tale, without knowing where it began or where it will end.
Clayworks Studio/Gallery, 1209 E 6th St.
**Ongoing  Cocktails and Coloring


Featuring Latin Twist's own Vianney Rodriguez mixing Tequila 512 drinks and Little, Brown Coloring Books coloring contest.

7:30-8:15   Bat City's Round-Robin


Three authors tap in and out of one another's readings. Enjoy the juxtaposition and collaboration of this literary mash-up presented by

Bat City Review.

With authors

Jynne Dilling Martin, Benjamin Percy,

and

M.O. Walsh.

8:30-9:15   Gulf Coast—Back to the Futurismo


The future is a raw, beautiful machine, brought to you fast and fabulous by authors

Matt Bell, Kelly Link, Lincoln Michel,

and

Laura van den Berg,

and

Gulf Coast.

Expect words to dazzle and games to delight.

9:30-10:15 NANO SEHR Flash: Fiction Becomes Music


Flash fiction comes to life in this special collaboration between NANO Fiction writers

Kelly Luce, Jessica Richardson, Matthew Salesses,

and

Vincent Scarpa

and classical music composers

Russell Podgorsek

and

Hermes Camacho.

Includes very short fiction performed alongside the

Cordova Quartet.
The Texas State Cemetery, 909 Navasota St.
7:30- 8:15   Are You Afraid of the Dark? ALL AGES EVENT
Gripping, eerie, and spooky tales from a raft of YA stars. This event is for all ages. The cemetery can be dark—bring a flashlight! With authors

Jake Halpern, Stephen Graham Jones, Peter Kujawinski, Nova Ren Suma,

and

April Genevieve Tucholke.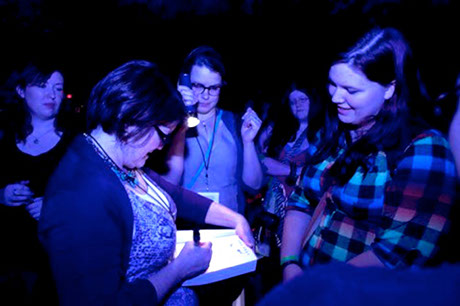 The Volstead, 1500 E 6th St.
7:30-8:15    Catapult—Writers Catapulting Writers


Every emerging writer needs a strong catapult. Three established authors share short odes to the mentors who propelled their careers forward and then introduce a favorite future lit star. A night of signal-boosting, tequila, and bookish camaraderie. With authors

Geoff Dyer, Sarah Hepola,

and

Jonathan Lethem.

8:30-9:15    Lit Crawl Against Humanity


This party game for horrible people goes literary. Prepare to be shocked, disgusted, amused, and titillated? Maybe? Presented by Awst Press and Newfound. With authors

Kendra Fortmeyer, Jessica Hopper, Chip Kidd, Matt Summell,

and

Caroline Zancan.

9:30-10:15  Super Fun Party
Fun Party is an Austin-based reading series where art, literature, and film connect. With authors

Thea Brown, Nick Flynn, Rachel Eliza Griffiths,

and

Robin Beth Schaer.
The Liberty, 1618 1/2 E 6th St.
7:30-8:15   Greetings from Queer Mountain


Austin's own LQBT storytelling showcase hosted by

Micheal Foulk

and

Ralphie Hardesty.

With authors

Jamie Brickhouse, Saeed Jones,

and

Maggie Thrash.

8:30-9:15   The Austin Review Presents: You Talkin' to Me?


Come join us for a night of dialogue as authors read from works that best highlight their gift of the gab. "It's your move. . . . You talkin' to me?" With authors

Elisa Albert, Jennine Capó Crucet, Catherine Lacey,

and

Thomas H. McNeely.

9:30-10:15 Kickstarter Presents: Who Said It?


In this quick-fire trivia match, authors must suss out who said these alternatively deep, cryptic, and absurdly hilarious quotes—Elena Ferrante, Karl Ove Knausgaard, or Taylor Swift? With authors

Jami Attenberg, Amy FitzHenry, Daniel José Older,

and

Karolina Waclawiak.
Lit Crawl Austin is a project of the Texas Book Festival and the Litquake Foundation. San Francisco's Litquake literary festival runs October 9-17, 2015, with affiliated Lit Crawls in San Francisco, Manhattan, Brooklyn, Miami, Austin, Los Angeles, Iowa City, Seattle, London, and Helsinki.
(From Texas Book Festival press release; photos of LitCrawl 2014 provided)
FIRST EDITION LITERARY GALA SOLD OUT
Margaret Atwood, Taye Diggs, Scott Simon to be featured presenters at Texas Book Fest Gala Oct. 16
AUSTIN—Acclaimed novelist Margaret Atwood (below, right); actor, Broadway star, and children's book author Taye Diggs (center); and National Public Radio host and author Scott Simon (left) will be featured presenters at the Texas Book Festival's First Edition Literary Gala at the Four Seasons Hotel Fri., Oct. 16, 2015.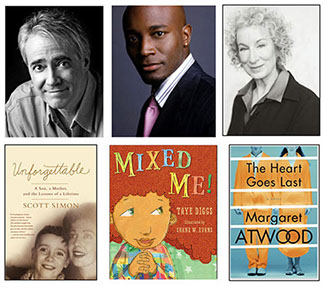 The popular, elegant prelude to the Texas Book Festival Weekend, the Gala is expected to draw a record number of literary luminaries, dignitaries, and cultural arts supporters as the Festival celebrates its 20th anniversary this year.
The Gala supports the Festival and all of its charitable programs, including Reading Rock Stars, Texas Public Library Grants, and the Fiction Writing Contest for students. This year's Gala is co-chaired by three sisters: Sarah Queen, Mary Clare Matthews, and Denise Laurienti, daughters of former Festival board chair Jan Hughes and husband David Hughes.
For the second year, this year's Gala will include an Afterparty, also at the Four Seasons, with tickets for $75. Attendees will have the opportunity to mingle with Festival authors in a late-night, cocktail party setting and be entertained by local funk-rock band Austin Heat, whose lead singer recently appeared on NBC's The Voice.
The 2015 Texas Book Festival is co-presented by AT&T and H-E-B. Other major sponsors include Brigid Cockrum and family, Kirkus Reviews, the Texas College Savings Plan, Texas Monthly, the Tocker Foundation, C-SPAN2 Book TV, St. David's HealthCare, Buena Vista Foundation, Pentagram, Central Market, and the Austin American-Statesman.
About the Texas Book Festival
The Texas Book Festival celebrates authors and their contributions to the culture of literacy, ideas, and imagination. Founded in 1995 by first lady Laura Bush, Mary Margaret Farabee, and a group of volunteers, the nonprofit Texas Book Festival promotes the joys of reading and writing through its annual Festival Weekend, the one-day Texas Teen Book Festival happening September 26, the Reading Rock Stars program, grants to Texas libraries, a youth fiction writing contest, and year-round literary programming. The Festival is held on the grounds of the Texas Capitol each fall and features more than 250-plus renowned authors, panels, book signings, live music, cooking demonstrations, and children's activities. Thanks to generous donors, sponsors, and 1,000 volunteers, the Festival remains free and open to the public. Visit www.texasbookfestival.org for more information, and join the conversation using the hashtag #txbookfest on Facebook; and @txbookfest on Twitter and Instagram.
(From Texas Book Festival press releases)
* * * * *