Michelle Newby is contributing editor at Lone Star Literary Life, reviewer for Foreword Reviews, freelance writer, member of the National Book Critics Circle, and blogger at www.TexasBookLover.com. Her reviews appear or are forthcoming in Pleiades Magazine, Rain Taxi, World Literature Today, South85 Journal, The Review Review, Concho River Review, Monkeybicycle, Mosaic Literary Magazine, Atticus Review, and The Collagist.
Lone Star Book Reviews
of Texas books appear weekly
at LoneStarLiterary.com
Miles Arceneaux is the storytelling alter ego of Texas-based writers Brent Douglass, John T. Davis and James R. Dennis. Miles was born many years ago among this group of old friends who penned, as a literary lark, the collectively-written novel Thin Slice of Life — a book that has given birth to a series of witty Gulf Coast thrillers based on its central characters.
ABOUT BRENT
International businessman Brent Douglass writes in airports, hotel rooms, and drinking establishments around the world. At present he is a principal owner of KBC Networks and peddles data transmission equipment in Latin America and the Caribbean.
ABOUT JOHN T.
John T. Davis has been writing about the music, culture and personalities of Austin and the Southwest for more than thirty years for local, regional and national publications.
ABOUT JAMES
James R. Dennis, a Dominican friar, practices law in San Antonio and across Texas. He writes and teaches on spiritual matters and lives with his two ill-behaved dogs.
Fiction
Miles Arceneaux
Published by Miles Arceneaux (October 22, 2015)
Paperback, 270 pages, ISBN 978-0996879712 (ebook also available)
October 2015
"Okay . . . . What's the worst that could happen?"
Johnny flashed me a quick smile and started the car. "The Sweetwater family motto."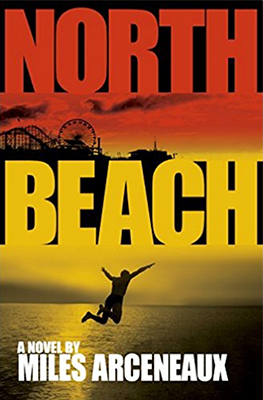 The triumvirate that is Miles Arceneaux — Brent Douglass, John T. Davis, and James R. Dennis — are back with North Beach, the fourth story about the Sweetwater clan in their series of crime novels that have been christened Gulf Coast noir.North Beach is a coming-of-age story of the next generation of Sweetwaters.
With North Beach, set in the summer of 1962, Arceneaux again proves masterful at evoking atmosphere and recreating a particular time and place. We are immersed in that year: the Space Race, Cuban Embargo, fallout shelters, the Beach Boys, paranoia, and virulent racism. North Beach proves the truism that the more things change, the more they stay the same, as some of its historical elements remain relevant today.
The story is told in the first person by Charlie Sweetwater, fifteen years old and consumed by fishing, boxing, football, cars, and girls. He and his older brother, Johnny, box at Stubby Hunsacker's gym in Corpus Christi. The trouble starts when Miami mobsters ("the Miami Chamber of Commerce") show up to poach Jesse Martel, a boxer from Cuba and Stubby's best fighter. As intimidation escalates to violence, Charlie and Johnny morph into a noir version of the Hardy Boys to save Jesse from the death penalty and themselves from street punks, corrupt cops, Castro operatives, and the CIA.
Charlie experiences first love when he falls for Jesse's niece, the beautiful Carmen ("she looked like a figure you'd mount on the prow of a ship"), a ballerina from Cuba and an older woman (aged seventeen). Some of the most satisfying moments in North Beach occur when Charlie's fishermen-and-tavern-owning family culture collides with Carmen's salad-and-dessert-forks-classical-music family culture. The younger Sweetwaters are game for broadening their horizons and venture forth to appreciate Tchaikovsky as well as Duke Ellington and conjunto. North Beach is a very multicultural book.
Arceneaux ably channels the teenage protagonists. The language is simple, suiting their ages, circumstances, and the era, while producing such humorous bons mots as these, describing a fish: "It was also absolutely the slimiest fish found in the Gulf Coast waters. Local anglers called them 'tourist trout.' We called 'em 'snot rockets.'" And this: "'Inboards and Outboards?' My uncle's catchy names for the ladies' and men's rooms." The sophisticated Carmen comments: "South Texas is not exactly the center of the ballet universe. People around here think a jeté is one of those long stone piers you build out into the water."
North Beach is uneven. There is a lot going on here — multiple storylines crowded by a large cast of characters. The pacing is sometimes slow, but the climax is exciting and the ending satisfying. Ultimately, North Beach is about bullies in all their guises, personal and political, from the schoolyard to governments and everything in between.
* * * * *