Llano Library to host Author Extravaganza Oct. 3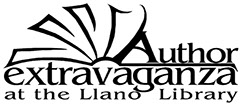 The Author Extravaganza and Fair will be an all-day free literary event set right in the heart of the Hill Country at the Llano Library in Llano, Texas, Sat., Oct. 3, 2015, from 11 M to 7 pm. Featuring two New York Times best selling authors, six authors scheduled for speaking sessions throughout the day, two writers' workshops, more than twenty area authors, and several local organizations providing food and drink sales onsite, the event will be a celebration of authors, books, and the love of reading.
Featured authors include Celia Hayes, historical fiction; Scott Zesch, historical non-fiction; Karen Witemeyer, historical romance; Tiffany Harelik, cookbook author; Leila Meacham, author of the bestselling Texas historical novels Roses, Tumbleweeds, and Somerset; and Linda Castillo, author of the Kate Burkholder Amish mystery series.
Among the authors included in the Author Fair are Joe Bliskey, D'Ann Burrow, Linda Kay Christensen, Sally Clark, Suzanne Gene Courtney, Mary Shearer Eckert, Valerie Gaumont, Pamela Howell, Dayna Haines, J. C. Hulsey, Al Kelln, Alice Kolb, Barbara Boothe Loyd, Jolene Navarro, T. Neal Tarver, Mary Esparza-Vela, Debra Winegarten, Ernie Wood, and several more.
There will be two free Writers' Workshops to finish out the day. Author Leila Meacham will host the first workshop at 5 p.m. The second workshop will be given by the Writers' League of Texas at 6 p.m. Becka Oliver, executive director of the WLT, will speak about book publishing.
(From Llano Library press release)

Richardson Adult Literacy Center to host Buns & Roses Romance Tea for Literacy Oct. 4
by Lorraine Heath
October 4, 2015, will mark the tenth year that romance authors and readers have gathered for the Buns & Roses Romance Tea for Literacy in Richardson, Texas, to benefit the Richardson Adult Literacy Center. Hats, laughter, and the joy of talking books abound.
Katie Patterson, executive director of RALC, says, "For the Richardson Adult Literacy Center, Buns & Roses is an incredible expression by romance writers and readers from across the country of their passion for helping others improve their literacy. Because of this event, RALC is able to continue offering English as a Second Language instruction to hundreds of adults in our community who are eager to improve their lives through improved literacy skills."
This year, New York Times bestselling author Tessa Dare will headline 26 romance authors who host tables and visit with fans, readers, and literacy supporters. Attendees purchase a ticket to sit with their favorite author. Each author adds her own flair by decorating her table with gifts for her guests. In addition, each attendee receives a complimentary copy of the keynote speaker's book and an autograph keepsake booklet for gathering the authors' autographs. Andrea Horvath, longtime romance reader, attends each year "because it's a great way to meet new authors and support a wonderful charity."
Authors hosting tables are Tessa Dare, Katharine Ashe, D. D. Ayres, Kathleen Baldwin, Linda Broday, Lily Dalton, HelenKay Dimon, Suzanne Ferrell, Addison Fox, Shana Galen, Patience Griffin, Nancy Haddock, Barb Han, Candace Havens, Lorraine Heath, Sophie Jordan, Diane Kelly, Liz Lipperman, Lizbeth Selvig, Tracy Solheim, Catherine Spangler, Kay Thomas, J. D. Tyler, Becky Wade, Jaye Wells, and Lori Wilde.
Another longtime romance reader, Donna Finlay, enjoys "meeting favorite authors, getting my books signed and making new friends who understand my book obsession. But even if you're not a reader, it is a fun event for a worthwhile charity. And you might find something wonderful in the auction items!" Two extremely popular auction mainstays are a week's stay in a Scottish lodge and a lovingly created one-of-a-kind handmade quilt.
And then there are the wildly sought-after bears. Each year a limited number of plush bears are dressed in unique costuming. Past costumes include Robin Hood, a cowboy, and a bear in a kilt. Nestled inside white boxes, some of which contain an additional surprise, the bears are unveiled after the keynote address. Attendees frantically wave $20 to signal that they want one. Author Addison Fox who is hosting a table for the sixth time says, "My favorite part is the excitement that ripples through everyone when the bear boxes come out."
The event closes with a book signing, providing attendees with a chance to visit with all the authors, purchase books, and get those books autographed.
The tea will be held Sun., Oct. 4, 3-6:00 pm at the Renaissance Hotel, Richardson, Texas. Tickets are $45. Those wishing to spend a little extra time with the authors can purchase a $30 ticket to the VIP reception held Saturday night in a private home. The intimate casual atmosphere offers the perfect opportunity to get to know the authors better. To learn more about the tea or purchase tickets, visit www.bunsandroses.org.
Lorraine Heath is a graduate of the University of Texas and the author of Falling into Bed with a Duke (Avon, 2015).

20th ANNIVERSARY TEXAS BOOK FESTIVAL, 2015
300 authors coming to Texas Book Fest Oct. 17-18
20th anniversary lineup to feature Margaret Atwood, Taye Diggs, Nick Flynn, Linda Gray, Daniel Handler, Gary Hart, Chuck Palahniuk, and more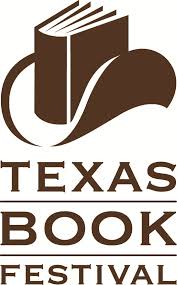 AUSTIN—A record 300 authors are coming to the 2015 Texas Book Festival, Oct. 17 and 18, the largest number in the Festival's twenty-year history. Nationally renowned authors include Margaret Atwood, Taye Diggs, Nick Flynn, Linda Gray, Daniel Handler (Lemony Snicket), Gary Hart, Luis Alberto Urerra, Margo Jefferson, Attica Locke, Marie Lu, Chuck Palahniuk, Tavi Gevinson, and Adrian Tomine.
Other headlining authors include Sandra Cisneros (the only 2015 author who was part of the first Festival in 1995), Steve Inskeep, Azar Nafisi, Leonard Pitts, Jr., Mary Helen Specht, Jonathan Lethem, Lauren Groff, John Sununu, Scott Simon, and Robert Christgau. The full list of authors and their featured books is available online at www.texasbookfestival.org.
Celebrating the Festival's 20th anniversary and her third year as Festival literary director, Steph Opitz says it's all been "an incredibly gratifying experience."
"Over the years we've had fabulous big name-authors and we've had 'trust-us-this-person/book-is going-to-be-huge' overnight sensations. This year it's going to be all that and some," Opitz says. "If I wasn't working this thing, I'd be sprinting from session to session trying to get at least a taste of all the magic happening in our Capitol that weekend."
Standout themes this year include several books about music, poetry, graphic novels including several by women authors, and a strong showing of children's and young adult authors.
More than 40,000 people are expected to attend the 20th Anniversary Texas Book Festival. The weekend kicks off with the First Edition Literary Gala, featuring Festival authors Margaret Atwood, Taye Diggs, and Scott Simon.
The 2015 Texas Book Festival is co-presented by AT&T and H-E-B. Other major sponsors include Brigid Cockrum and family, Kirkus Reviews, the Texas College Savings Plan, Texas Monthly, the Tocker Foundation, C-SPAN2 Book TV, St. David's HealthCare, Buena Vista Foundation, Pentagram, Central Market, and the Austin American-Statesman.
About the Texas Book Festival
The Texas Book Festival celebrates authors and their contributions to the culture of literacy, ideas, and imagination. Founded in 1995 by first lady Laura Bush, Mary Margaret Farabee, and a group of volunteers, the nonprofit Texas Book Festival promotes the joys of reading and writing through its annual Festival Weekend, the one-day Texas Teen Book Festival happening September 26, the Reading Rock Stars program, grants to Texas libraries, a youth fiction writing contest, and year-round literary programming. The Festival is held on the grounds of the Texas Capitol each fall and features more than 250-plus renowned authors, panels, book signings, live music, cooking demonstrations, and children's activities. Thanks to generous donors, sponsors, and 1,000 volunteers, the Festival remains free and open to the public. Visit www.texasbookfestival.org for more information, and join the conversation using the hashtag #txbookfest on Facebook; and @txbookfest on Twitter and Instagram.
Margaret Atwood, Taye Diggs, Scott Simon to be featured presenters at Texas Book Fest Gala Oct. 16
AUSTIN—Acclaimed novelist Margaret Atwood (below, right); actor, Broadway star, and children's book author Taye Diggs (center); and National Public Radio host and author Scott Simon (left) will be featured presenters at the Texas Book Festival's First Edition Literary Gala at the Four Seasons Hotel Fri., Oct. 16, 2015.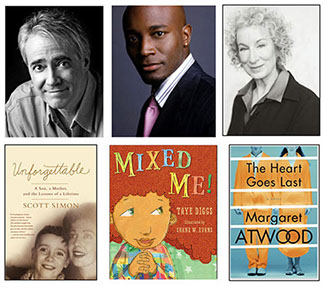 The popular, elegant prelude to the Texas Book Festival Weekend, the Gala is expected to draw a record number of literary luminaries, dignitaries, and cultural arts supporters as the Festival celebrates its 20th anniversary this year.
The Gala supports the Festival and all of its charitable programs, including Reading Rock Stars, Texas Public Library Grants, and the Fiction Writing Contest for students. This year's Gala is co-chaired by three sisters: Sarah Queen, Mary Clare Matthews, and Denise Laurienti, daughters of former Festival board chair Jan Hughes and husband David Hughes.
For the second year, this year's Gala will include an Afterparty, also at the Four Seasons, with tickets for $75. Attendees will have the opportunity to mingle with Festival authors in a late-night, cocktail party setting and be entertained by local funk-rock band Austin Heat, whose lead singer recently appeared on NBC's The Voice.
Limited Gala tables and individual seats are available; the event sells out every year. To purchase tickets, call 512-477-4055 or email claire@texasbookfestival.org.  Individual tickets are $500. Preferred Leather Bound tables are $10,000, and Hard Cover tables are $5,000. Gold Leaf and Authors' Circle sponsorships, which include extensive Festival VIP benefits, are $25,000 and $15,000, respectively.  For more information, go to https://www.texasbookfestival.org/2015-first-edition-literary-gala/.
The 2015 Texas Book Festival is co-presented by AT&T and H-E-B. Other major sponsors include Brigid Cockrum and family, Kirkus Reviews, the Texas College Savings Plan, Texas Monthly, the Tocker Foundation, C-SPAN2 Book TV, St. David's HealthCare, Buena Vista Foundation, Pentagram, Central Market, and the Austin American-Statesman.
(From Texas Book Festival press release)

AROUND THE TOWN
Permian Basin Writers' Workshop brings Fishman back to hometown for reading, lectures; Cortez, Jones among other workshop leaders

Above: The Permian Basin Writers' Workshop, Sept. 18-19, welcomed Midland native Seth Fishman (above, leading a presentation at the Midland Centennial Library on working with a literary agent) back for a first-ever reading in his hometown. Also featured were poet and fiction writer Sarah Cortez, novelist and short story writer Stephen Graham Jones, and authors/editors Kay Ellington and Barbara Brannon. Below, Cortez leads a workshop at the library.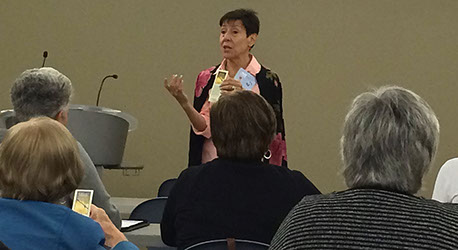 Texas Teen Book Festival slated for Sept. 26 in Austin
The Texas Teen Book Festival will welcome more than thirty authors appearing at its annual event, which takes place this year Sat., Sept. 26, 2015, on the campus of St. Edward's University in Austin. The keynote speaker is Emmy Award¬–winning actress and writer Sonia Manzano, best known for her role as Maria on the PBS series Sesame Street. After more than four decades on the show, Manzano announced her retirement last month and will present her latest work, a coming-of-age memoir titled Becoming Maria: Love and Chaos in the South Bronx. She will speak from 1:30 to 2:15 p.m.
Other authors include Rick Yancey (The 5th Wave), Kaui Hart Hemmings (The Descendants), Jess Andrews (Me, Earl, and the Dying Girl), David Levithan (Another Day) and Libba Bray (Lair of Dreams).
The festival, which is expected to attract more than 4,000 young adult book readers, starts at 8:30 a.m. Sept. 26 and continues until 6:30 p.m. and is free and open to the public. For a complete schedule, visit http://www.texasteenbookfestival.org.
This year, the festival is hosting, for the first time, the Texas Teen Book Festival Writing Contest, sponsored by Delacorte Press. Three winners from among 55 entries will be announced Sept. 1, and each will receive feedback from Delacorte editors and be honored during opening ceremonies Sept. 26.
Also, Topher Bradfield of BookPeople will host this year's Texas Throwdown Game Show, from 10:30 to 11:15 a.m. The show will feature Claudia Gray (Journey to Star Wars: The Force Awakens), Pierce Brown (the Red Rising trilogy), Jenny Han (P.S. I Still Love You), Aaron Hartzler (What We Saw), Cindy Pon (Serpentine), and Gareth Hinds (Macbeth).
Badgerdog Literary Publishing sessions of note include a poetry workshop with Carrie Fountain, from 2:30 to 3:30 p.m., and fiction workshop with Callie Collins, from 3:30 to 4:30 p.m., both of which take place in Library Classroom 1.
The festival is a collaboration of the Texas Book Festival, BookPeople, library volunteers, and St. Edward's University. The program is also made possible in part by a grant from Humanities Texas, the state affiliate of the National Endowment for the Humanities.
(Compiled from the Texas Teen Book Festival press release)

15th annual West Texas Book Festival, continues Sept. 21–26 in Abilene; honors state historian O'Neal
The West Texas Book Festival, which will celebrate its 15th annual festival this year during the week of September 21-26 at the Abilene Public Library in Abilene, Texas, announced its lineup of authors this week.
The festival seeks to celebrate books, literacy, and reading, with a special emphasis on local and regional authors. The event is community driven and provides the public with the chance to interact with local authors on a more personal level. The festival includes a number of meet and greet sessions as well as readings and talks. For more information contact Janis Test at (325) 676-6017.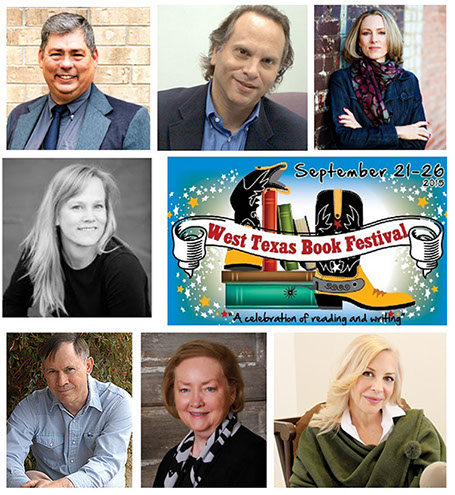 Clockwise from upper left: O'Neal, Bissinger, Castillo, Kent, Thomas, Dearen, Specht (photos from Amarillo Public Library website)
A. C. Greene Award Winner
Bill O'Neal,Carthage, TX
O'Neal is the author of 42 books and more than 300 articles and book reviews on the American West. Having retired as a history professor at Panola College in Carthage, TX, he continues to teach periodically and maintains a writing career. O'Neal is a member of the Western Writers of America, has appeared in television documentaries on Turner Network Television, the History Channel, the British Broadcasting Corporation, the Discovery Channel, Turner Broadcasting System, and the Arts and Entertainment Channel. He has received several awards including being appointed the Texas State Historian in 2012 by Governor Rick Perry, receiving the 2005 National Association of Outlaw and Lawmen Association Award for The Johnson County War, named the Best Living Non-Fiction Writer by True West Magazine in 2007, and more.
* * * * *
H. G. "Buzz" Bissinger, Philadelphia, PA
Bissinger may be a native of New York City, but he has ties to Texas, spending a year in Odessa to author the book Friday Night Lights: A Town, a Team, and a Dream about the impact of high school football in Odessa, Texas. That book would go on to inspire a critically acclaimed feature film and television series that ran for five season on NBC. Bissinger is an honored and distinguished writer with six books to his credit. He has won the Pulitzer Prize, the Livingston Award, the American Bar Association Silver Gavel Award, the National Headliners Award, and others. He's also worked as a reporter on prestigious newspaper and been a writer for magazines including Vanity Fair, the New York Times magazine, and Sports Illustrated; plus, he was the co-producer and writer for the TV drama NYPD Blue. With such a rich and diverse collection of works, which have been praised by the New York Times, Entertainment Weekly, the Houston Chronicle, CBS News, USA Today, and more, he's an author you won't want to miss at this year's festival.
Linda Castillo, Amarillo, TX
Castillo is originally from Ohio, which became the inspiration behind her collection of Amish thrillers collectively titled the Kate Burkholder Series. She has published 30 books and has been the recipient of numerous awards including the Golden Heart, the Daphne du Maurier Award of Excellence, a nomination for the prestigious RITA Award, and a nomination by the International Thriller Writers for Best Hardcover. Her first book, Sworn to Silence, spent four weeks on the New York Times Bestseller list and the following books in the series have also hit both the New York Times and USA Today lists, becoming international bestsellers. In addition novels, the first book was adapted to a made-for-TV movie titled An Amish Murder starring Neve Campbell. Castillo's most recent novel, also the seventh book in her series, is titled After the Storm.
Patrick Dearen, Midland, TX
Dearen is West Texas born and the author of 21 books, including The Big Drift, which received the 2015 Spur Award for Best Western Traditional Novel. Having earned a bachelor of journalism from the University of Texas at Austin in 1974, Dearen has received nine national and state awards as a reporter for two West Texas daily newspapers and is noted for his knowledge of old-time cowboy life. Dearen has been honored by the Academy of Western Artists, the San Antonio Conservation Society, the Will Rogers Medallion Awards, the West Texas Historical Association, and the Permian Historical Society. Plus, if you visit his website, you will see video of actor Robert Duvall discussing and reading from one of Dearen's books.
Kay Ellington & Barbara Brannon, Lubbock, TX
Lubbock writers Ellington & Brannon are the coauthors of The Paragraph Ranch and its 2015 sequel A Wedding at the Paragraph Ranch, novels that combine comic views of rural life and the writing life with a dose of sage, practical writing advice. The are also the creators of LoneStarLiterary.com, the online newspaper for all things bookish in Texas, and "The Working Writer," a blog combining their half century of experience in every aspect of books and media from concept to critique and publishing to promotion. Ellington spent thirty years in newspaper management from Texas to New York to California and the Carolinas and back again to West Texas. Brannon, an editor and travel writer, spent most of her career in book publishing and formerly led the groundbreaking Publishing Laboratory at the University of North Carolina Wilmington; she currently heads up the Texas Plains Trail Region, based in Lubbock.
Tiffany Harelik, Austin, TX
Harelik was born in Austin, raised in Buffalo Gap, and was the former Sweetwater Rattlesnake Round-Up Queen. She has come to put her own spin on cookbooks, which began with the Trailer Food Diaries Cookbook Series, combining quirky characters with great recipes and anecdotes. She's also the author of The Big Bend Cookbook, having been writing her line of cookbooks since 2009. Her works will take readers, and foodies, on a journey to learn how to cook some gourmet dishes off the menus of food trucks covering the cities of Austin, Portland, Dallas/Fort Worth, and Houston. Harelik will be one of three featured cookbook authors at this year's festival.
Kathleen Kent, Dallas, TX
Kent is the author of two bestselling novels, including The Heretic's Daughter (winner of the David J. Langum Sr. Award for American Historical Fiction) and The Traitor's Wife. Her most recent novel, The Outcasts, has been awarded by the American Library Association as being a Top Pick in Historical Fiction for 2014, as well as being the recipient of a Will Rogers Medallion Award for Western Fiction. Having been influenced by the works of James Michener, Larry McMurtry, Cormac McCarthy, and others, her work is finding a great fan base. Kent is currently working on her fourth novel based on a short story published in the crime anthology Dallas Noir and her novels have been published in 16 countries. The Outcasts has been described as a "taut, thrilling adventure story about buried treasure, a manhunt, and a woman determined to make a life for herself in the old west."
Penny Klostermann, Abilene, TX
Having grown up in Colorado, Klostermann now resides in Abilene and is the author of picture books and poetry for children. Having taught school for 26 years before, she has a fondness for all kinds of books (especially silly picture books that make her laugh). Klostermann is a member of the Society of Children's Book Writers and Illustrators and was named the 2012 Barbara Karlin Grant Runner-Up. Her first children's book is titled There Was An Old Dragon Who Swallowed a Knight, as a great variation on a time-honored story, and her following book is already set for a 2017 release titled A Cooked-Up Fairy Tale.
Jay Moore, Abilene, TX
Moore is a man many Abilenians are familiar with as he has produced a number of award-winning works documenting Abilene's history such as the "History in Plain Sight" documentary film series. Born and raised in Abilene, Moore has been a teacher at Abilene High School since 1992, currently teaching U.S. History and serving as the Department Head for Social Studies. His passion for history is not only noticed by his students and the community, but outside of the community as well. Moore has received the 2011 National Award of Merit from the American Association of State and Local History, the 2011 Maxine Perini Award from the Taylor County Historical Commission, the 1996 Spotlight Teacher of the Year Award from the Abilene Independent School District, the 2013 Outstanding Teaching of the Humanities Award from Humanities Texas, and more. With his unique style of making history come to life, Moore will participate in the Authors in Schools program during the festival, reaching out to local students in the area and discussing his book, Abilene A to Z.
Roger Moore, Merkel, TX
Moore is a noted cartoonist, with a cowboy bent, who has worked in many areas over the course of his life including raising cotton, working as a coach/teacher, joining Texas Instruments in Dallas, and eventually turning to advertising. He would soon start drawing editorial cartoons for the Allen American in Collin County, while also working as a lobbyist to represent the textbook industry. In 1974, Moore would work with the Austin Citizen, creating a weekly cartoon through the early '80s, later establishing the "Bona Fide Original Real Texas Calendar." Moore creates his work with pen and ink, keeping his characters simplistic. Throughout his years, Moore has come to finally figure life out. He states, "I've been divorced and have gone broke a couple times. But sooner or later, a man's got to figure out what's really important in life. To me, it's having a loving family like I have now and doing what you want to do, not what someone else wants you to do." Moore will be present at the festival on Fri., Sept., 25 and presenting on his book titled My Texas.
Lisa Perini, Buffalo Gap, TX
Lisa Perini, and her husband, Tom, are well-known in this area as the owners of the Perini Ranch, which was turned into a career in 1973 and has become synonymous with fine cowboy gourmet. Located in Buffalo Gap, TX, since 1983, the steakhouse has served as one of the best chuck wagon style food in America, receiving great notoriety through Texas Monthly, the New York Times, People, The James Beard Foundation, Food Network Magazine, and more. Lisa Perini is a long-time lover of basset hounds, and their beloved dog Gus is happy to announce his first published work to take young readers on a tour of the Perini Ranch and introduce everyone to his ranch family.
Grady Spears, Fort Worth, TX
Spears is a native Texan and cowboy-turned-chef known for creating cowboy menus for restaurants he's co-owned in Fort Worth, TX, Granbury, TX, and Beverly Hills, CA. Spears is the owner of Grady's Restaurant in Fort Worth and has written a number of cookbooks including Kitchen, Cooking, The Texas Cowboy Kitchen, and more. After leaving his job of punching and selling cattle, he turned to restaurant work before then diving into cooking when the chef quit during a busy weekend dinner shift. Spears stepped up to the stove, started cooking, and the rest was history. Creating menus using his signature cowboy style, his talents have led him to appearing on television including Good Morning America, the Today Show, the Food Network, and more. Spears will be one of three featured cookbook authors present at the festival.
Mary Helen Specht, Austin, TX
Specht was born and raised in Abilene, having earned a B.A. in English from Rice University and an M.F.A. in creative writing from Emerson College. Her works have appeared in a number of publications including the New York Times, the Texas Observer, Michigan Quarterly Review, Night Train, and more. Having also been a Fulbright scholar to Nigeria and a Dobie-Paisano Writing Fellow, she teaches creative writing at St. Edward's University in Austin, TX. Migratory Animals is her first novel and it has already been received with praise and touted as a "powerful debut novel" from an "exciting young writer." Plus it has been named a New York Times Book Review Editor's Choice, an IndieNext Selection, an Apple iBook Selection, and an Austin American-Statesman Selects Book.
Jodi Thomas, Canyon, TX
Thomas is a New York Times bestselling author, the 2013 recipient of the A. C. Greene Award, and a fifth-generation Texan who chooses to set the majority of her novels in her home state, where her grandmother was born in a covered wagon. A former teacher, Thomas traces the beginning of her storytelling career to the days when her twin sisters were young and impressionable. With a degree in Family Studies, Thomas is a marriage and family counselor by education, a background that enables her to write about family dynamics. Honored in 2002 as a Distinguished Alumni by Texas Tech University in Lubbock, Thomas enjoys interacting with students on the West Texas A & M University campus, where she currently serves as Writer In Residence. Her numerous awards include the National Press Women's Novel of the Year, the Romance Writers of America's RITA award, and the National Readers' Choice Award.
Terry Thompson-Anderson, Fredericksburg, TX
Thompson-Anderson is the author of several cookbooks including the bestselling Cajun-Creole Cooking, Texas on the Plate, and The Texas Hill Country, and writes a regular wine feature for Edible Austin magazine. Having grown up in Houston, her mother wasn't much of a cook and it wasn't until she got married that she was introduced to the world of cooking by her mother-in-law. After moving to Austin, she began taking classes and eventually attended culinary school. She later received a 9-page feature in the Dec. 1983 issue of Bon Appetit magazine, studied under James Beard, and this helped bring her requests from around the country for consulting assistance, while also appearing on numerous television and radio programs. She now resides in Fredericksburg where she launched a line of food products and continues to be highly sought after as a consultant, chef, teacher, demonstrator, and lecturer.
* * * * *