Michelle Newby is contributing editor at Lone Star Literary Life, reviewer for Foreword Reviews, freelance writer, member of the National Book Critics Circle, and blogger at www.TexasBookLover.com. Her reviews appear or are forthcoming in Pleiades Magazine, Rain Taxi, World Literature Today, South85 Journal, The Review Review, Concho River Review, Monkeybicycle, Mosaic Literary Magazine, Atticus Review, and The Collagist.
Lone Star Book Reviews
of Texas books appear weekly
at LoneStarLiterary.com
Sandra Brown, author of more than sixty New York Times bestsellers, began her writing career in 1981 and since then has published over seventy novels, bringing the number of copies of her books in print worldwide to upwards of eighty million. Her work has been translated into thirty-three languages.
A lifelong Texan, Sandra Brown was born in Waco, grew up in Fort Worth, and attended Texas Christian University, majoring in English. Brown recently was given an honorary Doctorate of Humane Letters from Texas Christian University. Brown and her husband, Michael, live in Arlington.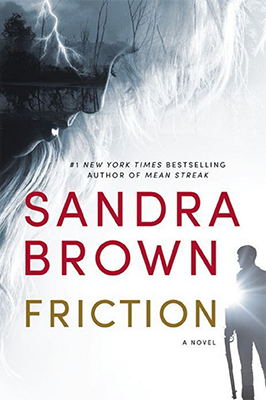 FICTION

Brown, Sandra

Friction: A Novel

Grand Central Publishing

978-1-4555-8116-0, hardcover, 410 pgs., $26.00

August 18, 2015

FRICTION is the latest thriller from the prolific Sandra Brown, who has more than 70 books to her name, 68 of which are New York Times best sellers. Friction follows the tried-and-true formula that is so well established. Set in deep East Texas, Friction has all of the patented Sandra Brown elements: political intrigue, family drama, romantic entanglement, numerous plot twists; Friction also has Texas Rangers, organized crime, and fracking.

Texas Ranger Crawford Hunt is in the witness box in Judge Holly Spencer's courtroom for a custody hearing that will determine whether he regains custody of his daughter, Georgia, from her maternal grandparents, when a gunman bursts through the doors. Hunt throws himself atop the judge to protect her and then pursues the gunman when he flees the courtroom. Hunt confronts a man on the roof holding a gun, and SWAT takes him out. As the investigation proceeds, doubts about the identity and motivation of the suspect arise and Ranger Hunt's past comes back to threaten him and those he loves in the present.

Friction is peopled with a diverse cast of characters, from judges and law enforcement to campaign managers, crime bosses (those are not the same thing), strip club operators, and veterans. Ranger Hunt and Judge Spencer are given complex and believable backstories. Unfortunately, Judge Spencer either doesn't stay in character or has multiple personalities. She morphs from an ethical, by-the-book, no-nonsense dispenser of justice into a quivering mass of ethically challenged hormones who allows herself to be frog-marched about by Ranger Hunt. I had hoped we were past the repressed, buttoned-up career woman who needs a real man's man to free her essential femininity trope.

Friction is sometimes funny: "The qualities that made William Moore a good lawyer worked against him as a likeable human being." And: "Marilyn [campaign manager] seemed to drain those around her of their vitality, then absorb it, giving her a surplus." Brown tugs at our heartstrings in scenes between Ranger Hunt and his daughter, a Shirley Temple lookalike, which are genuinely sweet. These scenes provide some relief from the bodice-ripper–style sex scenes in which Ranger Hunt (frequently "growling") is "claiming her mouth with his…wild and willful tongue." Brown's word choices are too often stilted, leading me to suspect a well-thumbed thesaurus. No one uses the words "culprit" or "derring-do" in conversation and no one "accesses" their phone apps.

Friction's strengths are an intricate, well-constructed plot, nonstop action, and enough plot twists to produce whiplash and keep you guessing. It is entertaining but ordinary. So if those are the qualities you most value in your reading, then you'll love Friction. However, if you prefer your thrillers to also incorporate imagery, nuanced characterization, and thoughtful language, then look elsewhere. And don't tell me that no thriller contains all of those elements. It's rare, this is true — but it happens. Feel free to contact me for suggestions.

* * * * *