Texas Reads
Glenn Dromgoole
>> archive
Ransom Canyon series of novels set in West Texas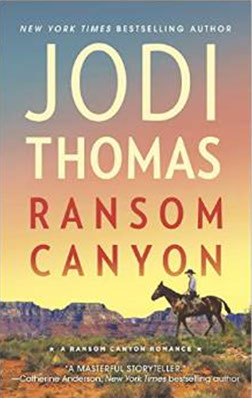 Friendship that may blossom into romance is a major theme in Ransom Canyon, the first book in a new series by best-selling Amarillo author Jodi Thomas (HQN Books, $7.99 paperback). The book goes on sale Tuesday.
The setting is the fictional small town of Crossroads and a nearby farm and ranch in the rugged Ransom Canyon area of West Texas.
Third-generation rancher Staten Kirkland and lavender farmer Quinn O'Grady are longtime friends and secret lovers, but both seem reluctant to take their relationship to the next level.
Young ranch hand Lucas Reyes aspires to finish high school a year early and go to Texas Tech, and he enjoys sharing his thoughts with Lauren Brigman, the sheriff's nearly sixteen-year-old daughter. Their fondness for each other grows deeper after a late-night adventure goes awry.
Fresh out of prison, Yancy Grey finds himself in Crossroads, trying to figure out how to make a quick buck and get out of town. Instead, he finds the road to riches takes some unexpected turns that could change his life forever.
Meanwhile, sinister forces are at work in the town and the canyon, and someone could get killed.
With about fifty books to her credit, Thomas certainly knows how to keep the story flowing and the pages turning. At the end, she offers a two-chapter preview of the second book in the series, Rustler's Moon, due out early next year.
Thomas, the 2013 A. C. Greene Award winner, will kick off next month's West Texas Book Festival in Abilene with a talk about the new series at noon Monday, Sept. 21, at the Abilene Public Library. Read more about the festival at abilenetx.com/apl.
* * * * *
Hoot and Holler: San Angelo author Linda Hermes has created enduring characters in her "Hoot and Holler" series about two army mules that served in the early years of Fort Concho, established in 1867.
In the third installment, The Ranch, mules Hoot and Holler accompany soldiers to the George Washington DeLong ranch to purchase food and hay for the fort. While at the ranch, the soldiers pitch in to help DeLong build a dam that is still in use today.
Hermes, who also illustrates her stories, mixes history and adventure in her books, written at the second or third grade level. She says the stories, while fictional, are "historically correct — well, except for mules that talk to each other."
Her books are available at Fort Concho and Cactus Books in San Angelo and online.
* * * * *
Glenn Dromgoole is co-author of 101 Essential Texas Books. Contact him at g.dromgoole@suddenlink.net.
Bissinger Texas events for 25th Anniversary Friday Night Lights
In conjunction with Da Capo Press's Aug. 11 publication of the 25th anniversary edition of  Friday Night Lights: A Town, a Team, and a Dream author H. G. "Buzz" Bissinger returns to Texas for a series of events. The publisher announced the following schedule this week:
Buzz Bissinger Book Events, Fall 2015
9/14/15, Hastings (Odessa, TX), 7 p.m.,

with support from the Odessa Council for the Arts and Humanities

9/15/15, High School TBD (Midland, TX)

—morning or lunchtime solo talk

9/15/15, Midland County Public Library (Midland, TX)

, Centennial branch, 5:30-6:30 p.m., solo talk, B&N to sell books

9/15/15, Yucca Theater (Midland, TX), 7:30 p.m.

—panel moderated by Jay Hendricks, CBS 7 anchor; ticketed event as fundraiser for Midland County Public Library Foundation
9/16/15, Brazos Bookstore (Houston, TX), 7 p.m.

9/18/15, Abilene Public Library (Abilene, TX), 12 p.m.,

Texas Star Trading Company to sell books

9/19/15, Half Price Books (Dallas, TX), 2 p.m.

9/20/15, BookPeople (Austin, TX), 2 p.m.