Texas Reads
Glenn Dromgoole
>> archive
Cartoonist has a little fun with Texas history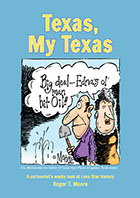 Readers of all ages can learn something about Texas history — and have fun doing it — in Merkel author Roger Moore's book of Texas history cartoons, Texas, My Texas (Great Texas Line Press, $5.95 paperback).
Moore, whose cartoons appear in about twenty-five weekly newspapers, takes a fact or piece of trivia from Texas history and has a little fun with it.
For example, on April 14, 1958, Texas pianist Van Cliburn won a major international piano competition in Russia. The cartoon has Cliburn announcing to the audience, "For my encore, I'd like to do 'Waltz Across Texas' in B-flat." On Aug. 2, 1973, the infamous Chicken Ranch brothel closed in LaGrange. The cartoon has a couple showing up and telling the madam, "We've come for the close-out prices on them chickens."
In another entry, Moore notes that "up to 200 Texas historical markers are added yearly, though not all applications are approved." The cartoon has a wife's application being turned down for "Texas' Most Lazy Man Lives Here." The book includes some interesting but not well known facts, such as: When the nine-banded armadillo — the state's official small mammal — gives birth, she always has four identical offspring. Here's another: The Popeye cartoon character got his start in Texas.
Moore's cartoons also appear throughout the Texas Correct Calendar he publishes every year. The calendar begins with March 2 — Texas Independence Day — instead of the more traditional January 1.
* * * * *
The University of Texas Press has published a collection of scholarly essays examining LBJ's Neglected Legacy: How Lyndon Johnson Reshaped Domestic Polity & Government ($29.95 paperback, 480 pages).
Robert H. Wilson (UT), Norman Glickman (Rutgers), and Laurence E. Lynn Jr. (formerly UT, now University of Chicago) edited the volume and contributed the introductory and concluding essays. Thirteen other scholars wrote essays examining LBJ's legacy in civil rights, immigration, social welfare, education, health, environment, cities, science, and other areas of public policy.
Robert Dallek, author of Flawed Giant: Lyndon Johnson and His Times (1999), argues that despite his failures in Vietnam, Johnson eventually will be remembered as "one of those great humane presidents who helped humanize the American industrial system." A recent insidegov.com ranking of the thirteen modern-day presidents, beginning with Franklin Roosevelt, put LBJ at the top of the list.
* * * * *
Glenn Dromgoole is co-author of 101 Essential Texas Books. Contact him at g.dromgoole@suddenlink.net.
Are you ready for some football (books)?
Lone Star Literary Life's Best Texas Football Books special section kicks off today, Sun., Aug. 9, 2015.
Two-a-days, the Twelfth Man, and the Cotton Bowl are just some of the iconic touchstones of Texas culture and by extension Lone Star literature.
On Sun., Aug. 9, we pay tribute to the best Texas football books by interviewing H. G. "Buzz" Bissinger, author of Friday Night Lights, as his publisher releases the 25th anniversary edition of the book.
>> READ MORE
Bissinger Texas events for 25th Anniversary Friday Night Lights
In conjunction with Da Capo Press's Aug. 11 publication of the 25th anniversary edition of  Friday Night Lights: A Town, a Team, and a Dream author H. G. "Buzz" Bissinger returns to Texas for a series of events. The publisher announced the following schedule this week:
Buzz Bissinger Book Events, Fall 2015
9/14/15, Hastings (Odessa, TX), 7 p.m.,

with support from the Odessa Council for the Arts and Humanities

9/15/15, High School TBD (Midland, TX)

—morning or lunchtime solo talk

9/15/15, Midland County Public Library (Midland, TX)

, Centennial branch, 5:30-6:30 p.m., solo talk, B&N to sell books

9/15/15, Yucca Theater (Midland, TX), 7:30 p.m.

—panel moderated by Jay Hendricks, CBS 7 anchor; ticketed event as fundraiser for Midland County Public Library Foundation
9/16/15, Brazos Bookstore (Houston, TX), 7 p.m.

9/18/15, Abilene Public Library (Abilene, TX), 12 p.m.,

Texas Star Trading Company to sell books

9/19/15, Half Price Books (Dallas, TX), 2 p.m.

9/20/15, BookPeople (Austin, TX), 2 p.m.