IN HER OWN WORDS
Bird selected for Meryl Streep Screenwriting Lab
New York Women in Film & Television and the Iris film collective have selected twelve screenwriters for the inaugural year of Meryl Streep's Writers Lab. The program, which is fully funded by Streep, provides script development for female writers over the age of forty. The Writers Lab, presented in collaboration with the Writers Guild of America East, received over 3,500 submissions.
Here are the participants and their scripts
Sarah Bird,

Daughter of a Daughter of a Queen

Vanessa Carmichael,

The American

Tracy Charlton,

Raised Up

Kellen Hertz,

Ashburn

Anna Hozian,

Anchor Baby

Lyralen Kaye,

St. John the Divine in Iowa

Jan Kimbrough,

The Glastonbury Cow Party

Billie Mason,

The Cargo

Peres Owino,

Basketweaver

Gretchen Somerfeld,

Face Value

Janet Stilson,

Jaguar Trail

Kim Turner,

It Goes Like This
The event will take place September 18–20, 2015, at the Wiawaka Center in upstate New York. Iris is a collective of women filmmakers founded by Kyle Ann Stokes, Elizabeth Kaiden, and Nitza Wilon to champion the female voice through fictional narrative film.
This year's mentors will include Jessica Bendinger (Bring It On), Caroline Kaplan (Time Out of Mind), Meg LeFauve (Inside Out), Darnell Martin (Cadillac Records), Lydia Dean Pilcher (Darjeeling Limited), Gina Prince-Bythewood (The Secret Life of Bees), Mary Jane Skalski (Win Win) and Kirsten Smith (Legally Blonde).
Author Sarah Bird took time to tell Lone Star Literary Life readers about her project.
Above, from left: Juneteenth rodeos in Bastrop, El Campo, and the Diamond L Arena outside Houston. Photos and author headshot provided by Sarah Bird.
by Sarah Bird
Daughter of a Daughter of a Queen is based on the true story of Cathy "Cathay" Williams, a woman freed by the Civil War from slavery who made the momentous, inspiring decision to reach for a better life by disguising herself as a man and becoming the only woman ever to serve with the legendary Buffalo Soldiers.
I first heard Cathy's story in the late seventies when I was researching and photographing African-American rodeos. I did a bit of research, but, back in those pre-Internet days, I could find no further information about Cathy and assumed the fabulous story was apocryphal.
In 1988, pregnant with our son, I attended a childbirth class taught by the sublime Pam Black. At that time, Pam was also an elementary school teacher at a predominantly black school. When she learned that I was a novelist, she told me about the project she was working on. Feeling that her students didn't have enough heroes, she had been researching the subject herself. The hero she was most excited about was Cathy Williams, and she felt I should write a book about her.
Pam shared the information and documentation she had gathered, which included Cathy's enlistment and discharge papers, her application for a pension, and the notes Pam had taken from conversations she'd had with a woman whose relative had known Cathy. This was more than enough to convince me that this astonishing woman had existed. I found other mentions including a revelatory article about Cathy published in the St. Louis paper.
Though the story resonated deeply with me, as the daughter of two warriors (a career air force officer and a World War II army nurse) who has spent most of her life in the West, I didn't feel that I had the right to tell Cathy's story. I tried to put it aside. But Cathy and her story would not be dismissed so easily. It aggravated me that the story of Cathy's singular decision to reject the fate that her race and gender had dealt her was unknown. Still, I saw no way to overcome the many hurdles I would face writing her story as a novel.
While I was struggling with what had come to feel like an obligation I could/should not fulfill, I had dinner with a remarkable friend, Emily Tracy-Haas, screenwriter, opera singer, and visual artist who has access to realms that many would call psychic. As we were eating, she asked me asked me if someone close had died recently. No. She shook her head as if to dismiss the notion. But it would not go. Finally, she said, "There is someone, a woman, trying to contact you. I see her standing behind you. I can't tell what she wants but. . ." Here Emily stopped and rolled her eyes at herself, almost apologizing for what she would say next. "But I see silver doors opening up at the top of your head almost as if you're opening yourself to her."
Those who know me will attest that I am among the least woo-woo of people, but that message seemed pretty clear and undeniable to me. Though I had written one previous screenplay, an adaptation of my second novel, Boyfriend School, I had abandoned the form after it was produced as I had not liked the results, I realized that Cathy's story needed to be a film. The screenplay opened lots of doors for me, silver and otherwise, and earned many writing assignments in both feature films and television, but, sadly, the belief at that time was that the crossover audience which had supported Roots no longer existed.
In the subsequent years, Cathy's story became better known. Yet I never felt that the few bare facts that were known truly honored how heroic her decision was.  Cathy deserved a more majestic canvas. Though she was actually in the infantry, I wanted the world to see her astride a horse in the cavalry. I wanted to follow her life from the Civil War, out West, to her final years running a boarding house in Colorado. And, though it is a bit woo-woo, I felt Cathy wanted that as well.
Around the time I turned sixty, I realized that there were two great stories that I needed to tell but had hesitated to because of concerns in both cases about cultural appropriation. I had waited since 1969 when my family was stationed on Okinawa and I had learned about the legendary Princess Lily Girls for their story to become known to readers in the West. Since it still hadn't, I wrote my most recent novel, Above the East China Sea. That leaves Cathy, another story about a woman in war and with the military that still hasn't been fully celebrated. My hope is that this lab will help me fulfill my obligation to Cathy Williams.
* * * * *
Best selling author Sandra Brown to launch newest thriller in Texas week of August 19
Following the success of her last several hardcover releases, #1 New York Times bestselling author Sandra Brown is embarking on a national tour for the first time in years. With more than 67 New York Times bestsellers and more than 80 million copies of her books in print worldwide, Brown is one of the best-known romantic suspense writers in the world.
Brown's newest thriller, Friction (Grand Central Publishing Hardcover; August 18, 2015; 978-1455581160; $26) lends her classic fast-paced suspense to a gripping story of family ties and forbidden attraction.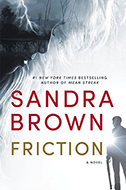 The story of Friction, according to Brown's publisher, "began with Brown's fascination with the elite law enforcement agency, the Texas Rangers. Brown, a native of the Lone Star State, grew up listening to the Rangers' lore of capturing or killing famous gunmen like Sam Bass and John Wesley Hardin. Her take on the legendary lawmen will keep readers on the edge of their seats, with shocking plot twists and unforgettable characters."
(Information from publisher's press release)

Are you ready for some football (books)?
Lone Star Literary Life's Best Texas Football Books special section kicks off Sunday, Aug. 9
Two-a-days, the Twelfth Man, and the Cotton Bowl are just some of the iconic touchstones of Texas culture and by extension Lone Star literature.
On Sun., Aug. 9, we pay tribute to the best Texas football books by interviewing H. G. "Buzz" Bissinger, author of Friday Night Lights, as his publisher releases the 25th anniversary edition of the book. (See his fall event schedule in Texas, below.)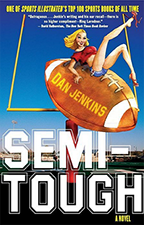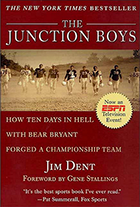 We'd like to bring you in on some coverage as well. (Zone, no blitz). We're doing an informal poll of the best Texas football books through the years. Titles like Semi-Tough, The Junction Boys, The Hundred Yard War, and Billy Lynn's Long Halftime Walk come to mind. What are yours?
Email your suggestion to us at info@lonestarliterary.com, and we'll publish the poll results in our Aug. 9 issue. And you'll automatically be entered in a drawing to win a free copy of Friday Night Lights 25th Anniversary Edition.

100 authors, creative writing experts, musicians, and performers slated for 7th annual East Texas Book Fest
The seventh annual East Texas Book Fest takes place on Friday, Aug. 21, and Saturday, Aug. 22, in Tyler's Harvey Convention Center, located at 2000 West Front Street, Tyler. The event is free.
One hundred Texas authors who write in many genres and for all ages will display their books and chat with readers. In addition, professionals will demonstrate and explain various literacy projects for children and adults. Other experts will lead seminars to make reading more meaningful and rewarding to all and to help writers improve their craft and sales.
SALT (Smith County Area Libraries Together) organized the first ETX Book Fest in 2009 to celebrate libraries, authors, books, and reading. SALT is an organization of Smith County Public libraries — Tyler Public Library, Lindale Library, Troup Municipal Library, Bullard Community Library, and Whitehouse Community Library — and UT Tyler Muntz Library.
In 2014, TAP for Literacy (Tyler Area Partners for Literacy), a collaboration of agencies and organizations devoted to expanding literacy at all levels, joined the team as co-organizer. This collaboration brings new dimensions, activities, authors, and attendees to this regional event. SALT and TAP for Literacy are both 501 (c) (3) nonprofit organizations serving libraries and literacy.
Here's a selection of authors appearing at the festival by topic.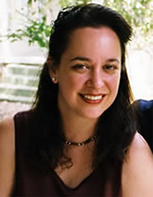 WRITING FOR CHILDREN
Cynthia Leitich Smith (left), author of Tantalize, Eternal, Blessed, and more
Don Tate, author and Illustrator of Poet: The Remarkable Story of George Moses Horton (Sept 2015), It Jes' Happened When Billy Traylor Started to Draw (2012), and more
SO YOU WANT TO PUBLISH A BOOK?
Chris Rogers, author of Emissary (Nov. 2014), Here Lies A Wicked Man, Write the Scene 3 Easy Ways, Ramp Up Tension 3 Easy Ways, Plot Your Story 3 Easy Ways, and more
CONNECTING WITH THE HEARTS AND MINDS OF YOUNG ADULTS
Dr. Rene Saldaña, author of Heartbeat of the Soul of the World, Dancing With the Devil and Other Tales of Beyond, ¡Juventud! Growing up on the Border, The Jumping Tree, and more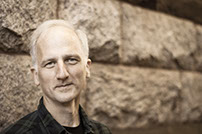 AWARD-WINNING FICTION FOR ADULTS
Ben Fountain (far left), author of Billy Lynn's Long Halftime Walk
Thomas McNeely (left), author of Ghost Horse
WRITING BOOKS and SINGING SONGS
Mike Blakely, author of A Song To Die For, What Are the Chances, A Tale Out of Luck, Come Sundown, Comanche Dawn, and more

WRITING WHAT YOU KNOW
Antonio Ruiz-Camacho (left), author of Barefoot Dogs: Stories
Tracy Dahlby, author of Into the Field: A Correspondent's Notebook
WRITING BIOGRAPHIES
M. J. Mooney, author of The Life and Legend of Chris Kyle: American Sniper, Navy SEAL
M. M. McAllen, author of Maximilian and Carlota: Europe's Last Empire in Mexico
Dr. Carlos K. Blanton, author of George I. Sánchez, The Long Fight for Mexican American Integration
FAMILIES ARE HISTORY
Chris Tomlinson, author of Tomlinson Hill and producer of Tomlinson Hill: Are We Equal Yet?
For further information, visit www.etxbookfest.org or email etxbookfest@yahoo.com
(Information from East Texas Book Festival's website)

Bissinger publisher announces Texas signings, events for 25th Anniversary Friday Night Lights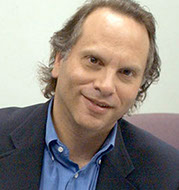 In conjunction with Da Capo Press's Aug. 11 publication of the 25th anniversary edition of  Friday Night Lights: A Town, a Team, and a Dream uathor H. G. "Buzz" Bissinger returns to Texas for a series of events. The publisher announced the following schedule this week:
Buzz Bissinger Book Events, Fall 2015
9/14/15, Hastings (Odessa, TX), 7 p.m.,

with support from the Odessa Council for the Arts     and Humanities

9/15/15, High School TBD (Midland, TX)

—morning or lunchtime solo talk

9/15/15, Midland County Public Library (Midland, TX)

, Centennial branch, 5:30-6:30 p.m.,     solo talk, B&N to sell

9/15/15, Yucca Theater (Midland, TX), 7:30 p.m.

—panel moderated by Jay Hendricks, CBS 7 anchor; ticketed event as fundraiser for Midland County Public Library Foundation
9/16/15, Brazos Bookstore (Houston, TX), 7 p.m.

9/18/15, Abilene Public Library (Abilene, TX), 12 p.m.,

Texas Star Trading Company to sell

9/19/15, Half Price Books (Dallas, TX), 2 p.m.

9/20/15, BookPeople (Austin, TX), 2 p.m.

15th annual West Texas Book Festival, Sept. 21–26, 2015, announces featured authors
The West Texas Book Festival, which will celebrate its 15th annual festival this year during the week of September 21-26 at the Abilene Public Library in Abilene, Texas, announced its lineup of authors this week.
The festival seeks to celebrate books, literacy, and reading, with a special emphasis on local and regional authors. The event is community driven and provides the public with the chance to interact with local authors on a more personal level. The festival includes a number of meet and greet sessions as well as readings and talks. For more information contact Janis Test at (325) 676-6017.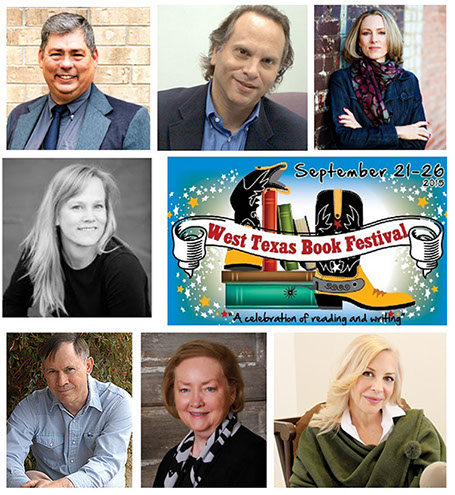 Clockwise from upper left: O'Neal, Bissinger, Castillo, Kent, Thomas, Dearen, Specht (photos from Amarillo Public Library website)
(Information from Abilene Public Library website)

David Sedaris coming to Odessa Fri., Nov. 6

Odessa College and the Odessa Council for Arts & Humanities are partnering to bring David Sedaris to Deaderick Auditorium on Friday, Nov. 6, at 7 p.m. The show is free to the public. Tickets will be available in August.
(Information from Odessa Council for Arts & Humanities)