7.19.2015  Jesse Sublett on LBJ, books, and rock 'n' roll — and coming out of a Texas town "like something shot out of a cannon"
Left: Sublett with his wife, Lois Richwine, in 1983 (Richwine is currently a lifestyle blogger and senior account executive at the Austin Chronicle). Photo by Scott Von Osdol.
When I first met Jesse Sublett in Austin at the Writer's League of Texas conference, there was no mistaking who he might be. The pompadour, the pencil moustache, and the dinner jacket pulling the look together made the musician/mystery writer/memoirist — and now true crime author — easy to spot. While we traded business cards, his graciousness made it easy to set up this email interview.
Sublett introduced Austin's first punk band, the Skunks, beginning in 1978. If you followed the Austin music scene in that era, it seemed performers like Blondie, the Clash, Elvis Costello, and Nick Lowe were always dropping in to jam with the Skunks.

These days if you observe the Texas literary scene, it seems that Sublett's books never fail to spark attention. His latest, 1960s Austin Gangsters: Organized Crime That Rocked the Capital (History Press, 2015), has garnered a cross-section of praise from a variety of bookish quarters.
We swapped emails on a Tuesday afternoon to provide this glimpse into his insights on Austin, writing, music — and crime.
LONE STAR LITERARY LIFE: Jesse, you have a very interesting background. You grew up in Johnson City in the 1960s, graduating as valedictorian from the local high school. Did you ever encounter Lyndon Johnson or any of the circle that went with him?
JESSE SUBLETT: I shook hands with LBJ a number of times — when he visited our school, first time, and later, when he was vice president and president, he attended our church often when he was home at the ranch from DC. The church is across the river from his ranch in Stonewall. He was a great man, a giant of a man, and I am still fascinated by him. I've read all the Robert Caro books and other biographies. I'm a child of the sixties, and all that history is very important to me.
Below right: Jesse Sublett performing at a Lou Reed Tribute Show he produced at the Cactus Café February 2014.  From left, son Dashiell Sublett, Steve Bernal, Sublett, drummer Bill Blackmon, and Kim Simpson. Photo provided by Jesse Sublett.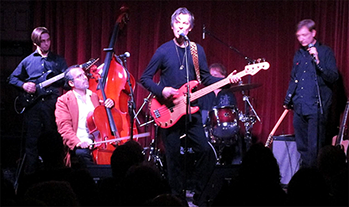 By 1974 you were in Austin after attending college for a couple of years in San Marcos, and your bands, The Skunks and The Violators, blazed the punk/new wave trail in the Austin music scene. What was Austin in the '70s like for a musician in their twenties?

I came out of a hick town like something shot out of a cannon. I hungered for experiences and rock 'n' roll and big city life — much of which I was totally unprepared for, but I pretended to be knowledgeable and jaded anyway. Austin was laid back and like a small town in so many ways. Back in the days when I was stupid enough to smoke cigarettes, I noticed that you could drive across town in any direction in less time than it took to smoke a cigarette.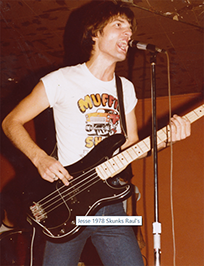 Sixth Street was still dark and potent with mystery and danger — of course it's pretty seedy now, too, but in a different way. Austin had much less ego then, much less self-importance. There were lots of cowboys and rednecks around. If you were a longhaired rock 'n' roller in high-heeled boots, it was easy to get in a fight. Being a musician carried a sense of importance then that it lacks now. Far fewer people played in bands. It's common as dirt now to play guitar in a band. Back then, when you walked into a truck stop with teased hair and tight jeans, the room fell silent, assholes grumbled about you looking "like a girl" and so on. I worked in a mail room for a state agency for a couple of years, trying to get my band going, then got fired one day for goofing off egregiously. So I collected $64 a week unemployment and lived the life of a low-rent rock star. Rent was cheap, I lived on one cheeseburger or Mexican plate a day, plus a Bruce's fried pie and a six-pack. When we started the Skunks, I cut my hair short and spiky and wore T-shirts and tight jeans, and when you walked down the Drag, frat rats pulled over and tried to start a fight, fights broke out at our gigs, just because. Just because! It was wild. In some ways, you had to work harder to be cool in those days, but to be outrageous, and to stand out, was easy.

All through the late '70s and early '80s, I played in bands for a living, crisscrossing Texas and the USA in a Dodge van, trying to conquer the world with a 1000-watt bass amp and three-chord songs. It was a great life, but then I got a little bored with it and started trying to write. I figured I'd be a famous crime writer in a year or two. Seriously.

By the '80s you had begun to craft a serious writing career, with mystery novels featuring a bass-playing sleuth. What made you decide to try a different kind of creative impulse and segue from music to writing?

As above, I just got a little less fascinated with the music life and more intrigued with writing crime fiction. The first time I sat down and tried to write more than a page or two, I was hooked.

Who  gave you your first break as a writer?

Lisa Kaufman, who was a new editor at Viking Penguin. I was sending out manuscripts, cold calling agents and editors. I called Viking to check up on an editor there who had been kind to me when he rejected my first manuscript. He had moved to another press. The operator transferred my call to Lisa and we started talking. She had heard of me in Austin as a musician, so she became interested. We talked for a while, then I sent her some manuscripts, and she signed me. She even recommended an agent, who became my agent — Abigail Thomas, who is now a fairly successful novelist.

What was your turning point from musician to writer?

I don't know. I still play music and consider myself a practicing musician, too. I play guitar or bass and sing every day. It's part of who I am. I can't help it.

Your 2004 memoir, Never the Same Again: A Rock 'N' Roll Gothic, tells the story of your girlfriend's murder when you were twenty-two, your time with the Skunks, and your battle with throat cancer. Writing in the Los Angeles Times, critic Marion Winik described the book as "riveting" and chose it for the Times list of "most surprising new books." What was the process of writing what had to be a very difficult book?

This was one of the hardest things I've ever done, not counting the experiences that I wrote about. But it was also one of the best things I've ever done, the most important, because it was something I had to do. It's pretty personal, for obvious reasons. It's still hard to talk about, but I'll say this, the process of putting my experiences in order, in the form of a story, and researching events that happened around me, as if investigating background for a crime novel or documentary, which I have done, helped me put myself back together. It just goes to show the importance of the creative act, of art, and all that.

Your writing which has ranged from fiction to memoir to screenplays to long-form magazine journalism and has now gone into a new direction — true crime — with your most recent work, 1960s Austin Gangsters. What inspired you to write this book? What would you like readers to know about this facet of Austin history?

When I stumbled on a newspaper story about the Timmy Overton Gang in a newspaper from 1976, the story being a flashback to the sixties, I felt like I'd found a buried treasure or something. I immediately connected with it and had to know more. I just felt like I had to own this story. Timmy and his brothers, along with other members of the extended family, were part of an underworld subculture in Austin in the 1950s and '60s. They were safecrackers, pimps, gamblers, drug dealers, and into just about every kind of crime. They were basically Austin's mafia, and they exported their criminal activities all over the state and throughout the South. They did terrible things, but they were also quite charismatic and they fascinated people. When you learn the history, you can understand how people like Billy the Kid and Al Capone, people who were failures as human beings on most levels, still had their good points, had friends and admirers, people who loved them.

Which Texas authors do you read and admire?

Minerva Koenig has a new novel coming out in October and I'm looking forward to that one. Some of my best friends are Texas writers I admire: David Marion Wilkinson, Tom Zigal, Kip Stratton, Christopher Cook, and Jan Reid. My favorite writer from Texas is actually a songwriter, Jon Dee Graham. He's better than Cormac McCarthy.

To wrap things up: What is the quintessential Austin meal, in the past or present?

You go to Tamale House, order two flour tacos (beef, beans, onions, and jalapeños) plus a guacamole chalupa, then be thankful you're alive.

* * * * *

Praise for Jesse Sublett's books

"1960s Austin Gangsters is a book about Austin's dark, moldy underbelly, written by one of its pioneering music overlords . . . . Jesse Sublett tells you everything you need to know about the time, place, and culture that produced the Overton Gang, with great narrative skill, pathos, humor, and humanity.
—–David Marion Wilkinson, novelist, screenwriter, co-producer, Texas Rising

"The riveting Never the Same Again: A Rock n' Roll Gothic starts with the murder of his girlfriend when he was 22, ends with his battle with throat cancer a couple of years ago and goes to some wild punk shows in the middle. Hard to put down."

—Los Angeles Times

"The scorching memoir details his early days as one of Austin's punk pioneers, before his life was derailed by the murder of his longtime girlfriend. Suspected of the crime, he then proves instrumental in uncovering her killer's identity."

—Austin Chronicle

"Sublett examines his life through the dual prisms of survivor's guilt and a survivor's ethic. Along the way he culls wry anecdotes from his eclectic résumé as not-quite-famous musician, hard-boiled mystery novelist, documentary screenwriter, and now-emotionally rehabilitated husband and father while leavening the raw sadness with honesty and optimism."

—Texas Monthly