AROUND THE TOWN
Clifton author Lisa Wingate wins 2015 Christy Award, Mills of Houston a finalist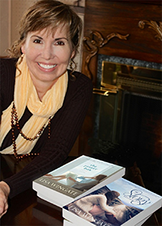 Texas novelist Lisa Wingate has won the 2015 Christy Award for Contemporary Fiction, announced in conjunction with the International Christian Retail Show last week in Orlando, Florida. The Clifton resident was recognized for her novel The Story Keeper (Tyndale House, 2014).
The Christys began in 1999 when nearly a dozen Christian publishers established a Christian fiction award to recognize novelists and novels of excellence in several genres of Christian fiction. The awards were named in honor of the most famous work of Catherine Marshall, writer of more than two dozen books and one of the country's most notable and bestselling Christian authors. This year twenty-seven publishers participated in the 16th Annual awards.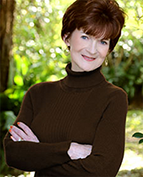 Texan DiAnn Mills of Houston was a 2015 Christy Award finalist, recognized for her romance novel Firewall, also published by Tyndale House.
2015 Christy Award Winners
Book of the Year:

Thief of Glory

by

Sigmund Brouwer

(WaterBrook Multnomah)
Contemporary:

The Story Keeper

by

Lisa Wingate

(Tyndale House)
Contemporary Romance:

A Broken Kind of Beautiful

by

Katie Ganshert

(WaterBrook Multnomah)
 Contemporary Series:

The Amish Blacksmith

by

Mindy Starns Clark

and

Susan Meissner

(Harvest House)
First Novel:

Feast for Thieves

by

Marcus Brotherton

(RiverNorth, an imprint of Moody Publishing)
Historical:

The Sentinels of Andersonville

by

Tracy Groot

(Tyndale House)
Historical Romance:

Thief of Glory

by

Sigmund Brouwer

(WaterBrook Multnomah)
Suspense:

The Color of Justice

by

Ace Collins

(Abingdon Press)
Visionary:

Once Beyond a Time

by

Ann Tatlock

(Heritage Beacon Fiction)
Young Adult:

Storm Siren

by

Mary Weber

(Thomas Nelson, a division of Harper Collins Christian Publishing)
(Information from Christy Awards website; photos from author websites)

Midland author Dearen among those honored by Western Writers of America in Lubbock
Historical novelist Patrick Dearen of Midland (below, left, pictured with Melinda Esco and Sherry Monahan) was among the winners of Spur awards presented by the Western Writers of America presented at their annual convention in Lubbock last week. The Western Writers of America celebrates "Literature of the West for the World"; see the full list of award 2015 award winners at  www.westernwriters.org/winners/#a2015.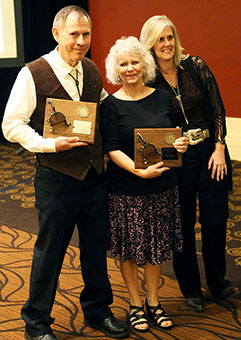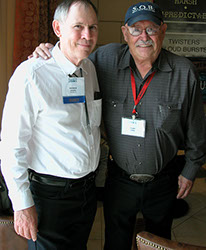 Above: Patrick Dearen (left) with Lamesa, Texas, native and actor Barry Corbin (Photos contributed by Patrick Dearen)

Joe R. Landsale's new book at the Wild Detectives
Below: Joe R. Lansdale (left) and Kathleen Kent at Lansdale's book signing for Paradise Sky at the Wild Detectives, Dallas, last week. (Photo courtesy of Kathleen Kent Facebook page)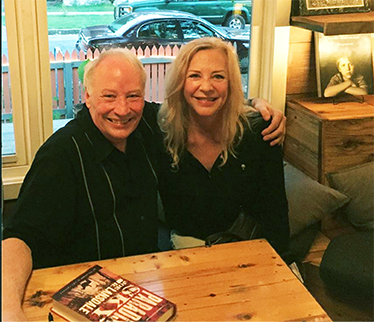 TV's Anthony Bourdain tours Texas week of July 6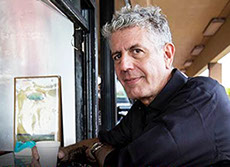 Among the many authors from far and wide making appearances at Texas bookstores this week is celebrity chef and adventurer Anthony Bourdain, host of the Parts Unkown documentary series for CNN.
Bourdain presents his Close to the Bone tour at the following Texas venues:
Wed., July 8, Houston, Jones Hall for the Performing Arts, 7:30PM (books for sale provided by Katy Budget Books)
Thurs., July 9, Austin, Bass Concert Hall, 7:30 pm
Fri., July 10, Dallas, Majestic Theater, DMA Arts & Letters Live, 8 pm
Bourdain is the author of the bestselling Kitchen Confidential: Adventures in the Culinary Underbelly (Bloomsbury USA, 2008), a candid, funny, and sometimes shocking portrait of life in restaurant kitchens that has been translated into more than 28 languages – as well as the travel journal, A Cook's Tour, the non-fiction Medium Raw, 3 crime novels, a cookbook, a biography of Typhoid Mary, the bestselling graphic novel Get Jiro!, and others. The sequel Get Jiro: Blood and Sushi, is forthcoming in October 2015.
(Information from AnthonyBourdain.net and event sources)
* * * * *
BEHIND THE SPINE: INDUSTRY NEWS
Austin-based Red Planet Audiobooks soars with titles for the ears
by Kay Ellington
In a state the size of Texas, where huge distances stretch between far-flung towns and metro areas of multimillions with more than their share of traffic jams, audiobooks provide drivers with an entertaining and often edifying option wherever they are free to listen. Many readers like to listen at work, at the gym, while walking or jogging, or in other situations that suit their lifestyle—and their ears.
Hearing stories can provide an out-of-this world experience. So perhaps it's fitting that the Austin company producing spoken books chose the name Red Planet Audiobooks.


Lone Star Literary Life talked with founder Jenna Opperman (far left) and project manager Lauren Madrid (left) on our most recent visit to the capital city.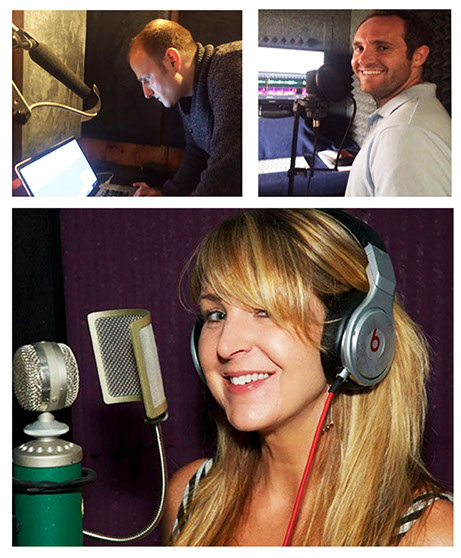 Above: Producers on the Red Planet Audiobooks team, clockwise from upper left, Michael Stellman, Tristan Wright, and Sadie Smythe (photos courtesy of Red Planet Audiobooks)

Formed in 2007 by four members of a live theater troupe, Red Planet Audiobooks produces a cross section of some forty titles a year, according to founder Opperman.

"We have a stable of consistent audio talent—seven men and four women—who do the reading, and then two great editors who take the finished audio, listen to the manuscript, and do the editing," Opperman said, adding that it takes two hours of editing work for every hour of recorded audio content.

Madrid noted that most of the work that RPA does is for publishers, but they do serve a few authors. Romance— especially Texas romance—is Red Planet's most frequently requested genre for audio.
According to these professionals, it's simply not a good idea for most writers to read their own books. "They want to hear the voice that they have in their head or their character's voice, and usually, they just can't pull that off," Opperman said.
When asked if any book simply wasn't right for audio, Opperman said, "Only the ones with a single narrator and a lot of dialogue. Those are very difficult to keep interesting."

Red Planet Audio produces only full editions (no abridgements) and is a 100% digital production firm. Ballpark fees for their audio books are $300 per finished hour of work, and the average Red Plant book takes six to eight hours to finish.
They provide audio production of manuscripts complete with transitional music, manufacture of the finished product on CD and flash drive, and distribution, both digitally and physically, through such retailers as iTunes, Amazon, Audible, and Barnes & Noble. They have a royalty arrangement to allow publishers and authors to retain 100% of sales of books until they've recouped their production fees, after which Red Planet takes a 20% fee.
For more information about this book producer in the heart of Texas, visit www.redplanetaudiobooks.com

20th Anniversary Texas Book Festival set for Oct. 17–18; Texas Teen Book Festival, Sept. 26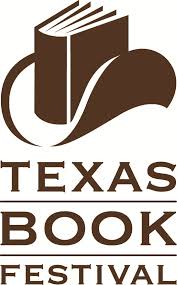 Dates have been set for two of Texas's most highly anticipated annual book events. The 2015 Texas Book Festival will be held October 17–18, 2015. The Texas Book Festival Weekend is free and open to the public and takes place in Austin, at the state capitol and surrounding grounds. One of the largest and most prestigious literary festivals in the country, the festival features more than 250 nationally and critically recognized authors at more than twenty venues including the capitol; more than eighty exhibitors; live music, local food trucks; family activities; and opportunities to meet authors and fellow book lovers.
The roster of participating authors is typically released in late July, along with the announcement of the year's festival poster.
The Texas Teen Book Festival is one of the largest of its kind in the nation, a highly anticipated annual event in the young adult literature world, drawing some of the most popular authors who write for the age group. More than 4,000 YA enthusiasts attended the Teen Book Festival in 2014 to hear a lineup of 29 authors, the first year that the gathering was held at St. Edward's University.
The Texas Teen Book Festival is produced and sponsored by the Texas Book Festival and BookPeople, with support from St. Edward's University and Humanities Texas, and in partnership with the Austin Public Library Friends Foundation. It is free and open to the public, thanks to sponsors and volunteers.
(Information from Texas Book Festival website)

Cisco Writers Club 39th Annual Summer Writing Contest open for submissions
The Cisco Writers Club 39th Annual Summer Writing Contest is now accepting entries. Writers anywhere may enter; membership in the Cisco Writers Club is not required. Six categories are available, with several special prizes offered.
1. Poetry, maximum 30 lines
2. Publication Briefs:
        (a) Anecdotes (as in Reader's Digest), maximum 200 words;
        (b) Columns), maximum 750 words
3. Articles), maximum 2,000 words
4. Short Stories:
        (a) For Children (12 and under) ), maximum 1,200 words;
        (b) General), maximum 2,500 words
5. Books, submit brief synopsis and first two chapters
6. Children Write! Any genre, maximum 1,000 words (Age limit: 15 or younger)
Enter by mail or online. The deadline for submission is July 31, 2015. Visit www.ciscowritersclub.org/contest for eligibility, formatting guidelines, and entry.
(From organization's news release)