AROUND THE TOWN
Mad Dogs, Texas Monthly colleagues, and literary friends gather for Gary Cartwright memoir signing
Longtime friends, former coworkers, and literary lights poured into Scholz Garden in downtown Austin Saturday afternoon, June 27, 2015, to congratulate journalist and author Gary Cartwright on the publication of his memoir The Best I Recall (University of Texas Press, 2015).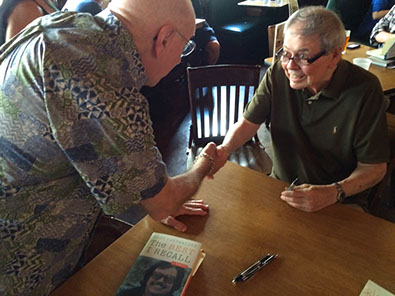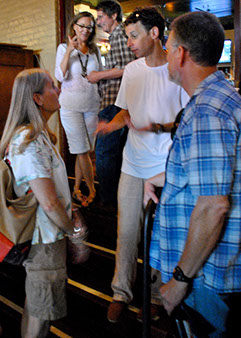 Cartwright (above right), 80, warmly greeted fans and signed some 50 copies of his book as the cold beer and cider flowed much as it must have done in the heyday of Mad Dog Inc. and the Flying Punzars, stunts from a colorful writing life recalled in the book's pages. Cartwright, who was also profiled in the week's Austin Chronicle cover story, chatted with well-wishers, including fellow Texas Monthly contributors Jan Reid and Sarah Bird, throughout the afternoon.

Read Lone Star Lit's review of The Best I Recall in last week's issue; next week, watch for our interview in Kay Ellington's Lone Star Listens column.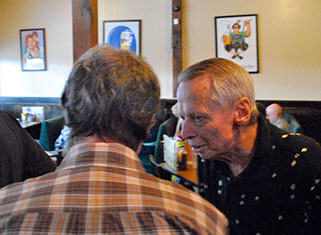 Austinite Claude Mathews (below, left) is seeking recollections from other members of Mad Dog Inc., described in Cartwright's book as "the world's longest practical joke." What indefinable services did you provide for mankind? Contact Mathews at (512) 825-2572 or claudemathews@hush.com.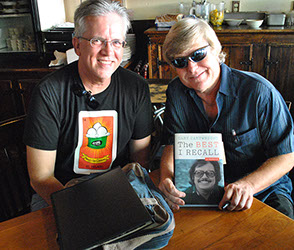 (Event photos by Barbara Brannon)

Get Centered: Houston author Katherine Center reads and signs her novels Texas tour
Katherine Center (below, center) signs Happiness for Beginners and her other novels for dozens of eager readers Sat., June 27, 2015, at Austin's BookPeople. Other events were hosted this week in Dallas and Houston. (Photo by Barbara Brannon)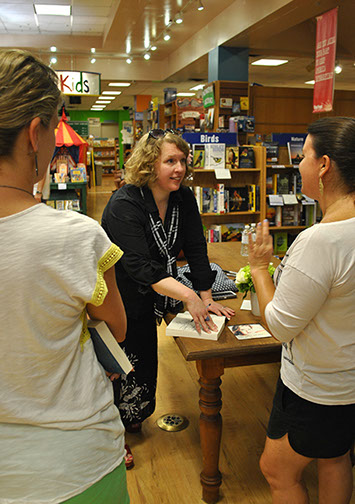 * * * * *
Writers' League of Texas draws hundreds to Austin conference, grows membership
WLT concludes 22nd annual Agents & Editors Conference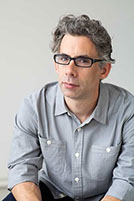 "Put your hands in the air," keynoter and Corpus Christi native Bret Anthony Johnston (right) instructed several hundred attendees, exhibitors, organizers, and faculty at his Saturday evening talk, part of the 22nd annual Agents & Editors Conference, held at the Hyatt Regency June 26–28, 2015.
They did.
"Now reach just one inch more," said Johnston, explaining — after a stickup joke — that that's what writers must be prepared to do to achieve the success they're seeking.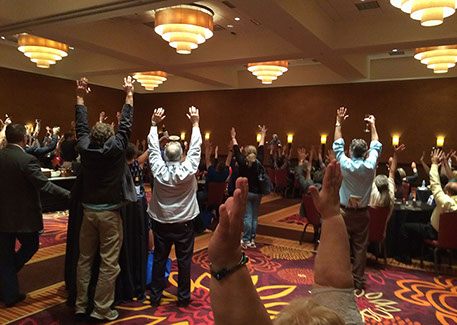 A record number of participants came to Austin to seek success in craft, business, and connections, and a program packed with information and inspiration, as well as opportunities to pitch their work for representation, helped them along their way.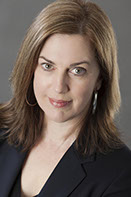 Edgar Award winner Meg Gardiner (left), author of the thriller Phantom Instinct, also delivered inspiring words during the keynote luncheon. Copies of  Johnston's best-selling novel Remember Me Like This, were provided to all reception attendees by the publisher.
At the Member Meeting on Friday evening, executive director Becka Oliver reported on the fast-growing membership (now standing at 1,308) of the Writers' League, which will celebrate its 35th anniversary in 2016. WLT program director Jennifer Ziegler reminded members of the numerous educational and outreach initiatives of the organization, including the Summer Writing Retreat in Alpine; the many varied classes offered throughout the year; the Project WISE program to bring writers into public schools and the Texas Writes project to bring authors to smaller, rural public libraries; and the Third Thursdays gatherings at BookPeople in Austin, in addition to the annual conference.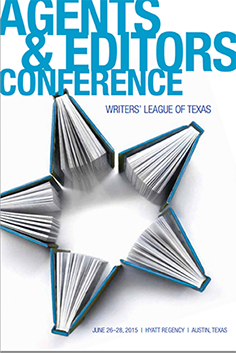 More than a dozen exhibitors serving writers and the publishing industry rounded out the gathering
For more information about the conference or about becoming a member of the Writers' League, visit writersleague.org or call at (512) 499-8914.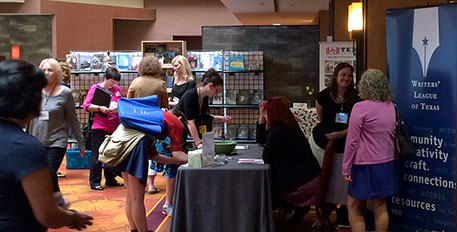 (Event photos by Barbara Brannon)