Ann Weisgarber, author of The Promise and The Personal History of Rachel DuPree, grew up in Kettering, Ohio, a suburb of Dayton. She graduated from Wright State University with a bachelor of arts in social work, then earned a master of arts in sociology from the University of Houston.
For her first novel, Weisgarber was nominated for England's 2009 Orange Prize and for the 2009 Orange Award for New Writers. In the U.S., she won the Stephen Turner Award for New Fiction and the Langum Prize for American Historical Fiction. She was shortlisted for the Ohioana Book Award and was chosen for Barnes & Nobles' Discover Great New Writers.
The Personal History of Rachel DuPree has been optioned for film rights by actress Viola Davis's JuVee Productions. The Promise was first published by Pan Macmillan in the U.K., where it was shortlisted for the Walter Scott Prize for Historical Fiction, making Weisgarber the first American to be a finalist for this prize.
In the U.S., The Promise was a finalist for the Spur Award in Best Western Historical Fiction as well as the Ohioana Book Award for Fiction. In addition, the novel is this year's selection for Gulf Coast Reads, a one book, one community read across southeast Texas during the month of October.
In The Promise, Weisgarber writes about the 1900 storm in Galveston, Texas, the worst natural disaster in the U.S. in the twentieth century. While there are accounts of what happened to the city of Galveston and its residents, little has been written about what happened to the families on the rural, isolated end of the island, something Weisgarber sought to remedy.
Weisgarber serves on the selection committee for the Langum Prize in American Historical Fiction and is a member of the Texas Institute of Letters. She divides her time between Sugar Land and Galveston, Texas.
6.21.2015  Ann Weisgarber: Publishing on both sides of the pond; a literary home in London and a literal one in Texas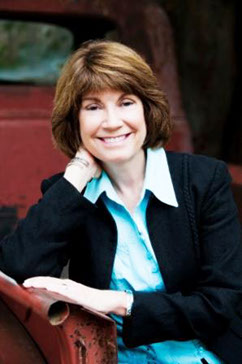 The torrential rains of 2015 in Texas inevitably hark back to the devastating Galveston hurricane of 1900. Novelist Ann Weisgarber's historical novel The Promise, a 2014 Western Writers of America Silver Spur finalist, tells the stories of those affected by the storm. It's fitting that she agreed to speak with us this week via email as the 2015 WWA gears up to meet in Lubbock.

LONE STAR LITERARY LIFE: First, a little background, Anne. You grew up in a suburb of Dayton, and now you split your time between Sugar Land and Galveston. What brought you to Texas?

ANN WEISGARBER: Jobs! After graduating from college, my husband had an offer to work at Exxon in downtown Houston, and I landed a social work job at a rehabilitation facility for people who'd had amputations or strokes. We couldn't resist the lure of Houston so we packed our few pieces of furniture and left Ohio. Texas quickly became home.

According to your bio, your undergraduate and graduate degrees are in sociology, and you've been a social worker and taught sociology. Did you write in your spare time while pursuing these professions? When did you begin writing?

Actually my undergraduate degree is in social work, but I did earn a master's degree in sociology. While I was in school, it didn't cross my mind that someday I'd write a novel although I liked writing papers. During my social work days, I enjoyed interviewing the patients and writing their case histories for the medical charts. These histories helped me understand that humans are complicated beings with complex motives, and the same should be true for my characters.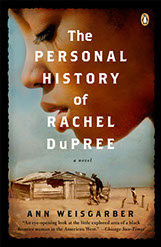 My debut novel, The Personal History of Rachel DuPree (Viking, 2010; reprint Penguin, 2011), was my first attempt to write a story. It was inspired by a photograph of an unnamed woman sitting by herself in front of a sod dugout. It bothered me that her name had been lost to time, and I couldn't stop thinking about her. I gave her a name and wrote a short story about her. To my surprise, the short story eventually evolved into a novel.
Have you always been fascinated by history? And do you think you'll always write historical fiction?
When I was a kid, I loved Laura Ingalls Wilder's Little House on the Prairie series and The Secret Garden by Frances Hodgson Burnett, just to name a few. The time periods felt exotic and took me far away from my world. At home, my parents respected history and our family vacations included trips to historic sites such as Williamsburg, Virginia, and North Carolina's Outer Banks, where the Wright Brothers flew their first airplane. These trips breathed life into facts and dates, and to this day, vacations often include visits to historical sites.
You'd think that with this background I was destined to write historical fiction. Yet, it didn't occur to me that my first book was historical fiction until readers called it that. The label stuck when I wrote The Promise (Skyhorse, 2014; paperback, 2015), which is about the 1900 Galveston Storm. I toyed with writing a novel set during the 1940s but after giving it a try, I decided it was too contemporary for me. I'm drawn to writing stories that take place before telephones were in every house and hand. Slow communication, I believe, adds to tension, and tension is a necessary ingredient for fiction.
Your first novel, The Personal History of Rachel Dupree, "came to the U.S. through the back door." This story of an African American woman homesteading in South Dakota in the early-twentieth-century frontier was published in the U.K. and named Best Work of First Fiction by the Texas Institute of Letters before it ever got picked up by an American house. How did that happen?
My agent tried to sell the manuscript to editors in the U.S. but it was turned down, and the agent and I parted ways. Months later, I read an article about an editor with Pan Macmillan in the UK who was willing to look at work not represented by an agent. I didn't have anything to lose so I sent Rachel DuPree to him. Eleven weeks later, Will Atkins, the editor, sent an e-mail with an offer to publish it.
After publication in the U.K., Rachel DuPree was nominated for the Orange Award and
the Orange Prize for New Writers. It didn't win either, but all at once I had offers from editors in New York, and it was published in the States. Pan Macmillan, based in London, gave me a contract for two more books so it's my literary home. The Promise is dedicated to Will Atkins, the first editor who was willing to give me a chance.
How did a career in social work and sociology inform your writing?
During my social work days, I learned that appearances are often deceptive. The elderly man slumped in a wheelchair once flew bombers for the military, and the woman who is blind had been a talented seamstress during her younger years. People are multifaceted, and some of these facets contradict first impressions. The same, I believe, should be true for my characters.
Sociology made me aware that environment and pop culture shape characters. A character who grows up in Ohio has different experiences than one who grows up in Galveston, Texas. Most people have music in their lives and so do my characters. My characters are aware of the world beyond their doorsteps. They read newspapers, they know who is president of the United States, and they read books.
Your novels require long and arduous hours of historical research. Do you find that new technologies continue to evolve to make the past more accessible for researching?
Technology is terrific for quick questions such as reading the 1900 census for Galveston and finding train routes from Ohio to Texas. It saves time since I don't have to leave my desk to go to the library. Yet, not everything is on the Internet and sometimes the information on the Internet doesn't add up. That's when I go to the library or visit archives to look at primary sources that haven't been digitalized. I also interview people to tap into the stories that have been passed down to them. My study overflows with resource books, and I have old maps pinned to the walls. I also spend time in the setting. Breathing in the landscape and walking the same ground as my characters do helps me understand who they are and how they react to their environments.
What is your writing process like? Do you write daily?
I try to write every day, but there are times when other priorities take me away from my desk. My motto is one sentence a day. With luck, that one sentence flows into the next and then the next. Before I know it, I have a paragraph.
How has publishing changed since you started? Compared to some, you're relatively new to the business. But you've been an author for eight or nine years, a lot has happened in that time.
I'm new to writing but even in the short span of time that I've been at it, the demands of social media have changed dramatically. It's a given that authors are on Facebook, Twitter, Goodreads, and every other form of social media you can list. This is a challenge for me since much of it feels like self-promotion. On a positive note, I love connecting with readers. Another change I've noticed is the increasing influence of bloggers. Their reviews can make or break an author's career.
Which writers and books have influenced you as a reader and an author?
Every book influences me since I pay attention to voice, word choice, and structure. But in particular, I admire authors who write for children. The best of these authors — Lois Lowry, E. B. White, Carol Ryrie Brink, Astrid Lindgren, for example — wrote novels that are still read today. Authors who write for children rarely seem to get their due. This baffles me. Children are a tough audience, and I admire the authors who pull it off. They deserve more recognition than they typically receive.
Most important question: What's your favorite stretch of beach in Galveston?
You saved the best question for the last. Hands down, I love the stretch that's close to the San Luis Pass at the far west end of the island. It's quiet, and my walks along this part of the beach always restore my spirit.
* * * * *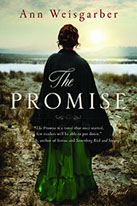 Praise for Ann Weisgarber's novels

"This second engaging novel from Weisgarber . . . has shades of Willa Cather, Sinclair Lewis, and Conrad Richter."
—Publishers Weekly, starred review

"Based on the true story of one of the deadliest storms in American history, The Promise is the work of a skilled storyteller. Weisgarber . . .  has written a beautiful, deeply engaging story about love, loss, and the power of secrets to change our lives."

—Booklist

"Excellent use of historical detail and strong character development … should attract readership."
—Library Journal

"….Weisgarber is no ordinary novelist. A skilled writer, she transports us to 1900 Galveston…  Her breathless description of the storm's aftermath delivers the best of what historical fiction has to offer — a personal rendering of an event that many of us cannot otherwise fathom. [Weisgarber] has delivered a second novel of finely drawn characters anchored by historical events. It's the sort of tale that you find yourself staying up late at night to finish." 
—Dallas Morning News

"The depth of each character, particularly the two women that make up the focus of the story, is phenomenal. The author brings the reader right into the fears and motivations of each woman, and it makes for what is easily the best first-person narrative I've been fortunate enough to read. Not only are the characters detailed, but so is the setting. Weisgarber makes Texas come alive in a way that few authors could."
—San Francisco Book Review