Texas Reads
>> archive
Glenn Dromgoole
6.21.15   Novel weaves stories from Honduras, Austin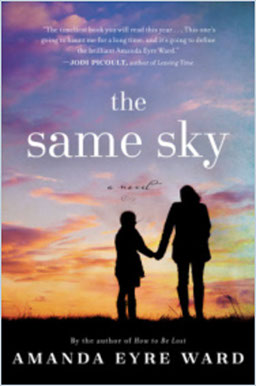 Austin novelist Amanda Eyre Ward visited immigrant shelters in Texas and California while researching her acclaimed new novel, The Same Sky (Ballantine Books, $25 hardcover).
The story involves two principal figures, with alternating chapters written in their voices. Carla is a young girl in Honduras who lives with her grandmother in abject poverty. She longs to be reunited with her mother who has fled to the U.S. and sends money home when she can.
Alice and Jake Conroe own Conroe's BBQ, the hottest barbecue restaurant in Austin, where customers line up for hours in hopes of a plate or a sandwich. They work hard and have a good life, except for one thing — they cannot have children. As the story develops, Carla's life gets so bad in Honduras that she is willing to risk her and her brother's lives to try to cross the borders into Guatemala, Mexico, and the U.S.
Meanwhile, Alice becomes the big sister to a high school girl who does not seem to appreciate her help, and Jake resents her efforts on the girl's behalf — creating a potential rift in their marriage.
The reader, drawn in by the quick pace of the two narratives, may wonder how, if ever, their stories will connect. But, of course, eventually they do.
At 270 pages, The Same Sky is an intense but fast read. I started it one evening and finished the next. Best-selling author Jodi Picoult calls it "the timeliest book you will read this year. This one's going to haunt me for a long time."
* * * * *
More Harvey Houses: Book store owner Rosa Walston Latimer of Post has written her second book about the Harvey Houses that Fred Harvey developed along the Santa Fe railroad line in the late 1800s.
Her first, Harvey Houses of Texas: Historic Hospitality from the Gulf Coast to the Panhandle ($19.99 paperback), came out last year. The new book is Harvey Houses of New Mexico: Historic Hospitality from Raton to Deming ($21.99 paperback). Both are published by the History Press, which focuses on books on local and regional history.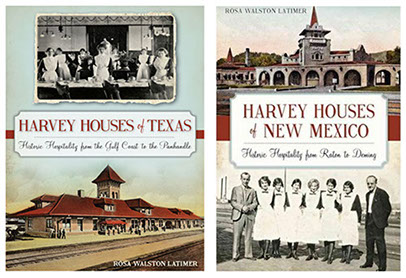 "Many Harvey Houses operated in the red for years," Latimer says. "Fred Harvey's business philosophy was simple. He believed that profits would come in the long run if excellent service was provided and maintained." When Harvey died in 1901 at the age of 65, Latimer writes, his empire included 15 hotels, 47 restaurants, 30 dining cars, and a ferry. His sons and grandsons continued to operate Harvey Houses into the 1950s and '60s.
Harvey's restaurants were staffed by Harvey Girls, many of whom left home for the first time to seek adventure, jobs, maybe husbands. Latimer's books focus on the Harvey Girls. "My interest in Harvey Girls began," Latimer notes, "when I learned that my grandmother had been a Harvey Girl in Rincon, New Mexico."
* * * * *
Glenn Dromgoole is co-author of 101 Essential Texas Books.
Contact him at g.dromgoole@suddenlink.net.