Downtown Abilene to be transformed into a childhood bookish destination in 4th annual CALF, June 11-13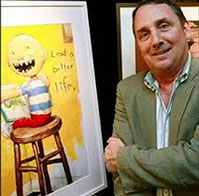 On June 11-13, 2015, downtown Abilene will be transformed into a childhood adventure featuring the work of David Shannon in the fourth annual Children's Art & Literacy Festival. The event will include a costume contest, a parade during ArtWalk, several performances, and movie showings. Registration is $10 for children and $15 for adults.
This year, the festival celebrates the work of author and illustrator David Shannon (pictured at right; photo from CALF Facebook page).
Born in Washington, DC, and raised in Spokane, WA, Shannon graduated from the Art Center College of Design in Pasadena, CA, and then moved to New York. His awards include the Caldecott Honor for No, David! and the New York Times Book Review Best Illustrated Book of the Year for How Georgie Radbourn Saved Baseball. David is a passionate baseball fan and softball player. He and his wife live in Los Angeles with Fergus, their eighteen-year-old Westie.
Above: Author William Joyce headlined Abilene's 2014 Children's Art and Literacy Festival (photo from CALF Facebook page).
The CALF is sponsored by the Abilene Cultural Affairs Council, an affiliate of the Abilene Chamber of Commerce dedicated to promoting the arts in Abilene.
This three-day event is packed full of events all over downtown Abilene, including:
Thursday (6-11)
4PM David Shannon Character Costume Contest (Elks Arts Center, 1174 N. First). All winners receive a prize.
5-8 PM Art Walk theme, Shannon's Shakin' It. Music, characters, balloon man, and more. All museum exhibits will be free and open during Art Walk.
5:30 PM Storybook Parade. Participate in the parade by wearing your most creative David Shannon costume and carrying your favorite Shannon book.
6:15 PM Unveiling of new Storybook Sculptures  project pieces inspired by David Shannon (NCCIL and T&P Depot).
6:45 PM Artist Talk by Caldecott winner David Shannon (Paramount Theatre). Shannon will share his creative process with an interactive conversation, followed by a book signing. (Please purchase your books at the NCCIL).
Friday (6-12)
Dramatic Reading and art project. Enjoy nine David Shannon books at six reading locations throughout Friday and Saturday  These books are read aloud while books are projected onto a big screen for visual and aural learners. Each dramatic reading includes a costumed character, an art activity, and a chance to earn a button for your lanyard.
9 AM Dramatic Reading & Art project (NCCIL:

How I Became a Pirate

).
9:45 AM Balloon Sculptor
10:15 AM Dramatic Reading & Art project (Grace Museum:

A Bad Case of Stripes

)
10:30 AM Book signing
11:00 AM Movie,

A Bug's Life

12:45 AM Dramatic Reading & Art project (CCA:

Jangles

)
1:00 PM Magical World of Lonnie Chevrie
2:00 PM Dramatic Reading &Art project (Library:

Bugs in My Hair

and

Alice the Fairy

)
3:15 PM Dramatic Reading & Art Project (The Well:

No, David

&

Too Many Toys

)
4:00 PM Music with Mister Park
5:30 PM Character Autographs & Photos
7:30 PM Meet

Frozen

characters
8:30 PM

Frozen

singalong
Saturday (6-13)
9A M Dramatic Reading & Art project (Frontier Texas:

Duck on a Bike

and

Good Boy Fergus

)
11 AM Instrument Petting Zoo at the Philharmonic
2:30 PM Character Autographs and photos
4 PM Movie,

WALL-E
For more information, call the Abilene Cultural Affairs Council, (325) 677-1161.
Fictionistas 2015: Taking down bad guys (and bad boys) Sun., June 14, at Flagship Half Price Bookstore in Dallas
Plano-based Henery Press and Half Price Books are hosting Fictionistas 2015 on Sun., June 14, 1 to 3 pm at the Flagship Half Price Bookstore, 5803 E. Northwest Highway, Dallas. Join seven authors as they discuss (and laugh about) their adventures in writing fiction for women. From madcap mysteries to chick lit, this Henery Press roster of authors offers something for a wide range of readers.
Appearing will be Gretchen Archer, USA Today bestselling author of madcap crime capers; Susan M. Boyer, USA Today bestselling author of Southern mysteries; Kendel Lynn, Agatha Award Finalist, humorous mysteries; Julie Mulhern, Golden Heart fiand nalist, historical mysteries; Diane Vallere, Lefty Award finalist; mid-century modern mysteries; Nancy G. West, Lefty Award finalist, Texas sleuthing.
There will be refreshments, a raffle, a Q & A session, and book signings.

Lone Star Writing Competition open for submission through June 7
The 23rd annual Lone Star Writing Competition, sponsored by Northwest Houston Romance Writers of America, is now open to both published and unpublished authors. The fee to enter is $25, and the deadline is June 7, 2015.
The submission consists of the first 5,000 words of a novel. Only electronic entries are eligible. Unpublished writers may enter any category. Published authors may enter any category in which they are not published, or in which they have not been contracted for five years.
This contest is open to RWA and non-RWA members. Categories are Contemporary Series, Fantasy-Futuristic-Paranormal, Historical-Regency, Inspirational Romance, Romance Novella, Romantic Suspense, Single Title, Young Adult/New Adult.
For more information, contact the contest coordinator at nwh.lonestarcontest@gmail.com
Categories and Judges
• Contemporary: Junessa Viloria, Random House; Victoria Lowes, The Bent Agency; Terri Schaeffer, Editor, Liquid Publishing
• Fantasy, Furturistic & Paranormal: Chris Keeslar, Boroughs Publishing Group; Holly Lorincz, MacGregor Literary Agency; Tara Gelsomino, Execuitive Editor, Crimson Romance
• Historical/Regency Alycia Tornetta, Associate Editor, Entangled; Allison Byers, the Wild Rose Press; Laura Bradford, the Bradford Literary Agency
• Inspirational Kimberly Shumate, Living Word Literary Agency Raela Schoenherr, Acquisitions Editor, Bethany House Publishers TBA
• Romantic-Novella Brenda Chin, Editorial Director, ImaJinn Books; Char Chaffin, Soul Mate Publishing; TBA
• Romantic Suspense: Cindy Davis, the Wild Rose Press; Jull Marsal, Marsal Lyon Literary Agency; Lauren Plude, Associate Editor, Grand Central Publishing
• Single Title: Katherine Pelz, Berkley Publishing Group (Peguin Group); Debby Gilbert, Soul Mate Publishing; Jessica Alvarez, BookEnds, LLC
• New Adult/Young Adult: Pam Van Hylckama Vlieg, Foreword Literary Agency; Piya Campana, Assistant Editor, Harlequin; Janet Clementz, Editor, Soul Mate Publishing.

2015 WLT Writers and Editors Conference, Austin, June 26-28, Selling Out Fast
Special to Lone Star Literary Life by Noelle O'Donnell
Marketing/Member Services Manager, Writers League of Texas
The Writers' League of Texas offices are buzzing with excitement about the fast approaching 2015 Agents & Editors Conference (Austin, June 26-28, 2015). We've got some amazing programming in store (and lots of goodies arrive at our office every day, including these fab notebooks!).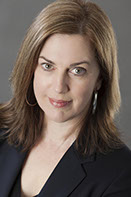 We feel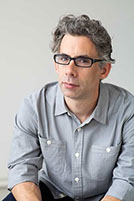 lucky to have such incredible keynote speakers this year. Edgar Award winner Meg Gardiner (left), author of the thriller Phantom Instinct, will deliver some inspiring words during the keynote luncheon. Corpus Christi native Bret Anthony Johnston (right), author of the best-selling novel Remember Me Like This, will share his insights both as a writer and as the head of an esteemed creative writing program, during the cocktail hour on Saturday.
Arguably one of the biggest draws to our conference is the opportunity for participants to meet one-on-one with an agent or editor. An impressive list of faculty is lined up from top-tier literary agencies including Janklow & Nesbit, Brandt & Hochman, Folio Literary, and Inkwell, and also editors and speakers from major publishing houses, including Penguin Random House, Henry Holt, HarperCollins, and Scholastic.
This year's conferences features some new additions to our Friday and Sunday programming. Genre meetings, which will take place on Friday afternoon of this year's conference, are a relatively new addition (first introduced on Sunday of the 2014 conference). Each genre-specific group will be facilitated by two experienced writers. These meetings are a great opportunity for registrants to connect with other writers in their genre. The League's aim with these meetings (as with the conference overall) is to help writers find their tribe, share tips, talk through challenges, and make lasting connections.
Sunday morning opens with a talk followed by a guided meditation led by Austin favorite Spike Gillespie, author of Sit. Stay. Heal.: How Meditation Changed My Mind, Grew My Heart, and Saved My Ass. A buffet luncheon on Sunday—one last opportunity to connect and be inspired—will close the weekend.
If you are interested in registering for the conference, do so soon! Tickets are still available but selling quickly. If you have questions about the conference or about becoming a member of the Writers' League, visit writersleague.org or call at (512) 499-8914.
* * * * *