Texas Reads
>> archive
Glenn Dromgoole
6.7.15   Self-published novels offer humor, mystery
When Kim Hunt Harris of Lubbock sent me a copy of her self-published paperback novel back in February, I was immediately intrigued by the title: The Trailer Park Princess and the Middle Finger of Fate.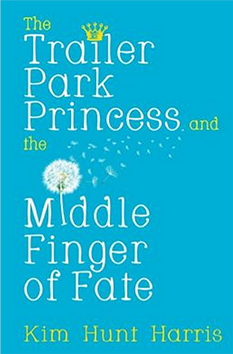 However, at the time, I had a stack of books I was trying to get through, so I set it aside and figured I would get around to it at some point. When I finally did, I couldn't put it down. I started reading the 385-page comic mystery novel one evening and finished the next morning. It's an entertaining read—-blending humor, murder, friendship and faith into the mix.
The main character is a not-so-loveable 28-year-old loser named Salem Grimes, who is trying to get her miserable life together after a decade of heavy drinking, bad choices and who knows what else. It's pretty much a blur to Salem herself. Now 147 days into sobriety, she is on her way to an AA meeting at a Lubbock church when she finds a dead body on the church basement steps.
When the police arrest Salem's ex-husband, Tony, Salem and her eighty-something-year-old sidekick Viv set out to "help" solve the murder and exonerate Tony, putting themselves in grave danger. Meanwhile, Salem in her sobriety has found God and talks frankly to Him every day but has begun to wonder if He will ever talk back—and, if He does, will she get the message? Her genuinely kind and patient AA sponsor, Les, is reassuring, but Salem has her doubts.
The Trailer Park Princess and the Middle Finger of Fate is the first in the Trailer Park Princess series and is available as an e-book and paperback. Two short stories in the series are only on Kindle, while a second full novel is due out this month, The Trailer Park Princess with Unsightly Bulges. Should be fun. You probably won't see Harris's books at bookstores, but retailers can order them. Or you can find them on Amazon.
Harris grew up in Roby, works in transportation research at Texas Tech, is a happily married mother of two, and has ten book titles to her credit. Read more at the author's blog site, kimhuntharris.com. For readings or book signings, contact her at kimhuntharris@gmail.com.
Schnoz of the Rings: If you're a fan of The Lord of the Rings, you may (or may not) appreciate San Angelo writer John Osterhout's parody, The Schnoz of the Rings. Osterhout, professor and chair of chemistry at Angelo State University, is a serious academic with a keen (some might say weird) sense of humor.
Here, from Osterhout's web site, johnosterhout.com, is a plot summary: "Froyo Bagpants must leave his happy home in the Mire and destroy the Schnozring in the fire pit of Mount Drool to save Central Oith from domination by the Great Schnoz. The characters are human, lusty, and ready for misadventure. A wag attack, a Balfrog in Mordia, the Trail of the Croaked, and a desperate flight on a great eagle aren't enough to stop our heroes. Laugh your way through the adventure with Froyo and his friends."
Osterhout published the 290-page spoof under his Clovendell Press imprint. It is available from Amazon in paperback or on Kindle or you can have your favorite bookstore order a copy. Contact the author at john.osterhout@suddenlink.net.
* * * * *
Glenn Dromgoole is co-author of 101 Essential Texas Books.
Contact him at g.dromgoole@suddenlink.net.