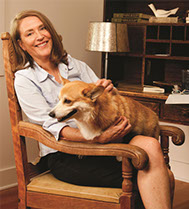 Sarah Bird is the author of nine novels, including Above the East China Sea, published by Alfred A. Knopf in 2014 (paperback, Penguin, April 28, 2015). She has been selected for the Barnes & Noble Discover Great Writers series; a Dobie-Paisano Fellowship; New York Public Library's 25 Books to Remember list; Magazine Reader's Prize; People Magazine's Page Turners; Library Journal's Best Novels; and a National Magazine Silver Award for her columns in Texas Monthly.
In 2012 Bird was voted Best Austin Author for the fourth time by the readers of the Austin Chronicle; was inducted into the Texas Literary Hall of Fame; and received the Illumine Award for Excellence in Fiction from the Austin Library Foundation. In 2013 she was selected to be The University of Texas' Libraries Distinguished Author speaker, and was featured on NPR's The Moth Radio Hour.
She has written screenplays for Paramount, CBS, Warner Bros, National Geographic, ABC, TNT, Hemdale Studio, and several independent producers. Her original screenplay, Daughter of a Daughter of a Queen, is currently in development with Pantheon of Women. She has contributed articles to The New York Times, Salon, and O Magazine and is a columnist for Texas Monthly. Bird, who moved all over the world growing up with her air force family, lives in Austin, Texas
Author photo by Sarah Wilson



MEMORIAL DAY 2015
5.24.2015
Air Force offspring Sarah Bird on her life as a citizen of Austin and the world
Sarah Bird, winner of the 2014 Texas Writer Award and a Barnes & Noble Discover Great Writers pick, is the author of Alamo House and eight other novels. She grew up on air force bases around the world and now makes her home in Austin, Texas. She is a columnist for Texas Monthly and has contributed to other magazines, including O, The Oprah Magazine; The New York Times Magazine; Salon; and Real Simple. Bird has been a part of the writing scene—in journalism and literature—in Texas for four decades and routinely makes any "best of" Texas writers' lists. Her email interview gave us insights into her latest novel, Above the East China Sea (Vintage, 2015), as well as her trademark wit and candor concerning her life in letters.
LONE STAR LITERARY LIFE: Sarah, you have humorously chronicled a variety of life's passages through a Texas lens with many of your books. But by your own description, Above the East China Sea is not that kind of book. The novel's jacket description characterizes it as your most ambitious and provocative work. What led you to write it, and how is it a departure from your other books?
SARAH BIRD: Above the East China Sea grew out of my nomadic childhood growing up in a Catholic, air force family of eight (count the layers of repression there!) that moved far more frequently than was healthy for a kid with my catatonically shy, temperamentally tense nature. We were stationed on the island of Okinawa at Kadena Air Base, where most of the novel is set, from 1967 to 1970. Those years had a profound effect on me. The physical beauty of this subtropical island and the warmth and nobility of her people made a deep impression. Just as affecting were the stories I heard about what Okinawa had endured during World War II. I was stunned, for example, to learn that more lives were lost during the invasion of Okinawa than at Hiroshima and Nagasaki combined.
One story, in particular, haunted me: the story of the Princess Lily Girls, 222 very sheltered, high school girls who were conscripted by the Japanese Imperial Army and made to serve in their horrific cave hospitals. I was so inspired by the heroism these girls displayed that I was certain their story would become as well-known in this country as it is in Japan. When that never happened, I felt that the obligation to write it had fallen to me.
The other story I felt obliged to share was that of the contemporary military family. In an earlier novel, The Yokota Officers Club, I wrote about my generation of military kid, about living outside Tokyo from 1956 to 1960 and being stationed at Kadena during the Vietnam War era. But the challenges faced by today's military family are quite different, and in many ways significantly more difficult, than those that I faced. The major difference is that, when I was growing up, the stay-at-home mom was practically a given. Now it is almost a rarity. The rise of single-parent families adds another layer of hardship, especially when the service member is deployed.
To create my character, Luz, a seventeen-year-old girl recently transferred to Kadena, I imagined what my life would have been like without my large, very close family acting as a cushion that buffered the effect of all those moves. Luz, daughter of a single mom, has only one sibling, her beloved older sister, Codie. As the novel opens Codie has been killed in Afghanistan and Luz is bereft.
By weaving Luz's and the Princess Lily Girls' stories together, I hoped to create a compelling mystery that will lead the reader into two worlds unknown to most American readers. So far, I've been very happy that so many readers have responded so strongly to the book and have loved learning about these unknown worlds and histories that continue to have a profound effect on our own country. I've especially enjoyed speaking with the book clubs around the country that've gotten in touch with me through my website sarahbirdbooks.com, as I love hearing their reactions and sharing tales from my research and writing.
You arrived in Austin in the mid-seventies, graduating from UT with a master's in 1976. There are some who would say that was Austin at its heyday. The Amarillo World Headquarters was in full swing, and folks like Jerry Jeff Walker introduced us to something called Texas progressive country music, and a little magazine named Texas Monthly was starting to make its influence felt. How would you describe your experience of living in Austin through the years?
Oh my Lord, could I have ended up in a better place at a better time than Austin in 1973? My official story is that I came here to go to graduate school. The true story is that I followed my college boyfriend to Texas and he dumped me for L. Ron Hubbard, founder of Scientology. Shortly after I shared with Beloved my opinion that his new club was a sci-fi pyramid scheme, we were splitting up the albums. He left me Linda Ronstadt and Joni Mitchell so I'd have lots of music to weep to.
After that I found a job at the LBJ Library as a temporary archivist cataloguing things like photos of Lynda Bird's makeover for her dream date with the mahogany-skinned actor George Hamilton as well as small souvenir boxes of cake from Lynda's wedding. After I won a fellowship to study journalism at UT, I relocated to Seneca House Co-op for Graduate Women a few blocks from campus.
I felt as if I had moved onto the grounds of a carnival. Or an insane asylum. With a house full of headstrong egghead women, there were always lots of dramas. Right across the street a couple of rogue frat houses raged around the clock. Next door was a sorority, so we had front-row seats to the excesses of Rush Week. Football game weekends were their own brand of mass insanity. Then within walking distance were dozens of hole-in-the-wall clubs and bars where, for the price of a Longneck, you could spend an evening listening to Cosmic Cowboys from every corner of Texas play their new, hybrid, hippified country music.
Those years were glorious and gave me more than enough material to inspire my first novels.
You were a founding contributor/editor of Third Coast magazine in Austin in the eighties. (I spent the eighties in Waco, and I loved Third Coast.) You migrate back and forth from journalism to fiction to screenplays. Do you feel that it has helped you grow as a writer and would you recommend it to aspiring authors?
Yeah, I kind of followed the Way of the Cockroach, scuttling from one niche to another, going wherever I could find a likely source of food and rent. And, maybe most important, a way to pay for my novel-writing habit. I've always looked on writing like having a bad boyfriend. If you have a bad boyfriend, you have to keep a second, a third, maybe even a fourth in reserve, so that you'll have somewhere else to go when he hurts you. And bad boyfriends and writing will always hurt you.
Third Coast--and working with its brilliant editor, John Taliaferro--was not just one metric ton o' fun, but it was invaluable to me as a writer. I found, as they say, my voice writing columns for that magazine. Screenplays were also important in that they taught me so much about structure. Before my ten-year stint in Hollywood, I was, like most novelists, highly resistant to the idea of outlining. Scripts, though, are a collaborative effort, so it's essential to learn how to share the story you have in your head. This helps you see if all the parts hang together the way they should.
Equally valuable were my years in journalism. From reporting, I learned how to find the heart of a story and to look for the details that made it come alive. These lessons were reinforced by the years I spent in photojournalism. I'd also recommend anthropology. My undergraduate degree in that discipline has been wonderful for helping me to understand how a group, a culture, a country, a history forms characters.
I'd certainly recommend all of the above to aspiring writers. All that and living in an exciting place at an exciting time!
When did you know that you wanted to be a writer? When did you know that you had a pretty good shot at achieving this goal? Who gave you your first break?
When I was growing up, it was quite rare for anyone to ever encounter an identifiable writer. This was even truer if you grew up on air force bases, where the main occupation was warrior. Or teacher, mommy, or nurse if you were female. When I was fairly young, my mother recorded me telling long stories. She also saved homework sheets where I'd always turn lists of spelling words into even longer stories. And books were my drug of choice. I was never not reading.
But I didn't associate any of this with being a writer, since I thought the divine beings who wrote the books I loved so dearly surely lived on Mount Olympus. I was actually making my living as a writer before I had the confidence to say, even to myself, "Hey, I might be able to do this."
You've been successfully publishing books since the late eighties. How has book publishing changed since you started?
In fundamental ways. Rather than doing a whole colloquium on the topic, I'll just focus in on one aspect of these changes, the economics. This, to me, is a fairly stark example. In my early years of publishing in the highly undistinguished world of pulp fiction, I could make between four and eight hundred dollars for a story. At the time my rent was sixty dollars a month. Not too long ago, I wrote a piece for salon.com. They paid me their going rate, seventy-five dollars. I do that math and it makes me worry a great deal about how young, non-trust-funded writers are surviving. It seems that the major source of support is the academy, teaching for writing programs or scraping by on grants, awards, and fellowships. That and the great bubble of wealth now being passed along by baby-boomer parents lucky enough be wage-earners in a time of great affluence. And philanthropy. Much of the most important investigative journalism still being done today is supported by philanthropy.
Which writers did you read growing up? Which Texas writers do you enjoy reading today?
My foundation books were the Wizard of Oz series. Dorothy Gale, who was uprooted from a cozy familiar world and all the friends she'd ever known and thrust into one alien situation after another, should be the patron saint of all military kids who move more often than is healthy for their shy, temperamentally tense nature.
When I was older, I devoured potboilers. I loved the sweeping, plot-heavy novels of Taylor Caldwell, Leon Uris, and Pearl Buck.
My siblings and I loved to share, and strangely, to act out a pretty oddball selection of books. When we all read Uncle Tom's Cabin, me and my younger siblings were cast as runaway slaves hunted by our older brother who got way too into the role of Simon Legree. None of us thought that actual whipping was necessary. Other great favorites were [John Kennedy Toole's] A Confederacy of Dunces, [Richard Adams's] Watership Down, [John Barth's] The Sot-Weed Factor, [Marilynne Robinson's] Housekeeping, and [William Styron's] Sophie's Choice.
At this point my favorite writers are Texans, and, miracle of miracles, many of them are my friends. Let me start with a couple of essential Austin writers. I adore Ben Fountain and count his novel Billy Lynn's Long Halftime Walk among the finest books of the twenty-first century. Joe Lansdale is not only compulsively readable but a superb writer as well.
Closer to home, I am constantly blown away by the number of world-class writers now living in Austin. And I'm honored to consider nearly all of them friends. So, given how scared I am of forgetting to mention a beloved buddy, I think I'll recuse myself from an exhaustive listing. Just let me say, if the writer is from Austin, you're virtually guaranteed a splendid book.
Most important question: It's Memorial Day weekend, the kickoff of summer vacation and beach reading season. What books are in your beach bag?
I'll be playing catch-up this summer. There was a bumper crop of exceptional books this year by Texas authors. A few of the highlights that I'm looking forward to diving into are Monday, Monday by Elizabeth Crook, Migratory Animals by Mary Helen Specht, Kissing in America by Margo Rabb, The Same Sky by Amanda Eyre Ward, Thunderstruck by Elizabeth McCracken, Barefoot Dogs by Antonio Ruiz-Camacho, and Jan Jarboe Russell's The Train to Crystal City.
* * * * *
Praise for Sarah Bird's ABOVE THE EAST CHINA SEA
"Bird's fine novel suggests that . . . ancient beliefs can still provide comfort and connection in a modern world." —New York Times Book Review
"Engaging, haunting, and illuminating. . . . A unique tale of friendship that defies time and space. . . . Poignant and deeply memorable." —The Daily Beast
"This is the rare tome that has the goods for both popular and critical acclaim at the highest level. . . . After this book, Bird should be a literary household name." —Dallas Morning News
"Revelatory." —Reader's Digest
"Gripping. . . . This tale of how women and girls survive bloody times manages its happy ending without offering easy answers—quite a feat for such an entertaining read." —Austin Chronicle
"To my mind, Bird is the finest living Texas novelist, and Above the East China Sea showcases all of her gifts in spades—her unmistakable voice displays warmth, wit, and that rare variety of irreverence that possesses real heart." —Robert Leleux, Texas Observer
"Fascinating. . . . Above the East China Sea provides welcome context to the news reports from an island whose pivotal place in global power politics remains mostly unexamined." —BookPage
"Readers won't soon forget Tamiko's searing depiction of her experiences during the Battle of Okinawa. . . . A multilayered and utterly involving work." —Booklist
"A rich and engrossing achievement. . . . A suspenseful and magical journey." —Library Journal
"Fascinating. . . . Ambitious and rewarding. . . . [A] powerful sense of history and place." —Publishers Weekly