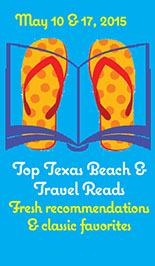 Memorial Day is nearly here — and with it plans for rest, relaxation, travel, and a good book. What Texas reads will be going in your carry-on or beach bag? What new Texas books, or classics, have you been dying to crack open, whether in print, on your e-reader, or via audiobook?
Let the staff of Lone Star Lit (along with a little help from our publishers) make your choices easier, with genres from historical fiction to YA to murder, mystery, and mayhem. To be sure, it's a subjective selection, and there are undoubtedly plenty of other great novels, memoirs, and nonfiction titles worth your leisure time this season—but if we have to narrow things down to a shortlist, we say you can't go wrong with these recent, new, and soon-forthcoming books written by Texas authors or set in Texas. And our "Classics" should tickle your urge to read one of those books you've always meant to but haven't made the time for. Until now, that is.
Watch for Texas travel guides and travel literature May 17, just in time to hit the road for the holiday.   * denotes Publisher's Pick
Family and feel-good fiction for guys and gals alike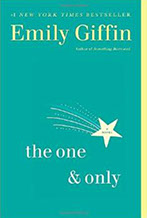 Emily Giffin, The One and Only (Ballantine, paperback, 448 pgs., March 2015, 978-0345546906). Missing football season, or perhaps trying to get along with someone who is? In this extraordinary story of love and loyalty, an unconventional heroine struggles to reconcile both, in a Texas setting that scores big with us.
Kellie Coates Gilbert, A Woman of Fortune (Revell, paperback, 336 pgs., February 2015, 9780800722722) and Where Rivers Part (Revell, paperback, February 2015, 336 pgs., 978-0800722739)  Gilbert's Texas Gold series takes readers into the workplace dilemmas and romantic choices of smart, sexy female characters facing real-world challenges.
Colleen Hoover, Confess: A Novel (Atria Books, paperback, March 10, 2015, 320 pages, 978-1476791456). Twenty-one-year-old Auburn Reed is rebuilding her life in a Dallas art studio while struggling with her growing attraction to one of its tenants, an enigmatic artist with a secret. Take this latest from the Texas publishing phenom to the hammock with you—and you'll quickly find yourself downloading the books that started it all.
Cliff Hudder, Pretty Enough for You (Texas Review Press, paperback, July 15, 2015, 344 pgs., 978-1680030389). Ne'er-do-well immigration attorney Harrison Bent is trying to juggle an angry wife,  an inscrutable stalker, an obsessed girlfriend, and an unsolved murder, while trying to forge a successful outcome to a case that  might revive his career and help pay for his autistic son's special school, and his day has just started.
Martha Louise Hunter, Painting Juliana (Progreso, paperback, 362 pgs., October 2014, 978-1930584709). Just what does the series of oil paintings of Julianna Birdong's late mother mean? A family drama—and a mystery—for anyone who's ever cared for an aging parent or dealt with Alzheimer's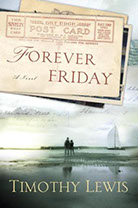 Tim Lewis, Forever Friday (WaterBrook Press, paperback, 288 pages, September 3, 2013, 978-0307732217) Every Friday, a postcard. Every Friday, a love poem. Every Friday for sixty years. Lewis's inspirational love story is drawn from true episodes in his Texas family.
Lisa Wingate, The Prayer Box (Tyndale, paperback, 400 pages, 2013, 978-1414386881)  A treasure trove of letters are found in a beach house. What better way to spend a summer afternoon than to learn the story behind them? Lisa Wingate's "fiction that's good for the soul" takes readers along from Dallas to the Outer Banks of North Carolina in this tale of a young woman trying to find her way in life.
CLASSIC: Larry McMurtry's novel Terms of Endearment (1975) weaves a wacky, winning tale of a Houston family like no other. And no, it doesn't count if you've only seen the movie, even if it did bring together Shirley Maclaine, Debra Winger, and Jack Nicholson on the same screen.
Texas novels tackling thought-provoking issues
Elizabeth Black, The Drowning House (Anchor, paperback, October 2013, 288 pgs., 978-0307949066). Photographer Clare Porterfield's once-happy marriage is coming apart, unraveling under the strain of a family tragedy, when she jumps at the chance to be a part of an exhibition in Galveston that draws her into a century-old mystery.
Patrick Dearen, The Illegal Man (Texas Christian University Press, March 26, 2015, ebook, 363 pgs., 978-0-87565-614-4). A new edition, complete with new ending, debuted this spring from Dearen, who originally conceived the novel based upon a newspaper series he wrote his first year out of college (1974), in which he interviewed Mexican and American officials and accompanied border patrolmen along the Rio Grande. Dearen brings a lifetime of writing craft and perspective to 2015 version, but it's still a story about three people--an illegal Mexican immigrant, a West Texas ranch woman, and a border patrolman--whose lives become entwined.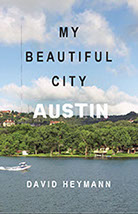 * David Heymann, My Beautiful City Austin (John M. Hardy, hardcover, 172 pgs., 2014, 978-0990371403). Suburban sprawl meets the city's past charm in this sophisticated drama. Read our Lone Star Literary Life review here.
Bret Anthony Johnson, Remember Me Like This(Random House, paperback, 400 pgs. February 2015, 978-0812971880). Four years have passed since Justin Campbell's disappearance, a tragedy that rocked the small town of Southport, Texas—and then word comes that the child has been found.
David Marion Wilkinson, Where the Mountains Are Thieves (Goldminds, hardcover, 348 pgs., November 2013, 978-1930584488). After a fast-paced, turbulent life in Houston, Texas, a husband and father transplants his family to the Big Bend country of West Texas, to resume his writing career, give his wife a break from the pressure of the corporate workplace, and spend more time nurturing his family.
Also read our Lone Star Literary Life reviews of these recent releases:
Mary Helen Specht, Migratory Animals
Amanda Eyre Ward, Under the Same Sky
CLASSIC:  Black Like Me by Dallas journalist John Howard Griffin, first published in 1961, details a white writer's six-week experience travelling by bus and hitchhiking throughout the racially segregated South, passing as black. The book is now available in inexpensive paperback, ebook, and audiobook versions.
Episodes from Texas's past, reinterpreted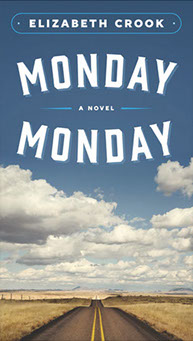 Elizabeth Crook, Monday, Monday (Sarah Crichton Books, hardcover, April 2014, 352 pgs., 978-0374228828) follows fictional survivors of Charles Whitman's all-too-real August 1966 gun attack from the University of Texas tower, down familiar Texas landscapes as they grapple with questions of fate.
Ben Fountain, Billy Lynn's Long Halftime Walk (Paperback, Ecco, November 2012, 320 pgs., 978-0060885618). "A razor-sharp satire set in Texas during America's war in Iraq, it explores the gaping national disconnect between the war at home and the war abroad."
Kathleen Kent, The Outcasts (Back Bay Books, paperback, October 2014, 352 pgs., 978-0316206112
From brothel to bayou, The Outcasts is a taut, thrilling adventure story about buried treasure, a manhunt, and a woman determined to make a new life for herself in the old west.
Phillipp Meyer, The Son (Ecco, paperback, June 2014, 592 pgs., 978-0062120403). If you take one Texas saga on vacation with you this year, make it this one. Or enjoy it on audiobook if you have a long journey. "Philipp Meyer, the acclaimed author of American Rust, returns with The Son: an epic of the American West and a multigenerational saga of power, blood, land, and oil that follows the rise of one unforgettable Texas family, from the Comanche raids of the 1800s to the to the oil booms of the 20th century. Harrowing, panoramic, and deeply evocative, The Son is a fully realized masterwork in the greatest tradition of the American canon—an unforgettable novel that combines the narrative prowess of Larry McMurtry with the knife-edge sharpness of Cormac McCarthy."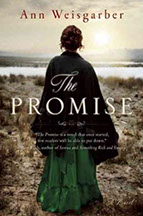 Joyce Gibson Roach, The Land of Rain Shadow: Horned Toad, Texas (Texas Tech University Press, paperback, June 15, 2015, 160 pgs., 978-0-89672-926-1) "In these eight stories that share the same setting across time, Roach writes of the place that sparked her treasured West Texas sensibility. Her fictive Horned Toad is a place called to stand and speak itself into existence—to live again in words. The characters are all familiar West Texas–types speaking in the tongues of dry places. All reflect their moments in time, proving that human nature does not change in this land of rain shadow."
Ann Weisgarber, The Promise (Skyhorse Publishing, May 5, 2015, 336 pgs., 978-1632206459). Fleeing a scandalous love affair in her Ohio hometown, a young pianist arrives on Galveston Island in September 1900 under false pretenses—and just ahead of the storm of the century.
CLASSIC: Stephen Harrigan, The Gates of the Alamo. "A huge, riveting, deeply imagined novel about the siege and fall of the Alamo, with vibrant, unexpected characters and richness of authentic detail, The Gates of the Alamo is an unforgettable re-creation of a time, a place, and a heroic conflict."
Thrillers and mysteries of all stripes, from beach, border, boondocks, and big city
Miles Arceneaux, Ransom Island (Stephen F. Austin University Press, paperback, October 7, 2014, 300 pgs., 978-1622880850). "It's 1953 and life is good at Shady's, the Sweetwater brothers' fish camp, dancehall, and beer joint on Ransom Island. The biggest event in the island's history is coming up—an integrated dance featuring Duke Ellington. It's a daring idea for fifties-era Texas, and not everyone is happy about it. But soon interracial dancing becomes the least of the Sweetwaters' problems. Galveston mobsters track a runaway girl to Shady's and decide the offbeat island is the perfect place to diversify their illegal rackets . . .and God help anyone who gets in their way."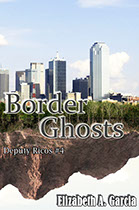 Minerva Koenig, Nine Days (Minotaur, paperback September 9, 2014, 304 pgs., 978-1250051943). The witness protection program throws criminal Julia Kalas smack-dab in the middle of a budding relationship, until the object of her intrigue gets framed by the sheriff for a murder, and she risks everything to prove his innocence.
* Elizabeth Garcia, Border Ghosts: A Deputy Rico Tale #4 (John M. Hardy Publishing, paperback, 2014). "Deputy Margarita Ricos is young, tough, kind-hearted and smart. She's a proud Chicana! Raised on the edge of the US in Terlingua, Texas. Her broad perspective of "the border," its people and its issues makes her a most effective advocate of justice and fairness in a world that is neither. In this fourth installment, Deputy Ricos is trying to prove an imprisoned man is either guilty beyond doubt or wrongly accused. Margarita, haunted by a mystery from her past, begins the fast-paced, danger filled, winding route to the Border Ghosts."
Charlaine Harris, Day Shift (Ace, hardcover, May 5, 2015, 320 pgs., 978-0425263198). Vampire-universe maven Harris brings the undead to the Lone Star State in her Midnight, Texas, series.
Harry Hunsicker, The Contractors (Thomas & Mercer, paperback, February 4, 2014, 514 pgs., 978-1477808726). Amid the seedy world of drug trafficking, corruption, and greed, DEA contractor Jon Cantrell confiscates the wrong shipment of drugs and finds himself and his partner on a harrowing journey to safely deliver an important cartel witness from Dallas to Marfa.
CLASSIC: Sandra Brown, Hello, Darkness. Bestselling author Sandra Brown's gripping story of a popular late-night talk show host being stalked by a killer is a suspenseful thriller that keeps readers turning pages right through its chilling climax.
True stories of Texas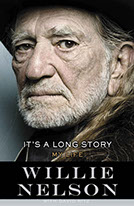 Willie Nelson, with David Ritz, It's a Long Story: My Life (Little, Brown, hardcover, May 5, 2015, 9780316403559). "The unvarnished, complete story of Willie Nelson's life, told in his distinct voice and leaving no moment or experience unturned, from Texas and Nashville to Hawaii and his legendary bus."
* Michael Lee Lanning, Tony Buzbee: Defining Moments (John M Hardy, hardcover, 2014, 336 pages, 978-0979839191). The Texas trial lawyer with multimillion dollar victories against corporations offers up his guidebook for survival and success.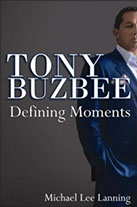 Stephen L. Moore, Texas Rising: The Epic History of the Lone Star Republic and the Rise of the Texas Rangers, 1836-1846 (William Morrow, May 12, 2015; available in hardcover, ebook, and audiobook formats). The official nonfiction companion to the History Channel dramatic series Texas Rising is a thrilling new narrative history of the Texas Revolution and the rise of the legendary Texas Rangers who patrolled the violent Western frontier. Acclaimed Texas historian Stephen L. Moore's Texas Rising, the official companion to the epic History series of the same name, brings to life the violent Texas frontier and the Rangers' heroic deeds during the Texas Revolution. Published with the full support and backing of history, Texas Rising is an unforgettable history of this iconic band of fighters.
A sampling of other nonfiction titles slated for review in upcoming issues of Lone Star Literary Life:
Jesse Sublett, 1960s Austin Gangsters
Richard Paul and Steven Moss, We Could Not Fail
Gary Cartwright, The Best I Recall
Jamie Brickhouse, Dangerous When Wet: A Memoir
Doug Swanson, Blood Aces: The Wild Ride of Benny Binion, the Texas Gangster Who Created Vegas Poker (Penguin, 368 pages).
CLASSIC: H. G. Bissinger, Friday Night Lights, which will celebrate its 25th anniversary this fall. "With frankness and compassion, H. G. "Buzz" Bissinger chronicles a season in the life of Odessa and shows how single-minded devotion to the team shapes the community and inspires--and sometimes shatters--the teenagers who wear the Panthers' uniforms."
Vacation reads for kids and their parents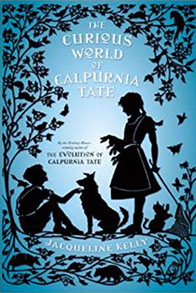 Jacqueline Kelly, The Curious World of Calpurnia Tate (Henry Holt, hardcover, July 7, 2015, 320 pgs., 978-0805097443). "Callie Vee, Travis, Granddaddy, and the whole Tate clan are back in this charming follow-up to Newbery Honor-winner The Evolution of Calpurnia Tate. Travis keeps bringing home strays. And Callie has her hands full keeping the wild animals-her brother included-away from her mother's critical eye. Whether it's wrangling a rogue armadillo or stray dog, a guileless younger brother or standoffish cousin, the trials and tribulations of Callie Vee will have readers laughing and crying and cheering for this most endearing heroine."
Liz Garton Scanlon, The Great Good Summer (Print, Simon and Schuster, 224 pgs., $16.99). "Ivy and Paul hatch a secret plan to find Ivy's missing mom and say good-bye to the space shuttle in this evocative, heartfelt novel reminiscent of Each Little Bird that Sings and Because of Winn-Dixie."
Watch Lone Star Literary Life's upcoming Kids' Summer Reads section in June for more about these titles:
Kathi Appelt; illustrated by Marc Rosenthal, Mogie: The Heart of the House (Atheneum Books for Young Readers, hardcover, 40 pgs., June 2014,978-1442480544). Based on a true story about a dog who helps children at a Ronald McDonald House, the newest story from Houston chidlren's author Appelt is sure to find fans everywhere.
Paige Britt, The Lost Track of Time
Duncan Tonatluh, Pancho Rabbit and the Coyote
CLASSIC: Fred Gipson, Old Yeller. Dog dies, boy cries. (Apologies for the spoiler, in case there's anyone alive since 1956 who doesn't know the outcome of this Newbery Award–winning frontier story—but if you haven't read it since you were a tween, it's worth revisiting.)
Poetry to feed the Texas soul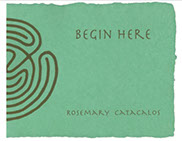 * Rosemary Catacalos, Begin Here(WingsPress, Hand-bound chapbook, 36 pages). Read and cherish this beautiful volume—but don't take it near the water! Begin Here, a limited edition (1,000 copies) chapbook, is Texas Poet Laureate Rosemary Catacalos' first new book in three decades. Printed using environmentally friendly brown ink on partially recycled paper, it has been sewn by hand (by the hands of the publisher, the author, and some of San Antonio's best poets) into handmade paper covers. The cover stock was made by Beck Whitehead and printed by letterpress by Léo Lee at the School by the River Press, Southwest School of Art, San Antonio, Texas. The labyrinth image used on the cover and inside the book is based on a hand-appliquéd fabric piece, "Cretan Maze," by Yvonne Seyler Parks Lifshutz.

* James Hoggard, Soon After Rain (WingsPress, Paperback, 96 pages, March 2015). "Hoggard is a Texan of extraordinary scope: family man, athlete, teacher, translator, author. As a writer, he has proved to be a master of the novel, short stories, essays, and nonfiction books. But as this remarkable collection shows, he is at heart a poet. The range displayed in Soon After Rain is stunning, with poems inspired by travel, works of art, day-to-day life, classic literature, aging, weather, and nature — most especially nature — each honed honestly and exquisitely. Soon After Rain is a major achievement." —W. K. Stratton, author of Chasing the Rodeo, Dreaming Sam Peckinpah; past president, Texas Institute of Letters
Carmen Tafolla, This River Here (WingsPress, paperback, July 2014, 104 pages, 978-1609403997). San Antonio Poet Laureate—and now Texas Poet Laureate—Carmen Tafolla captures her hometown, the city of her ancestors for the past three centuries, in poems that celebrate its history as a cosmopolitan multilingual cultural crossroads.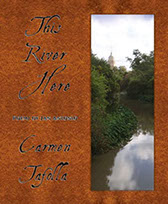 . . .
And right here we stand
washing clean our memories,
baptizing our hearts,
gathering past and present,
dancing to the flow
we find
right here
or maybe—
a little farther
down.
from "This River Here"
Worth waiting for: late summer publication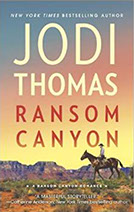 Jodi Thomas, Ransom Canyon (HQN Books, 304 pages, August 25, 2015, 978-0373789399). "From New York Times bestselling author Jodi Thomas comes the first book in a compelling, emotionally resonant series set in a remote west Texas town—where family can be made by blood or by choice."
* * * * *