Texas Poets Laureate named for 2015, 2016
Last week the 84th Texas State Legislature announced its appointments to the position of state poet laureate.
Carmen Tafolla of San Antonio, an associate professor at UT–San Antonio, was named Texas Poet Laureate for 2015.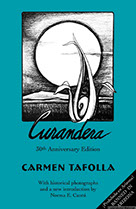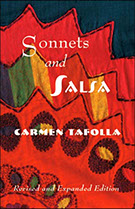 Tafolla is the author of more than twenty acclaimed poetry and prose books, including Curandera, Sonnets and Salsa, and The Holy Tortilla and a Pot of Beans, which won the Tomás Rivera Children's Book Award in 2009. She has published works for both children and adult readers in more than 200 anthologies, magazines, journals, textbooks, and readers. Her works have been published in English, German, French, and Bengali.
San Antonio made quite an impressive showing in the poetry arena; Tafolla served as the city's first poet laureate from 2012 to 2014, appointed by then mayor Julián Castro. Another San Antonio poet, Laurie Ann Guerrero, was named Texas Poet Laureate for 2016.
In addition, the legislature designated a state musician, a state two-dimensional artist, and a state three-dimensional artist for each year, 2015 and 2016. All of the Texas State Artists were officially invested in a special resolution ceremony for the induction of all Texas State Artists at the Texas State Capitol in Austin on May 7.
Any Texas resident is able to nominate an artist in any of the four categories and self-nominations  are encouraged. The Texas Commission of the Arts reviewed all nominations and determined a list of finalists.
(Sources: www.utsa.edu/today/2015/05/tafolla.html; Austin 360)
Texas Rising, A&E/History channel miniseries and book featuring work of Austinite David Marion Wilkinson, debuts Memorial Day 2015
Martha Louise Hunter, contributing writer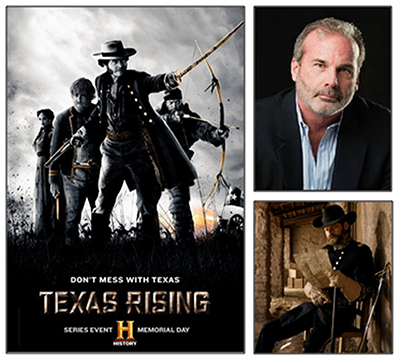 Austin novelist/screenwriter David Marion Wilkinson shared writing duties on Texas Rising, the ten-hour television series that premieres Memorial Day on A&E/History about the rise of the legendary Texas Rangers after the events at the Alamo. Wilkinson is author the of Not Between Brothers: An Epic Novel of Texas.
Credited as a co-producer for Texas Rising, Wilkinson came on board as a historical consultant and quickly began co-writing the script with Leslie Grief and Darrell K. Fetty. Wilkinson will also appear in the companion documentary, along with Texas historian H. W. Brands and series stars Bill Paxton, Jeffrey Dean Morgan, and Cynthia Addai-Robinson. The all-star cast of Texas Rising also includes Ray Liotta, Oliver Martinez, Brendan Fraser, and Kris Kristofferson.
Texas Rising comes from ThinkFactory Media, the same team responsible for the A&E/History's blockbuster production Hatfield & McCoys. The soundtrack, which includes new music by George Strait, Kristofferson, and Jose Feliciano, will also be released as an album.
The five-night program on A&E/History begins Monday and Tuesday (May 25 and May 26) and continues the next three Mondays (June 1, 8, and 15).
Austin contributor Martha Louise Hunter is the author of Painting Juliana (Goldminds, 2014).
Romantic Times coming to Dallas May 11-17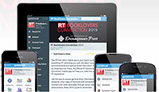 The RT (formerly Romantic Times) Booklovers Convention will be held Saturday, May 11-17, 2015, at the Hyatt Regency, Reunion Tower in Dallas. The event schedule includes:
May 11 Writer's Bootcamp
May 11 Cherry Adair Pre-Con Master Class
May 12 Blogger and Reviewer Conference and Symposium
May 13 Sessions on craft and marketing for a variety of genres
May 14 Sessions on the various approaches to publishing including traditional, hybrid, and self-publishing
May 15 RT Book Reviews Awards Ceremony and Winners Party
May 16 The Giant Book Fair, Meeting New Authors
May 17 Meet and Greet with readers and authors
Events include agent and editor meetings with aspiring author attendees. RT Booklovers Convention is produced annually by RT Book Reviews. For further information, visit www.rtconvention.com.



Sachse Author Con set for May 19
The Friends of the Sachse Public Library will host their first Author Con Tuesday, May 19, from 6 to 8 p.m. Sachse is six miles northeast of Garland, Texas.
A celebration of local authors showcasing works from children's picture books to young adult, inspirational nonfiction, and thriller fiction novels, this event will provide attendees a chance to talk with authors, socialize with friends, and discover the services the library has to offer.
Award-winning writer and photographer Reavis Z. Wortham of Garland is the creator of the Red River Series, including Burrows and The Rock Hole.
Children's authors to be featured include Bella and Charlie Campbell and their two titles, Building Bridges of Friendship and Got Mojo; Jolyn Singh, who has written the picture book The Little Olive Tree; and Alan Elliot, Willy, the Texas Longhorn.
Young adult authors include Amanda Thrasher, winner of the Mom's Choice Award for her young adult novel The Greenlee Project. Other YA authors include Lindsay Cummings, Murder Complex, and C. K. Gallimore, Broken, a teen/young adult romance/mystery.
Two inspirational authors both of whom are Sachse residents, will be participating. Jema Hill Cook has written a devotional book for adults. Michelle Moore recently published an inspirational nonfiction book, Arm Yourself: Equipping Ourselves with the Armor of God. Kathryn Erikson, who writes inspirational fiction, will also be on hand.
Other featured authors include:
Sachse resident

Ruth Glover,

an active volunteer for the Sachse Public Library, has written a nonfiction book titled

More Than a Paycheck: Inspiration and Tools for Career Change.

Multi-award winning author

Lena Nelson Dooley

writes historical novels.
Avid historian and retired pilot

Charles Hemphill

writes medical thrillers and historical romance.

Virginia Lee

writes science fiction and will be showcasing

Untamed Valor.

Dr. Richard Mabry

is a retired physician, now writing "medical suspense with heart."

Janis Susan May

writes romance, mystery, and children's books. She will have a selection of genres to showcase at the convention.

Chance Nix

writes thrillers, horror, and fiction.

LaRee Bryant

writes mysteries and historical romances and will featuring two of her mystery novels,

Poppy Fever

and

Buttercup Blues

from the Poppy Green Mystery series.

James Gary Vineyard

writes suspense/thrillers, including the award-winning

The Grave on Peckerwood Hill.

Kevin Crank

is another Sachse resident who will be attending featuring his debut novel,

When the Moon Shines Bright.
Check the website www.cityofsachse.com/library for more information.
Writing Poetry: Passion, Process, and Publication at BookPeople May 21
Please join the staff of BookPeople Thurs., May 21, 2015, for a discussion about the craft and business of poetry, featuring four award-winning poets from varied backgrounds and literary traditions to give the panel a broad vantage point. Questions will address the particular passion a poet must carry in order to produce work, the actual process of producing the work, and the distance a poet must establish between himself and the work in order to successfully publish. While each of these are highly personal to the poet, participants will learn how four of Texas' best poets have carved their way.
Panelists are Cristin O'Keefe Aptowicz, Derrick Brown, Carrie Fountain, and Sasha West. BookPeople is located at 603 N. Lamar Blvd, Austin, TX 78703, 3rd floor.
The event is free and open to the public.
2015 WLT Writers and Editors Conference set for June 26-28 in Austin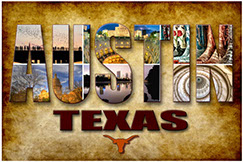 The 2015 Writers League of Texas Editors and Agents Conference will be held June 26 through June 28 at the Hyatt Regency in Austin. Three days of panels, lectures, readings, workshops, and consultations give aspiring and established authors a chance to learn and grow in the writing profession.
Attendees network with agents, editors, writers, and other industry professionals, improve your craft, and learn about the latest market trends.
Querying writers hear tips on how to find representation directly from agents. All  writers can get story crafting tips from editors and published authors and discover how best to find and build an audience for your project.
Participating vendors will showcase the best services available to writers and authors.
Prices through June 5, 2015, are $489 for nonmembers and $429 for members (or until sold out; the conference filled to capacity last year).
The conference is supported in part by the Cultural Arts Division of the City of Austin Economic Development Department.  Writers' League of Texas classes and workshops are also funded in part by the Texas Commission on the Arts. For further information, contact wlt@writersleague.org or call 512-499-8914; www.writersleague.org/38/Conference
* * * * *