Born and raised in Texas, Merritt Tierce worked in various secretarial, retail, and restaurant  positions until 2009, when she moved to Iowa City to attend the Iowa Writers' Workshop as the Meta Rosenberg Fellow.
After graduating in 2011 with her MFA from Iowa, she received a Rona Jaffe Foundation Writers' Award, and she is a 2013 National Book Foundation 5 Under 35 Author.
She  served as the executive director of the Texas Equal Access Fund, a Dallas-based nonprofit abortion fund, from 2011 until 2014. She volunteered and worked for the TEA Fund from its founding in 2004, and co-wrote the abortion play One in 3 with Gretchen Dyer and Victoria Loe Hicks. One in 3 played to sold-out houses for most of its three-week run and stimulated a local conversation about the reality of abortion in women's lives.
Merritt's first published story, "Suck It," was selected by ZZ Packer to be anthologized in the 2008 edition of New Stories from the South, and her first book, Love Me Back, was published by Doubleday in 2014, to wide acclaim. Merritt lives near Dallas with her husband and children.
Author photo by Michael Lionstar
5.10.2015  Fierce Tierce: The author of LOVE ME BACK on life and art
Merritt Tierce, a National Book Foundation '5 Under 35' honoree, was born and raised in Texas, and graduated from college at the age of nineteen. She received her MFA in fiction writing from the Iowa Writers' Workshop, where she was named a Meta Rosenberg Fellow. In 2011 she was a recipient of a Rona Jaffe Foundation Writers' Award. She lives near Dallas with her husband and children.
Her debut novel Love Me Back was selected by the Texas Institute of Letters in April as the 2015 Best First Published Fiction.
We caught up with Tierce via an email interview last Friday afternoon, and she answered our questions in the car en route to the airport for a flight to New York.
LONE STAR LISTENS: As I was reading Love Me Back, I was struck by how evocative it was of Jack Kerouac's On the Road. In reading others' descriptions of your work, it seems that the word "uncompromising" comes up again and again. Which authors do admire?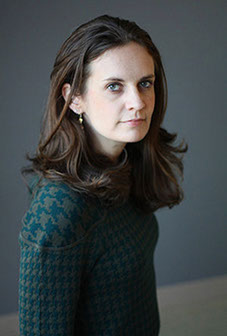 MERITT TIERCE: I admire writers who aren't trying to capture anything beyond their own idea of what makes for beautiful reading. I'm not into plot or character except as water-bearers for language—language is all. I love Lydia Davis for her brilliant, vital play with language. I love Kay Ryan for the same reason. Her poems are endlessly exciting to me and reading them is pure joy. Edward P. Jones is perhaps more gifted than any other living American writer when it comes to telling a story that extends so deep and wide it crosses beyond beyond. Grace Paley and Gayl Jones are both ruthless and intent on seeing the broken, cutting edge of life, and not sanding it down for anyone. The best work of contemporary fiction I've read in a long time is Elisa Albert's After Birth, which is so uncompromising. It's relentless and blistering and hilarious and everything I've ever wanted in a book.

I read that you grew up in a series of towns in Central and West Texas. Which cities did you grow up in and how did they—and your family life—influence you as a writer?

I spent most of my growing-up years in Sweetwater, Abilene, and Gatesville, among populations of very conservative, religious people. Life was mostly safe and slow in those places, and organized around church and school. My parents were both public school teachers so we didn't have a lot of money, but I think they were part of the last generation of public school teachers who could actually fashion a somewhat comfortable middle-class life on that salary. I was allowed to be an introvert, and to read and read and read. I even read at the dinner table sometimes. But I was also so sheltered that my emergence into the real world at fifteen was extremely harsh. And yet I'd known my whole short life that there was something bigger out there, and I went toward it, all on my own.

As for how my upbringing influenced me as a writer, I think a great deal of my style as a writer comes from the music I grew up with. My dad was a high school band director and directed the choir at the churches we attended, so I was saturated by music for wind symphonies and hymns, both of which are all about melody. I write by ear, to make the sentence sound right, to make it have its own inevitable rhythm. And my mom was a school librarian, who gave me boxes and boxes of books and made loving books a part of my life from birth. I also have to say that being raised in a Southern Baptist family, though I relinquished all religious practice over a decade ago, gave me something to work against philosophically and emotionally—once I discovered that I could work against it. I expect that to become more and more central to my writing as I age, though for the moment I feel like I'm still catching my breath from trying to outrun fundamentalist Christian guilt my whole childhood.

You moved to Denton when you were fifteen to attend TAMS, the University of North Texas residential math and science program where high school-age students earn college credits. And you earned your undergraduate degree when you were nineteen and were accepted to Yale Divinity School. But you never got there. What happened?

A week after I graduated from college I found out I was pregnant. My parents pressured me to marry the father, and I never even considered abortion or adoption. My senior communications project had focused on the doctrinal proscription of abortion, which would be a perfect setup for an unplanned pregnancy at the end of that semester, if my life were a novel. Sometimes I wonder if it is. So instead of going to Yale, my first husband and I had a shotgun wedding at the Fort Worth Botanic Garden and I worked as a temp until the baby was born. I suppose I could have gone ahead and moved across the country and just done it, matriculated as a pregnant nineteen-year-old grad student with no money and no support system, but I was scared. And being a teenager I also wanted to spite my parents—I wanted to show them how miserable I'd be as a wife and mother, and I was. Of course my misery took even more of a toll on my husband and my kids and myself, but at the time that was the only decision I could make. I spent the next ten years finding my way back to grad school, and by the time I made it to Iowa for my MFA I'd long since given up my first marriage and my faith.

Like your character Marie in Love Me Back you lived through some dark times in your twenties, including working as a waitress. What helped you get through those days?

I think most of the getting through was sheer luck, and just the passage of time. One more day after one more day. But whatever wasn't time or luck was love from people who saw more in me than the self-destruction, and cared deeply enough to be part of my life in spite of it. My first husband (the father of my two children) and I divorced when the kids were only two and three years old, and he is an incredible father and still one of my closest friends. I am extraordinarily fortunate that he kept life good for our son and daughter while I figured myself out. Most important to me during my twenties was a woman named Gretchen Dyer, who became my model for how to be in the world. She took care of me and showed me what it was like to build a life around art and beauty and friendship and love and effort.

I had two more unplanned pregnancies in my twenties, so I can also say unequivocally that access to abortion helped me get through those days. It would have been a disaster for me and my kids if I had had another child. I am so happy and so healthy and so grounded, now, and I seriously doubt I would be any of the above without those two abortions. It is thus easy to see why I find the Texas legislature's restrictions on access to abortion not only unnecessary, mean-spirited, oppressive, and harmful, but also personally scary on a deep, deep level. They are making impossible the present and future wellbeing of entire families, and the impact of restricted access to abortion sends shockwaves through generations.

You're a graduate of the prestigious Iowa Writers' Workshop. The IWW is the ideal of every young aspiring writer. Describe your experience there for us.

It lives up to the legend, in my experience. I'd never had the chance to put writing at the center of my life, and I'd never been surrounded by people who wanted to think and talk about reading and writing all day long. Iowa City is a wonderful small town, and by far the most literary city I've ever spent time in outside of New York. Top-shelf writers were always coming to town and on any given night there were usually at least two or three literary events within walking distance of my apartment (my kids came to dread hearing "We're going to a reading tonight").

I held the workshop experience itself—meaning the class part, where you sit around a table and critique someone's story, and have your own work critiqued—at arm's length, but through it I came to understand what I do well as a writer and what I don't care about as a writer. My workshop with Ethan Canin was one of the most nourishing experiences I've ever had with other writers. His workshops always went long, well over the allotted two hours, but I was so present and so focused that three or four hours went by too fast. And I made a lifelong friend at Iowa, who was also the first person to tell me I could create a book from my restaurant stories—Alexander Maksik, whose third novel I'm reading a first draft of right now.

Perhaps the best part about Iowa for me, though, was that my kids adored Iowa City. It's a fabulous place to raise kids, and it's beautiful, and they have real winter. My son built seventeen miniature snowmen outside our apartment when the first snow fell and they stayed there all winter. The kids still go back to Iowa City every summer for a week.

I had all the usual reservations about getting an MFA, but the bottom line is it was time to write. And health insurance. At Iowa they also bring the agents and publishers and editors to you, which is an incredible perk, although one I felt too green to take advantage of more than once or twice.

Do you ever think that you might revisit Marie in another book? What might Marie be like in her thirties or forties?

I've thought about it, but I feel strongly that Marie exists only in The Restaurant. She says "I'll take care of you tonight" at the end of the book, and that's all the unresolved end-that's-not-an-end we get from her. I like that. Even if I do sometimes think about what happens to Marie after Love Me Back, I don't know if I'll ever be ready to tell more of her story. I'm more interested in a book that follows Ana, Marie's daughter, who is both a magical little creature and someone who will certainly always be dealing with some of the fallout of having been raised by Marie. In the book Marie says to her, "You're old enough to know we've been through something and young enough to not hold it against me," but I wonder what it will be like for Ana when she's older and starts to make her own way as an adult. What will her relationship with her mother be made of? How will the consequences of Marie's self-destructive impulses manifest in Ana? If she has children herself, how is she as a mother, and how does she feel about mothering?

In 2013 the National Book Foundation selected you as one of its 5 Under 35, a huge honor for a young writer and earlier this year, the Texas Institute of Letters selected Love Me Back as best debut novel. How have the awards affected your career?

The 5 Under 35 award brought a lot of amazing publicity to the book and gave me the chance to attend the National Book Awards ceremony, which was such a high. And the TIL award is especially meaningful to me because my book is set in Texas and feels like it is very much a product of Texas. But more than either of those awards my career has been affected by—I'd actually say made entirely possible by—the Rona Jaffe Foundation award I received in 2011. Agents and editors began calling me as soon as I won that award, and the $25,000 changed everything. It allowed me to stop working in restaurants for the first time in my adult life (I had continued to wait tables part-time even while I was at Iowa). They do an amazing job of identifying largely unknown women writers, and giving them an amount of money that is enough to make a dramatic difference to a writer early in her career. I'll never forget standing on a balcony and looking down at that awards ceremony, thinking This is for me. This is so I can keep writing. I was filled with overwhelming gratitude, and I still am.

Who gave you your first writing break?

[Dallas author] Ben Fountain. We met when I was twenty-four, and I have no idea where I'd be as a writer without him. I'd probably still be waiting tables. He was my first advocate, editor, champion, publisher. He was the fiction editor at Southwest Review and published "Suck It"—a raw, explicit, vulgar short story that became the seed of Love Me Back—in that rarefied literary magazine. That was the first story I'd ever written and the first I ever published. It was anthologized in New Stories from the South and got me into Iowa. That one story has taken me a long way, and none of it would have happened if Ben hadn't been willing to call it good writing. Not only did his generosity make so much possible for me, but it also demonstrated the essential importance of raising up the young writers behind you. When you begin to have some success as a writer you realize you also begin to have some power—and, I'd argue, a pay-it-backward obligation—to shine a light on someone who's working hard and making great art and hasn't been recognized yet.

Is Dallas a good city for writers? It seems to have a burgeoning writers' scene with authors like Ben Fountain and yourself. Who would you say are other Dallas authors to take note of?

I'm not sure what makes a city good for writers—I think to some extent the onus is on writers and other artists to make a city good in the first place. But for me Dallas is appealing because the scene is still fairly small. There aren't that many people to know but they're quality people who are doing interesting, wonderful work. David Searcy is a fantastic writer and genius archivist/artist/astronomist who has an essay collection coming out soon; Joe Milazzo's novel Crepuscle w/Nellie is reputed to be a magnificently dense wonder; Joaquin Zihuatanejo is an award-winning poet I was lucky to meet (and conquer!) at Literary Death Match, which came to Dallas a couple of weeks ago. Then there are the Dallas-based organizations Wordspace, which promotes a wide variety of literary arts and artists, and Deep Vellum, a new indie publisher focused on works in translation. We have a gorgeous new literary magazine called Nat.Brut, and we have a new independent bookstore in Oak Cliff, the Wild Detectives, that is a writer's dream. So it's not just the authors—Dallas is also growing its literary culture to sustain writers and bring readers to them.

Last question: With summer around the corner, what books are in your beach bag?

I'm reading a lot of books about kangaroos, which are the subject of my next project. I also have a stack of books to read for blurbs, about which I'm conflicted. Not the books themselves, but the act of blurbing. It may be that I just hate the sound of the word blurb so I'm subconsciously prejudiced. Outside of kangarooing and blurbing, I'm reading Maya Deren's The Divine Horsemen, which I think will change my life. Look her up, she's a supernova.

* * * * *
Praise for Merritt Tierce's LOVE ME BACK
"Brilliant,devastating . . . . Love Me Back is one of those exquisitely rare novels that feel desperate and urgent and absolutely necessary." —The New York Times Book Review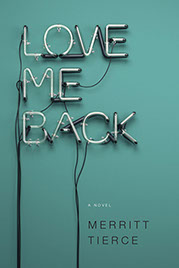 "Tierce writes with a visceral, unsentimental directness." —The New Yorker
"A prayer to everything broken, vulnerable, and human" —BookRiot
"Hard to put down."  —Dallas Morning News
"Tierce's prose possesses the force, bluntness and surprise of a sucker punch. . . . One of my favorite books of the last few years." —Carrie Brownstein, co-creator of Portlandia
"More or less tore my scalp off" —Tom Nissley, The Millions
"Exceptional. . . . Tierce's writing reflects the plot's quick, sinuous turns." —Huffington Post
"A compulsively readable yet highly literary novel. . . . Announces Tierce as a writer we've been waiting for much too long." —Oxford American
"One of the most mesmerizing heroines in recent fiction. . . . A compulsively readable tale [that] threatens to drag Texas literature kicking and screaming into the twenty-first century." —Texas Monthly