PEN awards shortlist includes Texas authors
Michelle Newby
Y'all will remember we reported on the 2015 PEN American Literary Awards longlist not long ago. Well the shortlist is out and Texas remains well represented.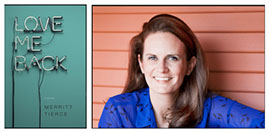 Finalists for the Robert W. Bingham Prize for Debut Fiction ($25,000) include Texas-born Cynthia Bond for (Hogarth, 2014), also an Oprah Book Club 2.0 pick, and Dallasite Merritt Tierce for Love Me Back (Doubleday, 2014).
S.C. "Sam" Gwynne's Rebel Yell: The Violence, Passion, and Redemption of Stonewall Jackson (Scribner, 2014) is a finalist for the Jacqueline Bograd Weld Award for Biography ($5,000). A former executive editor of Texas Monthly and lecturer at the University of Texas School of Journalism, Gwynne lives in Austin.
Dallas's Deep Vellum Publishing's debut release, Texas: the Great Theft, by Carmen Boullosa, translated from the Spanish by Texan Samantha Schnee of Words Without Borders, is a finalist for the Translation Prize ($3,000).
PEN American has been honoring literary achievement for more than fifty years. The winners will be announced on May 13 with a ceremony following at The New School's Auditorium in New York on June 8.
Good luck and congratulations to these fine representatives of the literary craft. Y'all do Texas proud.

Area books and authors featured at Lubbock Arts Festival, Apr. 18–19
Books and authors are a vibrant part of the arts scene at the 37th annual Lubbock Arts Festival, which will occupy the entire Lubbock Memorial Civic Center (1501 Mac Davis Lane, Lubbock, TX 79401) Sat, April 18 and Sun., April 19, 2015. The festival is the largest of its kind in West Texas.
In addition to featured artist Berkley White, an internationally renowned underwater photographer born and raised in Lubbock, and hundreds of other artists, exhibitors, and performers, the festival will include members of the Write Right writers' group with authors available to sign books throughout the event, and writing activities for children. Literacy Lubbock will also be on hand with kids' books, and Texas Tech University Press will offer a variety of Texas and Southwest books at discount prices.
Festival hours are 10 am to 7 pm Saturday and noon to 5 om Sunday. Admission is $4 for adults, $2 for children under 12

Cisco writers to host 15 authors Apr. 25-26
The Cisco Writers Club of Cisco, Texas, will host its first-ever Book Look, to be held Sat., April 25 and Sun., April 26, in conjunction with the Cisco FolkLife Festival.
To date fifteen invited authors, covering a wide-range of genres, will attend and sign their books:  Dr. Duane Hale • Anna Albergucci • A.R. Draeger • Marsha Vermillion • Ophelia London • Amanda M. Thrasher • Margo Bond Collins • Nancy Masters • Matthew Gene • Dr. David Bedford • JoAnna Grace • John J. Smith • C. L. Stegall • David Hughes • C.A. Szarek • Emma Gingerich • Amanda Stone Norton
The event will be held 10 am to 6:00 pm Saturday and noon to 4:30 pm Sunday. Admission to the Cisco FolkLife Festival is $3 per person. For more information contact publicity officer Bokerah Brumley at bokerahbrumley@gmail.com.

New Fiction Confab set for April 25 at Faulk Central Library, Austin;
Ward, Specht to speak
New Fiction Confab, an annual event featuring a emerging and mid-career fiction writers, will be held Sat., April 25, sponsored by the Austin Public Library Friends Foundation.
Visiting authors Rebecca Makkai, Viet Than Nguyen, Asali Solomon, and Akhil Sharma will lead writing workshops in Austin Public Library branches from 10:30 am to noon.  From 2 to 5 pm, visiting authors will join local writers Amanda Eyre Ward (The Same Sky) and Mary Helen Specht (Migratory Animals) for readings and conversations at the Faulk Central Library, 800 Guadalupe Street. All events are free and open to the public.
* * * * *