Chris Cander graduated from the honors program at the University of Houston in 1990 with a BA in French and a minor in political science. In 1994, she attended the Ploughshares International Fiction Writer's Seminar at Kasteel Well, Netherlands. The following year, she attended the Bread Loaf Writer's Conference.
Although she now focuses her efforts on fiction, Cander also writes children's books and continues to write articles for health and fitness, lifestyle, and parenting magazines, and is collaborating on two screenplays. She is also a writer-in-residence for Houston-based Writers in the Schools (WITS), which engages children in the pleasure and power of reading and writing.
A former fitness competitor and model, Cander currently holds a 2nd dan in taekwondo.
Cander is a member of the American Society of Journalists and Authors, Society of Children's Book Writers and Illustrators, the Author's Guild, the Writers' League of Texas, and MENSA. She lives with her husband and children in Houston, Texas.
Whisper Hollow is her fourth novel. Others include 11 Stories, The Weight of a Piano, and One Last Time Forever.
4.19.2015  Chris Cander's candor:
Curating an interesting life
Houstonian Chris Cander, author of 2014 Independent Publisher Gold Award for her novel 11 Stories, has a new book out, Whisper Hollow, released in March by Other Press. Lone Star Literary Life interviewed Cander via email about her path to writing and publishing.
LONE STAR LISTENS: I'm pretty sure you're the first author I've ever interviewed who's a member of MENSA as well as a former featured bodybuilder on Baywatch. How does one accomplish this match of skills?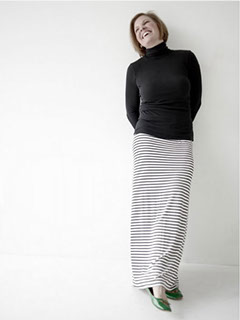 CHRIS CANDER:I suppose that's not a typical CV for a novelist, is it? But I've always been curious, and have been fortunate to intersect life in some very interesting ways. I do that in my fiction, too, because I get to experience the world vicariously through my characters. The best thing about my maundering career path is that it's allowed me to engage with a motley assortment of people and given me plenty of creative fodder.

What is it about Houston that creates so many great Texas writers? What about growing up in Houston influenced your writing?

Houston is a relatively young city to be the fourth largest in this country, but it comes with a rich history. Against the backdrop of the Alamo, the Indian wars, and the cattle drives, early settlers along Buffalo Bayou in the 1830s were known for their profanity and prostitution, drunkenness and dueling. (We locals are still trying to tame one another.) The ship channel and railroads made Houston a successful cotton and lumber market, and the discovery of Texas Tea at Spindletop made the economy go boom in the twentieth century. Since people tend to follow the money, Houston has always been a fascinating melting pot. If there's a more vibrant place for a writer to observe a cross section of humanity—and to be influenced by those observations—I'd like to know where it is.

Which Texas writers do you read, and which Texas writers have inspired you?

Of all the Texas writers I've read, I've probably been inspired most by Katherine Ann Porter's stories, especially "Pale Horse, Pale Rider." I also love Donald Barthelme for his disciplined, unique, word-cloud prose. Mary Karr, who grew up in my dad's hometown, for her vivid, tragicomic memoirs. Larry McMurtry for Lonesome Dove. The poetry of Naomi Shihab Nye, who used to babysit my husband when he was a pre-teen in San Antonio in the late 1960s. I'm a fan of Justin Cronin's early work, and recently picked up Friendswood by René Steinke, which I'm looking forward to reading.

What was your first big break in writing, and how did it come your way?

There have been some memorable moments in my career as a writer, starting with the contest I won in fifth grade, which gave me a sense of possibility, to getting my first byline in a national magazine, to landing my wonderful agent (Jane Gelfman of Gelfman Schneider Literary Agents), to holding my first published novel. But the most important breaks were the rejections, especially from publishers. They felt devastating and humbling, but it was because of them that I discovered that I would continue to write regardless of any future commercial success. Now I need that external validation so much less than I used to—but I appreciate it that much more.

What is a day like in teaching for Houston-based Writers in the Schools (WITS)?

I teach two third grade classes, an hour each on Fridays. I look forward to those two hours all week. Typically, we take a minute to share big news ("I lost a tooth!" or "I got a puppy!") and then I introduce a mentor text, whether a poem, story, or piece of art. We discuss a concept that will go into their "writer's toolkit" and the prompt for that day's exercise. Before they begin writing, we recite our mantra—I am a fearless writer!—because if that's the only thing they remember from our time together, that will be enough.

What inspired you to write Whisper Hollow?

A number of ideas converged into what would become this novel: memories of spending time at my grandmother's house in West Virginia; conversations with my mother-in-law about her Polish heritage, and her father, who was a foreman at a coal mine; the eerie stories my son told me about his past lives before he was two years old; a curiosity about the immigrant experience in small American communities; a fascination with truth and secrecy; and a desire to see how terrible, awful circumstances would inform these characters' lives.

What advice would you give to aspiring authors?

Write. Rewrite. Read. Observe, think, wonder, daydream. Curate an interesting life for yourself so that you can give one to your characters. Build a mutually supportive network. Get over the notion of instant success, and accept rejections graciously. But mostly: write.

How does martial arts complement your writing?

Both demand discipline, practice, and patience. I devote regular time to both, and it has taken many years to develop my skills in each of those arts. I like that regardless of my level of expertise, I will never be an expert at either one; there is always more to learn.

What is your work process like? Are you a plotter or a pantser?

I don't like plotting a novel for the same reason I don't like packing for a trip—planning it all ahead of time sucks the spontaneity out of it. I start with a character or a setting or a question or a conundrum, and let the story reveal itself to me. I'm a reader as much as I am a writer, and the way I approach a book allows me to be both simultaneously.

Finally, a delicious question for you. What do you consider to be your quintessential Texas meal, the kind of meal that Texas wordslingers and word lovers can truly enjoy?

Chile con carne. It's deeply satisfying fare with a deceptively simple plot: somebody (the fall-apart tender carne) wants something (the intense, aromatic chile) but ______, so ______. The blanks are where the story—or the recipe—gets interesting. Plot twists can force the carne in disparate directions: sweet, with Costeno or Choricero chilies, or hot, with Arbol or Cascabel. The introduction of different characters—adobo sauce, Kosher salt, cinnamon, fish sauce, masa, cilantro or apple cider vinegar, for example—can dramatically alter the outcome. As Texas author J. Frank Dobie once said, "the story belongs to whoever tells it best." In the case of our hero carne, the story belongs to whoever cooks it best.

* * * * *
Praise for
Chris Cander's WHISPER HOLLOW
"Cander divinely delves into multiple points of view, crafting a collage of vibrant, layered characters while charting six decades of poignant, precise moments. A distinctive novel that sublimely measures the distressed though determined heartbeat of a small mountain community." —Kirkus Reviews (starred review)
"[Whisper Hollow] is inextricably rooted in West Virginia coal country—the rough locale that determines and intertwines [Cander's] characters' fates…Cander closely tracks how Myrthen's and Alta's romantic decisions unknowingly complicate each other's lives in the lead-up to a tragic incident that bisects the novel…[and] admirably captures the lack of choice that men and women have in rural West Virginia." —Publishers Weekly
"Cander superbly envisions the town, its residents' dynamics, and the early twentieth-century immigrant experience…[and] rewards the reader with…well-developed, believable characters whose mental fortitude and capacity to love linger in the reader's mind long after the last page." —Booklist
"Like D. H. Lawrence's Sons and Lovers, Chris Cander's beautiful novel, Whisper Hollow, is about love that finds its object, and love that misses its mark and becomes destructive, in a community of coal miners. The story's locale is one where love (for God, or others) is blocked or displaced until that moment when it can finally express itself, in a setting where work itself may be deadly and time may always run out. Chris Cander's understanding of men and women is profound, and the scenes in this wonderful book will stay with you like a visionary experience." —Charles Baxter, author of There's Something I Want You to Do: Stories
"With memorable characters and a haunting setting, Chris Cander weaves a compelling tale of the transformative power of love in the face of buried truths that threaten literally to explode." —Ann-Marie MacDonald, author of Adult Onset
"Sometimes fiction is so good, so authentic, and the storyteller so convincing, that it just feels true. Whisper Hollow is one of those books. I'm blown away, honestly. Chris Cander has created characters with immortal souls." —Jamie Ford, author of Hotel on the Corner of Bitter and Sweet