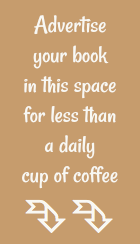 Queen of Texas romance Jodi Thomas
on the habit of writing, and her new Ransom Canyon series
Jodi Thomas—or Jodi Koumalats to those who knew her back when she and husband Tom Koumalats both taught school in Amarillo—is a fifth-generation Texan, whose grandmother was born in Texas in a covered wagon. In writing her romance novels, she draws on every ounce of that heritage to craft characters, settings, and situations readers love. The last book in Jodi's Harmony series, One True Heart, is due out this week, and she'll be on the road reading and signing all month. We're grateful this multiple RITA award winner and New York Times best-selling author took a few minutes out of her jam-packed schedule to talk about the ways writing has changed her life.
LONE STAR LITERARY LIFE: Jodi, you've published dozens of novels in the past quarter-century-plus. How did your first break come about?
JODI THOMAS: I've published over forty books now with Kensington, Berkley, Penguin, Putnam and HQN and HarperCollins. Most of the time I was standing still and the publishing world was buying out one another.
I thought selling a book would be easy. It took me two years to write the first book, and I was surprised when no one wanted it. I remember my husband saying when I got the first rejection letter, 'you didn't think it would be that easy, did you?'
By then I'd taken every class I could on writing, read every book I could find on writing, and wrote every night. That's when I figured it out---writing is about a hundred times harder than people think it is.
After that first rejection I waited a week and started the next book. A year later I went to a national writing conference in Dallas and pitched it to an editor. I didn't know it at the time, but she was looking for a Texas voice, and I'm about as Texas as they come. I didn't know how to write deep characters then, so I had to keep killing off characters and bringing in new ones.
What was the turning point when you determined you could write full-time?
My third book went up for bids. The Tender Texan — sappy title but everyone loved the book about the founding of Fredericksburg, Texas. Romance Writers of America named it the Best Historical Romance that year — my first RITA [Editor's note: that's RWA's annual award for romance fiction, for you newcomers]. I got a two-book contract. So, I went wild. I quit teaching, took out my retirement to live on until I got royalties, bought a new computer and five jogging suits to work in, and went to work. I almost starved that year, but I learned how to work. It's really simple: a writer writes. Looking back, it was the best move I ever made.
How has the writing life changed since you started? Did you start out on a computer/word processor/typewriter, for instance?
I wrote my first book on a typewriter. When I moved to a computer my output tripled.
The publishing world in constantly changing. Self-published has rocked the foundation, but when it's all said, 'A writer writes for the reader.' Some nights I write an hour longer because I know a reader is out there waiting for the next book.
Below: Jodi Thomas's writing spaces, on campus (left) and at home (right)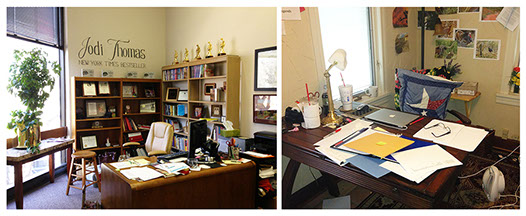 You've indicated that your forthcoming Ransom Canyon is the start of a new series that you've been eager to write and publish. Tell us more!
The first Ransom Canyon title will be out August 25,2015. HarperCollins, under the HQN line, will be bringing out six books and two short stories in the next two years. It's a grand series about ranching and living in a little town. All my characters and the town are fictional. I'm almost finished with the second one and so I feel like I'm living in Ransom Canyon. My characters have very much come alive.
I've been spending a great deal of time in Palo Duro Canyon and on ranches. Every time I pass through Lubbock, I stop and drive through Ransom Canyon. Though my stories are fiction, I want to write a series about the people — ranching and farming — living with the weather and the seasons. I've spent days walking the land with ranches trying to capture the way they feel about the land. From the beginning I knew this story could be set nowhere but the canyons of Texas and it had to be told in a series.
I chose HarperCollins and HQN as the publisher because in August it will be printed in twenty-three languages all across the world. I can't wait to see how 'riding for the brand' is going to be explained.
(I've turned the little house out back of my 100-year-old house into my book. Sending picture. My Ransom canyon is on the walls of a little room, but my imagination is racing the wind along the edge of the canyon.
How do feel about the changes in publishing in the age of Amazon, e-books, and indie/hybrid/self-publishing?
Mixed feelings. More books, that is great.
I worry about future: I think some new writers jump into publishing too soon---before they've polished or found their voice---they get discouraged and give up writing before growing into a great writing.
Who are some of your favorite Texas authors and books? I have hundreds.
As the writer-in-residence at West Texas A&M, what's a typical day like for you?
Well, about a hundred e-mails a day come in. So I start my day answering them. Editors, agents, publisher, all with questions. People wanting me to talk (I love that!) and new writers with questions. I also keep up with several writing loops.
After e-mail I usually have a group of students come in on Tuesday and Thursday. I have several groups who meet once a week. A few times a week I meet with groups in Amarillo or Canyon and we talk writing.
Afternoons I work with an intern, or student employee. We're planning all social network actions — blog and the like. Sometimes we meet about the Writing Academy I founded five years ago: one week in June new writers come to West Texas A&M and live in the dorm, and we study writing all day.  The West Texas A&M Writing Academy has launched many writers into careers in writing.
I usually make it home about five or six. We have dinner then about seven or eight, and I go to my study and work until ten or eleven. On weekends I work off and on all day. I never take a 'day off' unless there is something that keeps me from writing.
The perennial question of "Can writing be taught?" has resurfaced again with recent opinion pieces in creative writing circles. What is your take on that question?
A small part of writing is art, most is craft. I've seen so many talented writers never published because they don't work. Learning the craft takes years. We can teach most of that.  But the art! That spark inside of people who say "What if?"—that has to be nurtured, not taught.
Side note: English was my worst subject in school. I still can't spell, and I think commas were dropped off by aliens just to bug mankind. One day I said I was sorry to my editor for the creative spelling. This senior editor, at the biggest publishing house in the world, said to me, "Jodi, if I could write like you, I'd be a writer and not an editor. You write---I'll watch for the spelling."
The question I fear in interviews is "Where do your ideas come from?" Sometimes I can say where, but most of the time I'm not sure. I don't make characters up. They come to me, sit down in front of my desk in my mind, and tell me their stories.
What advice would you offer aspiring writers?
Creativity is not a bucket, it's a river. The more you use it the more creative you become. Writing is hard work. You carry your job with you everywhere.
Writing isn't just a job you do, it's who you are.
I couldn't agree more! Now, I just have to ask: What is your favorite Texas meal?
Chicken fried steak, of course.
* * * * *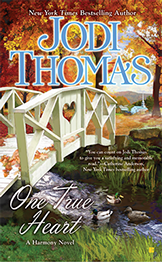 About
ONE TRUE HEART
Millanie McAllen is always logical. But after returning to her childhood home, she learns that some things are beyond explanation—like her undeniable passion for Drew Cunningham…
After finding success as a singer on the road, Beau Yates returns to Harmony to make peace with his dying father—only to find the woman he's been dreaming of for years. But the secrets they discover might be too much for him to bear…
When Johnny Wheeler is charged with his wife's murder, he turns to the only person who believes he's innocent. Fortune teller Kare Cunningham's life has always danced around reality—but Johnny is able to ground her like no other…
As their paths cross in new, captivating directions, the townspeople of Harmony need to learn to love and let go in order to live together in their little slice of heaven.
More on Jodi Thomas's books
can be found on the author's website at www.jodithomas.com
Historical:
Beneath the Texas Sky
Northern Star
The Tender Texan
Prairie Song
Cherish the Dream
The Texan and the Lady
To Tame a Texan's Heart
Forever in Texas
Texas Love Song
Two Texas Hearts
The Wife Lottery Series:
The Texan's Wager
When a Texan Gambles
A Texan's Luck
The Texan's Reward
The McLain Series:
The Texan's Touch
To Kiss a Texan
To Wed in Texas
Twilight in Texas
The Texan's Dream
Whispering Mountain Series:
Texas Rain
Texas Princess
Tall, Dark, and Texan
The Lone Texan
Texas Blue
Contemporary Fiction:
The Widows of Wichita County
Finding Mary Blaine
The Secrets of Rosa Lee
Twisted Creek
Rewriting Monday
Harmony Series:
Welcome to Harmony
Somewhere Along the Way
The Comforts of Home
Anthologies:
Sweet Hearts
A Country Christmas
Loving Hearts
Stardust
How to Lasso a Cowboy
Give Me a Texan
Give Me a Cowboy
Give Me a Texas Ranger
Give Me a Texas Outlaw
A Texas Christmas