LONE STAR LITERARY LIFE • News, reviews, and events for Bookish Texas • www.LoneStarLiterary.com
Contact:
Kay Ellington      What: State-wide Recognition
Editor and Publisher     Who: Lone Star Literary Life
Lone Star Literary Life     When: 2015 Top Bookish Destinations
1923 29th Street     Where: Online Publication
Lubbock, TX 79411
Phone: 806.773-5445
Email: info@LoneStarLiterary.com
LUBBOCK, TX – What do a city that's named a lily after a beloved author, a museum that gives away a book a day to children, and a sculpture garden of children's book characters have in common? They were all ranked yesterday among Texas's Top Ten Bookish Destinations by Lone Star Literary Life.
As Texans contemplate road trips with warmer weather, one of the most popular literary news outlets in the state has ranked Texas's Top Ten Bookish Destinations just in time to help travelers with spring travel plans. http://www.lonestarliterary.com/top-texas-bookish-destinations-2015.html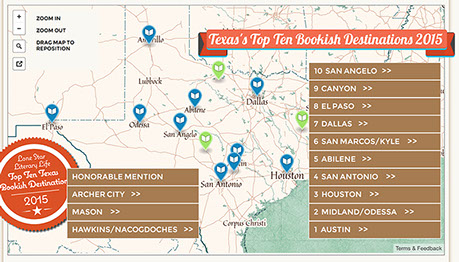 Texas's Top Ten Bookish Destinations 2015
Communities named to the list and their literary destinations (whether cited in the writeup or not) are eligible to add the Top Texas Bookish Destination badge (see below) to their websites and social media.
#10 San Angelo is home of the best-selling Western author Elmer Kelton, whom the city has honored with a mural, statue, and lily; it also boasts an independent bookstore and a top-notch public library
#9 Canyon is celebrating 50 years of Texas, a play written by Paul Green, the "father of American outdoor drama" that has attracted visitors and engaged locals for generations, and has a strong independent bookstore as well as a New York Times best-selling author as its university writer-in-residence
#8  El Paso offers a bi-cultural and bi-lingual literary heritage and attractions
#7 Dallas  Big D offers unparalleled spoken word events, as well as, bookstores, a book festival, and the infamous locale of the Texas Book Depository
#6 Kyle/San Marcos has the Katherine Anne Porter childhood home and the Witliff Collections, with many of the Southwest's greatest literary archives, including a special exhibit on Lonesome Dove
#5 Abilene is the home of the National Center for Children's Illustrated Books, which features a sculpture garden of children's book characters, and in 2015 the West Texas Book Festival celebrates its 15th Year
#4  San Antonio has the O. Henry home, several excellent bookstores, a top-tier book festival, the Alamo (subject of many books), several publishers, and the book arts at the Southwest School of Arts
#3 Houston is the home of the nationally renowned University of Houston Creative Writing Program, many bookstores and several publishers, and literature inspired by the space program.
#2 Midland/Odessa: The Permian Basin is home of George W. Bush Childhood Home, where visiting children are given a book a day; the nationally recognized Centennial Library and the 2014 Library of the Year; One Book Odessa; and Books in the Basin, the largest book festival west of I-35.
#1 Austin is the state's top literary destination, with a multitude of independent bookstores, the Texas Book Festival (one of the largest in the country), the O. Henry Museum, literary journals, a vibrant independent and university press publishing scene, numerous writers' groups and spoken word events, the Writers' League of Texas, and the LBJ Library.
Honorable mentions went to Archer City (hometown of Larry McMurtry and site of his bookstore, Booked Up); Mason (home of Old Yeller author Fred Gipson and site of Old Yeller Days); and Nacogdoches/Hawkins/Jefferson (home of Kathy L. Murphy's celebrated Beauty and the Book store and the Pulpwood Queen's Girlfriend Weekend).
While the rankings are subjective – selected by Lone Star Literary Life staff following weeks of careful research and tabulation of factors such as number and activity of bookstores, literary festivals, writers' groups and book clubs, libraries, writers' homes to visit, authors connected with destinations or using them as settings for books, creative writing programs, and opportunities for publishers and publishing — Texas is a large state with a vibrant literary scene, and the choices were challenging.
"We concentrated primarily on those aspects of literary life that make a place 'visitable,'" said Kay Ellington, LSLL founding editor and publisher. "And we tried capture the bookish flavor and fabric of each  place that might attract readers and writers."
Lone Star Literary Life is published online weekly on Sundays, by free digital subscription.