Keija Parssinen was born in Saudi Arabia and lived there for twelve years before her family moved to Austin. She attended Princeton University, where she studied English literature and received a certificate from the Program for the Study of Women and Gender. She then earned her MFA at the University of Iowa Writers' Workshop, where she was a Truman Capote fellow, a Teaching and Writing fellow, and the student editor for the Iowa Short Fiction contest.
After finishing the program, she won a Michener-Copernicus award for her debut novel, The Ruins of Us(Harper Perennial, 2012), which was published in the US, UK, Ireland, Australia, South Africa, and Italy and around the Middle East. The novel was long-listed for the 2012 Chautauqua Prize. In 2014, Parssinen was a visiting professor of fiction writing at Louisiana State University. Her work has appeared in the Lonely Planet travel-writing anthologies, Five Chapters, the New Delta Review, Salon, Marie Claire, and elsewhere.
Kejia Parssinen: Part Middle East, part Southwest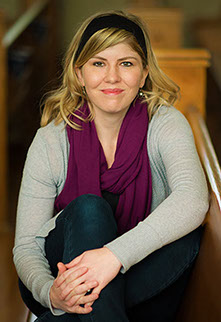 Kejia Parssinen played basketball competitively throughout middle and high school. In many ways, her new novel The Unraveling of Mercy Louis (Harper, 2015) is a tribute to all the girls she met on that journey: her coaches, the ones on her team, and the few Mercys she played against, the ferocious girls who left her awe-struck as they lit up the scoreboard, as they owned the court, the day, the season, the town. We corresponded with her during her recent Texas book tour.

LONE STAR LITERARY LIFE: Welcome back to Texas. What's it like to set foot on Lone Star soil again?

KEJIA PARSSINEN: It's always wonderful to be home. I love waking up in my mother's house, in the neighborhood where I grew up. The sun rising over the hills, the early morning mist in the live oaks, the mourning doves calling—these things are so familiar and comforting to me. I was born in Saudi Arabia and lived there until I was twelve, when my family then moved to Austin. For a while, I didn't know where to tell people I was "from," but now it feels so natural and good to say I'm from Texas. It has truly become home to me, even if I no longer live here.

LSLL: Are you still a basketball fan? Do you follow March Madness or the WNBA? If so, which teams?

KP: With a toddler son, my free time is seriously limited, so unfortunately I don't really watch sports any more. But women's NCAA basketball has always been my favorite. In high school, I was a University of Texas and Stanford fanatic. I loved Stanford because I'd read a terrific non-­fiction book called In These Girls, Hope Is a Muscle, about a championship Massachusetts high school team led by Jamila Wideman, who went on to be point guard for the Cardinal. She was pretty short—five foot six—but played with such ferocity and skill, no one could stop her. As a sophomore in high school, I attended the Stanford basketball camp just so I could meet her. When she signed my basketball and shook my hand, I almost fainted! The character of Mercy Louis is definitely inspired by Jamila, with a dash of Kate Starbird thrown in. Those women—talented, smart and fierce—were my heroes.

LSLL: I see that you spent your childhood in Saudi Arabia. For most Westerners there's a mystique to the Middle East, and there are a lot of questions about the roles of females in that region of the world. What moments of your childhood in Saudi Arabia stand out?

KP: I loved my Saudi childhood and have many fond memories of the place. My best friend's family often went camping in the desert and by the beach, and some of my favorite memories emerged from those trips with them. I remember the cold desert nights and sitting around a big campfire that someone had built inside this cavernous cave of white rock. I remember the giant dune that we would tumble down, right into the salty water of the Gulf. I remember a school field trip to the Qatif oasis, and the taste of the freshly baked bread that we ate in the marketplace, and the peaceful feel of life beneath the sheltering palm fronds there.

I remember the long nighttime flights out of the Kingdom, and how we kids slept on the floor at our parents' feet, waking up bleary-­‐eyed in Amsterdam or Paris. I remember the great diversity of my school, where I befriended kids from Palestine, Pakistan, India, Bangladesh, Jordan, and the UK. It was a marvelous place to grow up, really; as children, we were pretty sheltered from the politics of both gender and state, though the Gulf War introduced into the rosy narrative of my childhood fear, anxiety, and the sense that I didn't fully grasp what was happening in the broader world around me.

LSLL: As an adolescent you moved to Texas; how did that transition affect you? What was it like growing up in Austin?

I grew up in the Hill Country just outside of Austin, near Lake Travis. When we first moved to the area, it possessed a kind of rural wildness, and there was a real sense of being "way out West," as opposed to just living in Austin's suburban sprawl. Our house abutted the lake, and so in the summers, we would spend all day down at the dock, getting sunburned and playing tag in the water. It felt like an enchanted place. At school, I loved the emphasis on girls' sports, and I started playing basketball, volleyball, and softball, and running track. I missed Saudi Arabia and that tight-­‐knit community, but sports helped me make the transition and make friends. I'll never forget my first basketball team, the "Majic," coached by a wonderful giant of a man, Tommy Ingram. We won the championship and I was the MVP— my most memorable sports triumph happened when I was twelve years old! But I loved those girls and that experience, and it was a fantastic way to be introduced to the seriousness of Texas girls' athletics.

LSLL: When did you start writing, and when did you decide to make writing a career?

KP: I always loved to read and write, and I dreamed about becoming an author, but I didn't become a practicing fiction writer until I was 25. I wrote with much joy, and without expectation, and I took my first fiction workshop at the Sackett Street Writers' Workshop in Brooklyn, where I was living at the time. I didn't seriously consider whether or not writing could be a career because that seemed as impossible as becoming a pop star, but Julia Fierro, my teacher at Sackett Street, saw a spark of something in my writing and encouraged me to apply to the Iowa Writers' Workshop, where she had gone. When I received my acceptance letter, I was at my mom's home in Austin, and I ran out to where she was watering her garden, shrieking and crying, and she sprayed me with the hose. We were so happy.

That was a turning point in my life. Iowa gave me everything by taking me seriously as a writer, and it was marvelous to feel connected to the Workshop's literary heritage.

LSLL: Which Texas authors and books influenced you as a writing?

Mary Karr's memoirs were an important part of my research for Mercy Louis because she was born and raised in Orange, Texas, right in the heart of the country I was writing about. I love her honesty and fearlessness, and her rapacious curiosity about literature and the world. And though she's not a native Texan, Elizabeth McCracken was an important teacher to me when I was at Iowa (she now teaches in the Michener program at UT); her books are unflinching and beautifully crafted. I like James Lee Burke's work for its gritty beauty and impressive plotting.

And native Texan Mary Helen Specht just made her debut with Migratory Animals, a very Austin novel that is psychologically astute and lyrical.

LSLL: There's been a lot of conversation recently about whether writing can be taught. What's your position on the question, as a teacher/professor/workshop leader?

KP: I think that, as with Mercy's basketball talent, writing talent is nine parts gift and one part grit. But gifts can be developed, and every writer can improve to become the best writer he or she is capable of being. I enjoy teaching workshops for the sense of community and shared purpose. If someone wants to learn more about fiction writing and try to improve her skills, I applaud and encourage her. That said, I don't think anyone should go into debt to get an MFA. There are other, more financially shrewd ways to hone your craft—starting with just putting your butt in the chair every day.

LSLL: What inspired you to write The Unraveling of Mercy Louis? Besides basketball, were there real-­‐life experiences that influenced this work?

KP: Yes, though not my real-­‐life experiences. The story was partly inspired by a 2012 article I read in the New York Times magazine, written by Susan Dominus, about an outbreak of mass psychogenic disorder among a group of high school girls in Le Roy, New York. The article ignited my curiosity, and there was no looking back. I immediately dropped the novel I was working on, researched the phenomenon, and wrote the first draft of Mercy Louis in five months.

LSLL: Are there future projects in the works inspired by your Texas background?

KP: Not yet, but I'm sure Texas will continue to feed my fiction. My third novel is set in Beirut in the early '70s, just before the outbreak of the civil war.

LSLL: I've enjoyed our dialogue, and sadly, we've reached that all-important closing question. Now that you're back in Texas, what meal are you most looking forward to having?

I had it last night! Joe's tacos at Flores Mexican Restaurant on RR 620, paired with a margarita, rocks and salt. My husband and I fell in love drinking those margaritas and eating at Flores, so it holds a special place in my heart. Plus, it's the best Mexican food I've ever had.