Neil Gaiman will be the author for the third One Book Odessa citywide read
via a partnership with the Odessa Council for the Arts and Humanities, the Friends of the Ector County Library, the Education Foundation of Odessa, Odessa College, and the Ellen Noël Art Museum.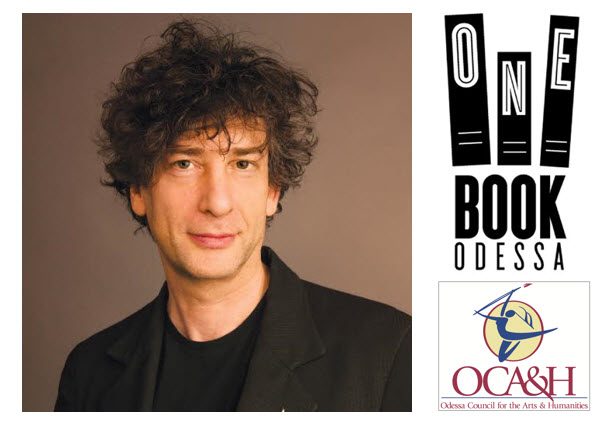 Gaiman will appear at the Wagner Noël Performing Arts Center on May 20, 2015, at 7 p.m. for an evening of discussion on his work, a reading from his latest short story collection, Trigger Warning, and audience Q&A. The event is free and open to the public; however, tickets will be required and are available at

 http://wagnernoel.com/events/evening-neil-gaiman/ (convenience charge may apply).

Gaiman is the New York Times bestseller of more than twenty books. His works for adults include Neverwhere (broadcast as a BBC radio adaptation starring Benedict Cumberbatch); Anansi Boys; Good Omens (with Terry Pratchett); and the short story collections Smoke and Mirrors and Fragile Things. His most recent novel, The Ocean at the End of the Lane, was described by The Guardian as "a book that summons both the powerlessness and wonder of childhood, and the complicated landscape of memory and forgetting." A #1 New York Times bestseller, it was voted Book of the Year in the British National Book Awards.

Coraline was adapted as a musical by Stephin Merritt in 2009. Other works for younger readers include The Day I Swapped My Dad for Two Goldfish (illustrated by longtime collaborator Dave McKean);,The Wolves in the Walls (made into an opera by the Scottish National Theatre), Odd and the Frost Giants (written for 2009's World Book Day, illustrated by Brett Helquist), and The Dangerous Alphabet (illustrated by Gris Grimly). His most recent children's book is Fortunately the Milk, another bestseller.

Gaiman has appeared as himself on The Simpsons and in an episode of Arthur, and has written for the hit television series Babylon 5. He has also penned screenplays for the original BBC TV series of Neverwhere; Dave McKean's first feature film, Mirrormask, for the Jim Henson Company; and co-wrote (with Roger Avary) the script to Robert Zemeckis's Beowulf. Gaiman's works have been widely adapted for film, television, and radio, including Stardust (starring Robert DeNiro and Michelle Pfeiffer); Coraline (an Academy Award nominee and the BAFTA winner for Best Animated Film); Sandman (currently in development as a major motion picture); and American Gods (a forthcoming television series).

A self-described "feral child who was raised in libraries," Gaiman credits librarians with fostering a lifelong love of reading. He is a passionate advocate for books and libraries, and a supporter and former board member of the Comic Book Legal Defense Fund. His blog has more than a million regular readers, and more than two million people follow him on Twitter. Born in England, Gaiman lives in the United States and teaches at Bard College. He is married to artist-musician Amanda Palmer, with whom he sometimes performs.