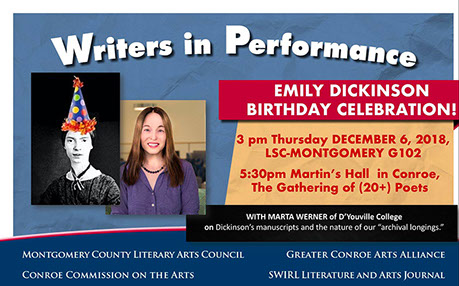 Poets Gather in Conroe Dec. 6 to celebrate Emily Dickinson's Birthday
CONROE — Lone Star College Montgomery will host the 2018 Emily Dickinson Birthday Celebration on Thursday, December 6, 2018. The annual celebration will again feature two events, a presentation at LSC-Montgomery by a noted Dickinson scholar and the Gathering of Poets readings at Martin's Hall in Conroe.
At 3:00 p.m. on Thursday, December 6 in LSC-Montgomery room G-102, Dickinson scholar Dr. Marta Werner will discuss the iconic poet who has been called the Mother of American Poetry. Werner is s professor of English at D'Youville College and the author or editor of Emily Dickinson's Open Folios: Scenes of Reading, Surfaces of Writing, Ordinary Mysteries: The Common Journal of Nathaniel and Sophia Hawthorne (with Nick Lawrence), Radical Scatters: An Electronic Archive of Emily Dickinson's Late Fragments and Related Texts (Center for Digital Research in the Humanities), and The Gorgeous Nothings (with Jen Bervin).
In her most recent publications, Werner explores the land-, sound-, and weather-scapes of the nineteenth century. A recipient of both the Fredson Bowers and JoAnn Boydson Prizes for her textual scholarship, Werner currently serves as the editor of Textual Cultures and on the advisory boards of The Emily Dickinson Journal, the Dickinson Electronic Archives 2, and the Emily Dickinson Archive. She is currently working on a new edition of Dickinson's "Master Letters" for Amherst College Press.
At 5:30 p.m. at Martin's Hall on the square in Conroe, The Gathering of Poets will convene. This year's event will spotlight more than twenty of the most distinguished poets in Texas, led by 2011 Texas Poet Laureate Dave Parsons and 2018 Montgomery County Poet Laureate Dede Fox. Feature Poets include Michael Anania, Mike Baldwin, William Virgil Davis, Carolyn Dahl, Robin Davidson, Kurt Heinzelman, Grady Hillman, Gretchen Johnson, Sharon Klander, Janet Lowery, Janet McCann, John Milkereit, Hallie Moore, Ken Fontenot, Kevin Prufer, Deseree Probasco, Octavio Quintanilla, Daniel Riffenburgh, Chuck Taylor, Randall Watson, Marta Werner, and Lowell Mick White.
The dinner and reading will include a silent-auction fundraiser for the Montgomery County Literary Arts Council. Though the reading is free to the public, the barbecue dinner will be $25 per person. Reservations for the dinner should be made at dmparsons@suddenlink.net or (936) 524-6537.
For more information, contact Dr. Cliff Hudder at clifford.w.hudder@lonestar.edu
(From organization's press release)

Letters About Literature 2018 open for submissions from young readers
AUSTIN — Has a book brought you to laughter or tears, or changed your life? Write a letter to the author.
Letters About Literature is a reading/writing contest for fourth through twelfth graders under the direction of the Library of Congress. Texas submissions for the 2018–19 contest are due to the new online submission platform by December 14, 2018. A permission form is required for all students under the age of 13 on November 1, 2018.
Tens of thousands of students from across the country enter Letters About Literature each year. State winners receive $100 and a trip to the Texas Library Association Conference. National winners receive $2,000 and travel assistance to Washington D.C. for a special awards ceremony.
How to enter
There are three categories for contestants:
Level 1 — Grades 4-6
Level 2 — Grades 7-8
Level 3 — Grades 9-12
Read: Select a fiction or nonfiction book, a poem or play you have read that you feel strongly about. It might be a book that helped you through a difficult time, or it might be a book that simply touched your heart or inspired you.
Reflect: Think before you write. How did this author's work change you or your view of the world? How and why are you different now than you were before you read this work?
Persuade:  Write a personal letter to the author stating how reading his or her work changed you. Be personal and persuasive! Support your ideas with specific details, including details from the work itself. This is not a fan letter, but rather a reflection on how an author influenced you.
Write: Type your entry in letter format. All submitted letters must be typed.
Submit: Upload your letter to the online submission platform. Be sure to read the submission steps and official rules from the Library of Congress here: http://read.gov/letters/
For more information, visit The Texas Center for the Book at www.tsl.texas.gov/lettersaboutliterature
(Information from program's website)

Holiday Book Fairs set for Dec. 8 in Austin, Fort Worth
On Saturday, December 8, 2018, readers and gift-givers will have two excellent opportunities to meet leading Texas authors and purchase signed copies of their books.
Humanities Texas will host its tenth annual Holiday Book Fair from 10 a.m. to 1 p.m. at the historic Byrne-Reed House in Austin, and TCU Press will host their second annual Holiday Book Fest from 2:30 to 5 p.m. at the Dee Kelly Alumni Center on the campus of Texas Christian University.
The Humanities Texas Holiday Book Fair features twenty-six noteworthy authors—including Lawrence Wright, Sarah Bird, H. W. Brands, Elizabeth Crook, Joe Holley, Bill Wittliff, Carrie Fountain, Michael Barnes, Mimi Swartz, Chris Barton, Don Graham, Bethany Hegedus, Kyle Longley, Austin Bay, Kenny Braun, Samantha M. Clark, Xelena González, Paul Woodruff, Bronson Dorsey, Virginia A. Cumberbatch, Leslie A. Blair, Bill Wright, Wyatt McSpadden, Barbara Morgan, Kevin Robbins, Anne R. Keene, and Jennifer Ziegler—will visit with the public and sign copies of their latest books. Available titles include works of fiction and nonfiction, with selections for both adult and youth readers.
Humanities Texas will offer these books for purchase at a discounted price. Friends of Humanities Texas receive an additional 25% percent discount on Holiday Book Fair purchases. Proceeds will benefit Texas libraries.
Park for free in the St. Martin's Evangelical Lutheran Church lot on the northwest corner of 15th and Rio Grande Streets, and enjoy coffee and a bake sale of donated and homemade treats.
For more information about the book fair and to learn more about the authors and their books, visit www.humanitiestexas.org/news/articles/holiday-book-fair-saturday-december-8
To become a Friend of Humanities Texas and receive an additional 25% percent discount on Holiday Book Fair purchases, visit https://www.humanitiestexas.org/donate/friends
More than a dozen authors will be autographing and inscribing copies of their books at TCU Press's Holiday Book Fest. At press time, the lineup includes Anthony Champagne, LaLonnie Lehman, Bill McNeal, Karla K. Morton, Hank O'Neal, Jan Reid, Jim Riddlesperger, Drew Sanders, Robert Seltzer, Patricia Vermillion, and Thomas Zigal, and Fort Worth legends Dan Jenkins and Bobbie Wygant.
Shoppers can browse books in many genres, including children's books, poetry, Westerns, sports, and art/architecture, as well as register for door prizes. All books will be 40 percent off.
For more information about the TCU Press Holiday Book Fest, please visit the Facebook event: www.facebook.com/events/209659279983108/?notif_t=events_recurring&notif_id=1543414569535207
Both events are free and open to the public.
(From event sponsors' publicity)