Thomas H. McNeely on GHOST HORSE,Texas authors, barbecue
by Kay Ellington
Latest Harmony novel goes
back to the town's beginning
Amarillo author Jodi Thomas is winding down her Harmony series, but is working on a new romance series about Texas ranch life.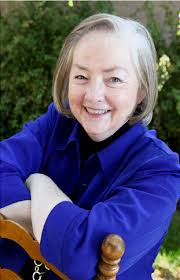 Her latest Harmony novel is A Place Called Harmony (Berkley, $7.99 paperback), which serves as a prequel to the rest of the series. All the stories take place in the small, fictional Texas Panhandle town of Harmony.
Another Harmony book, One True Heart, is due out in April. Thomas said she thinks it is "the funniest book I've ever written."
And there will be one more Harmony novel, a Christmas book, possibly next year.
Now she's moving on to the Ransom Canyon series, with the first story scheduled to come out in late August.
Back to A Place Called Harmony, the eighth book in the series. This one is set in the mid-1870s, when trading post owner Harmon Ely decides one day to expand his post and create a town. He puts out the word that married couples who come to help him build the town will be rewarded with 40 acres and a house to live in.
He stipulates that they must be married, however. And thus begins the tale of three families who figure prominently in the later Harmony novels—the Trumans, the Mathesons, and the McAllens. And a fourth family, the Wrights, wander into town at just the right time.
"For those of you who read the series," Thomas writes, "you'll love knowing how it all started. "For those who haven't visited Harmony yet," she adds, "you'll be stepping into a community at the birth of not only a town, but of friendships that will last for lifetimes. If you enjoy this tale, you might just stay awhile and read the rest of my stories."
History, romance and intrigue intertwine in this fast-paced tale with characters who really come alive as they seek to leave their past difficulties behind and build a better future for their families.
In addition to being a best-selling novelist and A. C. Greene Award winner, Jodi Thomas is writer in residence at West Texas A&M University in Canyon.
Jack Prine: Texas author Rod Davis's new novel, South, America (NewSouth Books, $24.95 paperback), begins in New Orleans when journalist and private investigator Jack Prine happens upon the body of a well-dressed black man with a bashed-in skull.
Before long he finds himself mixed up in a complicated and deadly case involving the victim's beautiful sister, the Dixie Mafia, racists, voodoo, family secrets and priceless stolen art. Davis moves the action along through Alabama, the Delta, and back to New Orleans with crisp dialogue and hair-raising encounters.
Glenn Dromgoole is co-author of 101 Essential Texas Books. Contact him at g.dromgoole@suddenlink.net.
Texas Reads  2.15.2015

Glenn Dromgoole
LSLL corresponded with Texas native Thomas H. McNeely, now living and teaching at Emerson College, by email on a day when Boston was nearly immobilized by snow and Lubbock had an eighty-degree January afternoon. We didn't envy him.

LSLL: First, kudos on Ghost Horse, and a lifetime of impressive literary and professional experiences. How do you think the time frame define each of these experiences for you?

Thank you, Kay, for having me on Lone Star Literary Life. I am honored by this invitation, and grateful that you are providing this service to the Texas literary community.

I grew up in Houston, which is where Ghost Horse, my debut novel, is set. I have been a Dobie Paisano fellow, a Wallace Stegner fellow at Stanford, a defense investigator of capital murder cases, and a staffer at the Daily Texan.

When I was growing up in Houston, I wanted to be a writer. This came to me, I think, from my grandmother, Alice Cochran, who won the Intercollegiate Cup for Elocution in 1918. She could recite poetry well into her eighties and continues to be an inspiration to me. Writing on deadline for the Texan was my first exposure to what it would mean to be a professional writer—I was very lucky to work with some amazingly talented writers and editors, and also to have wonderful writing teachers at UT—James Magnuson, Elizabeth Harris, and Thomas Whitbread. The lessons I learned in those classes are ones I still call upon in my writing and teaching. >>more