Each week Lone Star Literary profiles a newsmaker in Texas books and letters, including authors, booksellers, publishers.

Michelle Newby Lancaster is a reviewer for Kirkus Reviews and Foreword Reviews, writer, blogger at TexasBookLover.com, and a moderator for the Texas Book Festival. Her reviews appear in Pleiades Magazine, Rain Taxi, Concho River Review, Mosaic Literary Magazine, Atticus Review, The Rumpus, PANK Magazine, and The Collagist.
8.12.2018   Mimi Swartz talks Ticker, Texas women, and Houston's surfeit of great stories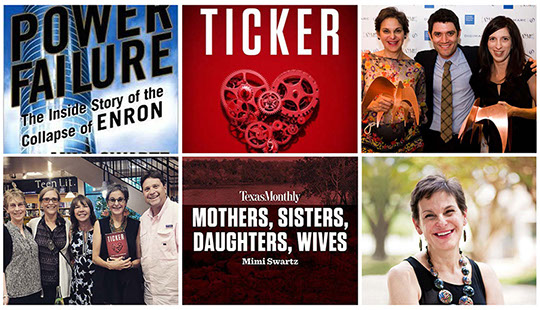 Mimi Swartz, author of the just-released Ticker: The Quest for an Artifical Heart, and the author, with Sherron Watkins, of Power Failure: The Inside Story of the Collapse of Enron, is an executive editor of Texas Monthly. Previously, she was a staff writer at Talk, from April 1999 to April 2001, and a staff writer at the New Yorker from 1997 to 2001. Prior to joining the New Yorker, she worked at Texas Monthly for thirteen years. In 1996 Swartz was a finalist for two National Magazine Awards and won in the public interest category for "Not What the Doctor Ordered." She was also a National Magazine Award finalist for her November 2005 issue story on tort reform, titled "Hurt? Injured? Need a Lawyer? Too Bad!" and won the 2006 John Bartlow Martin Award for Public Interest, Magazine Journalism, for the same story. In 2013 she won her second National Magazine Award (again in the category of public interest), for "Mothers, Sisters, Daughters, Wives," a compelling look at the state of women's health care in Texas.
Over the years, Swartz's work has appeared in Vanity Fair, Esquire, Slate, National Geographic, and the New York Times' op-ed page and Sunday magazine. It has also been collected in Best American Political Writing 2006 and Best American Sportswriting 2007. She has been a member of the Texas Institute of Letters since 1994. Swartz grew up in San Antonio and graduated from Hampshire College, in Amherst, Massachusetts. She now lives in Houston with her husband, John Wilburn, and son, Sam.
LONE STAR LITERARY LIFE: Ms. Swartz, how did you begin writing? Is writing something you always knew you wanted to do?
MIMI SWARTZ: I started writing in high school. I had amazing English teachers in my public school who challenged and inspired me. Sometimes I am amazed at the quality of the education I got back in the day.
You grew up in San Antonio, attended college in Amherst, Massachusetts, and now call Houston home. Why Houston, and what's it like to live in the midst of such an outstanding writing community? Does that community influence your choice to make your home in Houston?
You know, it's funny. When I moved to Houston in 1976 there wasn't really much of a writers' community. That's grown up along with the city, and, in particular, the University of Houston writing program. Now, yes, it's great to have so many supportive friends. What really keeps me in Houston, though, are the fascinating people in general from all over the world. And as my husband says, you can't walk out your front door without stumbling over a great story.
Your first book, written with former Enron executive turned whistleblower Sherron Watkins, is Power Failure: The Inside Story of the Collapse of Enron (Doubleday, 2003). Is Enron the quintessential Houston story?
To me, the greatest Houston story is Blood and Money, written by Tommy Thompson in the 1970s. The book is by a terrific writer who knew exactly what to do with every bit of information he had: oil, wealth, crazy doctors, murder, passion, and more.
You are an executive editor at Texas Monthly. What does that position entail? What are your responsibilities to the National Magazine of Texas, and how has your role changed — if it has — with the new regime?
The titles at Texas Monthly are sort of misnomers, given to people who end up lasting the longest. My role is mainly to write stories and contribute ideas for upcoming issues. In the past I have also edited stories, written titles and sub-titles, etc. It's a collaborative place.
I've been reading your work in Texas Monthly for decades now. You write often about healthcare, politics, and the very disparate lives of contemporary women, among them Barbara Bush, Wanda Holloway, and Anna Nicole Smith. Why these three areas of particular interest?
To tell you the truth, I have no idea. I've also written about law and flooding. Sometimes I feel obligated to write about what's most important at a given time. I would say that my favorite topic — or the topic I come back to most often — is Texas women. It ain't easy to be one and because of that we cause, and get into, all sorts of trouble.
Earlier this year I read and reviewed Lawrence Wright's God Save Texas, which he says is the result of trying to explain Texas to David Remnick, editor of the New Yorker. You've covered Texas for the New Yorker and the New York Times. What's your approach to explaining Texas? Has that task become more or less difficult over time?
I love explaining Texas because what I'm really doing is explaining it to myself. It's gone from being a pretty backward place to being a very complex place, which is sometimes STILL backward. I never run out of ideas. Who could make up Dan Patrick? The only thing that can make it more difficult is that I have to be careful not to become a crank, or a broken record, complaining about the same things.
Your new book—your second—is Ticker: The Quest to Create an Artificial Heart. What inspired Ticker?
I thought it was another great Houston story that, with the passage of time, was being lost. Drs. DeBakey and Cooley were the rock stars of their time — around the world — and most people alive today don't know it. Dr. Frazier is the bridge between Houston's past and high-tech present, which includes Dr. Billy Cohn and others. Ticker is a way to tell several stories at once — about changes in Houston, changes in medicine, and changes in society.
I've read and reviewed Ticker, and I remain astonished by the amount of research involved in such an undertaking and your ability to identify the perfect fact or analogy to illustrate your point. What can you tell us about how much research you did for Ticker and what that research involved?
I did a lot of research and still made dumb mistakes! I hate to confess this, but it will help other writers: I started out reading children's books about the heart, because, frankly, that was my level of expertise. I was also fortunate to have very patient sources willing to help me, as my husband puts it, Dare to be Stupid.
What can you tell us about your next project?
My next project is to do a lot of yoga and get as many massages as I can afford. I need to clear my head!
What books are on your nightstand?
I very much want to read [John Carreyrou's] Bad Blood, but only after I've read the books by friends I haven't had time to get to in the last FIVE years: The Midnight Assassin by Skip Hollandsworth and The Train to Crystal City by Jan Jarboe.
* * * * *
Praise for Mimi Swartz's TICKER
"A riveting medical thriller…Told in an appropriately over-the-top style, this is a quintessentially Texas story: sprawling, unpredictable, and teeming with risk and opportunity."
—Publishers Weekly
"Smart, compelling, and completely engaging, Ticker is a story about science, personality, innovation, and obsession, all in pursuit of a staggering accomplishment, the creation of an artificial heart. Mimi Swartz drives the narrative with great style and deep reporting; it's a book anyone with a heart will love." —Susan Orlean, author of Rin Tin Tin: The Life and the Legend and The Orchid Thief
"Ticker is like a medical version of Tom Wolfe's The Right Stuff. Swartz takes you into the operating theater with some of the most brilliant, ingenious and driven heart specialists in the world. It's a book full of memorable characters grappling with life-threatening crises, which is both illuminating about modern medicine, and also just a wonderful read."
—Jane Mayer, author of Dark Money
"Ticker is a page-turner, a mind-expander, a heart-pounder. Swartz unveils a wild story of medical innovation with the keen eye of a storyteller." —David Eagleman, Stanford University neuroscientist and internationally bestselling author of The Brain and Incognito
"A thrilling and affecting account of a modern medical miracle. Ticker is not only an inspiring tale of persistence, imagination, and sacrifice, it's also a joy to read." —Lawrence Wright, Pulitzer Prize–winning author of The Looming Tower and God Save Texas
"Who knew that the story of the artificial heart was such a rip-roaring one, with one larger-than-life character after another, and plot twists galore?  In Ticker, Mimi Swartz has told that story with verve and elegance, and brought those characters to vivid life. A wonderful work of nonfiction by a wonderful nonfiction writer."
—Joe Nocera, Bloomberg News columnist and author of Indentured: The Inside Story of the Rebellion Against the NCAA
* * * * *