Each week Lone Star Literary profiles a newsmaker in Texas books and letters, including authors, booksellers, publishers.

Kay Ellington has worked in management for a variety of media companies, including Gannett, Cox Communications, Knight-Ridder, and the New York Times Regional Group, from Texas to New York to California to the Southeast and back again to Texas. She is the coauthor, with Barbara Brannon, of the Texas novels The Paragraph RanchA Wedding at the Paragraph Ranch.
ABOUT THE MEMBERS OF TYPEWRITER RODEO
Jodi Egerton holds a PhD in English from the University of Texas–Austin. With her husband, Owen Egerton, she co-wrote the creativity and writing craft book This Word Now.
David Fruchter is a freelance curriculum writer, musician, performance artist, and stay-at-home dad. He lives in Austin, Texas with two dogs, two cats, and two ladies, and frequently daydreams of gardening.
Kari Anne Holt is a poet and author. Her books include the middle grade novels-in-verse, Rhyme Schemer, House Arrest, and Knockout.
Sean Petrie has an MFA in Writing for Children from Vermont College of Fine Arts and a law degree from Stanford. He is represented for his fiction writing by Erin Murphy Literary Agency.
PLUS: BONUS AUDIO!
4.22.2018  Typewriter Rodeo crafts rhyme Royal at the speed of a carriage return
"Typewriter Rodeo is an exciting project that implicates perfect strangers in the business of poetry." —Billy Collins, two-term Poet Laureate of the United States
Chances are, if you been to a book event in Texas lately, you've seen a few folks sitting at a table on the side pounding out poems on-demand on manual typewriters. Since 2013 Typewriter Rodeo has been a part of the Texas literary scene, but they've also been showcased from Boston Harbor to Puget Sound. Now, they have a new book out, and we're pleased to feature them as a part of our National Poetry Month 2018 coverage.
Who are the members of Typewriter Rodeo, and can you give us a sentence or two of biographical info for each member?
Jodi Egerton holds a PhD in English from UT Austin. With her husband Owen Egerton, Jodi co-wrote the creativity and writing craft book This Word Now. Jodi is also the project manager at CreativePickle, a childbirth doula, a goat-milker, and a classically trained clown.
David Fruchter is a freelance curriculum writer, musician, performance artist, and stay-at-home dad. He lives in Austin, Texas with two dogs, two cats, and two ladies, and frequently daydreams of gardening.
Kari Anne Holt is the author of several middle grade novels in verse including Knockout, House Arrest, and Rhyme Schemer. She has also published several middle-grade fantasy adventures, including Red Moon Rising, Gnome-a-geddon, and Brains for Lunch: A Zombie Novel in Haiku!?.
Sean Petrie has an MFA from Vermont College and writes fiction for kids, with multiple books coming out in 2018–19 as part of a collection for Fountas & Pinnell (Heinemann / Houghton Mifflin Harcourt). On the other side of his brain, Sean has a law degree from Stanford and teaches legal writing at the University of Texas School of Law.
How did the four of you meet?
We knew each other through various channels before Typewriter Rodeo. Sean and Jodi performed improv comedy with Austin's ComedySportz troupe, back in the early 2000s. Kari and Jodi knew each other through the Austin mamas group (an informal group of moms in town). Kari and Sean knew each other through the Austin children's writers community. And David took an improv/writing class from Jodi about a month before Typewriter Rodeo was born.
Were you poets before? If so, how were you pursuing poetry? Or if not, how did you come to it?
Before Typewriter Rodeo, only Kari was an established poet, through her books for kids in verse. The rest of us had strong literary and performance backgrounds — whether as writers, getting degrees in literature and writing, or performing improv comedy, which often requires on-the-spot rhythm and rhyming. And we were each avid readers of poetry. All of that together — along with writing over 20,000 poems for strangers in the last five years — has helped us develop as poets.
How, and when, did the idea of Typewriter Rodeo come about?
In May of 2013, Jodi wanted to participate in the Austin Mini Maker Faire, a crafts fair focused on do-it-yourself projects. But Jodi wasn't sure what kind of booth she wanted — maybe something to do with words? She put out a call to the rest of us, and we set up shop that day, not really sure what we were doing. Kari had several old typewriters she collected, and she brought those along because it sounded fun, and maybe we could use them. When the first few people came up to our booth, we offered to write them poems, stories, whatever they wanted. For some reason they mostly wanted poems. The sound of the typewriters clacking away gathered a crowd, and at one point someone in the crowd asked, "Do you all do this at other events?" We looked at each other for a split second, then answered, "Of course we do!" We never planned for it to last more than that one day in May, but it soon snowballed into something better and bigger than we ever could have imagined.
What was the first "big break" for Typewriter Rodeo?
Hmm, we're not sure if there was one single moment or event; we started small, and grew by word-of-mouth. The first museum events we did — especially at the Harry Ransom Center and Austin Thinkery — really helped with that. We also got an early corporate gig for PayPal, in both Austin and San Jose, that helped spread the word in the business arena. And doing a day-long gig at Willie Nelson's ranch, for his SXSW music festival, really got us some good exposure early on. Also, getting a regular spot on KUT's "Texas Standard" radio program has been a huge boost for several years now. And we of course can't forget all the book festivals we've done since our first years, and have returned to regularly — Texas Teen Book Festival, Texas Book Festival, Nantucket Book Festival, Boston and [Washington] D.C. Book Fairs, among others. So there probably wasn't one "big" break — it was more an accumulation of lots of wonderful events and people that's just kept growing.
How many events do you do each year, now?
It varies, but it's about 100 each year.
I understand you have a new book coming out, Typewriter Rodeo: Real People, Real Stories, Custom Poems. Can you tell our readers about it?
Yes! We are so excited about our book! It's published by Andrews McMeel (same folks who do the Far Side and Calvin & Hobbes cartoon anthologies), and just came out April 3rd. It's a collection of some of our poems — but even more so of the people and stories behind those poems. It's just as much a human interest book — packed with photos of people who requested poems and their own stories, in their own words — as it is a poetry book. And it is so, so beautifully designed. It runs the gamut from poems about whimsical topics ("An Octopus on the Moon") to poems about love, family, vulnerability, and more. It's basically a visual mini-tour of what we've done the past five years.
What is your creative process like? I know that you craft poetry on the spot, but is there some behind-the-scenes work that influences your process?
Our creative process is to type and not think! Using manual typewriters helps immensely with that, since there is no delete key or even correcting ribbon — thus we can't go back and revise. Also there is someone standing right in front of us, waiting for their poem, so we really don't have time for writer's block. Typically, we just launch into the poem with whatever first pops into our head — both from the spoken request, and from reading the body language of the person in front of us. And often we have no idea where the poem is going until we end it. In terms of behind-the-scenes work, we don't ever "practice" (not sure how we would even do that!), but we do discuss poetry a lot, and often email each other particular poems by other poets that we've stumbled across and love. And we get together and do some upkeep on our typewriters from time to time; they really are beautiful machines.
Which Texas poets do you most enjoy reading?
Naomi Shihab Nye, Carrie Fountain, Benjamin Alire Sáenz, Liz Garton Scanlon, Joe Jiménez, Shawn Colvin, Bob Schneider
Since this is National Poetry Month, we are featuring poets each week, and we are also showcasing a poem from the featured poets with a Texas connection. Can you share one of your Texas poems with us?
Absolutely! Here is one we did for the "Texas Standard" radio program about Texas wildflowers. The audio and poem are also here:
www.texasstandard.org/stories/typewriter-rodeo-wildflower-season-in-texas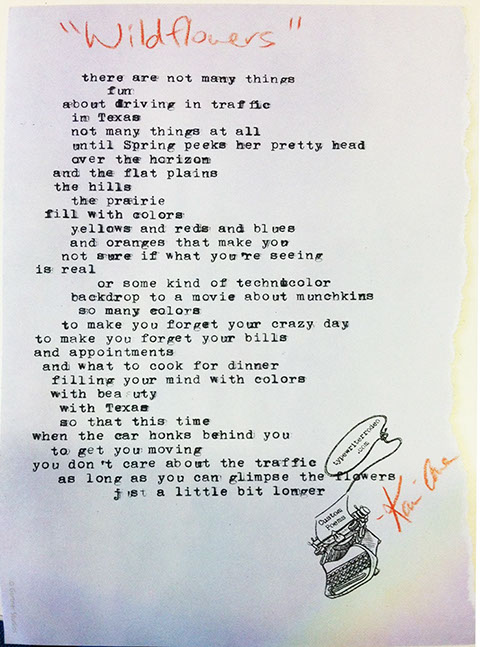 * * * * *
Praise for Typewriter Rodeo
"Typewriter Rodeo is an exciting project that implicates perfect strangers in the business of poetry by spontaneously writing a poem about them. It's not that the composers think revision is for pantywaists, they just have to get on to the next person in line! And here in your hands is a lively, collage-form gathering of poems, photos, and back stories, which puts the work of these mad, ambush-style typists on colorful display. Who said poetry need be limited to the library and the classroom?" —Billy Collins, two-term Poet Laureate of the United States
* * * * *